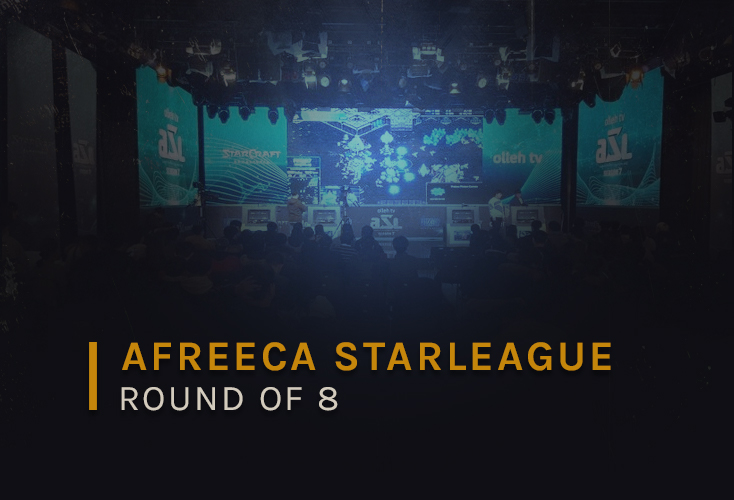 Let's be honest, the first half of the Ro8 was straight up disappointing. Several moments of brilliance segued into monumental blunders, and some strategic plays were just...well, downright awful. But it's time to rally and see what we've got for the rest of the Ro8! If you missed last week's games, you weren't missing a ton, but at least Tastetosis did have some good banter that our friend
Frudgey
clipped for us.
Stick around for some more matches though! The next two matches offer some legendary mirror matches from some of the absolute best in both. Will Sharp's insane positional play match up against Last's vociferous early game aggression? Will Horang2 best arguably the best Protoss player still around (including Best)? The next two matches will be fireworks, and we're guaranteed at least a few really good games.
The next match is set to start in !
Table of Contents

Full Circle
During his days on STX SouL,
Last
was never able to achieve the role of lead Terran player. Instead, he was relegated to a TvT sniper, which later helped him well into the Sonic Era when he made the finals of the SBENU Starleague Season 1 (or SSL10 to the rest of us) and narrowly missed the gold in a down-to-the-wire final against sSak.
Toward late 2015 to mid 2016, Last began to take great strides as a player. He was becoming a more rounded Terran with exceedingly good win rates in all three of his matchups and was on top of the sponbbang rankings well into the era when Flash returned. Ultimately, he paid the same price Flash paid to be one of the best, though; with shredded wrists, his play was slowly deteriorating.
He was still unstoppable playing from the comfort of his home, but he didn't do as well on the big stage. His only offline appearance during this period was the VANT National Starleague (the precursor to ASL), where his poor performance betrayed his image as a fearsome win machine, AlphaGo personified. When the ASL rolled around, he could not capture gold either. His tendency to choke on stage and growing wrist pains pushed him out of the limelight for a while.
But despite his growing wrist troubles, Last managed to get his feet back in 2018 when nobody expected. In a surprise ending, Last dealt the penultimate blow to Jaedong's career as a serious competitor by smashing him 4-0 and winning the Inaugural Season of the KSL.
For ASL6, Last decided to avoid sponmatches in favor of practicing in secret and giving himself ample amounts of rest for his matches. The result was him crushing Sharp 3-0 to advance to the Ro4. The question is: has he rested and recovered enough to do it again? Did the recovery mean less time for practice? His Ro16 seems to indicate his intention to end games quickly rather than play to his usual stance of solid long term macro play.
Which brings us to
Sharp
. Sharp never got a chance to do much in his time on Samsung KHAN in the KeSPA era. With only 6 proper televised matches (not counting any screen time during OSL/MSL Prelims broadcast), it's safe to say that Sharp wasn't in the limelight much. Sharp didn't make any splashes until the Ro32 in the SBENU Starleague Season 1 (SSL10) in the Sonic era, but he failed to make anything of it.
His true rise to prominence came on the back of his TvT going into the VANT National Starleague. He had clean sweep of his Ro16 group, including a game against Last, before eventually losing to Bisu in the semifinals. His next big moment was his subsequent run to the finals in the first ASL again because of his impeccable TvT.
Since then, Sharp has swung wildly in form, and right now he's been going through a massive upswing with 60+% win rates all across the board. So is sharp reaching his version of the AlphaGo stage? Will he finally take revenge on Last? Or does Last have enough in his tank to push back Sharp one more time?
The Maps
All in all, you have to expect that these games may not go the typical TvT way. It's very possible that they might end quickly with proxies upon proxies considering Last's condition.
Whiteout is the the repeat map for the series, which looks to be a great map for TvT vulture harass. Vulture play can abuse mines in the forest, so expect to see a lot from both players as they try to secure the map early on. Wraith play will also be more prominent over big drops, especially with Last trying end games quickly and Sharp just being the kind of TvT player who gets in his opponent's face.
Block Chain is moreso about the air game than Whiteout with how the semi island bases function. You can expect that if the game goes long enough, all the assimilators will be killed especially by the player with more air control, which means that the only way for each player to secure bases is by challenging it.
On Neo Sylphid, both players are going to have to carve the map into their favor quickly. It's going to be a battle over who can take the other third of the map for resources and who's got the better economic harassment in the match.
If there ever were a map for an epic slugfest, Match Point is it. Be it a tense wraith game or drop TvT, the tank lines are clear and the expansion paths lead to the opponent's main. Both players will always be aggressively expanding toward their opponent while simultaneously contesting bases, and I expect Last to do that better than Sharp.
Sharp > Last // Whiteout
Sharp > Last // Block Chain
Last > Sharp // Neo Sylphid
Sharp > Last // Match Point
Sharp advances to the Ro4 3-1!

Beast Mode
"The final proof of greatness lies in being able to endure criticism without resentment."
–Elbert Hubbard
Horang2
is a terrible Protoss versus Zerg player. There, it's been said and now it can be left alone.
On the other hand, Horang2 is an excellent Protoss versus Protoss player. In fact, he should really be considered a top 3 PvPer. During his Kespa days, he maintained a 61% win rate (13-9) against the Protoss dragons with his only losing record against Bisu. Fortunately, his PvP consistency continues to follow him through to the current era. We saw how he dominated his match over Guemchi. The road from here to the finals is a great one for Horang2. His PvT is looking better then ever too, and his only risk is seeing a Zerg opponent (read: effort) in the finals. Odds may be slim, but this tournament actually poses a great opportunity for him to win it all.
But
Rain
has decided he just doesn't give a damn about any of his opponents. He truly has enjoyed trashing Zergs on this season's new maps. Contrary to PvZ, Protoss versus Protoss has a pretty set rule book, and almost no one has mastered it better then Rain. Rain hasn't lost a series of PvP since he has returned to StarCraft 1. With a win rate of 75%—second only to Bisu's astonishing 89% win rate—Rain has got to be feeling quite confident going into this quarterfinals.
To put it simply, it's nearly impossible to imagine Horang2's Cinderella story continuing on from here. In this matchup, Rain has transformed himself in to Galactus, "Eater of Worlds", and next on his plate will be Horang2.
Whiteout, with its unusual line of sight blockers and base layout, will be the first map of the series and the repeat map if it goes to a Game 5. This map is designed for players like Rain. Rain is a player that takes advantage of fog of war and cliffs with his S-class shuttle control and reaction times. It's quite likely he'll come out the victor here.
Likewise, no one is happier to have Match Point as the second map than Horang2. He holds an 83% win rate in PvP and a 64% overall win rate on Match Point. If Horang2 would ever have a chance to swing momentum, it's here.
In Game 3, we'll be moving over to this season's weirdest map. Block Chain is similar to Circuit Breaker but with pseudo-islands. Horang2 has a perfect record on Circuit Breaker against Protoss, but none of the players he defeated were of Rain's caliber. In PvP, it's much too difficult to take sneaky expansions, so the Islands will be a non-factor here. If this balloons into a late game PvP, it's pretty much a lock for Rain.
If Rain wasn't so good at this matchup, Neo Sylphid would be a great map for Horang2. His skills thrive on 3-player maps with close spawns, and 1 base builds thrive in Protoss vs Protoss here. Rain will play to his strengths with reavers, but Horang2 will probably go for a 3 gate power goon strategy. This map will prove to be Rain's toughest win, but a strong defense will win him the game here.
If the game does go to a final map, it's once again in Rain's favor. But considering the maps up until this point, it's more likely that Rain closes it out 3-1 first.
Predictions
Rain > Horang2 // Whiteout
Horang2 > Rain // Match Point
Rain > Horang2 // Block Chain
Rain > Horang2 // Neo Sylphid
Rain advances to the Ro4 3-1!
---