The end of Brood War's KeSPA era was somewhat like the sinking of Atlantis. The former inhabitants of a once vibrant pro scene were split asunder into a multitude of directions: Many went to StarCraft II, some to League of Legends, and others to completely new careers. A small contingent of less famous professional players and former second-team players set sail for a new continent, where they intended to practice the StarCraft's of their old world.
At first, all they could do was keep the flame alive. On the canvas known as Fighting Spirit, they kept painting facsimiles of the ancient masterworks many times over. A small revival ensued and a beacon called Profit was lit. It called upon other refugees seeking to practice the old arts once more. Bisu, arguably the best Protoss player of all time, followed this light to the thriving refugee camp and he brought with with him the lost templates for Protoss victory. His arrival led to the first renaissance of Afreecan StarCraft, which culminated in the brief return of Brood War to television.
Unfortunately, the curtain fell on this glorious revival when Sonic, the intrepid leader who had organized the post-KeSPA community, was revealed to have built his castle on the financial equivalent of sand. However, the arrival of OSL champion EffOrt had completed what came to be known as "The Big Three" of the Zerg race. By learning from each other, The Big Three (EffOrt, ZerO, and hero) mounted a credible resistance against Bisu and overcame him in several important contests. A brief dark period of sorts ensued for the Terran race, which had previously benefited from the stagnation of the map pool and the ubiquity of Fighting Spirit. Around this point in time, Circuit Breaker was increasingly becoming the preferred canvas on which the masters painted their battle scenes.
Perhaps the lamentations of the Terran race reached the heavens, for Flash, the God of StarCraft himself, soon descended upon the Afreecan continent. Jaedong and Stork, the remaining half of TBLS, soon followed and all of Brood War wisdom from Atlantis was suddenly reconstituted in full. Thus began the second renaissance. However, this revival was slightly different than its previous iteration.
The big metagame trends of the post-KeSPA era until then could be divided into two categories. First, Terrans continuously worked to restore more and more of two lost arts over time: late mech transition versus Zerg and two armory upgrades versus Protoss. Second, Bisu brought with him better outlines for fast arbiter play versus Terran and gateway-before-forge versus Zerg. While the Zerg race also adjusted in response to these trends, they made more subtle changes. There might be several reasons for this. By that point in time, the Zerg race had largely splintered into two distinct groups who could learn little from the other: championship contenders who excelled at all aspects of the game and all-in specialists. It might easily be said that larva was the only "middling" Zerg player during this period, which might explain why he alone has grown noticeably in strength over time.
Special thanks to AfreecaTV for arranging the live interview with Flash. Make sure to tune into the english stream for ASL and to participate in the ASL5 cheerful contest to win an ASL jacket provided to us by AfreecaTV!
The Restless King
Flash's arrival heralded the founding of what might be called StarCraft Wakanda because he has become the spark for genuinely Afreecan innovations in strategy. Like the Black Panther, Lee Youngho leads the way in StarCraft Wakanda. To tell that story, we interviewed Flash for this article.
Q: We heard that you have optimized the old 1-1-1 build in many ways. What was the impetus for this research? Did you develop it by chance?
A: I felt that my favorite +1 5-rax build was starting to be analyzed by the top Zerg players. My winning percentage declined a little during this time. I thought about what builds I could use to nip this trend in the bud and realized that the 1-1-1 is a good base to build a new meta around. This is a build that existed before but I refined it quite a bit and now many other Terrans use it.
The +1 5-rax build is known as the engineering-bay-first 5-barracks build in Korean. This naming convention does not come out of nowhere. In TvZ, the order in which one builds the academy and engineering bay is the first major decision after 1-rax fast expand. Another interesting difference is that Koreans use the term barracks double in the place of 1-rax fast expand. This is perhaps because this expansion timing has become so standard that it is no longer considered "fast".
Flash said that he took no small amount of pride in the fact that he popularized his version of the build among other Terrans. A build that is not used is considered no good. Prior to Flash, sSak was the only one who used the 1-1-1 build with any regularity. While
sSak's 1-1-1 was the talk of the town
, other Terrans were reluctant to learn its concepts and adopt it in their own play.
For one thing, sSak is a mercurial player who has little interest in explaining himself. Also, while sSak was able to beat Zerg at a very high rate with his 1-1-1, he was prone to making silly mistakes that end the game prematurely. Other Terrans continued to win at equally high rates with Flash's version of the +1 5-rax build. Most players are very set in their ways and do not even think about learning an unfamiliar build if it does not seem to promise returns far beyond that of the familiar build. Indeed, when the 1-1-1 did get used sparingly by other Terrans, its aggressive dropship/valkyrie variations were used instead of sSak's defensive macro variation.
The conventional wisdom among pros was that the 1-1-1 was a build for sSak and not for anyone else: Use it and risk embarrassment when things do not go well. Flash was already a great calamity upon the Zerg race, but his new 1-1-1 took things to another level that forced the other Terrans, even those dominant in TvZ like Last and Light, to stand up and take notice.
Q: That sounds remarkable. When I go back and look at your winning percentages in the period to which you are referring, I don't see any drop. Just how sensitive are you to these changes?
A: I am consciously sensitive to these changes. My view is that StarCraft is game whose strategic concepts must and will continue to improve. In that view, I should prepare in advance and lead the change. Whenever I get the feeling that things are getting a bit harder, I think about what I can do to change things up then put my ideas to test in games. More often than not, those trials do not work out as well as the 1-1-1 did and I try something else. However, repeating this cycle of brainstorming, trial, and error many times eventually gives me good new builds and effective management principles to go with them. This is why I try to stay ahead of the curve.
The Big Picture
Q: From a big picture perspective, where does the focus of your 1-1-1 differ from that of sSak's 1-1-1?
A: The underlying base is very similar but the devil's in the details. For example, sSak goes for refinery at 11 but I build it at 12. Small differences like this make a huge difference in the character of the build. Besides that, the ways in which we react to the opponent's builds are totally different as well. My reactions focus on minimizing vultures and even wraiths whenever possible. On the other hand, sSak uses wraiths and speed-upgrade vultures quite often. My focus is on minimizing such units with an eye on a han-bang rush. In my version, a fast han-bang rush becomes possible around 8:30-9:30.
Q: Why focus on the fast han-bang? What are its benefits beyond the effectiveness of the attack? Can you use it to play mind games?
A: No. My belief is that Zerg is at its absolute weakest between 8:30 and 9:30. That is when Zerg is normally making only drones. Knowing this, I made this build specifically to be able to target that timing window.
Q: Do you ever omit the wraith?
A: Yes, but only when I am confident that I can completely predict my opponent's build order.
Here's a game in which Flash goes machine shop before, vulture and skips the wraith. He does so after scouting that larva has opted for the usual 3-hatch opening with his SCV. He also sees the Zerg's gas timing and ling numbers from the larva that turn into eggs after the pool completes. Furthermore, he sees the lair and hydra den (before spire, obviously) still morphing before he decides to skip the wraith. Mutalisks pop a little after the usual 3-hatch muta timing, which leaves more than enough time to defend with irradiate and turrets.
Terran is able to accumulate its han-bang force by 9:30. This is the earliest he can get the han-bang together after making a regular amount of vultures. Each vulture he is able to cut based on scouting speeds up the han-bang timing. Perhaps this sort of instantaneous decision making is something only Flash can do on a consistent basis.
Q: I saw a VOD recently where you explain your turret positioning in a game versus hero. You explained your absolute distaste for using minerals on turrets just to be safe and said that you built the bare minimum of turrets with the intention of trapping mutalisks between the turrets and your units. You are known for not being OCD with supply depot construction, especially versus Protoss. Is even something like that a way to reduce the area into which Protoss can recall units?
A: Ha ha ha. No, no, that's thinking too much, even for me. However, turret position is something I always think about very carefully in all matchups.
Q: You do not seem to use valkyries/dropships at all in your recent games. Why?
A: Those 1-1-1 variations are about unprovoked aggression. Furthermore, Zergs have developed immunity against valkyrie/dropship builds due to repeated experience. Since losing a valkyrie/dropship early sets you back a lot, my thought process was that there is no need to take such risks.
Q: Do you think a lot about how to reduce risk when creating builds?
A: Yes. I always strive to create a standard (jeongseok is the Korean word he uses here) build that can be safe in most scenarios and then create variations within that frame to keep my opponents on their toes.
[Note: Jeongseok is a word that comes from go that you will hear a lot when Korean pros talk about StarCraft. In everyday usage, it means something like the established right way to do things. Literally, it means something like "set stones", which refers to lines of play in go that have been established over time as being optimal.]
The Nitty Gritty
Let us take a look at the basic build order of Flash's 1-1-1:
9 supply depot
11 barracks (1 marine, scout with worker that made barracks)
12 refinery
16 supply
17 factory
20 command center
22 starport
22 supply depot

How does this compare to sSak's 1-1-1?
9 supply depot
11 barracks
11 refinery
14 search
16 factory
16 supply
22 starport
23 command center
A vulture and wraith are produced immediately in both builds, but they are optional in Flash's variation. Both versions go for the science facility, vessel, and irradiate as soon as the required gas accumulates. We can immediately see that Flash's 1-1-1 is a more resource-rich build.
In sSak's guide to his 1-1-1, he says that he likes to build the refinery at 11 because it is preferable to get the first wraith out as fast as possible. Indeed, sSak's 1-1-1 gets the wraith out about 22-25 game seconds faster than Flash's 1-1-1 does. The science vessel and irradiate upgrade also faster in sSak's variation. The scouting information provided by the wraith at that timing is critical to sSak's vision of the game. Since Zerg will make a sunken colony at the natural against the 1-1-1, Terran may have scouted that the Zerg went for a two-hatchery build but perhaps have some difficulty scouting the continuation. If Zerg opts for an extreme version of 2-hatch mutalisk all-in, Flash's wraith may reach the Zerg base not long before the mutalisks hatch.
Here, we might say that sSak's 1-1-1 is a safety-conscious build, perhaps excessively so given the effectiveness of Flash's innovations. It is safe even against extreme two-hatch muta builds. When iloveoove conceived the build, he was mainly interested in helping Terrans with weak marine-medic micro deal with the mutalisk phase of the game effectively. He accomplished that without sacrificing map control, scouting, or tech. By taking the natural late, he sacrificed some economy, but fast irradiate tech meant that Terran could catch up while the Zerg played blind.
However, Flash felt that more economy was being sacrificed than necessary based on the various windows that the Zerg has to attack. First, he found that Zergs could minimize zerglings against the 1-1-1 because a sunken colony at the natural is often good enough to prevent most vulture runbys. That meant that he could sometimes skip the early vulture and go add-on first if his scouting SCV could live long enough. In some cases he would skip the vulture altogether. On the other hand, if he did the same thing all the time, the Zerg might be tempted to all-in with speed-upgraded Zerglings too often. In order to strike some doubt into the Zerg players' minds, Flash started changing up the order in which he researched vulture upgrades. Normally, mine upgrades are first, but Flash opted to research speed first enough times to serve as a psychological deterrent against zergling all-ins. With ion boosters, vultures make short work of even large numbers of speedlings.
With the faster command center and minimized vulture numbers, Flash was able to convert the better economy into additional barracks faster. Additional minerals are immediately converted into the 2nd and 3rd barracks and engineering bay as they accumulate. In this way, he managed to squeeze his fast han-bang with marines, medics, tanks, and vessels into the magic timing window between 8:30 and 9:30. Of course this left two-hatch mutalisk play, which was the original counter to Flash's 1-1-1. However, as Jaedong put it, top players just aren't going to make such extreme choices often just to counter the 1-1-1 since two-hatch muta is bad against many other Terran builds. Furthermore, Flash had already prepared for it, too. His answer was to bring back the first wraith, possibly with cloak, to fight off fast mutalisks under the cover of turrets until irradiate was ready. That would be a fierce battle for the Terran to endure, but still manageable and worthwhile since the Zerg would have to gg if the all-in failed to do a lot of damage.
Flash desires safety but, he abhors absolute safety. This sounds like a zen koan but, makes sense upon further contemplation. Absolute safety is too passive for him. It also means that too much of the economy is sacrificed for the sake of attaining that absolute quality. Instead, he aims for that tenuous "barely" safe level of defense at which his superior skills can keep him on the right side of danger.
In order to take advantage of the window at which Terran is vulnerable without the risk inherent in 2-hatch builds, hero brought back the so-called 2.5-hatch or 18-hatch build, a late 3-hatch build in which the mutalisks pop at the same time as 2-hatch muta builds. In the past, Flash once explained why the 18-hatch mutalisk opening is a good response to the 1-1-1. Due to the fast mutalisk timing, the wraith cannot scout what the Zerg is doing because it must come home to defend the two turrets near the barracks. This means that now the Terran has to play blind as to what Zerg is making after the first few mutalisks. Lings? Mutalisks? Hydras? Terran cannot scan because the 1-1-1 build does not allow the Terran to have scans at that timing. The wraith normally covers that weakness in the 1-1-1 but the 18-hatch build totally destroys the wraith's scouting abilities by forcing it to come home to defend. A wraith cannot be in two places at the same time after all. The best that Terran can do is to sacrifice some vultures to see what the Zerg is making.
9 drone scout
12 hatchery at natural
11 pool
13 extractor
Lair @100 gas
Two zerglings
18 third hatchery
17 overlord, drone
Unfortunately, this was still not a good enough solution for the Zerg since this build is weak against the +1 5 rax build, which is another one of Flash's favorite builds. According to Flash, hero and the other Zergs have now come up with ways to deal with the 1-1-1 using 3-hatch builds. Perhaps we will have an opportunity to interview them about these adjustments at a later date. However, this seems to be the first time that top Zergs have had to make big metagame adjustments in the Afreeca era. In this way, great players improve not only their own race but the other races as well.
In the most recent three months (December, January, February), the Zerg race had to declare a state of emergency due to the 1-1-1. During this period, Flash posted the following unimaginable records versus the top Zergs:
27W-3L versus Jaedong
46W-5L versus EffOrt
99W-29L versus larva
31W-12L versus Soulkey
46W-21L versus hero
These are not your average Zergs. These are the cream of the crop and the only Zergs to record wins over Flash during this period (other than a single win posted by MisO with an all-in). Of course, Flash was dominant prior to this period but, Soulkey and EffOrt were occasionally able to lower his winning percentage versus them down to somewhere between the high 50s and low 60s in some months. Some onlookers have joked that Flash's 1-1-1 has discouraged EffOrt so much that he now spends more time playing EUD maps than melee games. I am pretty sure that's not true, but humor often carries in it at least a hint of truth. Of these players, hero is the only one who has improved his winning percentage versus Flash during the 1-1-1 era. Perhaps this is why Flash singled him out during the interview.
Q: You mix the 1-1-1 with +1 5-rax quite effectively. Does this force Zerg to mix between 3-hatch and 18-hatch builds?
A: That is a given. You always have to mix well. That said, these days, Zergs have learned to deal with the 1-1-1 within the framework of the 3-hatch opening. They will opt for the 3-hatch opening even after scouting the 1-1-1. Advancements in StarCraft are ongoing even now. People have always said that this build or that build is invincible for a short while but they have always been proven wrong. If you give pros enough time, they will find a way.
Q: Which of the Zergs do you think does the best job adjusting to the metagame changes?
A: I think hero is that person for sure.
[Note: While hero has been overshadowed by more flashy Zerg stars, he has occasionally brought attention to himself with other unorthodox innovations in the past. For example, he developed his own optimized build orders for taking the third gas at a nearby base instead of another starting location and temporarily enjoyed great success with it in ZvT. He also has a mysterious way of producing more hydras than anyone else in ZvP that has stumped even fellow Zerg players.]
Psychological Warfare
Q: You have said that the 1-1-1 makes a lot of psychological warfare possible. What is psychological warfare according "Flash" Lee Youngho?
A: Psychological warfare is about striking fear into the heart of your opponent. Perhaps not the kind of fear that leads one to cower and run but the kind of fear that causes indecisiveness. By increasing the number of possibilities the opponent has to worry about, I can cloud his judgment and induce decision paralysis. This sort of effect is very common in StarCraft and makes all the difference for matches between pros. Thinking too much during a game can lower your level of play. I have actively used such psychological warfare with all builds (not just the 1-1-1) throughout my career. This is really hard to explain because it is not something that is apparent on the surface but I have used this aspect of the game in a number of subtle ways. It is true that the 1-1-1 opens more avenues in this respect.
Q: What are the tools of psychological warfare within the 1-1-1 build?
A: Will I use dropships? Mines or speed, which one will I research first? Will I make a wraith? I can even decide not to make any turrets if I think that no mutalisks are coming.
The idea here is that if the Zerg is playing blind and the fast tech tree of the 1-1-1 opens up more variations, the Terran player should use all of them from time to time.
Q: Is psychological warfare more about reading your opponent's mind or moving it?
A: I'd say putting your opponent's mind in a bad state comes first but you can't neglect reading his mind either. I have to deduce the degree to which he is pressured by my metagame and when deciding which path to take during a game.
Q: Your optimization has made the 1-1-1 popular with other Terrans as well but their versions seem a little different. An amateur's eyes can't quite put a finger on the exact difference but they seem to be less varied than your version. What do you think?
A: There is that, but I have also worked out more responses to more Zerg options by virtue of having thought about them first.
Q: What sort of simulation process do you go through when using psychological warfare?
A: I put myself into my opponent's shoes. I do some reasoning along the lines of "I think that he thinks that I think" and so on.
Q: Psychological warfare sounds pretty important when you talk about it. Between familiarity with strategic concepts, mechanical skills, psychological warfare, and real-time decision making, what do you think is the most factor in victory?
A: Without a doubt, it's decision making. All pro players pretty much possess the same or comparable levels of the other traits.
Q: Of all the players you have met, whose way of thinking about the game was most close to your own?
A: (long pause) I don't know. To be honest, I think no one sees the game like I do. To be more accurate, every pro sees the game differently. Based on what I have learned by discussing the game with other pros, the way each pro sees the game is not just different but, dramatically different. Furthermore, because each player has had a lot of success, they have a lot of pride and conviction in their way of thinking. This is one of the most mysterious and cool aspects of StarCraft. There are so many people doing well with their own unique styles.
Q: Do players feel comfortable sharing their ideas about the game with each other? Isn't there some danger of exploitation?
A: We don't worry about it these days. It used to be something we worried about in the KeSPA era. However, information is shared freely on Afreeca.
Build-making is fun (and good for your health)
The 1-1-1 is not the first build that Flash revolutionized after arriving in Afreeca. The founding of StarCraft Wakanda can be traced back to the improvements he made to the +1 5-rax build.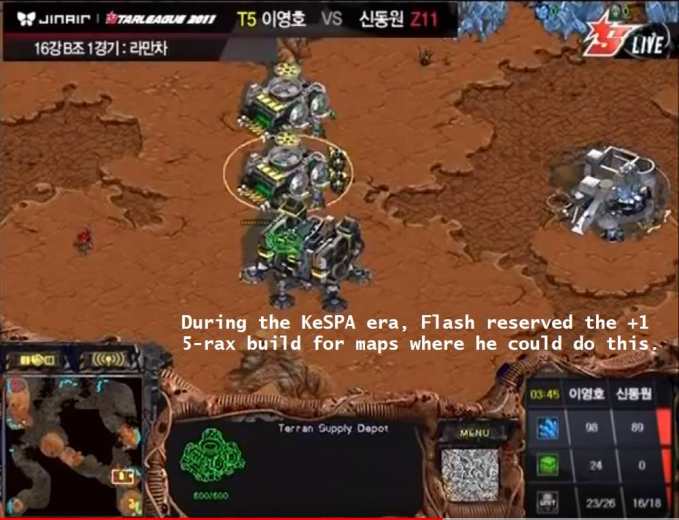 Q: Before the 1-1-1, you made the +1 5-rax popular. Before your arrival, standard 3-rax openings were far more common and the pros were quite down on +1 5-rax because of perceived risks even if they liked +1 4-rax. What made you revive this build, which was considered dead and buried by your peers?
A: This was a build I enjoyed using back in 2012. However, it wasn't optimized to the extent it is now. It was a build I used only on maps (like La Mancha) where the big entrance to the natural could be walled off. Trying to use the build and failing inspired me to see if there was a way to refine it into usefulness. I worked on the build in the same way I used to during the KeSPA era.
Q: Do you enjoy making new builds? What is your process?
A: It is very fun. I think about this all the time when I am resting. I mostly go through simulations and theory-crafting in my head then play some games to test and refine the builds.
Indeed, Flash enjoys making builds very much. One of the reasons our interview took so long to schedule was because he was on vacation during Lunar New Year week. When asked what he did during the break, he said that he thought about how to beat Zerg on Sparkle, the new ASL island map. He said that he has enough of a blueprint there to make TvP on Transistor his new top priority.
Q: Do you consider the physical strain on your body when making/selecting builds?
A: A little bit. One of the reasons why I have been using the 1-1-1 so much is that +1 5-rax is very hard on my body. I can probably only use it three times per day before I have to call it quits because my arm is not in such good shape now. With the 1-1-1, I can show my fans many more games because the games usually don't last as long. Not having to do as much marine-medic micro helps, too.
Motivation for ASL5 and some final words
Q: The new ASL maps seem quite difficult. Some have said that they pose challenges for Terrans. However, since the maps were released just a short time before the opening of the ASL, is there a chance that you can adapt to the maps faster than others to overcome any imbalances?
A: This is a gray area. It is true that I adapt quite fast but, I think the road ahead will be quite tough. However, this has only reinvigorated me. To be honest, winning the last three ASLs had drained me of motivation to some extent. After seeing the maps, I surmised that this is how far they must go to stop me. I am extra motivated to show that it is not enough. I am working hard on cracking those maps. It will be tough.
Here is
an example
of what can happen on the final version of Sparkle, the island map designed for ASL5.
Q: What is your greatest fear? Heights? Spiders? Second place?
A: Definitely heights.
Q: So you didn't visit the CN Tower when you won IEM Toronto?
A: God, no. I don't even like going on airplanes. I was scared to even go to Toronto.
Q: How long do you think it will take before an AI could be a fair match for you in StarCraft?
A: Oh geez. I don't know. Somewhere between 5 to 10 years, I guess.
Q: The writer John Updike wrote of Ted Williams, "Gods do not answer letters." Looking at your stream recently, it seems that you spend a lot of time answering questions from fans. How did this come about and do you think that your personality is well-suited to that format?
A: During the KeSPA era, the only way I could interact with fans was through interviews. These days, I can express my appreciation for their support directly through such engagement online. I think my direct manner of speech is useful in this regard.
Q: Good luck in the ASL and thank you for the interview.
A: Please thank my foreign fans for supporting me.
Interviewer/Translator:
Lemmata
Editor:
BigFan
Graphics:
v1
Photo Credits:
Black Panther