The quarterfinals kicked off in style as Bisu faced off against sSak, a former SKT T1 teammate and comrade from his KeSPA days. Despite sSak playing a fantastic series that saw him utilize his strengths to his advantage, Bisu had the last laugh as he took the series, 3-2 to advance to the semifinals on the back of carriers. In the other series, Shine had his own hurdle to climb facing off against Mong. In a likewise fantastic series, Shine used his bag of builds and unleashed the might of the swarm to secure a 3-1 victory leaving Mong bewildered in the process.

This sets up a Bisu vs Shine semifinals matchup which you don't want miss! The quarterfinals continue this weekend with some heavy hitters such as Soulkey, BeSt, FlaSh and Last. The first series, which will play out on Sunday, will be BeSt vs Soulkey. It promises to be entertaining if BeSt can manage to bring his A game, much like he did last ASL against hero. The second series, which plays out 2 days later, features the GOAT Flash up against Last, the only other terran that has been able to keep up with Flash's insane winrate and gameplay. With their only head to head fight in recent times gone in Last's favour (3-0 in ASL1), could this be the end of the road for Flash? Will Last reign supreme over all terrans?

As you wait for the matches, set to start in , read the recap of sSak vs Bisu and Mong vs Shine by c3rberUs and the reinvigorated KwarK respectively. Afterwards, take a quick peek at the preview of Soulkey vs BeSt and Flash vs Last by BLinD-RawR and FlaShFTW respectively. Let's get ready to rumble!
Table of Contents
Game 1: Outsider
The more veteran viewers know Outsider brings out the weirdness (excitement) in professional play. Couple that with Bisu's tendency to proxy gates in PvT, then it's almost unsurprising we got a triple in-base proxy gate build. sSak who himself is well-versed with abusing the map's quirks did very well to scout the proxies and managed to prevent Bisu from doing anything outside squeezing out a single zealot. Bisu followed up by rushing DTs and almost killed sSak at one point if not for the game-saving rush to get a science vessel. Getting vessels as a response to DTs is rare, because it's so high up in the tech tree. However, he was in an ideal situation because he had a starport as a counter to reaver drops and also to produce dropships.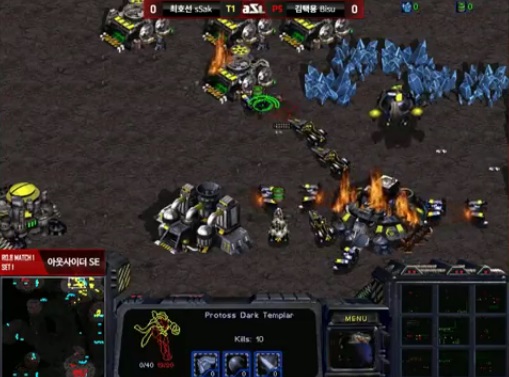 It's not everyday you see vessels used to detect DTs this early.
Both players played really scrappily and forced each other to a relatively low eco game. Despite that, almost the entirety of the game was filled with action all over the map. Economically, the tide eventually tilted to sSak's favor with his persistent harassment on Bisu's side bases. Without the income, he couldn't put out a powerful enough presence on the map which let sSak bulldoze his way to victory.
sSak's macro overpowering Bisu's puny force
Game 2: Andromeda
In this game, sSak decided to play the meta, pulling off the barracks-barracks-supply build (BBS). Bisu cross-scouted, but missed the proxied buildings. But, in the last moment, a stray SCV appeared from the fog-of-war that gave away the plan. However, even with the discovery, a micro intensive contest was still imminent.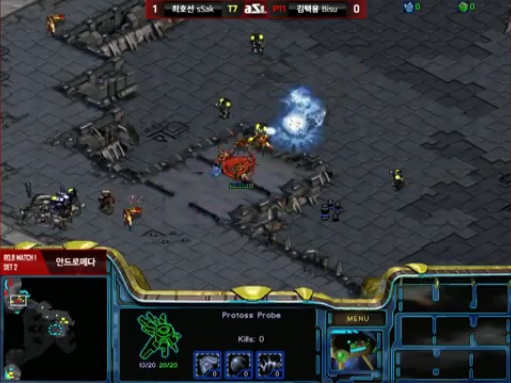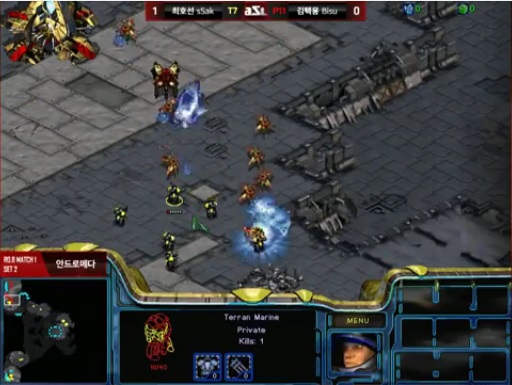 Bisu sacrificed many probes to keep an increasing number of marines from going up his base's ramp. In the end, sSak was able to get above the ramp, but only after all his bunker-building SCVs have died in the struggle. The scramble continued inside Bisu's main, but when he got two dragoons and a zealot out, he was able to wipe out the marines and gain control. Since this a BBS, sSak had almost nothing to fallback to and when Bisu's counterattack arrived, it spelled the end.
Game 3: Camelot
Now that the score was even, both players eased up into playing a more standard game. sSak went factory-mine expand while Bisu went 2-gateway dragoon into expansion. To be honest, there's not much to say here strategically. Tactically, Bisu turned from a human playing an RTS game into a supernatural force. I've watched this three times while writing this and my jaw is still on the floor. Bisu rallied production off of two gateways and started weaving, sniping and decimating everything sSak put on his natural expansion spot. At best, sSak was only able to land his command center as he collapsed under the weight of Bisu's awesomeness. Forget drunk-ai dragoons who can't even go up the ramp properly, where are these dragoons when I play?!? Uhhh... excuse my rant. Anyway, Bisu took the game and the score was 2-1 in his favor.
No recap can do plays like this justice. Do yourself a favor and (re)watch the game
Game 4: Circuit Breaker
Looking back, this series was a real give-and-taek; Bisu proxied and lost. sSak proxied and lost. Bisu did some jaw-dropping play and won. The counterpart would ideally be sSak doing some jaw-dropping play to win right? Well, that's not exactly what happened here...
It was a standard game on Circuit Breaker. Despite how traumatic the last game was, sSak was able to secure his natural expansion this time. Bisu went for a radical 2-speed shuttle play, but did not pull the trigger. His decision to not pull the trigger would have gone down as a genius move that helped him win the game. It averted disaster that was surely awaiting him in sSak's goliath-protected main and it kept sSak inside his base, so that he got his fourth expansion with no problems at all. But then, the most unexpected play of all happened. Bisu attacked sSak's third, possibly to try to force the lift, I don't know. All I know was that it was a brain cramp of a play. sSak plowed down the meager protoss force and went across the map for the counter-push to punish Bisu's mistake. Despite having just expanded himself, sSak's mech army was at a critical mass relative to the protoss force and forced an early GG.
Game 5: Outsider
If you think about it, sSak was so close to continuing on his historic run. Ousting the likes of Last, Jaedong and Bisu would have looked good on his records. But unfortunately for him, Bisu decided to be clutch and take this game.
Outsider is a map where eco-harassment is really effective. There was plenty of it in this game as it was for the first. But this time, there was a lot more finesse as opposed to scrappiness. Both players were more prepared to repel drops and got up to three bases relatively unscathed. At this point, Bisu started a sequence of moves that would win him the game; carriers and a fourth base. Yes, you read that right, Bisu and carriers.
sSak diverted some of Bisu's forces away from his nat using vultures and mines to poke at Bisu's building fourth. Using the diversion, he took his tanks to try to kill Bisu before carriers hit critical mass. Unfortunately for him, even without critical mass carriers, Bisu was able to wiggle his way around and force sSak to trade tanks for dragoons. What followed was sSak's failed push to take out the fourth base and two attempts to snipe the carriers with wraiths. Despite Bisu's association with poor carrier usage, he brought his A-game today, always having enough observers ready and he micro'd pretty well. After the last snipe attempt, sSak ran out of options and was forced to give up. Bisu advanced into the Round of 4!
Paper planes got pew pew'd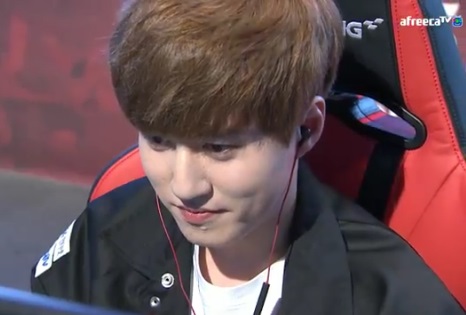 Smile after game 2, looked as sure as heck he'd advance.
Before the game started, Shine promised to show off his "Bag of Builds":
Game 1:Circuit Breaker
Shine (Z) spawned at 11 on
Circuit Breaker
vs Mong (T) at 5. Shine opened with a drone cross scout after overlord followed by a 12 hatch. After scouting Mong's 1 rax opener, Shine threw down another in base hatch on 13ish before pool, using the information from his drone to sneak a minor advantage. Mong telegraphed his planned 1 rax command center letting Shine fearlessly execute a super drone heavy opener.
Mong had also scouted reasonably early, choosing to scout anticlockwise to the 1 base, but after scouting that Shine was not at 1 and seeing the drone enter his base incredibly early, he reasoned that Shine must be at 7, sending his scv across the map rather than to Shine's base. After not finding Shine at 7, Mong correctly concluded that Shine was up to something, for why else would he have sent at least one (cross scout first scout?) scout drone out after overlord. Delaying his expansion, Mong pulled scvs onto his ramp to hold the front for marines and waited for his scout SCV to finally make it to 11 and tell him what the hell was going on here.
With 3 SCVs and 2 marines holding Mong's ramp, Shine finally started his pool. Mong's SCV eventually found Shine's base and Mong expanded while sending his marines out to pressure. As Mong's marines pushed out, hoping to force a ling or two, Shine slipped a drone up the ramp and promptly stole Mong's gas, leaving him approaching an ebay, but no +1 and an academy with no comsats or stim.
Both players settled onto their expansions and started powering up. Mong with a defensive 2 rax bunker and Shine with no sunkens, no units beyond a half dozen lings, way too many drones, and a quick evo/hydra den/lair. It looked an awful lot like the regular +1 armour lurkling front bust at this point, although Mong had no way to know it was coming, because his comsats were late.
Mong did the standard early marine medic push and Shine sunkened in response as you'd expect. Mong's early bio checked the map for Shine's third, which had not yet been placed, and a comsat caught the lurkers, revealing Shine's 2 base lurkling play.
At this point, Mong pretty much knew the score. Shine was on 2 base, decent drone count, no third gas and no plan for a third gas and no spire. This was a classic lurkerling allin. He did exactly what you'd expect and started bunkering up.
Shine's lurkling arrived a little earlier than Mong expected them to (that's 3 hatch before pool for you) and Mong was forced to pull his first bio group back from its delaying expo duty to try to defend. Shine predicted this and set a hold lurker trap on the path, but unfortunately the lurkers held too well.
The +1 armour arrived on time, but Shine decided he couldn't break the front and held off on attacking. Shine cleaned up Mong's first bio group while Mong killed the two lurkers outside of his base and although Shine started his mineral only third, it looked like Mong was in good shape. Shine then sent five speed overlords into Mong's base and this happened.
Mong promptly lost his nat, all the scvs at his nat (stacked and fleeing up a ramp under lurkers) and couldn't retake his nat until he landed his second cc in his main and made another comsat. He made an attempt at a drop, but an overlord scouted it and the dropship was forced to back off.
Meanwhile Shine took the gas expo at 12, teched to defiler mound and cleaned up. The game took another 10 minutes due to some wasteful unit use by Shine and some good drops from Mong but at no point did Shine look in danger. Before Mong's first big army pushed out onto the map, Shine already had consume. Defilers did defiler things and lurkers did lurker things and it was only a matter of time until Mong was forced to type out.
Bag of Builds: 1 - Mong: 0
Game 2: Camelot
Shine (Z) spawned at 5 on
Camelot
while Mong (T) spawned at 11. A two player map with short rush distances and no ramp, Camelot is considered T favoured. Mong went for an 8 rax at his natural wallin followed by a walling depot, giving him options to bunker rush a 12 hat without committing much in the way of cut SCVs. Shine went for a 12 hatch at his nat and scouted at the same time with his drone scouting the completed rax that should still have been under construction. An 11 pool followed the hatch this game unlike the build from the previous game which would have been hard countered by Mong's opener this game.
Shine pulled 8 drones to contest 3 marines and 2 SCVs, using an overlord over the minerals at Mong's mineral only to drill. However, the micro favoured Mong and in the end, 5 drones were traded for just a single marine. Mong concluded that the rush was a success and backed off before the lings spawned, retreating to his natural wall and the command center that was building behind it.
Shine countered by immediately dropping a third hatchery at the 8 gas expansion, a very unusual play in the current meta that advocates a third hatch in main to consolidate behind sunkens until muta or lurkers gain map control. The conventional wisdom is that the 2 rax pressure following the terran expansion requires multiple sunkens to hold and therefore you can't just open with a quick three bases vs the terran's two.
Shine's 10 lings could do nothing to threaten Mong, so he opted to spread them over the map while droning up. Using just slow lings, he managed to find, surround and kill FIVE! scout scvs in quick succession. Mong, learning from the first game, played as defensively as possible while looking to find out what Shine could have up his sleeve. Mong's first two dscans revealed a lair and a hydra den, so Mong started laying bunkers at his front.
Meanwhile, Shine's quick third at 8 was completely undefended, relying purely on Mong's paranoia to be secure. Mong tired of waiting for the lurker allin that was never coming scanned 8, revealing a thriving base, a creep colony, and two hydralisks on the ramp. His bio rushed to 8 as quickly as they could, but were deflected at the last second.
Realizing that he'd been duped, Mong decided to try and break the natural which had just two lurkers and two sunkens defending it. Unfortunately for him, Shine placed overlords directly above his two lurkers to make them more difficult to snipe and Mong's attack failed without inflicting damage.
Shine teched to hive and added a greater spire to spend his insane gas stockpile. For reference, Shine got no evo upgrades, made no muta, made just four lurkers in total. His only gas expenditures were the lurkers, the lurker upgrade, the ling speed upgrade and tech buildings. And this was after being on three gas for the entire game. It was clear that we were going to see guardians, and quite a lot of them.
Mong's bio waited outside of Shine's base, but didn't want to try the sunks a second time, so he started a command center at the 12 third expansion. 9 muta spawned and Shine caused havoc on Mong's mineral line, killing a decent number of SCVs without any opposition. Meanwhile, Mong elevator-ed his bio army across the wall into Shine's main killing literally all of the drones, Shine's entire ground army (composed of hydra? and lurker), the greater spire, pool and an awful lot of hydralisks.
Guardians were able to clean up the drop, but Shine's economy took a serious hit and pretty much his entire ground army was dead. A second drop attacked 8 and Shine managed to hold it off with just drones, two hydras and micro, but it wasn't looking good for Shine. It was 3 base vs 3 and Shine's economy was weaker and his tech buildings were already dead. All he had going for him was the guardians and so he attacked.
And now we go to Jaedong and Mind (with extreme thanks to Tiny Land) for our coverage of that attack.
Bag of Builds: 2 - Mong: 0
Game 3: Outsider
Shine (Z) spawned at 5 on
Outsider
while Mong (T) took 9. Mong opened in an extremely standard depot rax command center fashion while Shine also opted for the fairly standard 12 hatch 11 pool 13 hatch with his third hatch at the 4 location mineral only behind his base. Mong added a quick second rax while scouting intensively, gliding a new SCV to Shine's main mineral line before backing the first. Shine trusted his game sense rather than scouting Mong beyond a quick location and rax timing scout and was quickly punished as Mong pushed out with his first five marines and immediately punished Shine.
Shine lost two drones, was forced to cancel his greedy second gas, lost a sunken and killed absolutely nothing as Mong backed his marines off before speedlings could hurt them. Shine's speedlings were unable to punish Mong in any way and Shine found himself with three hat fast lair, but only one mining gas and not much economy behind it. Mong pushed out again with medics and stim and Shine was forced to add a sunken wall, consuming more drones he couldn't really afford to use.
Mong completely mis-microed the sunken break, not waiting on the two firebats he needed for the lings (and not stimming them across the map), target firing a sunken while lings overran and attacked his marines only to switch back to the lings with the sunken on low health, then target firing a different sunken once the lings were cleared and finally ignoring the first low hp sunken to attack a third sunken that was still morphing. To make matters worse, his firebats were ordered to attack the morphing sunken (with a minus 75% modifier) over the drones and lings rushing up to try and hold the attack. The result was probably still good for Mong. Shine suffered more damage that he couldn't really afford, but it should have ended the game.
Shine looked for a third quick hive game and took the gas expansion at 7 (behind Mong's 8 mineral only) to give him the gas he needed for hive tech while Mong massed up on two bases, adding more barracks, tanks, a dropship and a valkyrie. With dscans informing his timing, the Terran simply walked across the map and sieged up outside Shine's natural. The tanks started their work to bust the sunkens. Meanwhile, Shine made a control group of muta and started his greater spire, but was unable to threaten the colossal ball of marines around the tanks, nor save his new gas expansion at 7 from a drop.
A drop threatening Shine's main was cleaned up, but without defilers, guardians or lurkers, there was nothing barring Mong's tanks from their inevitable advance. Mong executed Shine with a timing attack, capitalizing on the significant delays built by his earlier victories to smash through Shine's front before the guardians could complete.
Bag of Builds: 2 - Mong: 1
Game 4: Andromeda
Shine (Z) spawned at 7 on
Andromeda
while Mong (T) spawned at 1. The games so far have favoured Mong when he was able to play a standard macro game and Shine whenever Shine was able to throw Mong off balance with the
Bag of Builds
. In theory, Andromeda should favour Mong and although the Ro16 showed some extremely innovative ZvT on Andromeda (double upgrades, double islands, ling heavy drop play with hidden hatcheries and nydus) that style must have been intensively studied since then, so it's no longer likely to catch anyone off guard.
Mong opened with 8 rax in a walling spot at his natural followed by a depot, able to punish a 12 hat the way he did in game 2 and be safe against other openers. Shine went for 12 hatch, 13 pool, greedily squeezing another two drones out after the hatchery. Mong scouted Shine second, but rather than starting a bunker out of vision range of the building hatchery, he opted to send the SCV to scout the main. When the SCV returned to Shine's natural, it was followed by a drone as Shine was now aware of the potential threat. Given the late pool, I believe a hidden bunker would have been very effective, but, of course, Mong had no way of knowing the pool timing without first abandoning plans for a hidden bunker and he didn't want to commit to a rush cross positions with his single rax at his natural.
As in game 2, Mong effectively punished Shine with the single 8 rax opener, killing 5 drones for 2 marines and finishing the bunker. Shine was left with just 9 drones total, of which only 5 were mining, the other 4 being stuck on the wrong side of the bunker, while Mong had 3 SCVs to repair his bunker, but just a single marine inside of it. The 4 drones on the map successfully delayed the bunker being reinforced at the cost of 2 more drone deaths and 10 lings overran the bunker. However, the opening had put Mong decisively ahead. Shine had just 7 drones left while Mong had marines, a wall at his natural and a good number of SCVs. As long as the lings were not allowed to do any damage, this was to be a game pointlessly thrown by Shine for the sake of squeezing an extra two drones out before pool.
Mong took two of his six marines and sent them out onto the map with no clear objective while the other four held his wall. Two SCVs joined them to block the single point where lings could squeeze through, but, unfortunately Mong placed a marine in the blocking spot and the SCVs behind the marine in positions that would still allow lings through if the first marine was to die. Shine promptly attacked and well, let's say that Mong didn't defend his wall properly, losing some SCVs as he tried to defend against Shine's lings.
Fortunately, Mong had three SCVs to every drone of Shine due to the huge early advantage he won, so he was able to throw pure SCVs at the lings until all the lings were dead. But it squandered a ridiculous lead due to completely unforced errors. The game then entered a weird stage because Shine had previously thought he had too many lings and that they wouldn't be able to do anything and was going pure drones for recovery. Then miraculously the lings were allowed to be really effective, but because Shine was doing nothing but drones, there were no lings being built to follow up the lings that broke through the wall and died to SCVs. Shine then concluded that because the first lings had done so well what he really needed was more lings to follow them up, and not drones as he had been making, and so he made another twelve lings. By this point, Mong had secured his wall and the lings were the wrong choice again. In a brief 30 second window, Shine went from accidentally having too many lings and being unable to do anything with them to not having committed hard enough to lings and being unable to capitalize upon them, and then straight back to having too many lings and being unable to do anything with them.
Amazingly, Mong failed to block the gap in the exact same way as before, but this time there was a bunker and Shine succeeded in doing nothing, but compounding his folly, making drones when he needed lings and suiciding lings when he should have made drones.
The game settled onto three hatch Zerg on the three available bases in Andromeda vs two base Terran with both players making a series of unforced errors that left them in a somewhat even position. Shine showed off the slow ling SCV sniping he displayed in game 2 to deny Mong scouting information, but one SCV was able to get in and scout three hat lair spire. Mong responded with a standard ebay +1 academy four rax defensive build, seeing that Shine hadn't made any attempt to take a 3rd gas. His early bio pushed out to keep Shine honest and force sunkens, but he didn't attempt to break in because he was confident that, assuming no funny business, he would come out ahead. With an easy 3 bases available to both and no more than 2 gas accessible to the zerg, Mong could afford to play a slow game and win by denying a 3rd gas while slowly choking Shine.
Unfortunately for Mong, Shine was doing funny business. Shine upgraded drop the moment his lair finished, added a queen's nest as drop was half done and followed drop with an immediate hive. An overlord promptly elevator-ed a drone up to the cliff behind Mong's nat, shielded from view by the neutral buildings. Six mutalisks served as a feint so Shine could pretend that he wasn't doing a really weird build, but made no effort to do anything beyond forcing turrets through their existence.
Mong went for no machine shop two starport SK style, anticipating a need for dropships to control island expansions, assuming that Shine was copying the weird Ro16 zerg builds rather than one upping them. Meanwhile, Shine teched to lurkers, hive, defilers, cracklings and set up a nydus to his proxy hatch inside Mong's base.
Mong picked the worst possible time to push out and this happened:
Bag of Builds: 3 - Mong: 1
Battle of Execution ?
The Round of 8 continues with the macro king of protoss BeSt and the bonjwa of the Neo.G kind Soulkey. On whose favor do the odds stack and who should prevail from this bout?
Soulkey's confidence going into this series is pretty good, following his very unexpected 2-0 in the group of death of the Ro16. His toppling of Bisu is even more impressive by just doing everything right. He managed not only to win against him on Andromeda but made it look easy while doing it. O,utside of that game, Soulkey's ZvP is still relatively untested. It'll come down to the maps to see how this goes.
Looking forward to what could be next
BeSt has been historically a joke in PvZ, although much (like to the point where he's pretty reliable now) better now even to the point where he beat hero in the ASL Season 2 Ro8 3-1 in a series he seemed more prepared for than his opponent. That is BeSt's biggest advantage going into the series. BeSt's sense of preparation rivals that of Mind in a Bo5 and it really does help; knowing your enemy is half the battle after all. Outside of tournaments, BeSt and Soulkey have faced each other in many sponmatches, which leaves a lot for BeSt to draw from.
The BeSt is yet to come
Going into the maps, Circuit breaker being the repeat map favors Soulkey for sure being a truly unbalanced, 139-89 (61%) winrate in favor of zerg for the matchup, because of how hard it normally is for protoss to take and hold a third which leaves BeSt to try and get some early game advantage into +1 corsair speedlot timing on the zerg 3rd. That would be the ideal. Unlike hero, Soulkey does not prefer taking the closer third opting to take another natural like most zergs, giving more time for BeSt to do damage before Soulkey can respond and expand while doing so. Outsider is Soulkey's map, looking back at the ASL Team Battle. Soulkey was scheduled to be sent out on it every time for his team, showing a huge amount of comfort with the map. Expect sair reaver vs drop lurkers, maybe even an early game slowlurk drop, or even a mineral walk 2 lurker push.
Protoss is yet to win on Camelot and having bases so close to each other makes 3 hatch hydra that much more devastating. With Andromeda, having such a wide open middle makes it great for zerg to surround the protoss ball, and access to a free mineral only is just gravy for both sides. It'll definitely be the best map for this series if it goes to game 4 as it does have a history of long PvZs.
All in all, the onus is on BeSt to get stuff done early on in every game to throw Soulkey off as much as possible, because the maps favor zerg. The matchup favors Soulkey and it might just come down to control and execution on both players' part with regards to who comes out on top rather than strategy.
Soulkey to advance to the Ro4!
What Is a God to a Nonbeliever?
The battle of the titans, the two kings of Starcraft right now, no one to stop their dominance, until they meet each other. Flashbacks of Captain America: Civil War racing through my head, who will come out on top in this epic duel between the two greatest Terrans in this era?
Flash
, God, the Ultimate Weapon, whatever you want to call him. The best player of all time to grace eSports and the game of Starcraft. He has crushed almost everyone at this point, but the one man he has yet to prove himself in a BoX series is the guy he faces,
Last
. I could go on and on about all of FlaSh's accomplishments, his astonishing win rates against Protoss and Zerg, but none of that matters when he's put up against the AlphaGo of Starcraft.
God will return to his rightful throne
Still, we should take a look at the historical context of FlaSh's TvT matchup. He held an incredible 22 game win streak against terrans back in the KeSPA era, the longest TvT winstreak in the history of Starcraft. His play is near perfect with fantastic early-game micro and fantastic long term decision making. FlaSh is known for being more greedy with his bases, so he'll need to be cautious against Last who excels off of 2 base TvT play. If he gets over-eager to take bases, Last can punish him easily. His consistent play style makes him susceptible to getting abused in the early game like we've seen Last do to him in ASL1, but I believe he's changed his style to be more unpredictable. FlaSh will really need to push to the limits of his abilities to be able to take home this victory, utilizing everything in his arsenal to beat Last.
Last is 21-2 in the last 23 TvT games. Let that sink in a little. Had Last not lost that random game to Hiya in Thrill Starleague, he would have had a 22 game winstreak to match FlaSh's KeSPA win streak. That's how good this guy is. Last's TvT has always been his specialty, with an impressive 70.83% in the post-KeSPA era and the way he started off making a big name for himself in Brood War. Since then, he's emulated his TvT style over to his TvZ and TvP and he's quickly climbed up the ranks and is now wrestling FlaSh for the number one spot.
No longer will I be second in the shadow of FlaSh
Watching Last's style, his macro and overall long term strategy is fundamentally sound. His micro is stellar, and his air-play is almost perfect. In fact, watching his games, when Last goes for his 2-3 port wraith switch in the mid game, it almost always catches his opponents with their pants down and he has always won the game off the wraith switch. However, there's one weakness in his game which is that he doesn't do enough harassment and he doesn't defend against drops and harassment well. The rest of his game is flawless though so as long as he can withstand FlaSh's relentless harass and pressure, he should be fine and play a solid game. He's also shown a tendency to enjoy playing with fast expands like 14cc and 1 rax cc builds, so we might see very intense economic games that will last into the night.
Ultimately, the fights will be incredible, the strategies will be mind-blowing, and the micro will be jaw-dropping. This will be one of the most hyped matchups in history. FlaSh vs Last will be a matchup for the ages and one that many believed will be the final that should have happened. Do I really have to give a prediction? These two are so damn close in skill that it's so difficult to make a prediction. If I had to even a slight edge though, it would be FlaSh. He's come out on top in their sponmatches in the past 2 months and when two players are so evenly matched, even something as small as that might tip the scales. But the last time I predicted FlaSh to barely edge out Last, Last crushed FlaSh and embarrassed him. We'll see if history repeats itself.
Flash
3-2
Last
Flash
advances to the semifinals!
---