The SBENU Sonic Starleague (SSL 10) drew to a spectacular close at Jamsil Students Gymnasium on OGN. Headlined by a throng of Terrans in both the grand final and third place matches, the latter featured a fearsome face-off between

Mong
and

HiyA
, two staples of the post-KeSPA scene. The main event then followed, starring the top two TvTers of the era,

sSak
and

Last
, as demonstrated by the slew of Terran opponents slain along the way. The two would put on a grand display of tense TvT play that required the full five games to resolve.
Read on for a
recap
of the grand final by
BigFan
, followed by the third place match by
N.geNuity
.
Stratos
then provides us with
on-site reporting
directly from the finals, complemented by dazzling photography by
itsjustatank
. To wrap up coverage of the finals,
prech
details the
Korean fan response
from the domestic audience.
With the TeamLiquid coverage of the tenth SSL drawing to close, we take a visual look back at the
history of the SSL
with an infographic by
prech & shiroiusagi
. And to extend this look back, as we celebrate the return of the Brood War to OGN,
GTR
reminds us of how the
OSL series blossomed
and became so memorable, alongside a visual stroll down memory lane with an infographic focusing on the
history of the Starleague on OGN
by
prech & shiroiusagi
.
As the TL team completes coverage of SSL 10 and looks forward to SSL 11, we want to thank all the wonderful writing, editing, layout, graphics, video, and translation contributors from throughout the SSL 10 article series for volunteering their generous time and effort. Your invaluable contributions and dedication have truly shined the spotlight on the re-ascent of Brood War and its return to OGN, granting the glorious game the attention it deserves. We also thank our readers, commenters, and LR-thread posters for enabling such lively interactions and engaging us in critical analysis. Your support has been instrumental in fueling the tireless efforts of our coverage team.
Table of Contents

Finals Recap
Grand Final and Third Place

The finals experience
On-site reporting

Korean netizen reactions
The domestic view of SSL 10

History of the SSL
An infographic look back

OSL: From Tables to Gymnasiums
Tracing the rise of the Starleague

The Starleague on OGN
History in infographic form



Liquipedia
Finals - sSak vs. Last

sSak
>

Last @ Sin Peaks of Baekdu

sSak <

Last
@ Fighting Spirit

sSak <

Last
@ Return of the King

sSak
>

Last @ Blue Storm

sSak
>

Last @ Sin Peaks of Baekdu
Game 1:
On
Sin Peaks of Baekdu
, Last went for a proxy rax near sSak's base to scout. Both players went for a factory expand. After both players added more factories, sSak slowly started to take control of the game. A small vulture runby into Last's main killed many SCVs. sSak had better engagements and better tank placements in the middle and the high ground on either side of the map even taking over Last's potential third at the 3 o'clock position. By limiting Last's movement, he eventually took a faster third as well. Last slowly managed to stabilize but was still at a deficit as the game progressed into heavy dropship play. With the higher dropship and a stronger economy, sSak managed to get a large drop at Last's expansion which Last defended it (gif). sSak tried again at Last's third (sSak had a fourth at this point) but Last still managed to defend it losing many workers in the process. As the game progressed, sSak, using SCVs as a buffer, broke the high ground that Last was holding outside his fourth then took it down. His last drop at Last's third was more than enough for him to win the game.
Speechless.
Game 2:
After leading in the first game, sSak opened up once again with a 1 rax factory while Last opted for 1 rax FE on
Fighting Spirit
. Both players went up to two factories though sSak gained early map control with mines. Last decided to add another factory and a starport opting for drops. But before that, he massed up vultures and tried to go for a frontal attack on sSak whose's quick reaction helped him built 2 ebays just in the nick of time to block the vultures. Soon after massing a small army, sSak went on the offensive countering with a heavy tank army and managed to get lots of SCV kills while Last got a 4 vulture drop off that ripped apart sSak's mineral line at his expansion. Though Last lost more workers (or an equal amount) compared to sSak, he still had a strong enough army left at home which he used to attack sSak's expansion. After managing to win a major engagement outside sSak's base (gif), Last pushed further and won the game with his superior army to tie the series 1-1.
Strength in offense
Game 3:
Deciding to play on the edge, Last took a major risk in game three on
Return of the King
opening with a 14cc on the low ground. sSak still stuck to his 1 rax factory build. Upon scouting the cc first, sSak added his own cc on the low ground. He tried a single vulture runby but Last was easily able to defend against it losing one worker in the process. Things were not looking great for sSak and things became worse when his port was scouted by a pesky SCV from Last giving away his gameplan. On the other hand, Last was on top of his game. Scouting around, he caught some vultures at his potential third and then moved out looking to take the high ground while sSak tried the same thing. Last's better position and stronger army gave him the advantage and the high ground. In the meantime, sSak decided to drop Last's main but it was easily defended by some marines+one tank. Having added two ports that were not caught by the observer, Last plowed through sSak's paltry force (gif) laying siege to his expansion and took a one-sided game to go up 2-1.
I'm walking on sunshine, hey!
Game 4:
Realizing his bad situation, it was now time for sSak to move on from his build order rut though Last had other plans. Opening with a proxy rax on
Blue Storm
, it looked like sSak's tournament run was over when it was scouted. A spectacle unfolded as both players tried to micro two SCVs to build/stop the rax from going up. sSak eventually managed to get his rax to complete though he didn't do much with it. Both players added a factory and expand soon after. Drawing on fantasy's wisdom, sSak went for a heavy vulture style. He killed several SCVs at Last's expansion and several in his main before adding more factories for more vultures. Last decided on 2 port wraith to try and mirror his success from the last game. It looked like Last was going to sweep sSak with a 3-1 with wraiths killing many workers, delaying the armory (sSak did have another armory building though) however sSak's vulture count and strong macro allowed him to overcome Last's vulture army outside Last's expansion (gif). With the much superior army, sSak killed many workers at Last's expansion and mined his factories to take a close and exhilarating game.
Vulture action
Game 5:
The last game of the series, this was it! A single game worth $9000 and the title of SSL10 champion! Both players ended up mimicking each other opening with a 1 rax factory expand and adding three more factories around the same time. Prior to that, sSak tried for early harass using 2 vultures against Last's 1 vulture/marine defense however Last's reaction was quick and he repaired his only vulture. It looked like we were going into the macro game with both players on equal footing then it happened. A single second was all that was required to help sSak grab a lead that he wouldn't relinquish. Last looked away from his vultures on the high ground for a single second and allowed sSak to get onto the high ground and grab the better concave. Taking the engagement in his favour, sSak rallied his vultures at his home and added them to his remaining vultures from the fight then went for a massive attack on Last's expansion. Many SCVs were slaughtered as sSak took a huge eco lead. As Last desperately tried to recover after the attack, sSak took a third and then a fourth while pressuring Last. From this point on, sSak's game was too solid to overcome. His army was much bigger and with one final attack, he claimed victory!
The end!
While Last ended up losing, he played some terrific games, He was solid, unpredictable and when things went his way looked quite dominant. His micro in general looked stellar and he might've even taken the series had he made some different decisions in his last two games. Despite all that, he was not able to overcome sSak. sSak fought a hard battle against a player that had a dominant TvT and was quite confident in his game. He was able to prevail and make his fans proud. Could he be the new crown prince of SKT T1? With all that said, sSak IS YOUR SSL10 CHAMPION!
Third Place Match - HiyA vs. Mong

Mong <

HiyA
@ Fighting Spirit

Mong
>

HiyA @ Return of the King

Mong
>

HiyA @ Sin Peaks of Baekdu

Mong
>

HiyA @ Blue Storm
HiyA and Mong, two staples that brought the transition of SOSPA from the "amateur" scene to a resurged semi-professional BW, faced off for third place in the first SBENU Starleague and the 10th iteration of SSL.
Game 1:
Spawning cross map on Fighting Spirit, HiyA opened with a 1 factory expand (perhaps like
sSak's book
to stick with this opening) with Mong going for a gas-less barrack expand. Mong had a seemingly solid game plan to harass and gain map control. After the expo, he followed up with another factory into 1 starport for a batch of 3 cloaked wraiths, a dropship, and then a surge of speed vultures to mine up the map. The harass had the potential to keep HiyA at home and could catch him unprepared (for wraiths, for cloak, or for drop), however, HiyA had other plans. HiyA took his third expansion quickly and established a solid siege line with goliath support to guard his bases. Mong's harass was shut down and the speed vultures had no hope of running through tank fire. Mong tried to establish a soft split of the map hoping that HiyA would play passively but HiyA used his early third and strong economy to easily muscle his way out of one side of Mong's contain. He continued to push into Mong's natural, harassed Mong's third, and easily took the game.
Game 2:
This game on Return of the King displayed a lot of very small mind games that can happen in TvT early on, before becoming a battle for map positioning. Early on, HiyA placed his barracks forward on the map, allowing for an easy scout by floating it. Both players opened with factory into starport and command center, but Mong's first 2 vultures did some harass and made their way into HiyA's base scouting around. Mong canceled the starport add-on after HiyA's barrack was out of range and landed his own barrack in HiyA's main to make a 4 marine hit squad to kill SCVs. HiyA followed up with a second starport using the mobility and harass of cloaked wraiths to kill many of Mong's SCVs, however, he forfeited map positioning. Due to the high ground surrounding his third and natural, Hiya was contained and his movement was completely constricted. HiyA's attempts to escape with dropships didn't pan out well due to Mong's excellent preparation and his use of the map terrain to its fullest.
Game 3:
HiyA took to the skies once again in game 3, perhaps due to Sin Peaks of Baekdu's unique architecture of a long, switchback-like path by ground. Opening straight into 1 starport and a quick cloak, he delayed Mong's low ground expansion off 1 factory. This was done with vultures and marines then with wraiths. Hoping this damage was enough, HiyA made an incredibly strong commitment off 1 base to cloaked wraiths and siege tanks to go for the kill (with a very slow expansion, even delayed by vultures, as a backup). His attempt to break up the small ramp of Mong and set up a contain on the natural failed. Far ahead on economy, Mong just built up a healthy backbone of tanks, goliaths and dropships. HiyA's last hope of holding on with siege tanks outside Mong's natural was crushed.
Game 4:
Like game 3, HiyA came prepared with a specific gameplan utilizing Blue Storm's architecture. The plan started off with an 8 rax with bunker on the natural's high ground. This was followed up by a marine/vulture attack that allowed a bunker to be built at the natural with siege tank support for the contain. Wraith also helped cover airspace and reduced Mong's air options. Mong's factory command center into starport build seemed to be put on the backfoot. He was able to make a crucial move by sniping HiyA's wraith before cloak finished researching.
Skipping siege to get cloak, Mong walked a tight line as he took out HiyA's second wraith and relied on repair as his factory was being shelled:
Mong got siege mode finished, used his wraiths to pick off one of HiyA's tanks, and was able to breath once again. HiyA was determined to keep the contain on the natural, throwing down a second starport while still on one base to gain the wraith advantage. However, HiyA didn't know that Mong had quietly landed his command center at the 6 o'clock, was mining the gas freely and that after breaking out of the full contain his natural was his third base. With a late second base of his own, HiyA was down by one base (2 to 3). Mong safely split the map in his favour after defending against HiyA's attempt to set up another contain outside his natural. It was an easy ride to victory after that. With the massive economic lead, Mong eventually built up an air force of his own to cement the GG and allow him to be victorious.
The final result was 3-1 in Mong's favour who went on to finish SSL10 in third place, his highest ranking in recent SSLs.
As much as I enjoyed my first three days in Seoul, I could hardly stop thinking about the upcoming finals. Like I imagine many, I spent a long time dreaming of flying over to see such an event but I kept putting the journey off until I had the money, until it was the right time, until it wasn't a ZvZ... When four Terrans made the semifinals and IU was announced to perform at the venue of the last OSL, I reconsidered my latest plans and started looking up flights, booking hostels and finding out what my passport expiration date was - not enough, but thankfully they let me in anyway. The next moment, I was running up the stairs of the subway station next to Jamsil Gymnasium to hear someone say: "Guys, that's probably Stratos!"
It sure was, ten minutes late, sponsored by Skype's enormous message delays. Thus, for the first time in my life, I met some TLers in real life: itsjustatank, the photographer with his 50 tons of camera gear and our interpretor, CaucasianAsian, from the TL staff and representing the plebs there were FuRong, Xenocide_Knight and master_breti.
The stadium was just around the corner and we still arrived early enough. At a tent near the entry, I got an orange OGN hand band that served as a media pass, which was kindly secured for the three of us by CA. We split up with the "casuals" with no hand bands and entered the press room inside and got ready for the opening ceremony while one of OGN's senior staff gave us some simple instructions on how to move around the stage while taking pictures. During the opening ceremony, I pretty much just followed tank and the rest of the photographers around the stage as we ran from place to place to stay out of the cameras and get some other angles of the epic stare down, feeling the heat from the fire puffs at the stage.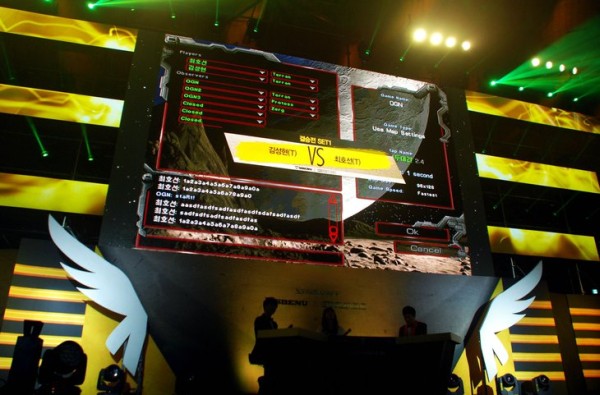 When the game started, we were called off and retreated back to the press room. It had around twenty chairs, most of which were taken by Korean esports journalists that spent most of the time staring at two screens at the front that relayed the broadcast and writing stuff down so that they could publish their live game reviews. Free food and drinks were provided and there were two giant heaters in the corners. While it was cozy inside, I felt pretty disillusioned about the fact that I flew all this distance just to sit locked up in a room and watch the games on a small screen.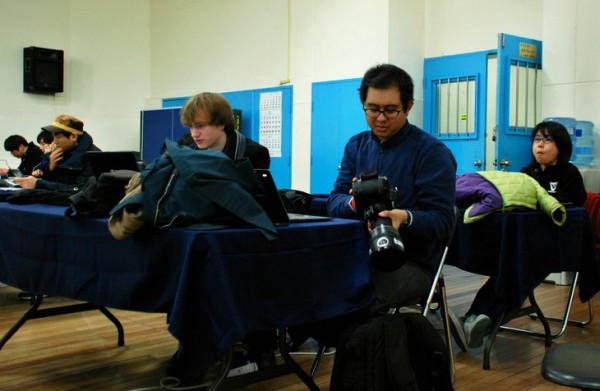 It turned out we weren't really locked up, so after the first game had ended, I made my way back along with one of the photographers, a short Korean lady in a SBENU jacket whom I've also seen at HungryApp's studio. Speaking of HungryApp, I noticed a few of their staff were at the finals with their own camera guy, so they were allowed to get in and takes some shots of the action which makes me hopeful about some possible future cooperation between the two parties. I spent most of the finals idling by along the front row of seats and just tasting the atmosphere. It was too dark to take pictures so I could finally try and focus on the actual games as well. I can't really judge any of them though, even though I re-watched them already. When you're at the venue with so many other fans, everything just blurs into a 10k/10 rating and you realize it doesn't really matter what happens here, what matters is that we are all here.
As things were about to end, the journalists along with tank rushed back into action and I joined them again in the front row. While everyone was aiming their cameras at sSak's booth, I decided to take some pictures of Last as he typed in the GG and took off his earphones, staring into his screen blankly while sSak was making his way towards the trophy.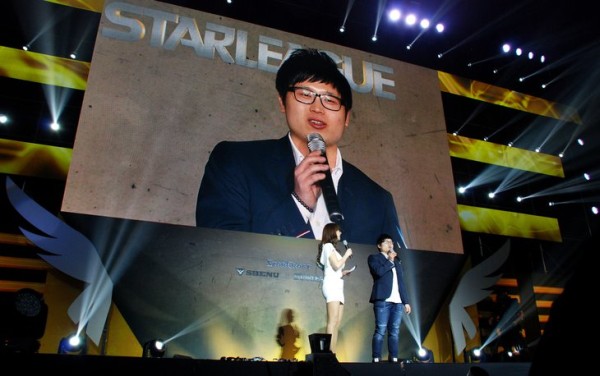 After the photo time and the final speech, it almost seemed like that was it and maybe there would be no performance after all, which was of course exactly what the host was trying to make us think to hype things up a bit. When IU finally made her way on the stage, the venue came back to life with the loudest cheer (from what I can judge in the front row) of the day. Extra photographers joined our ranks then and apparently the front rows were all hardcore fans as they began singing the fan cheers.
The three songs were over all too soon and we headed back to the press room to interview the champion. sSak sat down in front of us all and various journalists asked their questions. We had some prepared with CA as well but they pretty much covered everything we wanted to ask so we just took notes and tank recorded the interview with his camera. sSak then posed for a few pics and when tank was done with his photo magic we went out to meet up with the rest of the guys and go for some amazing Korean barbecue, soju and beer while discussing StarCraft, Korea, TL and of course some IU (sorry guys). It wasn't until the next day that I could sit down and appreciate just how lucky and privileged I was to see all of this in person and how happy I am that I went for it. To any of you guys wondering if it's worth the time and money, I say let us discuss that when we sit down somewhere after another finals, even if it's a ZvZ!
As you can tell I'm not good with the camera but if you're interested you can see
more of the pictures I took here
.

It had always been my dream to be able to fly out to Korea to cover and take photos at a Brood War event. That dream once seemed dead to me. Boy, was I wrong. I am pleased to have finally been able to present to you all the kind of coverage for Brood War that I have been able to do with other game events in the past few years here on this site. You can check out more of my thoughts on the matter at
my blog
here on Team Liquid.
+ Show Spoiler [Copyright] +
Boilerplate
© 2015 J. "
@itsjustatank
" Tayag. All rights reserved.
You must have my express written permission prior to any use, whether in whole or in part.
Re-hosting and mirroring is prohibited. Contact me for details.
With SSL 10 complete, English-speaking fans have been sharing their, largely positive, comments here at TeamLiquid. The range of conversations has extended from how poorly Protoss and Zerg players performed, to praising how thrilling, despite being labeled not-so-exciting, several of the TvT matches ultimately were, to even questioning whether IU was lip-syncing at her finals performance.
Here's a look at how domestic Korean audiences have responded to the SSL on the Afreeca message boards:
Sonic's Fan Responses
Sonic initiated a thread to thank his readers for all their support. He's looking forward to another great SBENU Starleague on OGN and to doing an Afreeca stream/cast some time for everyone.
Fan responses were overwhelmingly positive, with ~130 responses comprising dozens of "Go Sonic!", "Thank you!" and, by and large, Korean versions of our beloved ( ͡° ͜ʖ ͡°)STYLE START SBENU( ͡° ͜ʖ ͡°) cheer. Many praised the strong production value of the SSL for exceeding their expectations. "Brought back nostalgic memories of the old leagues." "StarCraft is still a great game!"
There were a number of praises for

sSak
and

Last
for providing an exciting match. "Great fun!" In spite of some unfavorable circumstances like lack of player name value/recognition, a TvT mirror match-up, and the Saturday time slot (where presumably other events were going on, including a large
Sudden Attack
fan festival), things turned out really well. "Fantastic work!"
These praises extended to Sonic's company SBENU, hoping it continues to thrive. "The big three, the triumvirate of power: Samsung, Hyundai, and SBENU!" Some brought up Sonic's earlier struggles and difficulties, praising his efforts and persistence. "I'll always be grateful." Several fans expressed interest in seeing Sonic doing some casting, with SSL 10 being the first SSL without Sonic in the broadcast booth.
Some commented on the impending SSL 11, hoping that it starts soon. "It can't come soon enough!" A few fans called for
Bisu
,
EffOrt
, and

Sea
to ensure a big "box office" (i.e. more interest, media coverage, and sponsors/revenue). One commenter recommended more marketing and urged more collaboration with

Kongdoo/HungryApp
organizers to ensure the players who didn't compete in SSL 10 would participate at SSL 11. Also for SSL 11, a handful of fans recommended less Terran-favored maps, such as
Jade
,
Electric Circuit
,
Sniper Ridge
, or
Nostalgia
.
A handful of comments expressed concern about how rushed the closing festivities were, with barely any speaking time for sSak and Last, presumably to allow IU to start her performance. And even then, IU had limited time and her four-song performance had to be reduced to only a three song set.
Some responses noted the audience wasn't particularly enthusiastic, including during the IU performance, without necessarily faulting sSak's low-key victory ceremony (perhaps alluding to something akin to
Firebathero's celebrations
). Other criticism was less specific, with one netizen noting, "Frankly, this SSL was forgettable, but I look forward to next season."

sSak's Fan Responses
On sSak's Afreeca page, sSak started a thread thanking his fans for their support. This greeted with over a dozen congratulatory messages.
"Go Ho-seon King!"

Last's Fan Responses
Last's fans bid him congratulations on his second place, and beckoned him to not be disappointed with the end result, nor dwell on and be mired in any mistakes he may have made. His followers, furthermore, are looking forward to interacting with Last during his next broadcasts.
In July 1997, South Korea was in deep trouble. Due to financial contagion, the East Asia region was in a midst of a financial crisis and South Korea was heavily affected by it. Many of those affected in South Korea were being more and more frugal with their finances as the years coming out of the crisis progressed.
As part of their efforts in improving the economy, the South Korean government invested a lot of money into the countries infrastructure. The most important sector of the economy invested in by the government was the IT sector. This meant that a new breed of businesses, 'PC bangs (1)' or what we refer to in the west as 'internet cafes' would flourish. As a result of government investment and competition, prices to go to PC bangs were rock bottom compared to other activities at the time such as karaoke or billiards and as such would become Korea's go-to activity.
So who would have thought that when little known Korean publisher
Hanbit Soft
received the rights to distribute the game Starcraft to Korea in April 1998, it would lead to a multi-million dollar industry that rivaled traditional sports such as baseball and football in the country?
The PC bang industry was pivotal in evolving Starcraft from a game that was played at home into a social function. As PC bangs picked up Starcraft, their income grew tenfold. Starcraft was the perfect activity for salary men looking to play some Big Game Hunters with their work mates after a hard day in the office, or for teenagers jigging school working hard to perfect their craft on Lost Temple.
From this PC bang culture grew tournaments with prizes. Each PC bang would have their own star player, which then would represent their PC bang at the local district tournament. From there, each district champion would represent the district at the provincial championship and so forth. As an example,

TheMarine
- one of the most respected Terran players of all-time, first began his professional career by being the top player in the Jamsil district of Seoul.
It didn't stop there for the rise of Starcraft. Even with national tournaments ran by a group known as 'Knight's Bridge of Korea (KBK)' which brought in some of the world's best players to Korea, the rampant abuse on the online qualifying ladders saw a need to have a more regimented, offline tournament scene.
Here is where we see Tooniverse come in. A cable channel in Korea, Tooniverse was one of the largest channels at the time dedicated to cartoon animation. However, ratings weren't too hot for them. So, one day, a bunch of employees proposed an idea.
How about we broadcast a Starcraft tournament with the best players around the world, in our office using company PC's and table tennis tables?
With this idea, the

Progamer Korea Open
was developed and a new legacy in video game history had begun.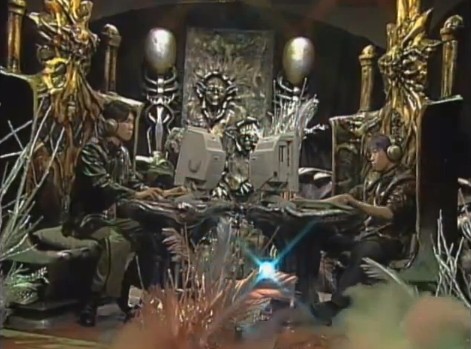 This radical change of programming saw Tooniverse's ratings skyrocket, and gave the channel an idea to transition the tournament to a consistent tournament which would be called the 'Starleague'. After the

Hanaro Tooniverse Starleague
in 2000, OnMedia, opened up a new channel dedicated to Starcraft and gaming in general - the channel which we all know now as OnGameNet. With this transition, OnMedia opened up a dedicated studio, the 'Megaweb Station' in the COEX Mall.
The next twelve years saw so much change from the days of playing on table tennis tables while wearing terrible-looking props from a B-grade movie. Here are some iconic changes that have been made through out the running of the OnGameNet Starleague.
The Freechal OSL in 2000 saw the finals being played at an external venue for the first time, over at the prestigious Yonsei University's exhibition hall. Since then, the finals have always been played at an external venue - most commonly at one of the many indoor arena's all across Korea. The most significant venues for the OSL in terms of history have been

Gillette OSL - Daegu EXCO (first finals outside of Seoul)



Around the time between the NATE and SKY 2002 OSL, corporate sponsorship logos would begin to appear on players uniforms as businesses began investing into the players. Sponsorship of players would lead onto the sponsorship of teams, which eventually led to the formation of Proleague and players using uniforms provided by the team and not the studio.

MyCube OSL saw a change in the branding of the Starleague, introducing the iconic OSL logo to the world for the first time.

The Gillette OSL marked a new beginning for the Starleague, switching to a bracketed Round of 8 format and also being the first Starleague to be played at the newly renovated Megaweb Studio.

With Boxer's miraculous run during the So1 OSL, OnGameNet decided to develop the 'Golden Mouse' award for any player who would win three OSL titles. Unfortunately for Boxer, he would be stopped on his way by Anytime, as part of the legend of the fall prophecy.

Shinhan's year-long sponsorship of the OSL in 2006 caused some controversy as the OSL announced it would change to a 24-man format (speculations arose it was to give Boxer a chance to qualify again). The 2nd Shinhan season saw the first OSL to be held at the brand new venue in Yongsan's iPark Mall. The 24-man format would be abolished at the end of Shinhan's OSL sponsorship.

In yet another change in format, EVER 2008 saw the OSL be branded from the Round of 36 upwards. However to purists, many regarded the Round of 16 as the true Starleague. This would remain until the Tving OSL in 2012.
When it was announced in July 2012 that the

Tving OSL
would be the last ever OSL to run Brood War, many were saddened by the decision. As a consequence however, record numbers turned out to each and every game of that OSL - in fact, the

Flash
vs

Fantasy
semi-final was so full that all the seats were removed from the e-Sports stadium to allow as many people in as possible, thinking that this would be one of the last few opportunities to see the best Brood War being played and broadcast on cable television.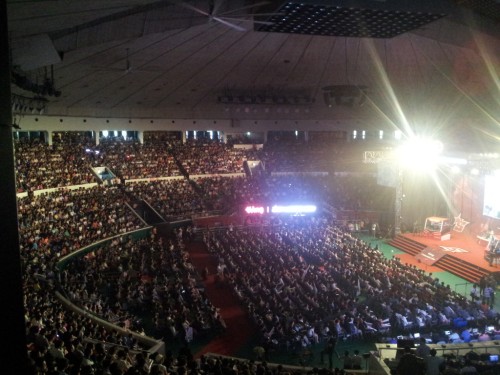 The OSL's slogan for the Tving OSL, 'New beginning, not the end', was an attempt to smooth the transition from Brood War to Starcraft II. However, for the majority of the fans, the OSL was seen as the last straw of an illustrious league. Nobody would have predicted what would happen two and a half years later as SBENU and Sonic helped bring back Brood War to the mass audience.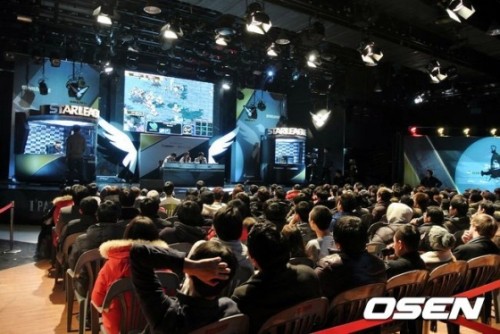 While League of Legends represents the current generation of Korean youth, Brood War is the symbol for the previous generation. Even though many have graduated from school and now have jobs or even family, the game holds a deep meaning for many of that generation that grew up watching stars like Boxer, Yellow and Reach fight it out on their television screens.
Even if it may not be them playing, at least a new generation of players continue to be developed for the audience's viewing pleasure, and Sunday proved that while League of Legends is currently the hot game in Korea at this moment, Brood War will never ever leave Korea's heart.