The SBENU Sonic Starleague (SSL 10) Round of 16 continued to provide fans with exciting moments, including a final day that ran for over six hours, featuring a three-round, nine-game tie breaker along the way. Among some more mundane conservative play, we saw plenty of brazen tactics and proxy aggression. The Ro16 also saw some surprise upsets, including the exits of
JangBi
,
Movie
, and both remaining Zergs.
The stage is now set for the single-elimination bracket, featuring TvP match-ups in all but one pairing. As such, mirroring the Elo rankings, Terrans have continued to show their might, now occupying five of the remaining eight slots.
Read more to find
a summary of each the four Ro16 groups and how each player fared
by
BigFan
. This is followed by a battle report of a
scintillating match between hero vs Snow
by
c3rberUs
. Then, we move onto the
best games from the Ro16
, collated and described by
prech
. As a special treat,
lemmata
has contributed a
fine editorial on Sonic and his vision for progamer careers beyond gaming
. Finally,
Mirabel_
has prepared a
look ahead to the upcoming match-ups
.
Keep
watching, chatting
, and live-reviewing the games ahead as they continue broadcasting on OGN's top-notch production. Join us live on
Thursday, Jan 29 4:00am GMT (GMT+00:00)
and
Sunday, Feb 01 4:00am GMT (GMT+00:00)
, or watch the delayed English cast by TL's own,
Sayle
, as Brood War and the SSL comes home.
Table of Contents

Round of 16 recap
The end of the group stage

Recommended Games
Best of round of 16

Battle report
hero vs. snow

Ipstar to end all ipstars
Sonic's Vision

quarterfinal preview
can protoss stop the terran might?


Liquipedia
Group A
Mong
>
Movie
@
Return of the King
Mini
>
Pure
@
Blue Storm
Mong
>
Pure
@
Fighting Spirit
Mini
>
Movie
@
Fighting Spirit
Mini
>
Mong
@
Sin Peaks of Baekdu
Pure
>
Movie
@
Sin Peaks of Baekdu
Mini (3-0) and
Mong (2-1) advance

With players stepping onto the dream stage, their performances were dialed up to its maximum level. It is no wonder that the Ro16 is full of amazing games. The first group consisted of mostly protoss players (Mini, Movie, Pure) and Mong. Mini took center stage as he defeated everyone in convincing fashion sending a message to his future foes, the shield battery master is coming to the quarterfinals. In the first game against Pure on
Blue Storm
, Mini easily overwhelmed Pure with a reaver and goon force after defending his 2 gate aggression with his signature unit, the shield battery. His second game against Movie showcased his unit control, superb positioning and map awareness with Mini managing to pick off Movie's Shuttle before beating him with a superior goon force. However, his best performance only appeared in the last game against Mong on
Sin Peaks of Baekdu
. His solid macro and relentless aggression (lots of drops) coupled with good decision making skills allowed him to come back from a base deficit and win the macro game against Mong.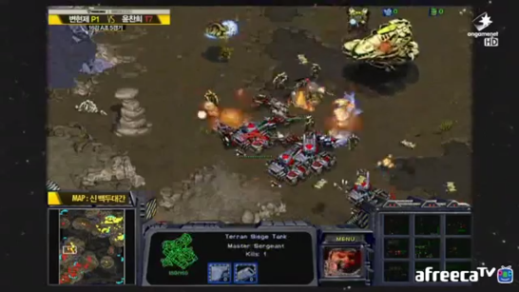 Mini is too strong!
Despite losing a nail biting game to Mini, Mong played some fantastic games of his own sticking to the TvP style that he has grown accustomed to. On
Return of the King
, Mong's strong macro and constant drop aggression were more than enough to take the game against Movie who seemed to falter as the game went on. Mong went on to beat Pure in similar fashion on
Fighting Spirit
easily taking the macro game after early dark templar aggression by Pure forced Mong on the defensive.
By far, the most disappointing performer of the group was Movie who was hailed as one of the top protoss players. Claiming that he was not afraid of anyone in his
interview with TL
, Movie's games reeked of lack of practice on par with his own claims. His unit control and positioning were subpar for someone of his caliber losing goons to spider mines and funneling units in a single line at his enemies. In his game against Pure, he failed to read the situation and deny scouting losing his expansion to Pure's zealots and eventually the game after his dark templar tech was detected. Credits to Pure for sticking to his gameplan and adapting to the situation. Though both Pure and Movie showed some entertaining games, they will have to elevate their game to the next level if they wish to go further in future tournaments.

Unpredictable play-style, large repertoire of builds and strong micro are three ways to characterize Mini's game. He's able to keep up with the best and is a force to be reckoned with considering his latest performance.


Mong has solid macro and showed a strong understanding of the TvP matchups which will come in handy considering the overall racial distribution of SSL.


Pure showed some strong performance in his games and played well however he was outmacroed by Mong and needs to work on his decision making skills if he hopes to make it further.


Disappointing performance all around. Movie's micro, positioning and decision making skills require a lot of work if he hopes to crack the Ro16 in the next SSL.

Group B
free
>
PianO
@
Blue Storm
Mind
>
JangBi
@
Fighting Spirit
JangBi
>
free
@
Sin Peaks of Baekdu
Mind
>
PianO
@
Sin Peaks of Baekdu
JangBi
>
PianO
@
Return of the King
free
>
Mind
@
Return of the King
Tie breaker:
Mind
>
JangBi
@
Sin Peaks of Baekdu
,
Fighting Spirit
,
Blue Storm
free
>
Mind
@
Blue Storm
,
Fighting Spirit
,
Sin Peaks of Baekdu
JangBi
>
free
@
Fighting Spirit
,
Sin Peaks of Baekdu
free
>
JangBi
@
Blue Storm
free (2-1, 4-2 in tie breaker) and
Mind (2-1, 3-3 in tie breaker) advance
Dubbed as the group of death featuring veterans and previous OSL/MSL champions, this was the most anticipated group of the Ro16. A group that had no clear cut favourite with any two players advancing depending on their strategy and gameplay. Things almost went down this way as well except for PianO. It seemed like everyone had his number as he ended up losing all of his games to get knocked out in last place much to the shock of his fans. In his game against Free, despite defending a proxy gate and managing to even make vultures in Free's base, he suffered massive damage against Free's perfectly timed goon and reaver attack and was unable to recover.
On Sin Peaks of Baedu, luck was not on his side as his proxy factory was scouted and his subsequent drops were defended. With a better economy, Mind was easily able to crush PianO. Though these two losses were painful for PianO, none were as bad as his final game against Jangbi. After opening up with a one base factory build, he was not prepared for Jangbi's sneaky dark templars who caused severe economic damage. The icing on the cake? A lone dark templar blowing up his mineral field
twice
causing him to leave the game in dismay.
Lights out!
With PianO out of the picture, all the other players traded blows with each other. Mind defeated Jangbi in a 45 minute long macro game on
Fighting Spirit
. Through solid defense, Mind was able to go up to three bases before managing to outposition Jangbi hitting right before his mass gateway play came into effect. Jangbi in turn ended up beating Free on the back of strong macro and a unit composition consisting mainly of zealots and a reaver for support. Free completed the circle by winning his game against Mind. On
Return of the King
, both players went for the late game macroing up fearsome armies. Mind's strong defense and good use of map architecture helped him take an advantage whenever he engaged Free however Free turned it all around through a great decision, attacking Mind's main. This forced Mind to pull back allowing Free to save his expansions and win the game through his economic advantage.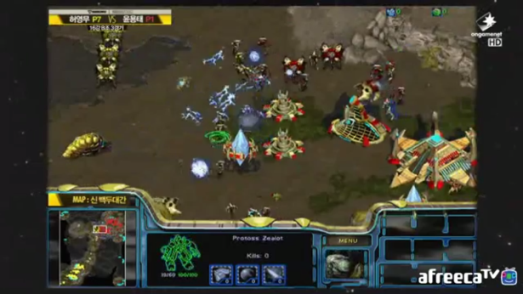 Units out of nowhere.
We were now forced into the first tiebreaker of the Ro16. As if time was stuck on repeat, the first two rounds of the tiebreaker had the players beat each other in the exact same pattern as before until Free decided to break the cycle by beating Jangbi in round three. Mind beat Jangbi in all three of their games. In their first game, Mind won by taking down Jangbi's third and sieging his main after Jangbi overcommitted with a failed double reaver drop. The second game on Blue Storm was quick as Mind bunker rushed Jangbi for the win. The third game saw Jangbi play a risky strategy (double expanding) relying on it not getting scouted. He managed to pull it off defending a strong attack by Mind however both players made several questionable calls that had the game swing in their opponent's favour. Mind finally took the game through a strong offensive position at Jangbi's third then fourth base.
Uphill fight.
Free beat Mind in all of his games. A proxy gate in game one almost had Free lose the game if Mind didn't blunder his bunker counterattack. Afterwards, Free took several key engagements to deny Mind's third and win the game. In game two on
Fighting Spirit
, Free straight up killed Mind with dark templars, reminiscent of PianO's defeat to Jangbi earlier in the group. The last game saw Mind try a bunker rush against the nexus first from Free. It seemed work however Free saved his nexus and went for carriers as he established a third base economy. With map architecture on his side and his growing carrier fleet, Free was able to pressure Mind constantly eventually defeating his army and dealing damage to his third to win the game.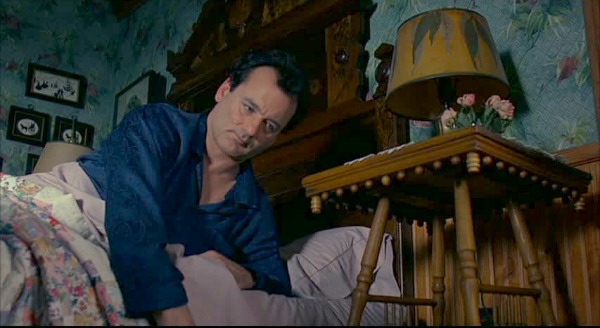 After a while, everyone started to feel like Bill Murray in Groundhog Day.
Jangbi only won the first two games against Free (Rounds 1 and 2). Though Free matched Jangbi in the macro department, Jangbi's smart tactics helped him greatly. In his first game on
Fighting Spirit
, a single dark templar killed over 20 probes at Free's natural while Free lost his army at Jangbi's natural. In their second game on
Sin Peaks of Baekdu
, Jangbi's managed to grab the better position during engagements especially in the last major engagement which had Free attack uphill into Jangbi's concave. Despite being resilient and boosting about his 100% winrate during tiebreakers, Jangbi was not able to beat Free a third time. On Blue Storm, Free took down Jangbi's expansion using dark templars while maintaining his own. Jangbi realized his bad situation and tried to ferry his dragoons into Free's base but this was scouted and his army was wiped causing him to be eliminated.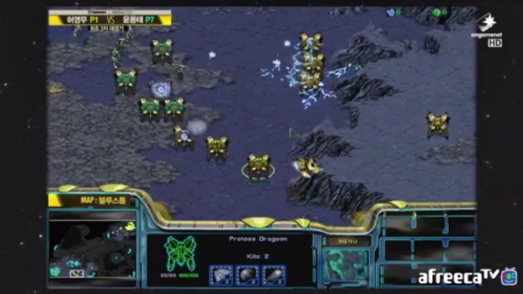 Final moments of Jangbi.

Mind's macro game is one of the best. He's not afraid of going to the late game with anyone and he's pretty quick to react. His only weakness seems to be Free's style of play which he needs to improve against.


Macro-oriented style though he can also cheese as well. He has good micro and know how to play PvT very well.


Solid macro and micro in general. Jangbi needs to learn how to cheese more so that he's not as predictable in his games. He also needs to work on his decision making skills if he hopes to go further in future tournaments.


PianO is able to pull off some unique strategies when he's in top form. He needs to learn to scout more and anticipate what strategy his opponent will play. He's got some of the best late game control available but he'll need to get there to utilize it.

Group C
sSak
>
hero
@
Fighting Spirit
Snow
>
Sea.KH
@
Sin Peaks of Baekdu
sSak
>
Sea.KH
@
Return of the King
hero
>
Snow
@
Return of the King
Snow
>
sSak
@
Blue Storm
Sea.KH
>
hero
@
Blue Storm
Snow (2-1) and
sSak (2-1) advance

With only two Zergs left in the Ro16, this was another group that many kept an eye on hoping that hero would be the first Zerg to make the quarterfinals. The first player up was Snow, the young protoss known for his reaver play against Jaedong in PDPOP MSL. He opened with an aggressive 2 gate against Sea.KH. With great micro and decision making skills, he picked off reavers and took engagements in his favour to trounce the amateur player. He did not stop there as he also ended up beating sSak on
Blue Storm
in a lengthy back and forth game. After opening with a proxy gate, Snow used a combination of reavers and carriers to slowly break down sSak's strong defensive play style multitasking his way to victory with several recalls in the late game. His first loss came at the hands of hero after the Zerg managed to survive some strong attacks and overwhelm him in the late game despite his 'never give up' attitude (see battle report).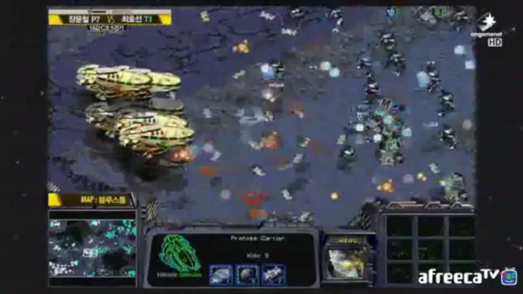 Look familiar?
sSak was the other player to advance in this group. Against hero, he showed off good MnM control and managed to hit the perfect timing, right before defilers were out to take what looked like a one sided game on Fighting Spirit. His second game against Sea.KH on Return of the King showed his ability to adapt to Sea.KH's carriers. Strong macro coupled with good understanding of map architecture and mech control (goliath/tank) were enough to push back and beat Sea.KH in the late game. The story of the group is no doubt, Sea.KH's victory against hero. Despite not advancing from the group, the amateur managed to beat hero on
Blue Storm
in what can only be described as a major upset.
Tiebreakers would have occurred if hero won, alas, Sea.KH had other plans. In their game, the protoss opened up with a cannon rush which failed. He was able to remain calm and played a macro game against the God of ZvP. With strong macro, micro and lots of aggression, he took hero down disappointing Zerg fans everywhere. To say that hero not advancing is a disappointment is an understatement. hero is capable of much more based on past games that his latest results do not feel like his own. However, Sea.KH should be commended for his strong game and for playing his heart out for the win.

Great micro, the ability to take risks and stick to the plan are Snow's strengths. He plays very entertaining games and can vary his playstyle when needed.


sSak may not be a fancy player but he plays the matchups well. He has a calm, collected and patient mindset which potentiates his macro and micro making him a threat to all of the remaining players.


hero is quite the anomaly. Despite having strong macro, positional micro and some of the best ZvP around, his ZvT is still a matchup that he needs to work on greatly. Despite losing to Sea.KH, there is no doubt that hero will come back stronger in the next SSL.


Sea.KH's games against sSak and Snow showed that his macro needs improvements if he wants to advance further in future tournaments. His victory against hero showed that he has the potential to become a feared player if he works hard on improving.

Group D
GuemChi
>
Last
@
Sin Peaks of Baekdu
HiyA
>
Larva
@
Return of the King
Larva
>
GuemChi
@
Blue Storm
Last
>
HiyA
@
Blue Storm
Last
>
Larva
@
Fighting Spirit
HiyA
>
GuemChi
@
Fighting Spirit
Last (2-1) and
HiyA (2-1) advance
While this last group of the Ro16 is arguably the weakest one, the games were still quite unique and entertaining to watch. Players pulled out all the stops to try and best their opponents so that they could advance to the quarterfinals. Our first player, Last was such a player. In his first game against GuemChi, he pulled off a bunker contain after GuemChi decided to go for the rare strategy of forge FE. Despite being in a tough position, GuemChi managed to break the contain, re-establish his expansion and muster up a strong army to challenge Last and win the game. After this loss, Last decided to spice things up with his next opponent HiyA.
On
Blue Storm
, Last opened with a proxy 6 rax bunker rushing HiyA who lost after he was unable to destroy the bunker. The loss was so quick and unexpected that HiyA's expression after the game was one of confusion and contemplation. Last did not stop there going for another proxy rax against Larva on
Fighting Spirit
. With great rax positioning, Larva did not scout the rax instead scouting the bunker at his natural. He was unable to take it down and was contained. Attempts to break out were futile as Last's defense and macro were strong enough to stop the Zerg. Sources tell me that Larva, like HiyA, was taken back so badly by the proxy rax that he spent his evening proxying Zerg players on Afreeca. Could Last be the dark horse of the tournament? Could he be the
last
one standing?
Bunker my rax.
In all the chaos, one must also not forget HiyA. Despite his unexpected loss to Last, HiyA was able to trounce his remaining opponents. Against Larva on
Return of the King
, HiyA's unit control and macro gave him control of the game. Larva tried some burrow shenanigans to get the upper hand but they failed miserably leaving him open to HiyA's constant aggression which he could not handle. In his last game against GuemChi, HiyA managed to get an SCV scout inside GuemChi's base to find out that dark templars on the way. He went on to trick GuemChi into trying to get into his base with his army but with perfect timing, HiyA closed off his entrance and easily beat GuemChi's army to win the game.
Dammit Zealot, you had one job!
Having lost two games, Larva had one last chance at redemption. Facing GuemChi on
Blue Storm
, Larva went for the one unit that even Bisu has trouble with, hydras. With 5 hatch hydra in full swing, Larva took control of the map and was able to overwhelm GuemChi with constant aggression. In the end, the last Zerg player was eliminated leaving us with an quarterfinal free of Zergs. Hard to comprehend considering all the strong Zerg players that SSL originally started with. As for GuemChi, he might not have advanced to the quarterfinal but he has won the hearts and minds of fans with his funny strategies.

Last's biggest problem is knowing when to retreat after a successful attack which is pretty important in the grand scheme of the game. Other than that, he is able to pull off cheese well when it matters and has great micro to boot.


Solid game overall with exceptional macro and great micro define HiyA in a nutshell. If he elevates his level of play just a bit more, he will be a strong contender for the title.


Unpredictable and has the guts to try new strategies even if it can cost him games. Larva still needs to work on his ZvT game which is holding him back if he ever hopes to advance in future tournaments.


Like Larva, GuemChi is not afraid to try new strategies. He has a solid understanding of the ZvP matchup and is patient when needed.

Out of the nine Zerg players that entered the Round of 32, only two made it past their groups to compete in the Round of 16. Larva is one of the most popular broadcast jockeys (BJ) in Afreeca StarCraft. He performs strongly in online matches and looks to make an impact in offline leagues. Unfortunately, the nerves of playing on OGN's stage for the first time got to him and he couldn't make it out of his group. The other player, the one who played in this match is quite the veteran of the KeSPA leagues and most recently, a finalist in the previous season of the SSL. He has a reputation of being a Protoss-killer but he has somewhat hit a rough patch even in his best match-up.
On the other side is former CJ Entus player Snow. Snow is a newer face relative to veterans like Shuttle, Kwanro etc. Although reputed to be a PvT specialist, he is no pushover when it comes to PvZ, famously taking Jaedong to a fifth set in a series (you should watch if you haven't yet). The map is Return of the King, it favors Zerg slightly over Protoss probably due to wide choke at the natural, making it easier to get past FE sim cities in ZvP.
Hero spawned at the bottom right while on the opposite corner, at the top left, spawned Snow. Hero opened with overpool and took his nat before lings. Snow didn't scout and went blind forge nexus. Once the lings came out, they spread out to find the Protoss base. Snow put only one cannon at the natural but having scouted lings going towards his base, he brought probes over to block the holes around the cannon. As hero adds a third at the natural at two o'clock, he rushes his lings through a crack and two lings make it to the main. Hero sniped three probes and got a full view of Snow's build order. After speed finished, hero tried again and got six lings through a cannon and a pair of zealots. He didn't inflict much damage except two zealots, which made it easier to get past the two cannons on a third run-by. With only a goon left, Snow was forced to pull probes which made short work of the lings. His scouting sair died shortly but not before acquiring precious scouting information.
At this point, hero prepared sunkens against Snow's templar tech while Snow put up cannons to defend against muta harass. Then Snow did something strange. He went to two o'clock with one zealot, one goon and one archon. Before he could reach the base, hero intercepted him and sniped the archon with muta-ling. Perhaps it was to delay for his corsair count? Anyway, with no threats to his bases, hero took his +1 armor mutas to harass Snow's natural. Snow defended well with corsairs so hero decided to harass the main. However with three cannons plus sairs there, hero had to wait for scourge and critical mass mutas to deal with them.
But time is a scarce commodity, especially when Snow unleashed his scary +1 timing attack. Hero had only mutas and scourges to meet the onslaught. He couldn't do anything to delay as Snow marched across the map onto the two o'clock base that had only two sunkens for defense. As the Protoss force drew closer, hero frantically placed creep colonies to supplement the only two he had. Snow also brought with him a fleet of corsairs to keep the mutas away. Under a hail of goon fire, the sunkens went down one by one. Hero retaliated and took down the sairs with scourge. Lings popped out and drones were pulled. Mutas managed to snipe straggler goons but hero couldn't get the ones firing at the last sunken because of an archon. The lings became fodder and it came down to a drone block. Then the last sunken took out the archon before it too went down. Some lings threatened a run-by which prevented reinforcements from helping the attack and hero saved his expo.
Clutch save!
The reinforcing zealots that got blocked by lings tried to annoy hero and it allowed Snow to start a third base at ten o'clock. With Snow sinking resources into his new expo, hero was free to harass(read: abuse) Snow's bases once again and wreaked havoc in both the main and natural mineral lines. Hero started to prepare for late game by taking one o'clock and getting lurkers to help fend off any aggression from Snow. In a short lull in the action, Snow took the mineral-only island and hero with hive having just finished, put down a "cowshed" and upgraded to a greater "bird's nest". Ultras and guardians shouldn't be any surprise. Hero also added macro hatcheries at one o'clock to begin producing the masses of Zerg for the late game.
Snow started moving out to patrol the area outside his natural as +3 attack upgrade neared completion. When it completed he brought his units to the middle and then set his sights on the two o'clock base again but hero had prepared a wall of sunkens as this base also safeguarded the way into the one o'clock base. As this happens, Hero tried to squeeze some more value out of his now useless mutas by morphing them into guardians. The guardians started attacking the nearest structure -an assimilator- to bother the Protoss. Snow responded by storming the slow guards. Two storms made quick work of most of the guardians making them ineffective.
"Lesson: Don't use guardians"
Snow brought his main army back near his bases where they blunted attacks from several control groups of lings and some lurkers. Little did hero know that he missed Snow's warping base at eight o'clock, giving Snow enough time align his forces to defend. When hero decided to attack this new expansion, he unleashed his ultras. But he wasn't the only one with new toys. Snow brought with him a shuttle and reaver. When hero attacked it was a disaster. Hero A-moved everything into one single point where Snow could concentrate splash.
A bloody massacre.
Because of this, Snow takes map control and headed towards two o'clock again. But he was not that stubborn and instead headed to a new base at four o'clock. This base had no hope of being saved as hero elected to trade it with Snow's eight o'clock base. As soon as four o'clock went down, the only other option was the heavily defended two o'clock. He started slow pushing with reavers, then suddenly, hero springs a trap with lings from the top, lurkers from the right and ultras from the bottom. Snow headed for the path of least resistance -the lings- and dared hero to engage with his splash army at the choke point. Hero declined. Snow retreated through the valley towards twelve o'clock where he repulsed the cows that intercepted him there.
Sandwiched!
With no new bases, the players were beginning to feel the starvation. At this point, Snow has been at four bases for a long time and he really needs to expand to keep up with hero's cost-effective Zerg so he moved to secure the expansion spots at the bottom left. Hero, who was at five bases for a long time as well knew that fact. He loaded a bunch of units in overlords and sent them to Snow's main to wreak havoc. It is interesting to note that at this point hero still hadn't made any defilers, seemingly content with sinking all the gas into cows. Snow of course then recalled all his units to the main to defend. But it was a diversion. As Snow moved all of his units away, hero ran with his cows and assaulted the eight o'clock. Snow was left in complete disarray as hordes of ultras appeared, leaving his nexus undefended and consequently, sniped. With more ultra-lings appearing and only a handful of units left to defend Snow conceded. Good game.
Although hero's play was sloppy, his immense understanding of the match-up gave him the strategic edge in his victory over Snow. Sadly this was the last but nevertheless, a memorable Zerg victory in the SSL as both Hero and Larva fell out of their respective groups.
Ipstar
is a pejorative Korean slang term that literally means playing Starcraft (star=스타) with your mouth (ip=입). Ipstar usually involves talking about strategies and tactics that
sound
great but are revealed upon closer examination to be nearly impossible to
execute
correctly. The following sentiment captures the prevailing attitude most Korean fans have towards ipstar.

H. Ross Perot:
Talk is cheap. Words are plentiful. Deeds are precious.


However, the flipside of this is that when someone turns ipstar into reality, jeers can turn into positively deafening cheers. Part of the reason that
BoxeR
is given a large share of the credit for popularizing Starcraft as a spectator sport in Korea is that he had a habit of turning ipstar into reality. Some of you may remember watching the broadcast in which
GARIMTO
could be heard uttering his private thoughts in confused wonder as a small marine-medic squad spent more than two minutes annihilating lurkers in
YellOw
's main:

Garimto:
Why won't those marines die?


"All you need" to overturn a lost game against carriers is to either simultaneously lock down the entire fleet or place optical flares on all observers before flying in with cloaked wraiths to finish the job, right? Easier said than done. Similarly, when KeSPA forced its players to switch over to SC2 in 2012, it may have been said that "all you need" to revive professional BW in Korea is to get rich and sponsor the leagues with your own self-made fortune. Again, easier said that done. This ipstar scenario sounds like a fantasy conceived in the naive mind of a total noob. The degree of difficulty associated with actualizing this ipstar is immeasurable.

Popular Korean Internet Meme:
그런데 그것이 실제로 일어났습니다.
"But it actually happened."


Although he is not quite there yet, the man who has come closest to pulling off this ipstar to end all ipstars is
a hick from the remote mountains of Gangwon Province who never went to college
. Sonic was just an uneducated kid who loved making silly videos about Brood War. He worked briefly for Ongamenet before he completed his military service.

Sonic wrote on 2014-11-18
열심히 사업해서 내가 돈 걱정없이 내가 리그를 후원해볼까? 라는 정말 멍청한 생각을 했던게 지금은 현실이 된것 같습니다
"It seems that the stupid thought I had about working hard to succeed in business so that I can sponsor a league without worrying about money has come true."


It certainly has. Now he is the CEO of a multi-million dollar sneaker empire that is expanding into China. The male lead in a
network television series
was cast as the "CEO of Sbenu". His company is not only successful, but it has even made its way into the fabric of popular culture in Korea. Filling his garage with a
Lamborghini
,
Bentley
, and other luxury cars is just icing on the cake. I was surprised to read about his expensive car collection, but I should not have been. The amount of coin necessary to hire IU to be the face of your brand is likely to be an order of magnitude larger than the price tag of a Lamborghini.
However, our man started sponsoring BW leagues
before
he made it big. He often hinted that he had lost money on the last few iterations of
SSL
. There is good reason to believe his claims. Although BW remains popular in Korea, SSL could not be characterized as a pro-level league until SSL9. The Afreeca broadcasting platform suffers from a number of issues which limit its ability to reach viewers (even in Korea!). Furthermore, the viewers on Afreeca tend to openly disparage Sonic's shoe products in the chat. If anything, watching SSL on Afreeca may have given viewers the impression that Sbenu was a shitty product. Until SSL10, which is broadcast on Ongamenet, it would have been accurate to say that Sbenu was advertising BW rather than the other way around. Even today, Sonic must spend money on more cost-effective forms of advertising---such as product placement on network television and sponsoring LoL on Ongamenet---so that his company can be successful enough to continue financing the revival of BW.
Despite having achieved the impossible feat of bringing BW back to Ongamenet, Sonic continues to dream big. In particular, he has continued to suggest that he wants to help establish an infrastructure that would support the continued existence of professional BW even long after the last generation of KeSPA BW players grows old.

Sonic wrote on 2014-11-18:
신인발굴에도 신경 쓸거고 아마추어 육성에도 크게 신경 쓸 생각입니다.
"I will put some effort into finding new BW talent as well as developing amateur players."


If you have followed his broadcasts of Sbenu Proleague and SSL9, then you may have noticed that this theme seems important to Sonic. He often made an obvious effort to hype up amateurs and give them a chance to compete with pros on the same stage.

Sonic wrote on 2014-11-18:
이스포츠의 역사가 스타1으로 시작한 만큼 스타1은 바둑과 같이 평생을 할수 있는 컨텐츠로 갈수 있게 많은 분들이 도와주세요!
"Given that the history of eSports began with BW, please help us establish BW as a form of entertainment that can be with us for our lifetime like go."


In Japan, professional go has continuously existed since the 17th century as a spectator sport. In Korea, professional go has been around since the 1950s. The graphics for go are---excuse the pun---stuck in the
stone
age. The audience is but a tiny fraction compared to those who follow the major sports. Yet the professional go scene lumbers on. What makes BW so special that it cannot do the same? Nearly every man aged 25 to 40 in Korea has played and enjoyed BW. The same cannot be said for go. Why must BW die while go lives on? While most of us held pessimisitic views on the long-run prospects of competitive BW, perhaps Sonic's perspective was inspired by the hopeful example of this "other ancient game" being played professionally in his country.

Sonic wrote on 2014-12-17:
엔트리로 말들이 많은 것 같습니다.
이번 10차 스타리그는 아마추어 출전들이 좀 있을것으로 보입니다!
어느정도는 필요한 시기라고 봅니다.
"There has been much grumbling about the entries. More amateurs will be competing in SSL10. The time is right for such a move."


But why? The fans wanted to see more former pros. Why were these no-name amateurs being considered for SSL10? For that matter why did Sonic previously gather a team of amateurs to compete in the Sbenu Proleague? Why did he pay them and provide them with practice space? The time was right because the last generation of KeSPA BW pros is about to enter the military and/or begin a phase of steady but inevitable decline in playing ability. Unless a new generation of players can inherit the accumulated knowledge of the past and experience competition at the highest level, the return of BW to Ongamenet may be remembered as merely as the final hurrah before the end. But as Sonic's SSL10 promos say, he wants this to be a new beginning not the curtain call (Konglish:
Not an end but an "and"
).

Sonic wrote on 2014-12-17:
좀더 길게 나아가자면 저는 아마추어 팀 까지 창단해서 선수들이 연습할수 있는 공간. 그리고 혹여나 잘 안되었을시 우리 회사 취직까지 시켜줄수 있는 시스템으로 팀을 만들 생각을 갖고 있습니다.
"In the long run, I want to go as far as creating amateur teams, provide practice space for the players, and create a system in which players can be hired at my company if things do not go well for them."


Here, Sonic offers us a glimpse into the truly epic scale of his plans. He envisions a new system to encourage, support, and nurture gamers who aspire to be tommorow's
Bisu
. Furthermore, what he envisions isn't the flawed KeSPA system that left all but a few stars to fend for themselves when their careers came to an end in their late 20s. Wannabe gamers---and even those who made it as pros and had moderate success---had no backup plan if
things did not got well for them
. Ultimately, once the glitter of glory wore off and the public realized this, professional BW may have eventually faded away even if unfortunate catastrophes did not blindside it.
Most former gamers have had to completely start over with essentially zero formal education in a depressed economy and a society where academic qualifications seem be the sole determinant of one's station in life. Some of the stars were enrolled in sham colleges to pad their resumes for public consumption. Most pro gamers attended a sham high school that allowed them to skip classes to practice and play in leagues.
Where are those pro gamers now? (
Source
)
Nada was running an internet shopping mall before he left for the army.

Starcue sold cell phones and now runs a PC Bang. Honest and Skelton also run a PC Bang.

Kwanro works in real estate.

Light worked part-time at a coffee shop.

MuMyung was publicly humiliated when a newspaper reported that he was now the manager of a seedy establishment where men pay to drink with scantily clad women (illegal prostitution implied).

Old gamers JinNam and SoO (brothers) started a shop specializing in french fries.

910 entered a company called Naucom (now called Afreeca).

[Oops]ClouD runs a roast duck restaurant.

Kim Yangjung, former manager of WeMade FOX, runs a pigs' feet restaurant.

Anytime got a job at Halla Climate Control (??)

FireFist became a stenographer and now teaches at a stenography academy.

BackHo is studying theology

Diviner)KS is a CPA.

SoNiC)BlacK graduated from a top university and works at SK Planet.

Sunny is attending UC Berkeley.

TheBOy works at Blizzard Korea

Aozora is the CEO of an indie mobile game developer.

Many others started their own business, failed, and went into debt. These are just the people we know about. The vast majority of former pro gamers have been completely forgotten and their fates are unknown. Only a lucky few got to be actors, television personalities, coaches, and commentators. This is quite depressing when we considered the fact that very few players earned decent incomes while they were pros.
Recently, the new president of KeSPA made waves for succesfully negotiating the creation of a special path to admission for professional gamers into the Sports Science Program at Chung-ang University's College of Physical Education (
link
). Last year, two LoL gamers became the first to be admitted to the university under this system. Chung-ang is a reputable institution and this is a step in the right direction, but the admissions quota for pro gamers is a whopping
two slots
. It is unclear if this system will ever help the average pro gamer, especially given that winning a competition of some size is among the admissions criteria.
In Sonic's vision of the future, the pro system would be set up in a way that would guarantee alternate stable career paths for youths who aspire to be pros. This is the first step toward raising a new generation of professional BW players. Lowering the downside risk means a greater number of challengers. A greater number of challengers means that the quality of those who qualify to become pros will be higher. Higher quality players means (hopefully) more viewers.
Getting strong amateurs to compete with famous former pros on the big stage creates continuity between the current generation and the next so that fans recognize the next generation as the legitimate successors of the greats that they love so much today. Perhaps Sonic's special interest in and generosity toward players like
Mong
and
Larva
reflects his desire for this continuity.
Maybe this is all a huge stretch, but... I want to believe.
As crazy as it seems, our intrepid hero might be just getting started. None of us saw the glorious return to Ongamenet coming. While exact numbers have been difficult to track down, there is consistent chatter in the ether that the TV ratings for SSL10 have been great among key demographics so far. What unexpected miracle will blindside us next in 2015?
The best may yet to come.
This is the first quarterfinals in the entire history of

Korean Starleagues
without a Zerg; 60 premier leagues have come and gone and the fickle, highly map-dependent race could never be ousted so early, nor so easily, and we can blame anything from iffy maps to tough groups to flimsy race leadership. But enough about the losers, let's talk about the winners.
A swarmless Ro8 brings with it the promise of heavy carrier usage, expert mine placement, and an intense mirror. With Protoss as the minority race, it's statistically likely that the racial balance will remain even for SSL10's remaining rounds. What we lost in diversity, we gained in skill, as the focus of each player will be narrowed by long sets, higher stakes, and ... one less taxing match-up to prepare. Did we mention that every single remaining player is a TvP wonder? Speaking as a Zerg fanatic myself, it's plain to see that the best is yet to come, so hold on to your wool hats.
Now this is a match. With the second coming of the Starleague,
Mong
, the Pig of Afreeca, and
free
, the last Dragon standing, unexpectedly returned to form and advanced in every league they entered without breaking a sweat. Even after such an eventful Ro16, Terran and Protoss fans alike are thirsty for such expressive play. Though, frankly, Mong has them beaten in thirst.
Free managed to avoid the slightest possibility of facing a Zerg up until their extinction, and whether that fact plays into his renewed focus is impossible to know. What's certain is that no Terran wants to face free in his current form. Most recently, free broke Mind's win streak over his knee with four convincing games through a grueling tiebreaker (as Mind continuously mashed fellow dragon and PvT messiah JangBi to a pulp) and played his part in knocking stylish favorite PianO out of both premier leagues. Free's PvT, so recently in doubt, is now perhaps the scariest in Korea, at an 8-win streak with favorable records against all the relevant Terrans of 2014-15. Free's signature PvT style since his comeback consists of a steady supply of well-micro'd zealots and dragoons, favoring robo and templar tech to deep stargate play. Free could write a manual on picking one's battles and inspiring combat expertise in his own units - that mid-game strength how he ascended to Dragon-hood and how he's broken push after push this year. At this rate of improvement, the Battle God may emerge as undisputed king of his race by winter's end for the first time in his long career. Undefeated on Blue Storm and only vulnerable in the mirror match, free was shuffled into the bracket far away from HiyA (the last Terran to beat him) and the other Protoss quarterfinalists, Mini and Snow. It will take an even stronger Terran than last round's Mind to deny him his path to the final.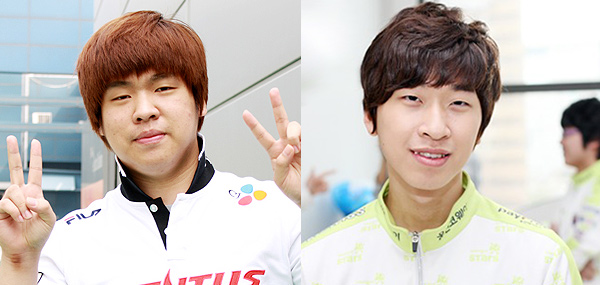 Opposing him is the Pig Terran himself, rising again alongside Korean Brood War to qualify for bracket in both SSL and

KSL
, dominating weaker opponents like he did back in 2012. In TvP, Mong is a very micro-heavy Terran with an emphasis on the mid-game APM peak. His timing pushes have no brakes to speak of, and are rarely broken. Mong's refined, aggressive style is strongest on standard maps and his mastery of the Terran staging phase gives him a resilience against cheesy openings; altogether the whole Mong package is reminiscent of the early days of Flash, granting him the nickname "Afreecan Flash" even before introducing the Pocari Sweat ceremony with this competition. Mong couldn't claw his way back to an advantageous position against Mini after initial zealot aggression on Sin Peaks of Baekdu, but when any Terran manages such a comeback on that carrier heaven, we'll happily blame the bacon for faltering.
Earlier this month, in KSL's Ro16, the first and only game on record between these players was taken by free before the 15-minute mark. Mong's been advancing steadily and stylishly, but he hasn't taken a group over a strong Protoss yet in this three-ring circus. Mong's path to the SSL10 bracket phase was probably the easiest of the eight standing players, leaving the razorback with yet more to prove against the Battle God. Though Mong casts a deadly shadow in TvZ, TvP is both his and free's signature match-up, and if the previous rounds are any indication, we can expect signature play from both and on every map played.
free
to advance.
All eyes were on
Mind
to advance to three winter finals like a high octane snowplow, up until an in-form Dragon delayed his well-earned ascent to this quarterfinals four times in one night. There is no rest for the survivor of two Groups of Death, for he must now play his historically weakest match-up, the mirror, against both ends of the spectrum of Terran lameness. Standing before him is whimsical TvT sniper
Last
, wrecking his way into his first major bracket ... to very little fanfare.
This mirror set has taken place before: three months ago in a LoveTV sponsored Bo5 across nonstandard maps, Last a TvT master, took the dominant Mind to a fifth game before faltering on Katrina. Though the two play with a similar style in TvT, the set they ran revealed the honed game-sense vs efficient mechanics dichotomy that separates older and newer players (ironic, given that they peaked in the same era); Last would lose the build order tossups early on and get out-micro'd in early push situations, but triumph if he delayed engagements until he could invoke his superior macro-heavy late-game. This static style, which carried Last to the uncontested #1 rank online during the Fish summer season, is the style that was expected of him in SSL10, but the robot decided he wasn't confident enough on the televised stage and instead went for all-in after all-in, earning the ire of every Zerg fan as he bunker rushed swarm-hope Larva out of the running. Last's previously apparent weakness to early pushes is not a given when he's wild-carding his way to the quarterfinals with such unsafe shenanigans like so, and if he can take the initiative, Mind will have little hope of recovering it.
Mind, champion of 41SL2 and almost untouchable in three separate leagues, has a much shakier record in TvT, a match-up he's mostly avoided of late. Lacking the raw management ability of the other Terran lords, Mind's TvT is heavier on tech and tactics than his colleagues, putting him in the same quadrant as the more radical PianO. He is not afraid to play standard 30-minute TvT, but his wins against other strong Terrans tend to be nonstandard games on nonstandard maps, with a horrific 1-9 record in TvT on Fighting Spirit in particular. Where the maps of SSL10 lie on the standard-nonstandard slider in Mind's book (and it's a big book for the Scholar Terran) are anyone's guess, but as mentioned in an earlier preview, Mind's TvT is hardly weak, especially before the 20-minute mark, where his solid army control and cerebral edge are the most significant factors.
Between their professional and amateur careers, Mind leads 4-3 against Last. This series could go either way, but Mind's form is not in doubt, especially after unexpectedly beating TvT lunatic PianO in the Ro16. Last has every spectator on edge with his recent extremes between grimy cheese and an overwhelming turtle late-game, signifying that, although Mind should win this round, it's potentially the toughest match ahead of the Scholar. Watch for the 15-minute mark because that's around where these players are equal.
Mind
to advance.
Every day that
Mini
plays, it's as if a different ex-progamer was behind the keyboard. His games ranging from Dragon-esque to embarassing, baller to safe, carriers to arbiters to neither to both. He's an Ro16 regular but a rare sight in semifinals, with just enough scattered wins on the top Terrans to imply that he has attained rival status. Like a white-hot ball of fire (having barbecued a whole Pig on the way up from Ro16) Mini now seeks to set one of 2014's Terran lords ablaze in a Bo3.
Best known on the pro-scene for filling the space left on STX SouL at the military leave of Protoss ace Kal, Mini could hardly be considered the replacement if he weren't just as wildly inconsistent. As KeSPA phased Brood War out, he showed signs of major growth, hitting the quarterfinals in the 2012 tving OSL, where he would lose 1-3 to eventual champion JangBi. That situation in premier leagues has become familiar to Mini, seeing as he also lost to Kwanro in the SSL9 quarterfinals and now faces sSak at the same stage. The only difference is that this time around, Mini painstakingly crushed every head required to reach this quarterfinal and shows no sign of slowing down. His unmatched 5-0 record in this Starleague, which were all won stylishly, speaks for itself, and if the same baller Mini can consistently show up to bat for once he's favored to knock the whole bracket out of the park.
More of a winner than a showman,
sSak
's rock-solid fundamentals and top-tier decision making have rendered him as the benchmark of completeness for his Terran and Protoss opponents in 2014, having distinguished himself from the other Terrans by way of an unparalleled ablitiy to capitalize on small mistakes. With consistent mechanics and a heavy practice schedule, sSak's edge over most Protoss lies in his re-siege wisdom and spacing of large goliath waves against carriers, though most of his online victories come from an ingrained and versatile han-bang push. His one-sided loss to PvT annihilator Snow on Blue Storm has shaken our faith in him, but we need only look as far back as his long Bo5 against Bisu in December to see what sort of cracks form under the pressure sSak's mech exerts. sSak also has an apparent weakness to Blue Storm, having gone 0-5 on the map in amateur leagues, whereas Mini's PvT on the same map remains undefeated, boding poorly for the TvP expert.
sSak maintains a 3-1 record on the Miniboss, that one loss being the result of a poorly handled proxy two gate on the aforementioned Blue Storm. But he's never faced this Mini. Mini has shown up to all five SSL10 games on the same soaring high, and that's the big question - will it be a Mini day? If sSak has his way, the matches will last until the first well-timed push, and if Mini has his way sSak won't live to see goliaths. Not to rule any surprises out, expect a short series, hopefully not as short or embarrassing as
Mini's last PvT set
.
Mini
to advance.
With 2014 now a fading memory, the distance between the standing Terran oligarchy and the advancing wave of reclaimed Protoss seems at last to be closing, certain as it is that the best Protoss can once again reliably check the five rampant kings of the Terran race. This last match illustrates this trend perfectly:
HiyA
's Dragon-slaying trademark TvP stumbles before new rivals Pure and free, casting doubt as to whether he can hope to stop a heartless monster like
Snow
.
Dismantling Shinee and subjugating sSak to reach the quarterfinals, Snow is favored against all five of the remaining Terrans in SSL10, and is in the best condition - with the highest consistency - to reach the final. Snow's one-true-PvT has induced nightmares for an entire year as all other amateur Protoss streaked or slumped, leaving Terrans such as HiyA to run rampant. Having proven himself invulnerable against one top Terran with immortal carrier harrass, Snow will surely hope to launch a similar plan against HiyA on the many carrier-favoring maps. Like Last, Snow is inconsistent in minor league participation, which makes it more difficult to gauge his skill level, but his sparse results against the best non-Zergs has been so consistent this year that it's a fair guess he won't suddenly lose his edge. Despite having played fewer games, it is not Snow's, but HiyA's form that is more in question.
Known in 2014 for his solid mechanics across all three match-ups and a brilliant record built against each of the Dragons, spunky fish HiyA continued in January to exhibit uncharacteristic mistakes, dropping out of HSL to his historically strongest match-up, TvZ, and concurrently dropping a vital Bo3 to a hidden
horrorgate into DT
by risen demon Pure, eliminating the fish shockingly early from concurrent league 41SL3. HiyA's gg timing is also one of the fastest in the business, which may be costing him games that a more poker-faced Terran could win. However, HiyA's signature mine play and fluid transitions are still in form, and he's developed star-sense enough to defeat Bisu in multiple Bo5s over the summer, an accomplishment shared by very few. HiyA advanced first over the otherwise-dominant free in Ro32 despite the Dragon's best efforts to wrest control from him. What separated HiyA from all the Terrans that couldn't maintain an advantage on free was constant flow of damage from delicately-placed mines, and if free (who just this month waltzed right through the mines of Sea and Mind) wasn't prepared for it, we can't assume that Snow will be either.
The last time these two beasts met was BCTV Starleague 1 last summer, in which they went 2-2, bringing their all-time head-to-head score to 3-2 in Snow's favor. Despite both players exhibiting domination in LoveTV Sponmatches last autumn, the two never met on that online stage. Snow is currently sitting at 10-1 in PvT across all the maps used in SSL10. Still, that one mark on his record is Magikarp's doing, and that glimmer of hope might be all that is needed to turn the tide back in the Terran's favor. That, and professionally HiyA was the single most dominant player on Sin Peaks of Baekdu. Across four maps, it might be very close.
Snow
to advance.
---
WRITERS:
BigFan, c3rberUs, prech, lemmata & Mirabel_
GRAPHICS:
Hyde
EDITORS:
prech & Hyde
PHOTOS:
dailyesports
, CaucasianAsian & 538