Daily E-Sports interview/article about Sangho and the match-fixing scandal.

The player who was hurt most by the match-fixing scandal

After the news of the match-fixing incidents came out, who were the players who were hurt the most? Probably the numerous players who played fairly and had nothing to do with the match-fixing. The unpleasant incident caused both OGN and MBC to have difficulties securing sponsors, and disappointed the fans and hurt the industry. There is also another victim – before the completion of the investigation, eSTRO's Sangho was implicated due to a fabricated list of involved players by a netizen.

I met Sangho the day after the first public investigation of the match-fixing. When I met him, his face was much thinner than during his life in the practice house. The happy and enthusiastic Sangho who entertained everyone around him has all but disappeared now. Reflected now on his face is only the hardships and sorrows he had to endure.

Even though he is now willing to accept this interview, Sangho told us that during this exceptionally difficult time, because he was falsely accused of match-fixing combined with his father going through surgery, "there were times when I wanted to die."

Only because of one loss

Sangho will never forget the day of 2009 10/24. Because it was a game that day that involved him in the maelstrom of the match-fixing incident. In the third set of a game against STX, on Outsider, Sangho missed a crucial timing against Calm, and lost the game after securing a huge advantage.

"This game led to a lot of criticisms from fans. I myself am disappointed that I was unable to decisively judge the situation while being in the advantage. But I didn't know that this game would change my life so much."

Before the 2009-2010 SPL season began, Sangho decided with his teammates that they would definitely make the playoffs. Because hyvaa and Upmagic have been performing well and Really has been playing his role as the ace, Sangho believed that there is a very realistic possibility that eSTRO could accomplish something this season.

But when the season began, Sangho was unable to get many victories. Thanks to the free agency, he enjoyed the highest salary on eSTRO, but didn't deliver many wins. This worried him, but the desire to win backfired and he ended up losing more and more, and his confidence was lost along with the games.

"After the game where the opponent staged a comeback, Sangho didn't know what to do," he said. Everytime he lost a game, he would be criticized, and people would even say he might as well retire. Sangho talked with head coach Kim and told him his thoughts: "If I can't get myself out of my current situation, I'll retire." In his mind, "if I fall here, all of my efforts would have been for naught," and similar thoughts couldn't be dispelled.

"I gave my soul to eSTRO. I will definitely lead the team into the playoffs. So from that point, I started practicing with everything I had, and tried to condition my mentality, and hoped to chase away from the fans' memories the failure that game."

For the hard-working Sangho, to be accused of match-fixing was fatal. Later, we learned that he would often give the salary-less B-teamers spending money. He had such a strong passion for eSTRO, but the netizens' accusations robbed Sangho of the strength to even lift up a mouse.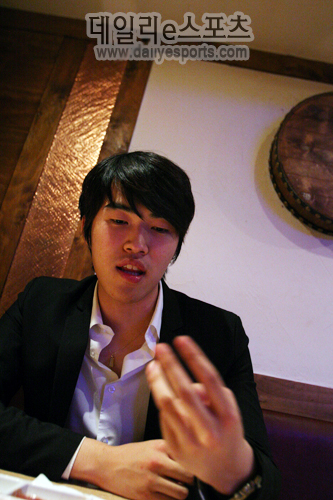 Afraid to leave the house

Everyone has had at some point thought that they couldn't go on, but only few actually attempt suicide. Sangho would see celebrities who commit suicide after rumors and slandering, and had thought they didn't cherish life enough. But when he himself met a situation like this, he really considered ending his life.

"I used to think that if you have the courage to commit suicide, then you should have the courage to face life. But when I actually met something like this, I started to understand what those people thought. I had never even heard of the match-fixing, let alone participate in it, but I have to face this kind of slandering, I was really depressed. I would walk on the street and people would run up to me and ask 'did you really throw games?' For a while I was afraid to even leave my house. Staying at home, I thought, 'can I really continue like this?'"

When faced with these people who wouldn't trust him, who wouldn't listen to his explanations, Sangho began to have regrets. Regrets of giving the past 5 years of his life, in the pursuit of his dreams and passions, to e-Sports. Sangho no longer knows why he abandoned everything to come here. When all people could do is glance at him with expressions of suspicion, Sangho just wanted to know how he could disappear.

"I first heard rumors of the match-fixing in the beginning of February. I didn't know why when I went to the games, no one would talk to me, and everyone would act so strangely. Only later did I find out the reason. I would watch movies where the innocent protagonist gets blamed and suspected, and now, I became that protagonist, only in real life."

Exacerbated by father's surgery

Even though he was blamed for match-fixing, Sangho believed that the truth will eventually surface. But just when he first saw the light at the end of the tunnel due his teammates' trust, his father fell down. This only worsened the situation.

"I was in the middle of practice, and my mom kept calling. She knows that usually, I won't answer when practicing unless it's an emergency. It seems like there will be bad news. I answered the phone and learned that my dad fainted. I cried, and immediately returned home."

After learning that his dad would have to go through a major surgery, Sangho felt like the brave mentality he had laboriously built-up was just destroyed again. Sangho kept going under these false accusations, but this news crippled him again.

"Luckily, my dad's surgery was a success, but even after the surgery, his condition can't be cured completely. And under this condition, he saw the rumors on the web, and was very angry after seeing people accuse me of match-fixing. As my dad, he understood me better than anyone. He knew I would never do anything like that. Just after the surgery before he recovered, my dad said 'find me everyone who left these kinds of comments.' He got angry, and ended up collapsing again."

Sangho first witnessed the truth in the very real harm of rumors. His father collapsing before even fully recovering from the surgery made Sangho wish he could find each and every one of the people spreading these rumors and change their mind. He can't forgive the people who hurt him and his father so much.

"Even though the investigation has proven my innocence, no one apologized to me. There is no trace of remorse from the people spreading the rumors. They almost killed a man. They don't even know how one sentence from them has caused so much harm. But of course, there will be people who will be unrepentant even after seeing my interview. If they can try looking at this from someone else's shoes, they'll know how dangerous the things they've done were, but unfortunately they're not doing that."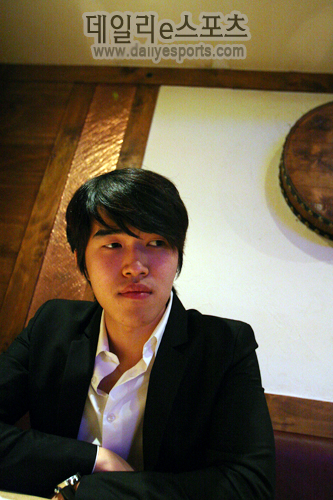 Towards a new dream

When the rumors were coming out full speed, Sangho never stepped forward and said "I didn't." The main reason was because no one would've believed it. He knew that only when the investigations concluded could he convince others of his innocence. But if he had said something, a lot of the rumors would've been dispelled. But Sangho doesn't regret his decision of silence.

"Saying stuff without any evidence – who would've believed it? Also, if it was my responsibility to step forth and say something to wash myself of any suspicions, does this mean that every innocent player had to step forth to say something? I had hoped that if I said nothing, the rumors would die down. I didn't want my teammates to get hurt, so I had to keep silent."

The investigation lasted from April to May. Sangho lived a difficult life during those two months. When he decided to leave eSports, Sangho returned home without looking back once.

"I didn't watch TV for two months. The past 5 years were for nothing. If I remained in this place where my dreams died, I wouldn't be able to breathe. Now? I haven't thought much, but it'll be difficult for me to pick up a mouse again."

After confirming that his dad is recovering again, Sangho began to consider his future. Even though many people are telling him that he probably won't be able to succeed as a player again, it's hard for him to completely suppress his passion for eSports.

"The reason I wanted to do this interview was not because I wanted to prove my innocence. I just don't want another victim like me to appear again. I sincerely ask of the netizens to not forget that just one little rumor from you can make you the same as a criminal, to almost kill a man. I hope no one gets hurt like Id id again."

Sangho still hasn't forgotten the pain he suffered, but his heart is no longer as cold as it was. He is currently considering his future – should he return to eSports and do what he can to his ability? Or should we clap for a Sangho who will be soaring towards a new dream? And is it time for the culture of flip-flopping, inconsiderate commenting change?

http://esports.dailygame.co.kr/news/view.daily?idx=28339&page=1

http://www.playsc.com/bbs/forum.php?mod=viewthread&tid=202022