Resources they say are important to a race's future. Our Protoss race plans constant expeditions to foreign lands in the hopes of finding more mineral and vespene gas fields to ensure our races' survival. In the latest expedition, we stumbled onto the land of Circuit Breaker. A vast unexplored land with resources as far as the eye can see. It was here that I took command of our protoss brethren and where our story begins:

After landing on Circuit Breaker, I decided to establish a fast forward base, usually known as Forge FE. The aim was to gather resources as fast and efficiently as possible in the event that unforeseen circumstances require us to withdraw from this land. I ordered a probe scout to check out the land and inform us of any nearby hazards. At this point, I had yet to realize what was in store for us.

After scouting around, the probe ended up finding out that the Zerg have also landed on Circuit Breaker. While the reason was unknown, it is likely that they were also searching for resources as well. War was coming, I was certain of that. My psi blades started screeching in anticipation:



Seeing an opportunity to cause some havok, our valiant probe scout decided to use it's god given talent of being a pest to prevent the Zerg from laying down an expansion and even went as far as playing what looks like some version of beat the photon cannons with them:


last image of our hero


After more time passed, I planned to send out another scout however right before it's departure, a strange message was transmitted to us. It seemed that the Zerg was trying to communicate with us. This has never been documented in our past history. Through some decipering, it seemed to be asking if we were ok. This greatly confused us. Was our zerg enemy trying to make fun of us? Were they using advanced psychological tricks to defeat our morale? We could not tell though we attempted to communicate with them only to indirectly inform them that we, the protoss are not scared of them. That we welcome their attacks!

At this point, we could not lose. We had laid our pride on the line and would fight to the bitter end if needed. Our strategy was simple. Keep their base count low and overwhelm them with our strength. I sent out the first attack force consisting of about 8 +1 speed zealots. An engagement took place at their expansion. Suffice to say, they were no match for us and we were able to sack their expansion and third pretty quickly (several minutes in between):


Fear the might of the Protoss!


Despite this major win, the Zerg was quite resilient and managed to re-establish their expansion using hydras, lurkers and sunkens for defense. Seeing this an opportunity to get further ahead, the decision was made to establish our own third and avoid any direct confrontations at the current time. I ordered corsairs to constantly scout around and provide intel on any new bases from the Zerg:


With more time passing and the army itching for another battle, an opportunity presented itself after our corsairs reported that the Zerg's expansion had very little defense. It seemed that most was being kept in the base. This seems perplexing at first but through some discussions, it was reasoned that the zerg must want to protect their overlords as well as prepare for drops. With that in mind, I gave the order to strike the expansion: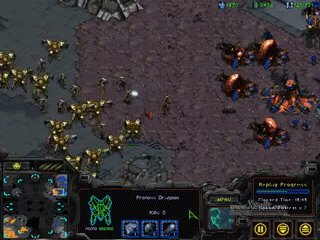 Everything was laid to waste!


Alas, it was a hasty decision seeing as the Zerg's strategy revolved around dropping hydras on our third. This was costly to us as we lost our third and with it, many of our army. Time was not on our side:


So much destruction!


After destroying our third and reducing our resource income, the Zerg army marched to our expansion in the hopes of breaking through. A lot of courageous souls fell that day however our expansion stood testimony to our unshaken resolve: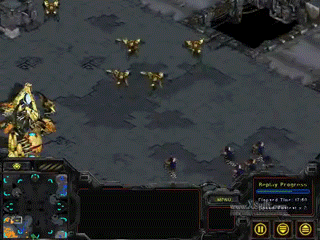 We shall not fall!


Seeing as the Zerg used most of their army to try and break us, this was the perfect time to strike back. I ordered the army to attack an expansion which was hidden in the bottom right on Circuit Breaker. It was subsequently destroyed within the next minute or two. Our army continued it's march towards the Zerg's third laying waste to everything in its path. The march was eventually halted at the Zerg's expansion but not before major irrecoverable damage was inflicted. The message was clear. We the Protoss are here to stay!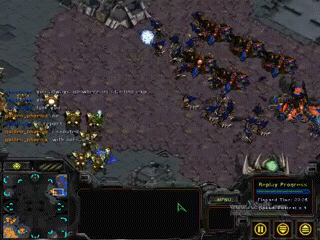 JANGBI STORMSSSSSSSSS


As destruction was raining down on the Zerg, another message was received. One that seemed to indicate that the Zerg was in deep pain. Parts of the message were deciphered but alas, it was decided that enemies of the Protoss race must be left to wallow in their anger:

With no other expansions for the Zerg, it was forced to retreat hastily from the battlefield. The battle was won with many casualties on both sides. If there are any comments or concerns about this battle, please feel free to write them below. They will most certainly be useful in my next engagement against this powerful foe!