by Steadfast

Week #168 was the final round of "off-season" matches, with the Open Cups set to begin awarding points toward the EPT 2023/24 rankings starting in Week #169.

The Korean Cup went out in spectacular fashion, delivering a number of thrilling, high-quality matches as

Dark took down Oliveira in the finals.

Clem defeated HeroMarine in the traditional EU cup derby, while

herO triumphed over Cure in the final American server cup of the off-season.


---
Korean Cup (partial bracket shown)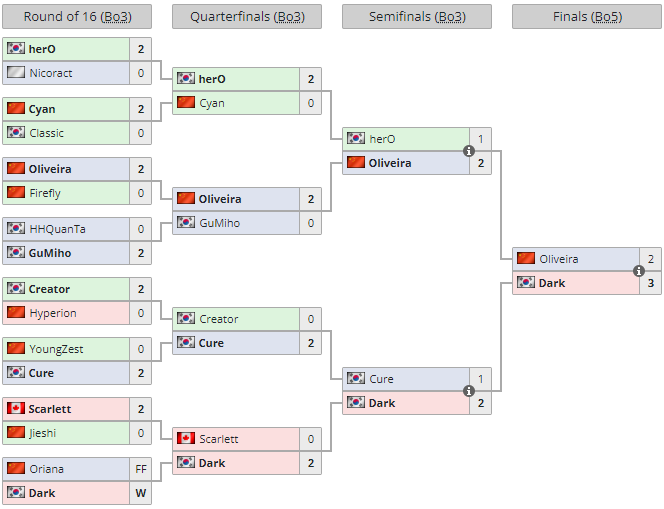 Week #168 in Korea started out like any of the other cups from the region: a relatively low turnout, but extremely high quality players including Classic, Creator, Cure, Oliveira, GuMiho, Dark, and Scarlett. However, the match quality was some of the best we've ever seen from the Opens. It is not an overstatement to say that the RO4 felt like a major or premier-level event in terms of the grit and determination that was on display in these games.

Many of the early rounds went as expected, but also produced some exciting games of their own. Dark and Scarlett tussled in a long, drawn out macro game on Gresvan with the Queen of Blades holding initiative for a very long time. However, she was unable to find the killing blow against Dark's stalwart defense, and the late-game master eventually launched a massive Lurker-Viper counterattack that paralyzed the Canadian Zerg. Dark took a quick win in the next game, securing the 2-0. Meanwhile, Oliveira dispatched GuMiho 2-0 in an exciting contest to face a yet unchallenged herO in the round of 4. There, herO found himself up 1-0 and massively ahead in supply in game 2, only for Oliveira to dig in his heels and show the same tenacity that allowed a comeback at IEM Katowice earlier this year. He was able to turn the series around and take a 2-1 victory to make it to the finals. Cure, meanwhile, took down Creator to battle his former teammate Dark in the semi-finals. And just like the match on the other side of the bracket, Cure found himself up 1-0 and looking poised to take the series 2-0, only for Dark to dig deep and turn around what looked like an impossible game and take the series 2-1.

These already exciting semifinal matches ended up being a mere appetizer before a spectacular grand finals (watch VOD). As has been the case when there's a truly special match in the Open Cups, I don't want to get into too much detail here. These games are much better watched than read about, being every bit as entertaining as the recent IEM World Championship matches (or at least coming as close as an ESL Open match can, given the stakes).

Unlike at IEM Katowice, however, Dark looked like himself again. His spellcaster control was on point, his counterattacks were decisive and bloodthirsty, and his defensive play was nigh unshakable. And although Oliveira lost 3-2, the reigning World Champion continued to prove that his level of play at IEM Katowice was no fluke. Moreso than anything, this small cup made me feel privileged and lucky to be able to cover such amazing play on a regular basis.



*****


European Cup (partial bracket shown)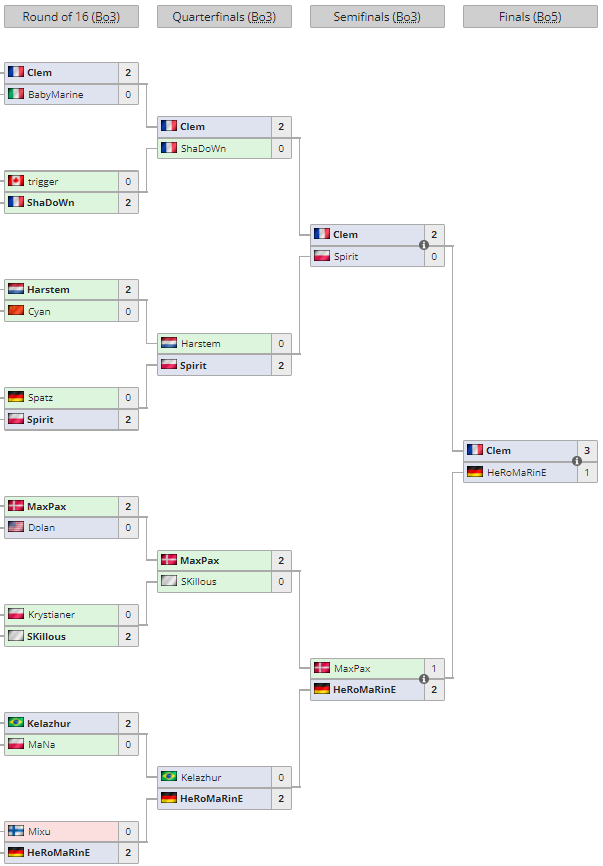 The EU cup featured many familiar faces, with Clem, Spirit, HeroMarine, MaxPax, SKillous, and many others. Harstem also made his return, but none of the big name Zergs showed up, which made Mixu the highest placing Zerg in the RO16, while the RO8 was left devoid of the swarm. It should be noted that we will likely see increased participation starting next week, once EPT points start being awarded again.

The EU bracket featured a lot of 2-0s, unlike the hotly contested Korea cup. Clem cut down fellow countrymen and fellow Terrans alike on a clean run to the finals, defeating Spirit 2-0 in the semis. Trigger and Dolan went to the RO16 as North American invaders, but were booted out by ShaDoWn and MaxPax. Speaking of MaxPax, the recent PiG festival winner went down 1-2 to HeroMarine in the semifinals, with Big Gabe using sharp timings and decisive attacks to break a four-game losing streak against the mysterious Danish Protoss.

This set up a classic EU cup final between Clem and HeroMarine (Watch VOD[). Game 1 featured Gresvan living up to its reputation as an epic games factory, giving up a long, back and forth struggle where HeroMarine won a game from a very difficult position through sheer force of will. Unfortunately for Big Gabe, that would be his only map victory of the finals. Clem showed that his TvT is continuing to evolve and improve with a nice bit of positional play and a bit of a comeback of his own on Royal Blood to even the series at 1-1. In game 3, HeroMarine tried to break out mech in order to confound the young Frenchman, but Clem found a great position attacking his opponent's 3rd base on Babylon and took a large lead off the back of it. When Big Gabe counterattacked, he was unable to find meaningful damage and was forced to concede. In game 4, HeroMarine tried a tricky fake proxy in his own natural in an effort to confuse Clem, only for Clem not to scout. HeroMarine tried to attack with an early Reaper-Hellion force but Clem's lockdown defense shut him out. HeroMarine tried a double-Starport Raven-Tank-Viking push, but Clem bought time for stim to finish and swept his opponent's army away cleanly to take the 3-1 victory and his 51st ESL cup win.



*****


American Cup (partial bracket shown)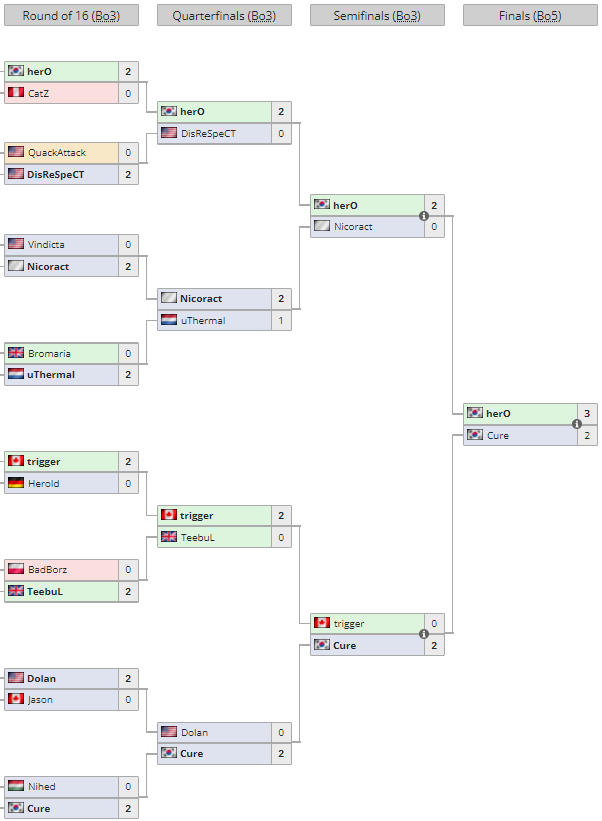 The NA cup was relatively unoccupied by the Koreans, with only herO and Cure signing up, allowing for some lesser known players to rise up. Notably, Nicoract, Dolan, and Teebul all seized the opportunity with nice finishes, but uThermal was the big winner as he found a surprising amount of success as he continued his "I did [crazy strategy]" YouTube series (Watch VOD). This week's plan featured him proxying every production building, and the results were extremely entertaining. Specifically, uThermal vs. Nicoract game 2 was very enjoyable to watch for me personally. Speaking of Nicoract, he was able to 2-0 Vindicta and take down uThermal 2-1 as well to make it into top 4 and enjoy his first ever finish in the money, a big accomplishment for the PSISTORM Terran. Unfortunately, his joy was quickly doused by the reality of herO in the semi-finals who 2-0'ed him, although the games were definitely competitive. While Teebul's run was not particularly impressive in terms of beating the biggest names, a top 8 is always nice. Dolan took down Jason 2-0 to secure a top 8 as well. Meanwhile, trigger, the only player who felt like he might be able to stop the marauding Korean players, was quickly dispatched 2-0 by Cure in the semi-finals. Notably none of the top Zergs competed here, so we once again found a RO8 with only Terrans and Protoss.

The finals (Watch VOD) looked initially like it was going to be a very one-sided affair after the first two games with Cure coming out swinging and herO's overaggression leading to a quick 2-0 lead for the Terran. Specifically in game 2 on Dragon Scales, herO attacked into his opponent with far too much gusto and it cost him 3 Immortals and eventually the game. Then, in game 3, herO entered his Avatar state and was able to win a very close, hotly contested basetrade with excellent micro, great Warp Prism harass, and strong decision making. From there, it felt like the momentum of the series shifted into the Smiling Assassin's favor. He got a fortunate build order with Phoenixes vs. Widow Mine drop play that resulted in no damage dealt for Cure. Despite a mid-game that looked promising for the Terran, herO dealt with everything well and got a great engagement off a recall and eventually took game four to force one final showdown. In game 5, herO opened up with 2-base storm and, despite losing his storm drop for almost no damage, was able to once again force a basetrade against the Terran player. He demonstrated his mastery of chaos to take the game and the series, completing an exciting reverse-sweep.