Oliveira wins IEM Katowice 2023
by: Wax
Call it a miracle, a fairy tale, a moment of blissful insanity—the ending to
IEM Katowice 2023
was all of those things and more.
Oliveira
, a player who had never reached the finals of a major tournament in his career, bested a hall of fame gauntlet of Reynor, herO, and Maru to become the new World Champion. It was unquestionably the greatest underdog run in the thirteen-year history of competitive StarCraft II, and ranks among the most unlikely victories in all of esports as well.
The outlook for Oliveira—formerly known as TIME—was less than cheery as he headed into IEM Katowice. Various metrics saw him as a top 15-20 player in the world—solidly 'mid-tier.' Aligulac.com rated him #15 in the world, TL.net's IEM
power rank
had him at #21, and the official EPT standings placed him at #21 as well. It was especially concerning that his last outing on the international stage had been extremely disappointing, as he was eliminated from
DreamHack: Atlanta
in the top 40 with a dismal 0-6 map record.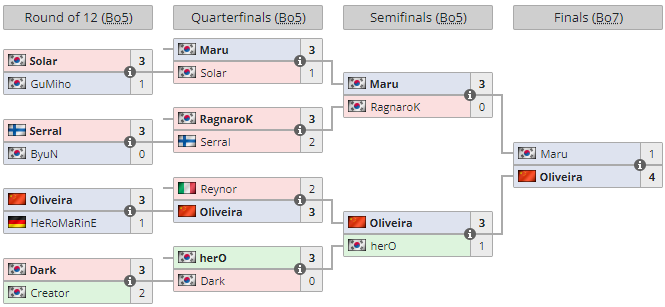 However, thanks to his own improved play and a few strokes of luck, Oliveira managed to advance from his round-of-24 group at IEM Katowice. Caught in a four way tie with
Neeb
,
Cure
, and
Clem
at 2 wins and 3 losses, he barely nosed ahead of them by the difference of a single map. When Oliveira capitalized on that opportunity by taking a convincing 3-1 over HeroMarine in RO12 of the playoffs, it was already a huge success. It was easily the best result of his career, and the highest position a Chinese player had ever earned at a world championship-tier event.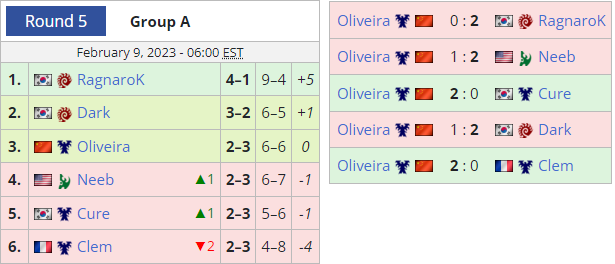 Thus, it wasn't all that disappointing when Oliveira went down 0-2 to elite Zerg
Reynor
in the following round of the playoffs. After all, he had already blown past realistic expectations and delivered a charming underdog story. It was about time for the
real
championship contenders to take over.
Instead, that quaint underdog tale was revealed to have a final act twist for the ages. Teetering on the brink of elimination, Oliveira fought his way back from the 0-2 to deficit to pull off a 3-2 reverse sweep against the former 2021 World Champion. Game four on Gresvan stood out in particular, embodying Oliveira's perseverance and refusal to die. He resolutely stood his ground against endless waves of Zerg units intent on ending his world championship dream, before he finally turned the tide to take a 27-minute victory.
It would be a journey of mountains beyond mountains for Oliveira, as his semifinal opponent was yet another top title contender in
herO
. But somehow, the match turned out to be less nerve-wracking than the last. herO dropped game one on the back of a defensive lapse, and he never fully recovered from the blow. He couldn't get either offensive or defensive strategies to work against Oliveira, and he surrendered the 1-3 defeat with a look of utter consternation on his face.
In fitting fashion for a storybook run, IEM Katowice presented Oliveira with a truly terrifying final boss.
Maru
had reigned for over two years as the undisputed king of TvT, dominating match-up in a way that would have provoked balance patches had it not been a mirror. Not only that, but the Terran legend had said he was in his best shape ever at Katowice, and he had proved it by essentially toying with RagnaroK in the previous round. A world championship was the only thing missing on Maru's resume, and it seemed like he was destined to fill that void at last.
Unfortunately for Maru, it was also Oliveira's destiny to complete the greatest, least comprehensible, and most mind-blowing run in StarCraft II history. In the most perplexing aspect of this entire story, the matches actually seemed to get easier as Oliveira's opponents got harder. Game one was the only bout that went as expected, with Maru getting a quick victory through early-game combat. Oliveira took the next four maps in convincing fashion, playing with composure and decisiveness while Maru played with the panicked impatience of someone watching the chance of a lifetime slip away.
The final game on Ancient Cistern encapsulated the series. Maru took a mid-game lead after winning a key Marine-Tank battle, putting himself in position to snowball his way to victory as he had done hundreds of times before in professional matches. But this time around, he tried to force aggression and find holes in the defense where there were none. Oliveira patiently took advantage of his opponent's errors, and executed the game plan that should have been Maru's all along. He slowly tightened his grip over the game until victory was assured. With one final GG from Maru, Oliveira rose from his seat as World Champion.
There's no full, satisfactory explanation to how Oliveira conjured all those upsets, and there probably never will be. We got a few hints from Oliveira's post-match interviews—he talked of 12-hour practice days, and players helping him prepare for specific opponents—but really, who
isn't
practicing hard and analyzing their opponents when it's a world championship?
Even so, there was one major undercurrent throughout the games. Oliveira's composure never wavered, while his opponents gradually collapsed under pressure.
'Is he really going to win?'
seemed to be the question that nagged at them throughout their games, until Oliveira finally answered them with an emphatic
'Damn right I am.'
Oliveira had been emotional throughout his playoff run, clapping his hands and pumping his fist after his victories. That energy carried over once it was time to address the fans as world champion, and he gave a defiant "Look at me now!" to his doubters. He spoke of his crushing failure at DreamHack: Atlanta, and how his father had reassured him that he was still the best player in his heart. Tears fell from his eyes when he addressed the Chinese fans in his
native language
.
"I want to tell all my fans that are watching, nothing is impossible. I won the World Championship, there really isn't anything that's impossible"