The Story so Far
Deciding the Top 12
Week 3 Preview
herO vs Maru kicks off grand finale in Utrecht
Brackets and standings on

Liquipedia
VODs on
YouTube
How We Got Here: Deciding the Top 12
by Wax
After two weeks of online play and 48 best-of-three matches, the field at TSL9 has been narrowed down to twelve players. Now, they've gathered at the TeamLiquid's Alienware Training Facility in the Netherlands to fight for the $14,000 first place prize.
But before we talk about how the live finals might play out, let's take a brief look back at how the final twelve came to be.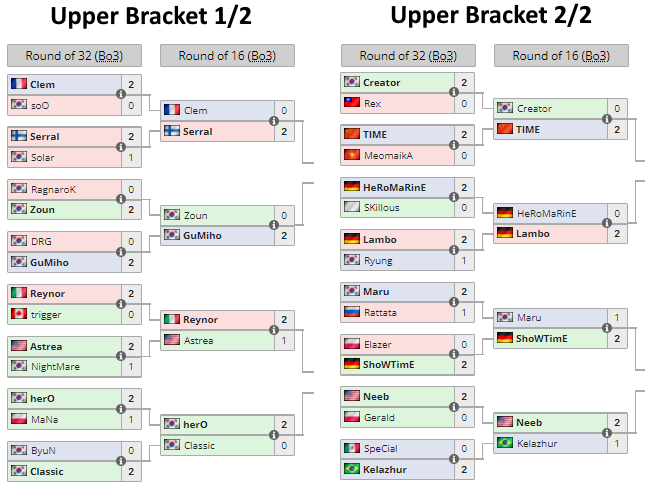 The last eight TeamLiquid Starleagues have played out in every almost possible way, whether it was favorites rampaging their way through the bracket or underdogs wreaking havoc. So far, TSL9 has given us a little bit of everything.
It shouldn't surprise anyone to see Serral and Reynor—the previous two World Champions—standing tall in the upper bracket and set to clash for what seems like the thousandth time. However, we've also seen title contenders eliminated entirely as well. Recent DreamHack: Europe champion Clem was taken down by SpeCial, while Code S Season 1 runner-up Creator was knocked out by ByuN.
Overall, the collective struggle of Korean players is the biggest surprise of the tournament, as not a single one of them is left in the upper bracket. Even the most recent GSL finalists have been cast down into the perilous lower bracket, with herO losing a tight upper bracket match against Reynor while Maru suffered a shock loss at the hands of ShoWTimE.
That leaves us with a very unusual final bracket, where the foreigners are defending their position in the upper bracket while the GSL players must challenge from below.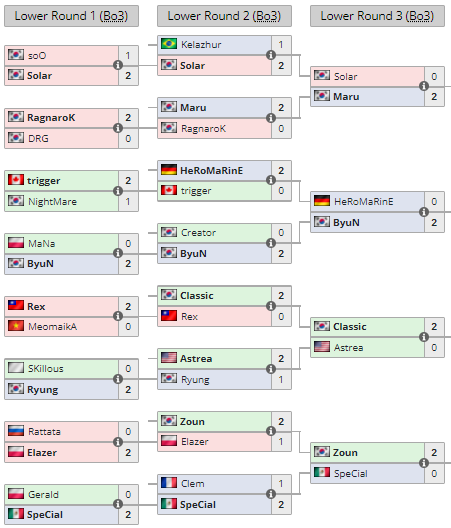 While the games from the first two weeks tended to be somewhat one-sided, I have a handful of games to recommend to those looking to belatedly catch up.
Late-game TvZ has been getting a lot of hate in recent weeks, but it can still make for entertaining games under the right circumstances.
Lambo vs TIME on Moondance
initially looked like it was turning into an interminable late-game slog, but instead we got a chaotic ending sequence that made it the best game of the first two weeks. On a similar note,
Lambo (again!) vs Ryung on Inside and Out
delivered the good version of a 30-minute TvZ.
In terms of pure underdog drama, the entire
Maru vs ShoWTimE
series has to be recommended. Headed into the match, few fans would have given
Die Mauer
much of a chance of beating the #1 TvP player in the world. However, ShoWTimE ended up delivering one of his best performances of 2022 (if not THE best), eking out an upset victory at the end of a tightly-contested, three-game series. No, Maru didn't look like he was absolutely 100%, but that doesn't detract much from the overall thrill of the series.
Week 3 Preview: The Grand Finale
Alright, let's take a look at the final slate of games and how the championship picture might develop.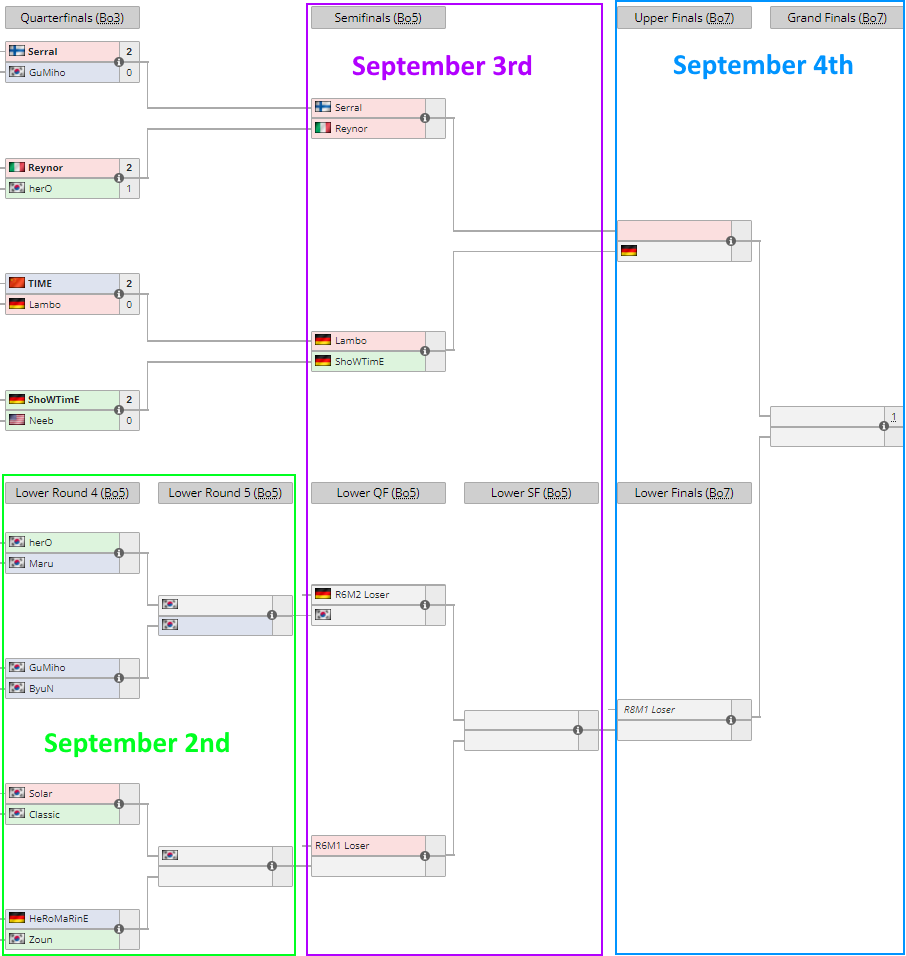 All games streamed on Twitch.TV/TLnet

Friday, Sep 02 11:00am GMT (GMT+00:00): Lower bracket rounds 4 & 5 (BO5)

herO vs Maru

GuMiho vs ByuN

Solar vs Classic

HeroMarine vs Zoun

[herO/Maru] vs [GuMiho/ByuN]

[Solar/Classic] vs [HeroMarine/Zoun]

Saturday, Sep 03 11:00am GMT (GMT+00:00): Upper bracket semis, lower bracket quarters & semis

Serral vs Reynor

Lambo vs ShoWTimE

4 matches TBD

Sunday, Sep 04 1:00pm GMT (GMT+00:00): Upper bracket finals, lower bracket finals, grand finals (all BO7)

[Serral/Reynor] vs [Lambo/ShoWTimE]

2 matches TBD
The Final 12
Serral:
While we're used to seeing Serral win tournaments in dominating fashion, he put in an unusually mixed performance to win July's
HomeStory Cup 21
. He looked vulnerable in the earlier phases of the tournament, losing to GuMiho and ShoWtimE in the group stage and nearly getting eliminated by Neeb in the playoffs. However, he finished very strong, dominating Clem by a 5-1 scoreline in the grand finals.
Should we take stock in those shaky performances and see Serral as being the most vulnerable he's been since 2017? Or were those moments of weakness just a blip; a distraction before another dominant run? It's time to find out.
Reynor:
Reynor's return to the GSL ended in disaster, as he lost to Bunny and DRG on his way to a first round exit. While that's certainly a loss for GSL fans, it might be to TSL's benefit. It hasn't even been a week since Reynor's GSL disappointment, so you have to think that he will be
extremely
motivated to perform well in TSL9. Also, the 'weekender' format definitely suits Reynor better than the preparation-heavy GSL, so expect to see much better play from him this weekend.
ShoWTimE:
ShoWTimE's stock is soaring after he scored a fantastic upset victory over Maru in the previous round, but it's hard to tell if he can sustain that level of play in his upcoming matches. To repeat a common sports cliche, ShoWTimE really can beat anyone if he's playing at his best—the question is whether or not he can play at his best for multiple matches in a row.
Lambo:
Just to show that the above section on ShoWTimE wasn't totally empty lip service, take a look at Lambo's run in
NeXT Season 2 in 2021
. There, Lambo proved that "can beat anyone on his best day" isn't just back-handed praise, as he beat Dark 3-0 in the semis and just barely lost 3-4 to Serral in the finals. Lambo's consistency has only improved since then, so don't be surprised if he achieves a similar, if not better, result in TSL9.
Maru:
With runner-up finishes at DreamHack: Valencia and Code S Season 1, Maru enters as the top Terran title contender. The fact that those back-to-back second place finishes somehow feel like a disappointment really tells you what kind of reputation Maru has in SC2, and he's easily one of the strongest players in the tournament. Unfortunately, Maru has a tendency to play slightly below his peak level when he's competing outside of Asia, so the other top players might have a slight edge against him in Utrecht.
herO:
The reigning GSL champion is sometimes considered the default #1 player in the world, and herO seems worthy of that courtesy. He took a very convincing victory against Maru in the GSL finals, and his PvZ performances against Dark and Reynor suggest that his unique style is scalable to the highest levels of play. Also, herO has proven to be a fantastic international player in the past, winning several 'weekender' style IEM events. For the Korean elitists who frequent TL.net, you may want to hitch your horse to herO instead of Maru.
GuMiho:
TSL9 has arrived at an opportune time for GuMiho, as he finally seems to be hitting his stride after a year of post-military play. Even as he's adapted to the new meta, the unorthodox Terran has also forced everyone else to adapt to his unique strategies and style of play. Even if it's still too early for GuMiho to contend for the title, expect him to entertain us with his deep bag of unusual builds.
ByuN:
Unfortunately for GuMiho, he'll be facing off against another Terran who's been heating up in the last few weeks. ByuN's post military career has been a real roller-coaster ride, starting with a championship in ASUS ROG Online, falling back down to mediocrity, and recently rising back up into the top tier again. TSL9 will be a great chance to see if ByuN can play at a high level in offline events, or if he's merely a weekly cup warlord.
Solar:
After a couple of months where he was most known for being the Zerg who lost to Reynor's Protoss in a serious tournament, Solar is starting to look like himself again. He was very impressive in the mini-tournament to replace Neeb (who had to drop out of TSL due to conflicts with his university schedule), beating both HeroMarine and Astrea to requalify for the main event. However, Solar has a tendency to fall apart in the later stages of a tournament, and one has to wonder how long he can stay composed in Utrecht.
Classic:
Classic might be the most surprising top 12 player, as he's been one of the players who struggled most since returning from military service. But somehow, things have really clicked for him in TSL9 compared to other events, as he defeated both ByuN and Astrea quite convincingly to reach the live finals. Classic said in an interview that herO gave him inspiration for what he might achieve in his post-military career, so we're eager to see what he has prepared for this final weekend of games.
HeroMarine:
Although many of the TSL9 players are riding in on a wave of momentum, Big Gabe is coming in after cooling off. It seemed as if HeroMarine was entering a new stage of his career after finishing top four at IEM Katowice, but instead he's settled back into his usual place as the #4 man in Europe. Still, after having seen him go on such an incredible run once, you have to believe he has the potential to make that magic happen again.
Zoun:
Zoun has become one of the steadiest presences in the SC2 since his return in 2020 (though not from military service like some others), and you expect to see him in the playoffs of nearly every major event. He has a very unusual quirk in that he constantly takes upsets off of Dark in major events, but struggles against the other so-called
top-tier
players. Will TSL9 be the event where he expands his range of victims?
Big Match Bonanza
Even though much of the bracket remains undetermined, we're already guaranteed a handful of huge, finals-worthy matches.
The most notable match, of course, is the Code S finals rematch of
Maru
vs
herO
. In that historic series, herO upended the odds to score a one-sided 4-1 victory, earning Protoss their first Code S championship in over five years.
Maru went as far as to
jokingly choke herO
after losing the finals, and according to herO during his recent GSL interview, Maru said that they'd have to fight for real if herO won their TSL9 match as well. Of course, there's no actual bad blood between the two, but considering how stoic Maru typically is, you can tell he's really looking forward to this rematch.
Of course, there's also
Serral
vs
Reynor
, part infinity. These two have a history of playing fantastic ZvZ games against each other—especially of the late-game variety—making this a must-watch series between the two best players in the West. And maybe, just MAYBE, Reynor will even dare to challenge Serral with his Protoss.
When thinking of dream matches we want to see down the line,
herO
vs
Serral
is probably the one that comes to mind first. herO has almost single-handedly turned the ZvP match-up on its head, with his Oracle-Stalker style allowing Protoss players to out-Zerg the Zergs.
Dark clawed out a 3-2 victory over herO when it mattered at DH: Valencia, while Reynor lost to herO in WTL and made up for it with a victory in TSL9. With Serral being the only top Zerg herO has yet to face using his new style, you have to wonder how he'll fare compared to his peers.
The World Turned Upside Down
Because of TIME's disqualification due to
unfortunate circumstances regarding his visa
(he was disallowed from playing online due to not starting his visa application process in time), we've been left with an all-European upper bracket. But even if TIME had been allowed to compete, we would still have been left with the remarkable phenomenon of an all-foreigner upper bracket.
This is especially notable for TSL, as it has doggedly resisted the gap-narrowing that occurred throughout the StarCraft II world in the past few years. TSL's 5 through 8 were all held in the 'post-Serral' era, but Korean players still managed to win every single title. In fact, TSL has handed Serral some of the worst finals losses of his career, as he lost 0-4 to Dark in
TSL6
and 1-4 to Rogue in
TSL8
. Thus, while there's a high chance that the TSL crowns its first foreigner champion since ThorZaiN in TSL3, one has to wonder if they're fated to miss their shot again.
---