World Team League - 2022 Summer Season
by: Wax
Alpha X's big 6-0 rout of Shopify was the most significant match of Week 10, taking the Rebellion out of contention for 1st place. Now it's down to Alpha X, DPG, and KaiZi Gaming in the final race for #1, with the latter two teams set to face off in the final regular season match.
Another big result was the Platinum Heroes' 3-4 loss to Kwangdong Freecs, giving the underdog squad a chance to avoid relegation in Week 11. For a squad that seemed destined to finish in the bottom two spots at the start of the season, it's quite the surprising turn of events.
Now we head into the final week of regular season games where most of the teams still have something significant to play for. All seven playoff teams are already decided, but final seeding is still up in the air. The gauntlet-style playoffs of the WTL makes high seeding much more important than in a standard tournament style playoffs, and the playoff teams will be fighting tooth and nail to finish in the highest position possible.
The scheduling has worked out in a fortuitous way so that we have both a regular season 'championship match' and 'anti-championship match' coming up. The rivalry match between #1 KaiZi and #2 DPG has a high chance of deciding who will ultimately finish with the top seed, though Alpha X could still steal 1st place should DPG and KaiZi battle all the way to an ace match. At the opposite end of the table, Platinum Heroes and SSLT will be fighting to NOT be the last place team of the regular season.
Week 10 Results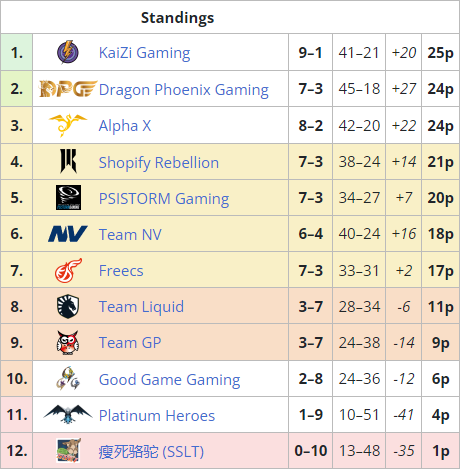 Top 7 teams qualify for the playoffs.
Points are awarded as follows:

3 points for a victory in a series that does not require an ace match

2 points for a victory in a series that requires an ace-match

1 point for a loss in a series that requires an ace-match

0 points for a loss in a series that does not require an ace match
SSLT (瘦死骆驼) 2 - 4 KaiZi Gaming
Watch VOD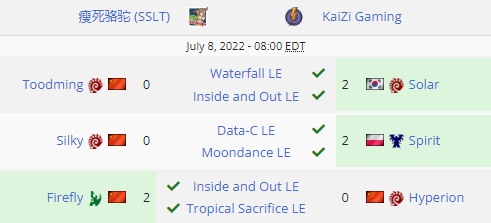 The series started off with
SSLT.Toodming
trying to 12-pool
KZ.Solar
on Waterfall, but a decent defense from Solar left the two players in a fairly even state. The game progressed normally from there, with Solar coming out victorious in a mid-game Roach-Ravager battle. Game two on Inside and Out saw
both
players try a 12-pool cheese, which hilariously resulted in them safely taking their expansions. However, Toodming was only faking macro play, massing even more Zerglings for an all-in attack. Solar had a wall in place to defend this attack, and Toodming GG'd out after failing to pierce the defenses.
SSLT.Silky
also got cheesy against
KZ.Spirit
, opening with an extremely unorthodox 3:28 Nydus-Roach rush. Unfortunately, for Silky, this was all scouted pretty easily by a Reaper, and Spirit simply defended with Cyclones and SCV's to force a surrender. Interestingly enough, Silky tried a very similar build
again
on Moondance, and he lucked out due to Spirit opening CC-first and skipping Reaper production. However, the game revealed that this might be a straight up bad build, as Spirit's production had already kicked in and he had enough Marines and SCVs to stop the all-in again.
With the victory in hand, KaiZi didn't have to worry about paying the price for their odd decision to field
KZ.Hyperion
. Indeed, Hyperion lost 0-2 to
SSLT.Firefly
as expected from his extreme underdog status, but with the other KZ players having gone 4-0 already, it didn't affect the outcome.
Good Game Gaming 2 - 4 PSISTORM Gaming
Watch VOD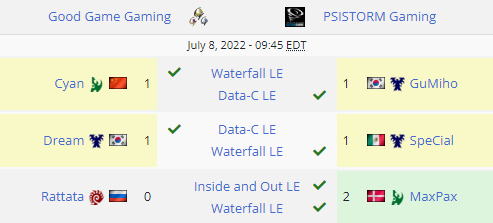 GGG.Cyan
got his team off to a good start with a strong macro showing against
PSISTORM.GuMiho
, staying in control for most of his 16 minute win on Waterfall. Perhaps impressed by Cyan's play, GuMiho went for more shadowy tactics on Data-C, proxying both his Factory and Stargate for a Hellion drop. The undetected drop dealt huge damage to Cyan, and GuMiho was able to follow up with a Marine-Tank-Viking push for a fast victory.
GGG.Dream
and
PSISTORM.SpeCial
were up next with their own duel on Data-C. Some poor early game Tank positioning from Dream let SpeCial easily pick them off with autoturrets, and even emboldened him to go for a game-ending push. However, SpeCial pushed too deep and lost too many troops, which allowed Dream to launch a counteroffensive and take the lead for himself. A devastating double-drop into SpeCial's main and natural pushed victory out of reach for the Mexican Terran and he GG'd out a few minutes later. Dream then tried to get a cheap 2-0 with 2-Barracks proxy-Reapers on Waterfall, but SpeCial pulled off a very good defense where he didn't lose much at all. SpeCial's tech advantage let him deal severe SCV damage with his first counterattack, but he wasn't quite able to finish Dream off. Still, the outcome was never really in doubt for the remainder of the game, and SpeCial eventually closed things out at around the 17 minute mark.
With the series tied 2-2, ace player
PSISTORM.MaxPax
was able to bring home all three points for his team with a 2-0 against
GGG.Rattata
. Game one on Inside and Out featured MaxPax doing a very capable impression of herO's Robo-less Oracle-Stalker-Zealot style, 'swarming' over his opponent with legions of low-tech units. Rattata tried out Swarm Hosts in response, but the long cooldown on Locusts made them seem like an inadequate counter to the very mobile Protoss army. MaxPax then closed the series out with the same strategy that let him finish Team GP in Week 9, using 6-Gate Glaive Adepts to cripple Rattata's economy before ending things with a frontal attack.
Dragon Phoenix Gaming 5 - 1 Team GP
Watch VOD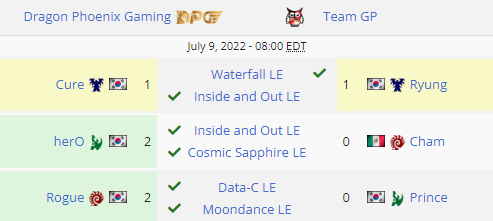 DPG.Cure
went on the offensive to start things off against
GP.Ryung
, going for 2-Barracks proxy-Reapers on Waterfall. A reasonable defensive stand from Ryung left the two players on fairly even terms, and they both passively built up for a mid-game Marine-Tank war. Cure took the lead after winning the first major battle, allowing him to semi-contain Ryung and safely take multiple expansions. However, Ryung played brilliantly from behind, ceding ground where necessary but gaining even more with his own counter-attacks. Even Cure's 3000+ resource buffer wasn't enough to stop Ryung from clawing his way out of the hole and eventually winning in a 21-minute comeback victory. Cure was able to get his thunder back on Inside and Out, where he forced Ryung into a much scrapper game with constant skirmishes between small numbers of units in the early-game. Cure came out ahead in these small-scale engagements, and the army advantage he gained let him deal a killing blow before the 10-minute mark.
Next up for Team GP was
GP.Cham,
who unfortunately had to take the brunt of
DPG.herO's
world-best PvZ. Game one on Inside and Out saw herO go for a relatively safe version of a 4-Gate Glaive-Adept opener, but still dominate from start to finish in a one-sided stomp. Game two on Cosmic Sapphire saw herO go for his signature Oracle-Stalker-Zealot style, while Cham went for a mid-game all-in with Roaches, Ravagers, and Queens in a drop-Overlord. However, he couldn't hit the weak window of Protoss—if there was any at all—and herO marched to victory with his overwhelming Zealot-Stalker force.
DPG.Rogue
made sure there were no complications by ending the series with a 2-0 against
GP.Prince
. Game one on Data-C was a real beatdown, where Rogue started with a proxy-Hatchery in Prince's natural and basically didn't let him do anything for 7-minutes before killing him with Roaches. Prince didn't get a chance to play SC2 on Moondance either, as Rogue proxy-Hatched Prince's natural wall and followed with a Zergling rush. Actually, Prince could have tried to stay in the game, but he didn't seem to see the value of it in a lost series and just GG'd out quickly.
Platinum Heroes 3 - 4 Kwangdong Freecs
Watch VOD (Chinese)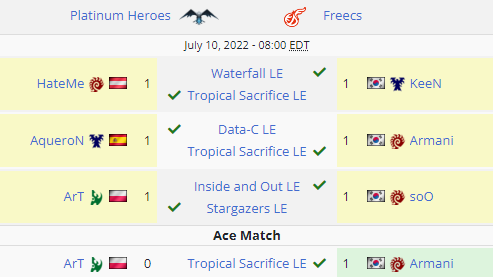 The Kwangdong Freecs paid the price for resting Trap against the Platinum Heroes, with the underdog squad forcing an ace-match and stealing a single point in a loss.
KDF.KeeN
decided to test
PH.HateMe
with mech Terran in game one on Waterfall, and it turned out the Austrian Zerg didn't quite have the answers. None of KeeN's early harassment attempts were fruitful, forcing him to fall back and do his best Maru impression. Fortunately for KeeN, it was a pretty good impression, and he out-valued HateMe with Thors and Ghosts to take the victory. KeeN changed it up with a bio army on Tropical Sacrifice, but HateMe seemed much more ready to face this composition. After building a powerful economy while keeping KeeN's bio at bay, HateMe smashed his opponent with overwhelming swarms of Hydra-Bane.
Next up for the Heroes was
PH.Aqueron
who was charged with trying to get a result from the other side of the TvZ match-up against
KDF.Armani
. The tool he picked for the job on Data-C was a BC + Hellbat attack, which did just enough damage to put himself ahead. Armani didn't have the infrastructure in place to deal with the waves of Bio-Tank that followed, and he gave up the GG to the Spanish Terran. Aqueron then went for the kill with a proxy 2-Barracks attack on Tropical Sacrifice, but his SCV pathing was too direct and he got caught by an Overlord. Armani was able to completely shut down the all-in and then counterattack with Ravagers to take a quick victory.
Next up was
PH.ArT
vs
KDF.soO
, which also ended in a 1-1 tie. Game one on Inside and Out was pretty straight-forward for soO as he held off a mid-game Stalker-Immortal timing and counterattacked with Roach-Ravager to take the victory. However, things got much more difficult for soO when ArT picked Stargazers and used the map's unique characteristics to force a late-game macro battle. soO's age-old shortcomings in managing late-game compositions came to the fore, and he was forced to GG out against the Carrier deathball in around 22 minutes (what appropriate timing!).
With Trap sidelined, the Freecs made the understandable decision to field Armani as their ace player. As for the Heroes, who don't have an obvious ace card, they made the decision to send out ArT again. With Tropical Sacrifice set as the battleground, ArT decided to go for a Glaive-Adept opener to gain an early advantage. This worked out pretty well for him as Armani's Roaches were quite late, letting him take some great trades against Zerglings and pick up some Drone kills as well. However, ArT didn't exercise necessary caution when trying to secure a fourth base, and his Stalker-Disruptor force got surrounded in a terrible spot. Armani was able to overrun ArT with Muta-Ravager-Ling before the Protoss forces reached critical mass, giving the Freecs an ace match victory.
Shopify Rebellion 0 - 6 Alpha X
Watch VOD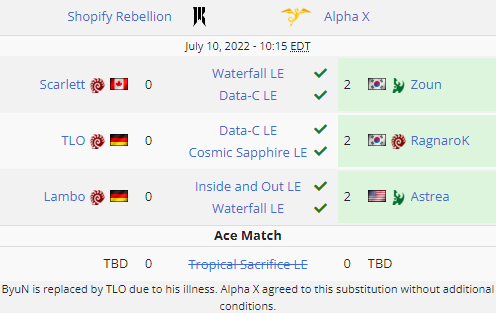 αX.Zoun
led the charge with a 2-0 against
SR.Scarlett
. Game one on Waterfall saw Zoun deal considerable Drone damage thanks to Glaive Adepts in a Warp Prism, putting him in a wonderful mid-game position. Scarlett went for broke with a Ling-Bane-Roach all-in to try and kill Zoun before he could consolidate his advantage, but Zoun was able to survive and force the GG out of Scarlett. Going for the worker line was the key to Zoun's second victory as well, as determined Oracle-Adept harass netted him 13 early Drone kills on Data-C. Zoun played out his lead patiently, and he later dealt the killing blow with Stalker-Archon at around the 10-minute mark.
Next up for Shopify was team manager
SR.TLO
, who came in as a last minute replacement due to
SR.ByuN's
illness (timing wise it could have been COVID from Valencia? Let us know in the replies if there was more specific information).
αX.RagnaroK
had no compunctions about tormenting the retiree with Zerglings on Data-C, using them to build an early advantage before winning the game with Roaches. TLO decided to gamble on a pool-first all-in on Cosmic Sapphire, doing the Hatchery-cancel trick to start an offensive Spine Crawler right next to his opponent's natural. While TLO killed many of the Drones that were conscripted as defenders, it still wasn't enough to break even considering his huge early investment. The size of the map meant that TLO wasn't in danger of dying to any immediate counter attack, which let him actually play out a macro game this time around. But as one might expect, he couldn't keep up with a currently active player and lost in the Roach-Ravager wars.
αX.Astrea
resumed where Zoun left off, using early game Adept harassment to gain a solid lead over
SR.Lambo
on Inside and Out. Like his teammate, Astrea patiently used his advantage to build a deadly mid-game army, which he used to wring the GG from Lambo's hands. Lambo tried to get a point on the board for his team on Waterfall, going for a Roach-Ravager-Ling attack off 45 Drones. However, Astrea had just enough troops on defense to hold the line, and he later counterattacked with Blink Stalkers to finish the sweep.
Team NV 4 - 3 Team Liquid
Watch VOD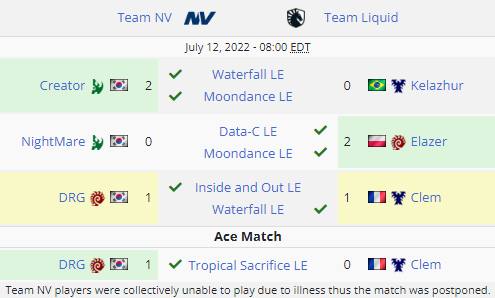 Having shown himself to be a capable foreigner-killer at DH Valencia,
NV.Creator
kept his momentum going with a 2-0 win against
Liquid`Kelazhur
. The first game on Waterfall was a bit rocky as Creator dealt poorly with some mid-game Mine-drops, but he still managed to win thanks to the firepower of Disruptors and Colossi. Game two on Moondance went much more smoothly, as Creator dealt significant early game damage with Adepts and Phoenixes and snowballed his way to a win.
Next up was
NV.NightMare
, standing in for Bunny who was sidelined due to his temporary COVID exile in Spain.
Liquid`Elazer
took advantage of this situation by taking a 2-0 win to tie the series. NightMare tried to go for the 'herO-style' on Data-C, going for mass Zealot-Stalker with double-Forge upgrades. However, he wasn't able to imitate the constant activity that makes herO so effective with this composition, and Elazer was allowed to simply sit back and defend while constantly raiding NightMare's expansions with Banelings. These worker losses took their toll on NightMare, and he was eventually overrun by Elazer's superior swarm. NightMare tried mass Gateway units again on Moondance but still couldn't apply much pressure on Elazer. The Polish Zerg safely assembled a mass Muta-Ling-Roach composition, which proved to be too much for NightMare's mostly Stalker army to handle.
Liquid`Clem
playing TvZ should have been Liquid's ace in the hole, but as it turned out,
NV.DongRaeGu's
ZvT was an even more reliable card for Team NV. The first game on Inside and Out saw DRG match Clem step for step in a straight up macro game, with his Ling-Bane armies proving to be more than a match for Clem's bio. In fact, DRG was able to play an almost purely Ling-Bane comp for the entire game, only going up to Hive for additional upgrades and a bit of Viper support. After sixteen minutes of being battered by endless waves of Ling-Bane, Clem was forced to GG out. The smaller map of Waterfall proved to be the perfect setting for Clem to get a point back, however, as his early Marine-Hellbat attack slowed down DRG significantly. This allowed Clem to enter the Bio vs Ling-Bane war on much better terms, and this time he was the one who overpowered DRG.
With Clem as the obvious ace option for Liquid, Team NV decided they'd lean on DRG's ZvT one more time, rather than giving Creator's PvT a shot. Headed to Tropical Sacrifice for a final showdown, Clem and DRG both opted to settle things in a straight-up macro game. DRG changed his composition from his previous winning game on Inside and Out, going for his iconic Muta-Ling-Bane army from the Wings of Liberty days. While Clem went for bio again, his reaction speed and attentiveness didn't seem to be at its usual high level. He suffered a number of Baneling hits that he would normally never allow, which put DRG firmly in the driver's seat. Giving DRG a little bit of initiative proved to be fatal for Clem, as the game spiraled out of control in DRG's favor. DRG pummeled Clem with wave after wave of Zerg units, eventually forcing the series-ending GG out of the Liquid ace.
I've mentioned in previous articles that I typically value 2-0's over 2-1's, unless the 2-1 was earned over a player who was significantly harder to beat. That's the reason why last week, I gave Harstem the MVP award for his 2-0 of Cure instead of ByuN for his 2-1 over herO.
This week, however, I think DongRaeGu's 2-1 win over Clem was more impressive than any of the 2-0 wins earned by other players. Clem is a top two player in the TvZ match-up, and you could argue that he and Maru are in an entirely different tier from other Terran players (I'm sure HeroMarine fans would indeed love to argue?). Clem rarely ever loses TvZ to anyone who's not a championship-caliber player, so it was quite the accomplishment for DRG to take a 2-1 victory in straight-up games.
The best 2-0 performances of the week went to Zoun and Astrea, who managed to beat Scarlett and Lambo during Alpha X's rout of Shopify. While those two are certainly very good at ZvP, I think most fans would agree that Clem's relative strength in TvZ is on another level entirely.
Weekly MVP's:
Week 10: NV.DongRaeGu

Week 9: SR.Harstem

Week 8: KZ.Reynor

Week 7: KDF.Trap

Week 6: NV.Bunny

Week 5: DPG.Rogue

Week 4: KDF.Armani

Week 3: GP.Ryung

Week 2: KZ.TIME

Week 1: SR.Harstem
Week 11 Preview
Saturday, Jul 16 1:00am GMT (GMT+00:00) Matches
Platinum Heroes vs SSLT (瘦死骆驼)

ArT
< Stargazers >

Toodming

Botvinnik
< Tropical Sacrifice >

KingSlayeR

FightingFrog
< Cosmic Sapphire >

Firefly
Ace Match
:
< Moondance >
This match has the distinction of being the
anti-championship match
of the WTL Summer Season where the last place team will be decided. With any non-ace match victory, SSLT can lock in an 11th place finish and prove that at least they were better than iG. As for Platinum Heroes, they have more at stake than just pride. Should the Platinum Heroes win AND Good Game Gaming lose to Team NV, then the Heroes would miraculously avoid relegation with a 10th place finish.
Considering the stakes, the roster choices for both teams are a bit puzzling. After forcing the Freecs to an ace-match in Week 10 with a line-up of HateMe, Aqueron, and ArT, the Heroes are replacing the former two with FightingFrog and Botvinnik. Honestly, it's hard for me to say if this new line-up is objectively better or worse, but it does seem odd to immediately change one of the few successful line-ups they've had this season.
As for SSLT, slotting out Silky for KingSlayeR seems like a questionable decision. While Silky only has a 1-11 record this season, I do think his unpredictability and creative strategies make him a useful wildcard. Meanwhile, KingSlayeR is almost a total unknown player in the international scene, and he wasn't particularly impressive in his single match against Elazer in Week 9. Ultimately, the X factor of KingSlayeR is the reason I'm picking the Heroes to come out with the win.
Prediction: Platinum Heroes 4
- 2 SSLT
Team GP vs Shopify Rebellion

Prince
< Stargazers >

Scarlett

Ryung
< Tropical Sacrifice >

Harstem

Cham
< Cosmic Sapphire >

ByuN
Ace Match
:
< Moondance >
Team GP don't have much to play for as they're already eliminated from the playoffs but also safe from being relegated. In Shopify's case, they have a wide range of possible finishes between 3rd and 6th place. Since seeding is extremely important in the WTL's gauntlet-style playoffs, the Rebellion should be going all-out to gain the maximum number of points and map wins from this series.
Fortunately for the Rebellion, they seem to have all the advantages. After being a loveable cheeser in the WTL Winter season, Prince seems to have reformed his ways in WTL Summer. This has been to Team GP's detriment as he has a poor 4-16 record. Scarlett should take care of business easily if Prince tries to play straight-up yet again.
While Ryung has been a rock for Team GP, I worry about him against Harstem. There's an all-or-nothing nature to his TvP style, either going for 2-base all-ins or playing passively until he reaches the Ghost phase of the game. Though Harstem can be vulnerable to early attacks, he's excellent in late-game PvT scenarios. Ryung needs to choose his gameplan carefully.
Finally, Cham has drawn dead against ByuN, having to face him in his current best match-up of TvZ. While I thought Cham looked pretty solid in some of his recent WTL games against Spirit and Dream, I don't think he can overcome someone on the level of ByuN.
Prediction: Shopify Rebellion 5
- 1 Team GP
PSISTORM Gaming vs Alpha X

GuMiho
< Stargazers >

Astrea

MaxPax
< Tropical Sacrifice >

Zoun

SpeCial
< Cosmic Sapphire >

RagnaroK
Ace Match
:
< Moondance >
This is the first match of the week that has huge playoff seeding implications for both sides. Anywhere from 1st to 4th place is possible for Alpha X, and a victory would guarantee them at least 2nd place. PSISTORM also have a wide range of possible finishes from 4th to 7th place, so they'll be keen on improving their playoff seeding as much as possible.
As with many of the battles between the mid-table teams, it's tough to determine who has an advantage. The first match-up for GuMiho vs Astrea seems to favor Alpha X slightly, since the American Protoss has been performing better in recent events. However, the peculiar battlefield of Stargazers could work in GuMiho's favor, as the brilliant strategist often uses unorthodox map features to his advantage.
The middle match-up might be the one that decides everything, as #1 Aligulac ranked PvP player MaxPax has a huge edge against the middling PvP player Zoun. Not only that, but the current map pool favors the 1-Gate expand style of PvP that MaxPax is a master of, further shifting the scales toward the Danish Dynamo.
Going by Aligulac, RagnaroK is the favorite against SpeCial with a 66% chance to win a BO1. However, I think things could be much more difficult for RagnaroK in reality. SpeCial has already put in some clutch TvZ performances this season, going 1-1 against both Armani and Dark. Not only that, but the new maps seem to be conducive to his favored mech-style, which could be a problem for RagnaroK if he hasn't practiced against mech lately.
All in all, I'm going to predict PSISTORM to win as MaxPax vs Zoun is the only match-up where I'm certain that one side has an advantage.
Prediction: PSISTORM Gaming 4
- 2 Alpha X
Monday, Jul 18 1:00am GMT (GMT+00:00) Matches
Kwangdong Freecs vs Team Liquid

KeeN
< Stargazers >

MaNa

Armani
< Tropical Sacrifice >

Clem

soO
< Cosmic Sapphire >

Elazer
Ace Match
:
< Moondance >
Liquid might be the team that have the lowest stakes headed into the final week, as they have no shot at the playoffs and only have the difference between 8th and 9th place to play for. And given Team GP's earlier match-up against Shopify, Liquid might have already locked up 8th place by the time this match is played. As for the Freecs, they're in the same boat with all the other playoff teams, looking to improve their seeding with one final win before the postseason.
While it's understandable that Liquid would sub out Kelazhur to give MaNa some playing time, it's puzzling to see the Freecs bench Trap for yet another week. Trap may not be playing well lately, but it's hard to think he's fallen so much that it's preferable to play KeeN over him.
Both KeeN (3-11) and MaNa (2-10) have poor statistical records this season, but going by the eye test, I think KeeN has shown a level of play that's much better than his record. Thus, I'm going to have to give the Freecs an edge here.
Clem
should
be a huge favorite against Armani, but he has a worrying history of not playing at his absolute best in the WTL. It was pretty apparent against DRG last week—sure, DRG played great, but Clem was clearly making uncharacteristic mistakes as well. I'll still predict a 2-0 for Clem, but I'm wary of an upset 1-1.
Finally, soO vs Elazer feels like a stereotypical ZvZ crapshoot, with any kind of outcome possible depending on the build order mind games.
Overall, this looks like a fairly even series, but I'll pick Liquid to win because they have the strongest individual player in Clem. Obviously, he couldn't carry his team to victory in Week 10, but I think that was an unusually bad outing from the French Terran. This week, I think he'll be able to live up to his reputation.
Prediction: Team Liquid 4
- 3 Kwangdong Freecs
Good Game Gaming vs Team NV

Nice
< Stargazers >

DongRaeGu

Dream
< Tropical Sacrifice >

Creator

Rattata
< Cosmic Sapphire >

NightMare
Ace Match
:
< Moondance >
For the last few weeks, it felt like GGG could just coast to the end of the season without much worry, locked into the limbo between playoffs and relegation. However, a last minute surge from the Platinum Heroes have put GGG into the relegation zone, and they need to win against Team NV to ensure their survival.
Oddly enough, Team NV have thrown GGG a lifeline by fielding NightMare yet again. I expected Bunny to immediately return to the line-up after finally being allowed to reenter South Korea, but it seems like he's getting some time off after his ordeal in Spain.
Unfortunately for GGG, I'm not sure they can take advantage of this fortuitous situation. The initial two match-ups both favor Team NV, and there's the possibility of a 4-0 victory before NightMare even has to play. And even then, Rattata is only a 57:43 favorite against NightMare according to Aligulac odds.
Prediction: Team NV 4
- 2 Good Game Gaming
Dragon Phoenix Gaming vs KaiZi Gaming

Dark
< Stargazers >

TIME

Rogue
< Tropical Sacrifice >

Solar

herO
< Cosmic Sapphire >

Reynor
Ace Match
:
< Moondance >
As is SCBOY Teamleague tradition, the regular season ends with KaiZi Gaming and Dragon Phoenix Gaming facing off in the rich guys derby. INnoVation's retirement took the air out of this rivalry for a season or two, but the signing of Reynor has restored it to its former glory. This match is further enhanced by the considerable stakes: the winner has a very high chance of clinching a 1st place finish in the regular season.
Dark vs TIME favors Dark by a huge margin according to the stats, with Aligulac giving him a 76% chance to win. However, Dark is one of the many DPG players who doesn't always play at his peak level in WTL games, which was apparent in the 1-1 tie he gave up to SpeCial and the 0-2 loss he suffered against Bunny earlier this season.
Similarly, you'd probably pick Rogue to beat Solar 99% of the time in a GSL playoff match, but within the confines of the WTL regular season, this feels like a coin flip that could go either way.
herO vs Reynor is a series that everyone should be looking forward to, as the best PvZ player in the world goes up against one of the best ZvP players in the world (I think you could reasonably place Reynor anywhere in the top 3 of ZvP). It's hard to say how this match will actually play out. herO is a unique player in the current SC2 environment where Protoss is really struggling at the top end, and Reynor simply hasn't had a chance to play comparably skilled PvZ players in a very long time. Arguably, his TSL8 match against Trap was the last time he played against a championship-caliber Protoss in a major tourney. As such, it's hard to say who has the advantage, and I'll say this is 50/50 to be safe.
Overall, this match feels like it's DPG's to lose. None of the match-ups are clearly in KaiZi's favor, not even the one with their 16-2 super-ace. Yet, DPG have a bad tendency of underperforming in the regular season, and WTL Summer 2022 has been one of the most egregious cases. They gave up losses to Team NV, PSISTORM, and Shopify Rebellion (in a reverse-sweep, no less) when they had the advantage on paper, which forces me to wonder how they're going to blow it against KaiZi as well.
Prediction: KaiZi Gaming 4
- 3 Dragon Phoenix Gaming
---
Credits and acknowledgements

Writer: Wax
Stats: Aligulac.com & Liquipedia
Images: SCBoy