2021 AfreecaTV GSL Super Tournament 3


After suffering two finals defeats to Maru at ASUS ROG Fall and DHM Winter, Rogue finally had enough. In the grand finals of GSL Super Tournament 3, Rogue defeated his old Jin Air teammate by a 4-3 score, claiming the final GSL championship of 2021.

While Rogue's undefeated streak in offline best-of-sevens may have been broken by Zest in the last Code S tournament, the clutch Super Tournament victory suggests he's still the best player in the format. His record now stands at 12–1—not as imposing as 13–0 would have been, but hugely impressive nonetheless. On the whole, Rogue's strong run with wins over KeeN, Dark, Cure (the reigning Code S champion), and Maru served to reaffirm that he's in tremendous form, and is more than justified in showing so much confidence in his recent interviews.

The grand finals was not quite as cheese-laden as one might expect for a series between two notoriously devious players, though it did feature a handful of Maru's infamous proxy builds. Rogue himself mentioned that he hadn't been able to prepare like he would have in other tournaments, but was happy that his fundamentals saw him through to victory. Indeed, he looked slightly superior in the standard macro games played on the day. After the matches, Rogue was aware of his reputation for falling off after a big win, and used his post-match interview to express his desire to perform well in upcoming events.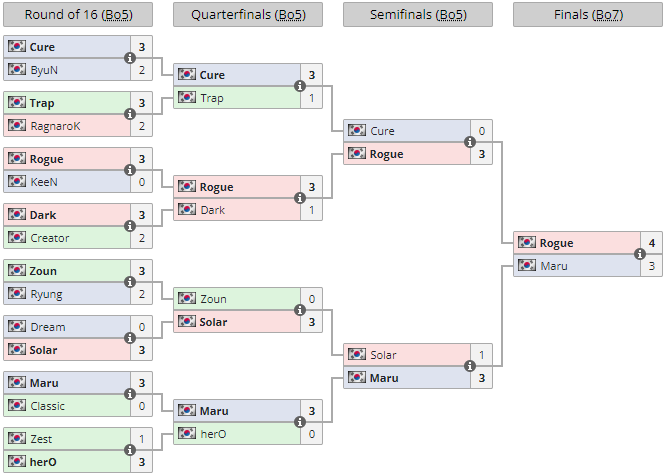 ---
Match Recaps

Game 1 - Berlingrad: Maru started the series with his own twist on a Hellbat-Banshee opener, adding a Medivac for an additional harassment threat. While Maru did kill a handful of Drones, Rogue's defensive multitasking was good enough to get him out of the early game in good shape.

It was then Rogue's turn to show off his creativity, going for a frontal attack combined with five drop-Overlords full of Roaches and Queens. The Overlords flew straight over Maru's wall and deposited their deadly cargo on top of Maru's tanks, forcing the GG. [Rogue 1 - 0 Maru]

Game 2 - Blackburn: Maru pulled out a hidden 3-Barracks build (not quite a "proxy" because it didn't really save him much walking time), while Rogue decided to go for a safe, pool-first build after his internal Maru-alarm went off. These openers basically offset each other, and both players simply transitioned into a macro game without engaging in much significant early action.

Having produced some Roaches early to fight Maru's proxy, Rogue continued on into mass Roach-Ravager. Unlike their Code S Season 1 series, however, Rogue couldn't find a way to breach Maru's defenses and put him perpetually off balance. In fact, Maru was ready with a counter-drop the moment his defenses stabilized, landing in the Zerg main and taking out both the Hive and the Lurker Den. With his late game transition ruined, Rogue had no choice but to fight a fully assembled Marine-Marauder-Tank-Liberator force with just Roaches and Ravagers. This went predictably poorly for the Zerg Swarm, and Rogue had to surrender. [Rogue 1 - 1 Maru]

Game 3 - 2000 Atmospheres: Game three saw the game unfold in the most orthodox way thus far, with both players seeming to build up to a standard Bio vs Ling-Bane macro game. However, any anticipation for a back and forth battle were quickly squashed as Maru suffered a series of devastating Ling-Bane runbys as he tried to move out on the map. Things rapidly spiralled out of Maru's control, and he GG'd out to continued waves of Zerglings and Banelings. [Rogue 2 - 1 Maru]

Game 4 - Curious Minds: Maru mixed things up with his expand-into-three-Barracks opener, looking to apply pressure with fast Stim+Shield-upgraded Marines. The situation looked promising for Maru as he had an opportunity to micro his way to a quick victory, but some unfortunately micro against slow-Banelings off Creep saw Rogue crush the Marines and take a solid lead (perhaps it wasn't bad micro per se, but it was a situation where I might expect Clem to focus all the Banelings and win the game).

However, Rogue got a bit too greedy after cleaning up Maru's initial attack, underestimating how quickly Maru could muster another force. The next Terran push with Tanks, Medivacs, and Marines hit just as Rogue was starting to assemble his Hydra-Bane swarm, and before it had significant numbers. Rogue just couldn't gather enough units to mount a credible defense and was forced to GG. [Rogue 2 - 2 Maru]

Game 5 - Hardwire: This game ended up fulfilling the expectations from 2000 Atmospheres, with both players going into the late game safely and having it out in a proper macro showdown. Initially, Rogue seemed to have a significant edge, as Maru couldn't impede Rogue's tech or economy. While Maru is normally great about having Vikings out before Zergs can even think about Nydus-Lurker tactics, Rogue was in a position to strike far earlier than Maru expected and put Lurkers behind enemy lines. Combined with Rogue's frontal attacks, it really seemed like Maru was on the verge of defeat at several moments, but his world-class defense allowed him to survive.

In a slow sequence that we've seen many times before, the momentum started to shift ever so slowly toward Maru's favor with every attack that he held off. Finally, after one too many attacks, the moment came where the viewers suddenly realized that—oh snap!—Rogue was broke and his expansions were drying up. With his window to close the game over, there was no other outcome for Rogue than to type GG after running out of steam. [Rogue 2 - 3 Maru]

Game 6 - Glittering Ashes: Having had success against Solar in the semifinals with mass Drilling Claw-upgraded Mine drops in the mid-game, Maru decided to try that against Rogue as well. While it's virtually impossible to avoid taking any damage from such tactics, Rogue's defense was still far better than Solar's and he made it a net-negative investment for Maru (even getting in some of his own Ling-Bane runbys in the meanwhile). The game went quickly downhill for Maru once he transitioned into bio, as once again, he left himself wide open for Ling-Bane backdoors when his infantry moved out. Similar to the game on 2000 Atmospheres, the backdoor attacks eventually turned into head-on charges that ended the game. [Rogue 3 - 3 Maru]

Game 7 - Pride of Altaris: Maru opened up with a 2-Barracks proxy build which was unfortunately caught by Rogue's first Overlord which chose the perfect flight path. Rogue sent three drones up to harass the SCVs but was unable to stop any of the Barracks from completing. However, he did manage to kill one SCV and get another one down to red health, which basically nullified the threat of a Bunker being built at his natural. Maru had to settle for a toothless 'contain' of Marines outside of Rogue's natural, but Rogue seemed to even anticipate that follow-up by getting fast Zergling speed to swallow up the Marines.

Overall, the early game interactions left Rogue in a fantastic position with a superior economy. Maru almost found a window to deal damage in the mid-game with a Marine-Tank push when Rogue overconfidently fought him off Creep, but he was so far ahead that one poor trade didn't set him back that far. Ultimately, Rogue was able to comfortably set up his economy and production to send endless waves to Zerg toward Maru. This time, even Maru's famed defensive prowess wasn't enough to save him, and he GG'd out to give Rogue the Super Tournament championship. [Rogue 4 - 3 Maru]