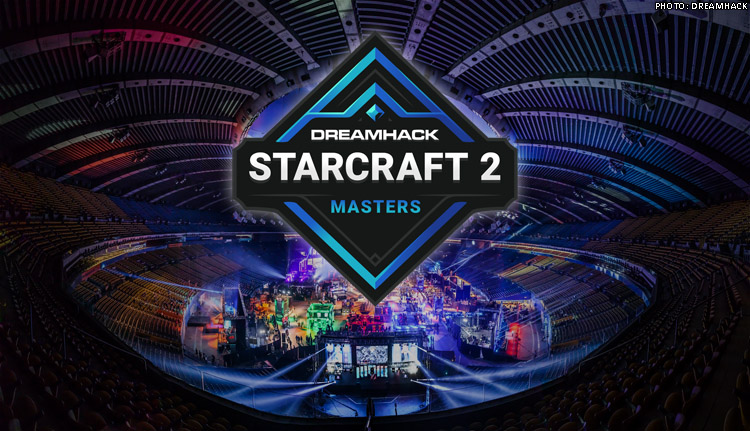 Mark down championship number fourteen for the Finnish Phenom! Serral defeated Trap 4-0 in the grand finals of DreamHack Masters Fall, ending a ten-month title drought to put himself back on top of the StarCraft II world. Describing his feelings about winning the championship, the typically staid Serral said "Obviously really happy with the win. That's what I've been looking for. Yeah, really satisfied." Coming from him, one could interpret that to mean he was absolutely elated.

Finishing with a 14-1 overall map record, the championship run was one of Serral's most dominant yet, only dropping a single map to Zoun in the group stage (the result of a failed Roach-Ravager-Queen all-in). Consensus #1 Protoss player Trap accounted for six of those victories, with Serral winning 2-0 in the group stage prior to the grand finals sweep. The in-game content of the finals was just as one-sided as the scoreline, with Trap resorting to ever more desperate strategies as the series went on. Alas, there was no Chargelot all-in, Tempest rush, or any other ploy that could flummox Serral in the end.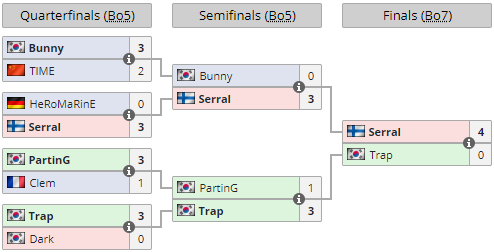 A frequent victim during Serral's 2018-2020 reign of terror, Trap had actually gained the upper-hand in 2021 by taking two major victories in the quarterfinals of NeXT Season 1 and the grand finals of DHM Last Chance. However, with such an overwhelming beatdown in DHM Fall, Serral seemed to signal that things would be going back to normal. It was a sentiment that even Trap himself shared as he praised Serral's "flawless" play after his group stage loss.

Despite Serral's monstrous performance, there were still a few holes to poke in his run as the playoff bracket allowed him to dodge some key challenges. There was no revenge match against Clem—who recently crushed Serral 4-2 in the DHM Europe Finals (including a one-point upper bracket advantage for Serral)—as the Frenchman fell to PartinG in the quarterfinals. Nor were there any elite Zergs in Serral's path, as Dark was eliminated by Trap in the quarterfinals, while Reynor and Rogue failed to qualify for DHM entirely. Instead, Serral trampled over Bunny and HeroMarine in the playoffs—two Terrans he was heavily favored against.

One can't say Serral is "back" due to this victory, since he never really went away. His progamer peers have consistently named him as a top title contender during his ten-month title drought, and treated him with the same deference as the 'old' Serral. And yet, we know from StarCraft II history that there's a huge difference between being a title contender and actually lifting the trophy. In that sense, it's good to see the old king get back to his winning ways.





---
Other thoughts and notes

Game of the tournament - Dark vs TIME (VOD): One of the ongoing legacies of Scarlett's legendary match against Bomber at Red Bull Battlegrounds is to remind us of how rare it is for burrowed Banelings to decide a game. Pro Terrans are simply too cautious and poised to fall for such obvious tricks in normal scenarios. No, you need to force a chaotic situation and break the Terran's focus for such tactics to work. And that's exactly what Dark did against TIME in the group stages.

Playing from behind, Dark's relentless Muta-Ling-Bane counterattacks slowly eroded at TIME's concentration (and Orbital Command energy) until he could finally be lured into a fatal trap. Dark even put some extra flair on it, detonating a few Banelings first, and then detonating the rest when TIME walked back over the same trap. This game would have been the best of the tournament even without the burrowed Banelings, but the rarely successful technique takes it to another level.

sOs' final match: sOs's play during the group stage seemed rather questionable at the time, as he was eliminated after attempted three disastrous in-base proxy Gate strategies against HeroMarine. Then, a few days later, we learned that sOs had retired, and his matches against HeroMarine had been his last.

It certainly makes you reconsider things. Originally, it definitely felt like sOs had lost to HeroMarine because he went for yet another bad gamble, a reminder that his once-cunning all-ins had become progressively more hit-or-miss as the years went on. However, knowing what we know now, it seems more respectful to the old legend to go with a kinder interpretation. He simply went out doing what he loved: making things weird.

Terrans show out, but Clem struggles again: On the whole, the Terran faction had a strong showing at the Season Finals, with four out of five representatives reaching the playoffs.

Admittedly, this Season Finals had one of the weaker player pools, opening up playoff spots that would otherwise have 'belonged' to the likes of Reynor or Rogue. However, you can't take away credit from HeroMarine, TIME, and Bunny for actually stepping up and seizing those spots, taking down all the Zergs and Protosses who had eyed them as well. Serral running a buzzsaw through them in the playoffs doesn't discredit them, since he did that to everyone.

Among the three, Bunny was the one I was watching most closely. He's improved considerably throughout 2021, and he's starting to knock on the door of major tournament finals. Alas, both of his semifinal appearances have ended brutally thus far, as he was swept by Serral in DHM, and by Trap in Code S before that. Given the quality of Bunny's play in other matches—especially against Dark in Code S—it seemed like he wasn't able to play to 100% of his ability against Serral. Big game nerves have definitely been an issue for players who aren't used to playing in high-stakes matches, and it can take some time for them to overcome that problem. However, if Bunny does find a way to play his best in such scenarios, and draws an opponent who's just a little less oppressive than Serral, a grand finals appearance isn't out of his grasp.

While DHM Fall was good for Terran on the whole, it was a disaster if you're only focused on the championship picture. Clem's TvT/TvP struggles in international events continued, this time losing to PartinG 1-3 in the quarterfinals. It was encouraging to see Clem take the early game build order advantage in most of the games, something that's been a point of criticism in the past (somewhat unfairly). However, he just wasn't able to finish PartinG off in macro games, with the PvT savant able to stall the games out and win in the end. As in the case of Bunny, Terrans fans will be hoping that Clem's growth hasn't stopped, but he's just temporarily stalled before making the next leap.

-by Wax