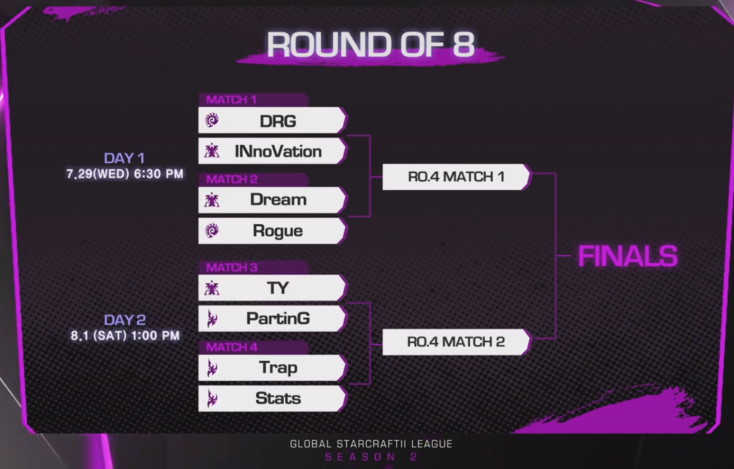 2020 Global StarCraft II League: Code S Season 2


Group D of the RO16 concluded with Stats and Rogue advancing over Zest and Cure, finalizing the eight-player playoff bracket for GSL Code S Season 2.

DongRaeGu and Dream are the two names that stick out most in the bracket, as they are the first two players to return from Korea's mandatory military service and reach the Code S quarterfinals. On the other hand, Maru and Dark are conspicuous in their absence, as they suffered shocking upsets in their RO16 groups.

Who will rise to the occasion in this most unusual season of Code S? The Code S quarterfinals will begin on Wednesday, Jul 29 9:30am GMT (GMT+00:00) with the first two matches: DongRaeGu vs INnoVation and Dream vs Rogue.
---
Group D results


Initial Match #1: Stats 2 - 0 Cure

Cure kicked off the group by playing a one-base 1/1/1 build against on Ever Dream. Part one of his plan worked out quite well as his Medivac ferried Marines and Hellions safely into Stats' main. Part two, however, was a total disaster, as it turns out Battery Overcharge is really good against unstimmed Marines and Hellions. Stats then sent his Stalkers to Cure's base to try to get some harassment done, but ended up finding a victory instead. Cure had unsieged his Tanks to move out together with Marines, which made them easy targets for Stats' Stalkers to Blink on top of. Once the Tanks were focus-fired down, it was all over for Cure.

The two players made up for the brevity of game one with a lengthy macro game on—you guessed it—Eternal Empire. The first macro build-up lead to a semi-base trade, as both players sent their armies across the map without encountering each other. The two players cut each other's expansion counts down from four to two, before retreating to lick their wounds and recover. In this second build-up phase, Stats came out ahead with a couple of slick moves. He used Blink DT's to cripple Cure's economy, while shutting down Cure's harassment with a devastating Stasis Ward + Disruptor combo on his own side of the map. Having taken both the army and worker count lead, Stats played out his lead slowly and methodically, chipping away at Cure until he was forced into a final desperation attack.

Initial Match #2: Rogue 2 - 1 Zest

Despite being the player who codified the Glaive-Adept PvZ meta of 2020, Zest opted not to go for his signature unit in game one against Rogue, utilizing an Oracle opener instead. Just kidding! Zest followed the Oracle up with a Glaive-Adept all-in, and forced a sub-seven-minute GG out of Rogue.

Zest went for a more normal Stargate opener in game two, applying some early Oracle harassment while going up to three bases. Unfortunately for Zest, this time it was Rogue's turn to go for an all-in, and his Roach-Ravager-Queen easily busted through the Protoss defenses to earn Rogue his own sub-seven-minute win in the series.

Rogue and Zest then one-upped (or one-downed) themselves by delivering a sub-SIX-minute game on Deathaura, which is almost certain to end up being the weirdest game of the season. Zest opened up with a Cannon-rush, to which Rogue responded by going for an offensive hatchery inside of Zest's main. What followed was a largely incomprehensible sequence of events, which might be summed up as "I'm not sure Zest knew what he was doing." Anyway, it ended with Zest losing to one-base speedlings, despite having two Cannons inside his main. Look, this game is impossible to recap—just watch it. It won't help you understand it any better, but it will at least make you believe that it actually happened.

Winners' Match: Stats 2 - 1 Rogue

A macro game still wasn't on Rogue's mind as he went up against Stats, as he aimed to go for a Roach-Queen-Nydus attack on Deathaura. While Stats' 2-Stargate Phoenix strategy seemed like it could be vulnerable, it actually proved to be the perfect counter when Rogue erred by gifting five Queens to Stats' Phoenixes when they flew into his base. This took all the threat out of the Nydus attack, letting Stats sit back and macro-up in peace. However, Stats soon gifted the lead back to Rogue, launching a suicidal attack into Zerg territory which saw all of his units evaporate against the defending Hydralisks and Roaches. With the Protoss army gone, Rogue finally got the money Nydus he had been looking for from the start, and flooded Stats with Hydralisks to force the GG.

Rogue kept the aggression coming in game two on Ever Dream, as he went for a proxy-Hatchery just outside of Stats' natural for an offensive Spine-Crawler rush. Having scouted the proxy-Hatchery late, Stats made the prudent decision to give up his natural expansion and play a 1-base vs 1-base game. Stats executed a highly effective delaying action at his natural, buying himself plenty of time to set himself up on one base. By the time Speedlings and Spine Crawlers were done killing the natural expansion Nexus, there was already a Cannon and Immortal ready to hold the Protoss ramp.

Unable to advance any further, Rogue faced a deadly countdown. His Spine Crawlers could contain Stats inside his main for the time being, but he would soon have to deal with the all-powerful Immortal-Warp Prism combo. Against a lesser Player, Rogue might have had time to take his natural and transition out of his low-tech all-in. However, Stats immediately started to put the pressure back on Rogue once he had two Immortals and a Warp Prism, knowing Ling-Queen was helpless against that combo's deadly micro potential. Stats used impeccable Prism juggling micro break through the containment, and started moving over to Rogue's territory to inflict some pain. In the end, Rogue never managed to get off of Ling-Queen, and Stats was able to roll him over with Sentries, Adepts, and Immortals off one base.

The series concluded on Eternal Empire, where Stats started by hammering Rogue with Glaive-Adept pressure. While Stats couldn't kill Rogue straight-up, he racked up enough Drone kills and forced enough Zergling production to put Rogue severely behind. Once Stats added Immortals and Sentries to his growing Adept force, he was able to roll over Rogue and cinch the 2-1 victory for first place in the group.

Losers' Match: Zest 2 - 0 Cure

The losers' match turned out to be a great showcase for Zest's other major innovation of 2020: His Blink-DT centric PvT style. Zest showed great sense for when to use DT's to harass and when to use them to hack apart vulnerable Terran units, and beat Cure convincingly in two macro games.

Decider Match: Rogue 2 - 0 Zest

After their cheesy initial series, it was inevitable that one of Rogue or Zest was going to bring out a creative strategy in game one on Golden Wall. Channeling Trap from the DH Summer Finals, Zest mined out his backdoor minerals to go for a backdoor-expansion + proxy-Stargate combo. After some light Oracle harassment to start, Zest followed-up with a mass Glaive-adept all-in off two bases. While this might have worked against a three-base Zerg, Rogue was focused his own unorthodox strategy: Swarm Host-Nydus off of two bases. Upon scouting Zest's intent to go mass Adepts, Rogue simply walled off his natural expansion with Evolution Chambers and Spine Crawlers. This rendered Zest's Adepts totally useless, while on the other side of the map, Zest was largely helpless against Rogue's Swarm Hosts. After several minutes of whittling Zest down with Locusts, Rogue finally finished him off with Roaches.

Zest had another trick prepared for game two on Ever Dream, opening with a standard DT/Archon drop and transitioning into mass Phoenixes from two hidden Stargates. As for Rogue, he had gone for his most 'normal' gameplan of the night, making Roach-Ravager off four bases while eyeing a transition to Hive tech. In the midst of this, Rogue scouted out Zest's two hidden Stargates, which prompted him to morph a bunch more Ravagers and go for a big Roach-Ravager-Ling attack. The Zerg forces arrived before there were enough Phoenixes to really affect the tide of battle, and punched a giant hole in the Protoss defenses. Rogue followed up by pouring Hydralisks through the breach, forcing the final GG out of Zest.