After months of design, playtesting, and iteration the results are in. You have decided our TLMC10 winners!

All sixteen finalists will receive at least $100 by default for placing in the top 16. All finalists will also receive a custom community commander portrait if they do not yet have one. In addition, the authors of the top five maps will receive the following prizes, all provided by Blizzard.


First - $500
Second - $250
Third - $125
Fourth - $75
Fifth - $50
FIFTH PLACE
FRACTURE | Avex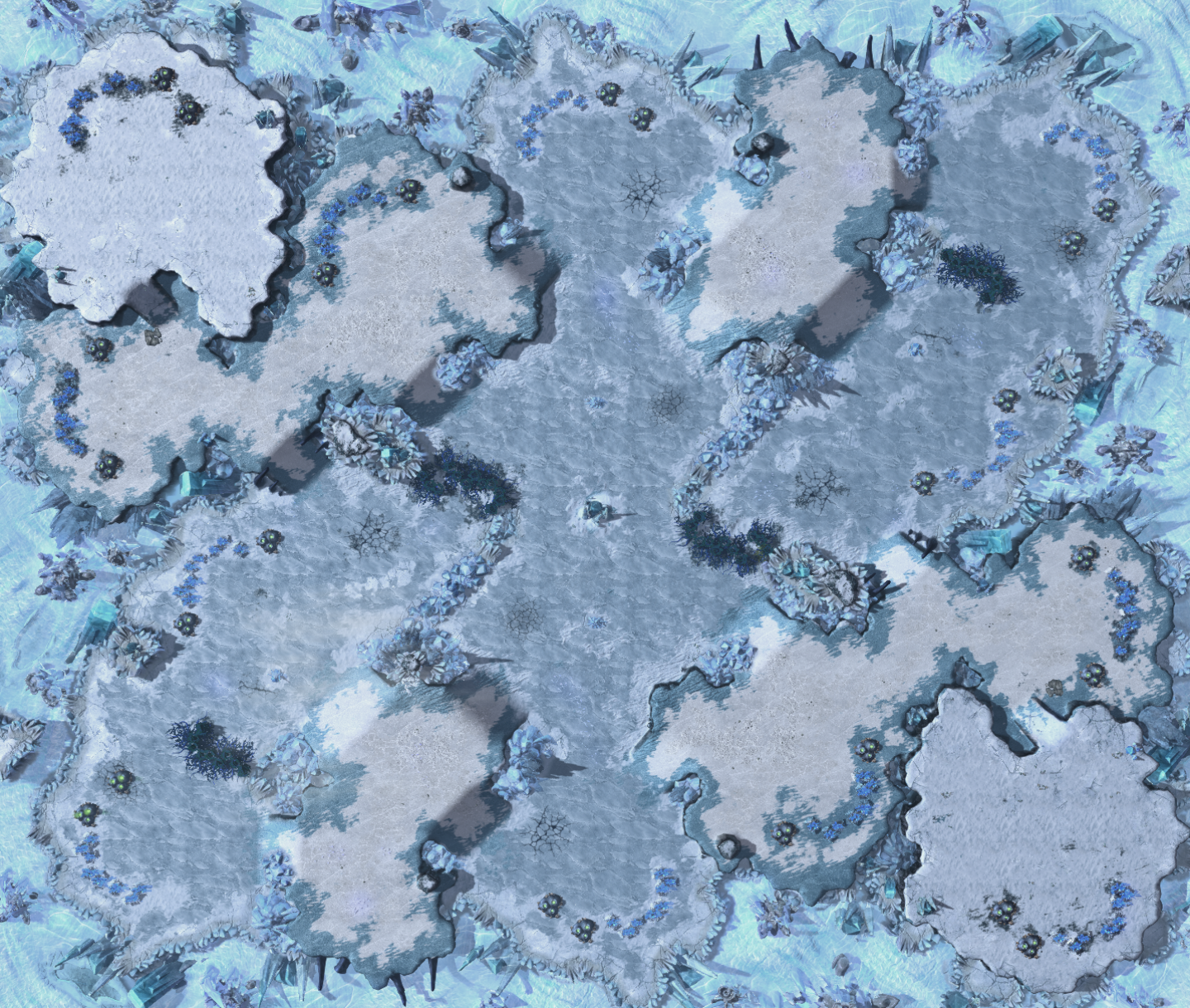 "
Fracture takes place in a cold and biting environment, not only aesthetically but ingame as well. The thirds are relatively normally spaced but might feel a little far due to the straight line that is the attack path between the two bases. The map has a low amount of bases, and is more narrow than macro maps as more of a nod to the medium maps of Heart of the Swarm. Main distance remains the standard to most maps to keep the earlygame of Legacy relatively untouched.
"
Avex is one of TLMC's most prolific mapmakers, having made ladder maps such as Blood Boil, Odyssey, and most recently Backwater and Blackpink. Avex will receive $50 for his fifth place finish, as well as an additional $300 for his three finalist placements.
FOURTH PLACE
DREAMCATCHER | Timmay
"Dreamcatcher has a relatively short rush distance, but players may use the collapsible rocks to divert the main attack path. With a rare type of symmetry and a reasonable size, Dreamcatcher would be an interesting addition to ladder in the age of giant macro maps."
Timmay is best known for his extremely popular map Catellena, although he has been entering high-quality maps to TLMC for years. Timmay will earn $75 for his fourth place finish in addition to taking home $100 for reaching the finalists list.
THIRD PLACE
LOST AND FOUND | Zweck
"
The only issue this map had was the lighting. It made the map look cool and unique, but also changed colors that probably should stay the same, such as the colors of health bars. There lighting was therefore changed back to normal, and the texturing was made unique in return in order to still have a fresh looking map.

The rest of the map layout was kinda flawless in the first place; therefore, no changes were necessary.
"
Lost and Found caps Zweck's impressive list of maps for a first-time finalist, standing alongside Para Site and System Shock. He'll take home $425 in total for his third place finish.
SECOND PLACE
BLUESHIFT | NegativeZero
"
This map merges the overall geometry of Catalyst with the aggressive central valley of Frozen Temple, with the addition of 4 large rocks that can significantly open up the main attack lanes later in the game.
"
NegativeZero is most known for creating TLMC6 winner Terraform, TLMC7 2nd place finisher Apotheosis, TLMC8 5th place finisher Sequencer, and TLMC9 2nd place finisher Catalyst. All four have been prominent ladder maps and we look forward to Blueshift possibly being one as well. NegativeZero will take home $250 for this second place finish in addition to $300 for making three finalist maps, the other two being Backpfeifengsicht and Digital Frontier.
FIRST PLACE
16-BIT | themusic246
"
16-Bit is a retro red vs. blue digital landscape that has a few unique components differing from traditional macro maps. A pocket natural and destructible rocks at your forward natural allow for both aggressive and conservative play styles and ways to counter both. There are multiple attack paths and different expansion patterns. Give this a vote if you like macro maps that can play out differently every time.
"
On his first finalist appearance, themusic246 has achieved a TLMC victory with his lone finalist map 16-bit. This shocking debut, however, will not come as a surprise to followers of the Arcade community. themusic246 actually already won the Blizzard Arcade RTC contest. Furthermore, he is the developer of Zealot Hockey, Star Party, Monobattle Map Rotation and more.
And thus concludes our first decade of TLMCs. We want sincerely thank everyone who's taken part thus far in this contest and all the ones before it. After all, working on getting these maps into the ladder rotation is a full community effort!
+ Show Spoiler [Full Results] +
16-Bit by themusic246

Blueshift by NegativeZero

Lost And Found by Zweck

Dreamcatcher by Timmay

Fracture by AVEX

Backpfeifengsicht by NegativeZero

Travincal by AVEX

Digital Frontier by NegativeZero

Arashi by AVEX

System Shock by Zweck

Cape Regis Shipyard by octomologyst

Para Site by Zweck

Cerulean Falls by Solstice245

Kherrisan Rift by Solstice245

Treachery by Youngrustler

Artana by IronManSC