Seither earned a spot at WCS Jonkoping with a strong performance in the SEA qualifier, defeating both Probe and iaguz—the region's two representatives at WCS Austin—along the way. Yet, Seither is no newcomer, having already proved his skills last year by winning a spot at WCS Summer. Unfortunately, he had to decline the seed for personal reasons. I hopped on Skype to talk to the Aussie Terran and test him in the art of the progamer interview.

*This interview has been edited and condensed.
Wax: First off, could you introduce yourself for people who aren't familiar with you?
Seither: Hi, I'm Seither, from Australia. I started playing in Wings when it launched, at first just arcades and teams. Was random in 1v1's bronze to platinum without using hotkeys xD. Then I played Terran and learned proper stuff and got GM. I quit shortly after HotS, then came back mid-2015 and started competing.
What was your reason for quitting and coming back?
Seither: Hmm, got sick of it a bit and was also doing other things. I would play a couple games every few months just for fun.
What's the story behind your ID?
It's from Final Fantasy 8, the characters name was Seifer. I made it when I was really little and my brother gave me the wrong spelling

How come you chose the villain? I know Squall is kinda lame, but still.
I was going to go with Squall but my bro told me everyone would pick that name, so I went Seifer even though he's a dick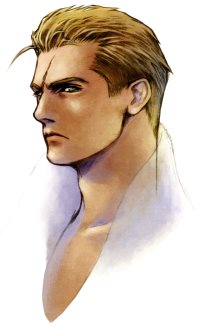 Artist's interpretation.
How would you describe your playstyle? Why should people watch your games?
I'm not sure i have a playstyle, I just do what i think will win. I cheesed alot this WCS.
So honest.
Ye I'm dirty.
I mean normally, I play pretty standard-ish, copying the Korean Terrans. But i wanted to win :D
You actually won a spot at a WCS main event last year, Montreal I think, but you had to decline the spot. What's the story behind that?
Well, I never thought I'd qualify and then I did. And I wasn't sure about traveling so far on my own.
You could cling onto iaguz this time. You know, like an emotional support animal—err human.
Ye it'll be good until he gets drunk and starts abusing me.
Nonsense, many people can attest he's a very gregarious drunk. Who could find anything threatening about this face?
I don't trust it. No way someone can play SC2 for so long without going crazy and not have dark secrets.
Do you ever feel bad when you use medivacs? You're stuffing people in planes and kicking them out as it screams by at high speed.
Wow I never thought of it like that. I'm still not gunna feel bad though. If they didn't do it the other filthy races would take over.
The more I think about it the marine is you. A seasoned soldier from a prison colony, stuffed onto flying vessel and dropped in a faraway base, fighting Protoss and Zerg scum from parts unknown.
Damn was this where you were heading all along?
Don't do drugs, though.
I'm a responsible stimmer.
Do you have any friends or enemies in StarCraft? Actually let's forget about the friends, no one cares about that.
Definitely Petraeus. Back in WoL on ladder he would always shit-talk, and when i started competing years later he was the same xD
Damn, that filthy BL-Infestor user, daring to shit-talk an honorable Terran. Weirdly enough, I respect him more for having the gall to do that.
Oh, screw BL-Infestor. Now that you remind me, I hate every WoL Zerg.
Are you filled with the desire to do terrible things to them at Jönköping?
TvZ is my best match-up by far but Euros play so different. I hope I can do terrible things to them.
Petraeus won't be there, but the even more disgusting WoL Zerg Nerchio will be. What kind of horrible punishment will you inflict upon him, if he should be so unfortunate as to cross paths with you?
Uh, yeah, I'm uhh, going to absolutely destroy him so bad he will want to go for a walk out into the lake.
Okay let's ask our world-famous pirates question. If you had to rescue your family from pirates, and you could only take three progamers to help you, who would you take and why?
PiLiPiLi to use revelation for BS scouting, then distract them later talking shit. Psiarc for team morale. He is just always happy and he learned to speak English via memes, so it's funny. Crimson to keep the team fed with nuts 'n' nanis. I wanted to bring pandabearme but he would just fall asleep and be useless.
Anything you've always wanted to be asked, and have a perfect rehearsed answer for?
Hmm, not really.
You've never seen a Korea interview and thought, man, I could definitely say something more interesting than "please cheer for me and I'll show you good games"?
That's pretty interesting.
T_T
Please cheer for me and I won't promise good games xd
---
Make sure to follow Seither on Twitter and Twitch, and nerd out over his match history at Aligulac.Curious about Seither's play?
Check out his series against iaguz from the WCS Oceania Challenger tournament
---
You can read more interviews with the WCS Challengers who will compete at WCS Jönköping during June 17-19!