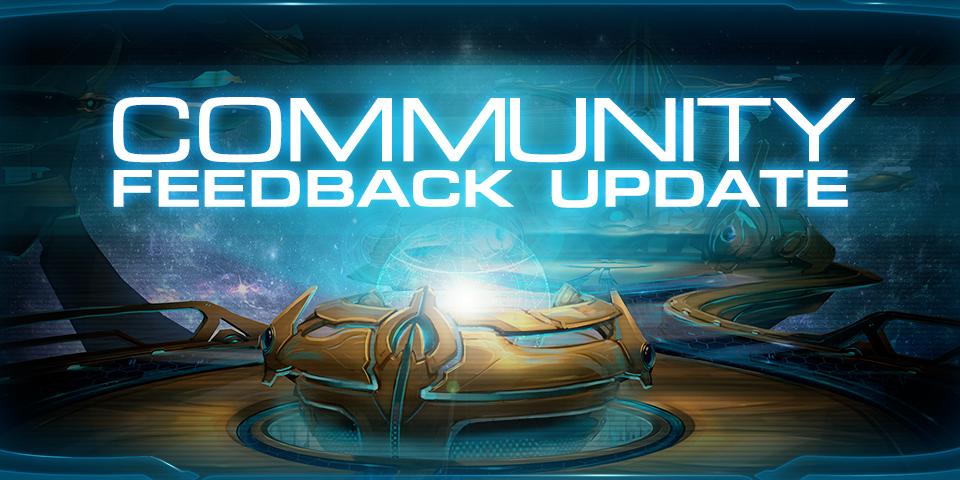 Hello everyone, today we would like to talk about some of the upcoming changes being placed on the testing matchmaking.

Protoss Air Power
We want to shift some of Protoss's air strength around. We are buffing the Tempest's damage vs massive bonus and adding a downside to the Void Ray's Prismatic Alignment.

Since we increased its supply cost back in November, the Tempest's air to air attack has been unchanged. This has made it less desirable as a Protoss capital ship option, and we want to sharpen its role vs other capital ships with a buff to its massive damage. This should also make it more of an interesting option in PvP as a response to an opponent going for Carriers.

We believe that Void Rays could be a bit less straightforward powerful. To this end we are testing out a change to Prismatic Alignment that will decrease the speed of the Void Ray while the ability is active. This tradeoff between power and speed should allow for more counter play from the opponent as they can now better decide when to run, and when to stand and fight.

Zealot
We are testing a reduction of the Charge upgrade cost to help Zealots out. Due to it being the most expensive upgrade on the Twilight Council the upgrade is less interesting to get early on compared to other options. However, we are also open to considering other changes to the Zealot.

Thor
In a very experimental change, we are removing the High Impact Payload option from the Thor and instead changing its Javelin Missile Launchers to be flat damage instead of providing a bonus vs. light. While this does reduce the Thor's single target damage vs high armor capital ships, it greatly increases its overall damage to most grouped air units.

Burrowed Infestor Art
We are making burrowed Infestors more easily seen without detection. This was done in response to feedback that the Infestor was too hard to see compared to other active burrowed units like Widow Mines.

Warp Prism
In a previous community feedback we mentioned a potential change to Warp Prism's warp-in mode. With the number of other changes proposed we are going to hold off on implementing this into testing for now. This is to prevent too many changes from going in at once and possibly causing the results of testing to be less clear.

Swarm Hosts
As an additional note, we hear that there is concern that Swarm Hosts continue to inhibit Terran Mech play. We are continuing to gather feedback but have not included changes in this round of testing so as to give more focus on other changes first.

Of course, none of these changes are final and are subject to altered or be removed. Let us know what you think in the comments, and we will see you in the testing matchmaking when it goes live!

~~~~~~~~~

Edit 1: Details for April 20 balance testing released

http://us.battle.net/sc2/en/blog/20720316/call-to-action-april-20-balance-testing-4-20-2017

Terran

Thor

High Impact Payload mode removed.
Javelin Missile Launchers damage increased from 6 (+6 vs light) to 12.

Raven

Auto-Turret damage reduced from 24 to 18.
Auto-Turret duration increased from 7.14 to 10 seconds.

Protoss

Tempest

Kinetic Overload damage increased from 30 (+14 massive) to 30 (+25 massive).

Void Ray

Prismatic Alignment slows the Void Ray by 40% while active.

Zealot

Charge upgrade cost lowered from 200/200 to 100/100.

Zerg

Undetected burrow move visual effects should be more visible.

~~~~~~~~

Also, somewhat unrelated, they also released a blog post about a "rewind' feature that is coming to Patch 3.13.0

http://us.battle.net/sc2/en/blog/20719765/patch-3130-preview-rewind-4-20-2017

"StarCraft II challenges you to constantly improve your skills and push yourself to new heights. There are many methods available to help a player improve, but the most fundamental one is reviewing your replays to understand what mechanics need the most attention. We're introducing a new feature, Rewind, to make navigating your replays easier than ever before.

Currently, if you had just completed a match and wanted to review the final battle, you would need to exit the match, find and load the replay, and fast-forward to that critical moment. Now, after a game ends, the new 'Rewind' button will appear on the Victory or Defeat dialogue. Clicking on it will immediately convert the game into a fully loaded replay, allowing you to rapidly jump to any point in the match. In addition to the end-of-match dialogue, you can also 'Quit and Rewind' during a match through the in-game menu. You'll be able to see exactly where that proxy Pylon was hiding in mere seconds!

The Rewind feature will be available in all modes that support replays normally, including Multiplayer, Arcade, and Co-op. Note that if you are in a party, Rewind will place you in your own replay and will not affect your teammates — if you want to watch a replay with your teammates, you will still need to utilize the 'Watch With Others' feature.

+ Show Spoiler +


Whether you're a streamer making tutorials, a commander who wants to know who's really carrying their weight in Co-op, or a ladder hero perfecting their mechanics, we hope the new Rewind feature will make reviewing key moments in StarCraft II better than ever."