"People often say that they have momentum after winning many games in a row, but I don't feel that way. Momentum isn't important for me. Only skill."
- TaeJa
I do not believe in fate. I do not believe that the miraculous things that happen in our lives happen because of some higher being or destiny. But every once in a while, we witness a confluence of events that makes us think that maybe—just maybe—someone out there has a plan. The right people meet at the right time in the right place and a perfect story unfolds with an unforgettable ending; in that split second you think to yourself, this was always meant to be and everything led to this very moment. iloveoov defeating his mentor Boxer in the OSL Finals. NaDa winning the Golden Mouse as a final tribute to his father. Mvp defeating Squirtle in the GSL despite all of the challenges and hurdles. To us that witnessed these events first hand, they are forever etched into our fondest memories.
TaeJa joining Team Liquid was one such moment. Its ramifications were not nearly as immediate and no ceremony accompanied the occasion, yet the meeting of these two parties would have an everlasting impact on the history of SC2.
Onlookers knew that TaeJa was an incredible talent, but he was not one that could have flourished under the KeSPA system. It was fortunate then that KeSPA had yet to tame the wild landscape of SC2 upon the game's release. TaeJa first joined SlayerS, yet he was never recognized for his prodigious talents despite 2 all-kills in GSTL. He left to find a foreign team, but no team was interested in a player that was considered surplus to requirements. Anyone who had paid attention to the ESV TV Weeklies knew, however, that he possessed boundless potential—and Team Liquid had been watching. Only Liquid and the hardcore fans of minor Korean weeklies noticed that there was something special about TaeJa, something ineffable.
And in one of the greatest SC2 signings of all time, Team Liquid picked up one of the greatest SC2 players of all time, and by far the greatest international LAN player SC2 has ever witnessed. TaeJa received the support he needed to finally show the SC2 world the true depth of his skill and he repaid that trust with a resplendent career.
What he will be remembered for the most is "The Summer of TaeJa" (2012) which kicked off with two events: a top 8 in Code S and a titanic effort to carry Team Liquid to the finals of IPL TAC 3. Both were incredible feats for a player so young, especially the IPL TAC run as he went 23-3 in the event. He carried Liquid over 8 other Korean teams and killed the best team in the world 1.5 times. He won ASUS ROG, MLG Summer Arena and DreamHack Valencia that same fateful summer.
He then followed it up with 2.5 years of consistent play. In fact, the Summer of 2013 was even more bountiful as he won tournament after tournament extending into Winter. Against the best players of the time, TaeJa fought them all and beat them over and over and over again from his very first summer to the very end of 2014. He earned the right to be called one of the best terrans and one of the best players in the world, and I'd argue that from the latter half of 2013 until the end of 2014, he was at the summit of his race. In that time he amassed 11 Premier Tournament titles, the most of any SC2 player in history. Beyond that he has 2 silvers, a bronze, and 11 other top 4 finishes at international LANs. It's unlikely that anyone will ever catch him. At his best, he was invincible; at his worst, merely indefatigable. No amount of changes to the meta or personal injuries could stop him.
---
Whenever we try to weigh greatness, we often start with objective measures: his achievements, his longevity, his consistency, the players he has beaten. All of that already puts him in legendary status among SC2's greatest players. But it was how he played and how he won that shocked the world the most. With each passing year, with more SC2 played, with more terrans come and gone, the more shocked we became.
Ask any fan about TaeJa's playstyle, and both casual and expert alike would almost certainly answer something along the lines of "standard, but very solid/good." How dull, how trite, how vapid he must have played then. Yet that only scratches the surface of TaeJa's peculiar style, and it doesn't seek to understand the breadth or his strategic or tactical thought process in the context of the scene and his own success.
There are a few basic truths one must understand before studying TaeJa. The first is that Terran has become an inherently aggressive race. While it had been skewed this way since Wings of Liberty, the race has progressively become more offense-focused with the introduction of the speedivac and tankivac. Terran has very little incentive to play defensively (unless playing mech) as they can only build planetary forces as supply-less defense. Zergs have spines, spores, and movespeed bonus from creep; Protoss have cannons, the mothership core, and nerfed warp-ins. If a terran splits too much from his main force in order to keep his bases secure, his attack force weakens more than the other races. Zealot warp-ins provide instantaneous defense, and zerglings can track back faster than any other unit. If a Terran does not split at all, he risks losing his infrastructure, expansions, or economy—which, compared to the other two races, is also much slower to replace sans mules. In the totality of SC2's Terran history, from the beginning of Wings of Liberty until today, only two defensive Terrans have played the game at the highest level: Mvp and TaeJa. Mvp could even be excluded from that shortlist, as he also played aggressive styles if the situation or player demanded it.
The second is that the best player in any sport, both e- and otherwise, will be copied. The skills they innovate, the tactics they come up with, the builds they create; everything they do will eventually become the standard, the book. TaeJa was one of the best Terrans from 2012 till the end of 2014. He was the best Terran for a long period of time from the latter half of 2013 to the end of 2014.
So, here we have one of the best players in the world use the same defensive style of play for years despite it being considered a worse fit for their race. Here we have a player who was at the top of his game, yet the best Terran minds in Korea were completely unable to copy or emulate or learn much from his play. Why is that?
The simplified answer: because it's impossible. To play as TaeJa, one must elevate his understanding of SC2 to another level; one that no other Terran aside from Mvp has achieved. Just like the King of Wings, TaeJa did not win his games off his mechanical prowess beyond his early stint in 2012. While the injuries he has sustained may not be as bad or as well publicized as Mvp's, he switched to this defensive Terran style as a means to adapt to his limitations. Instead of battering his opponents with mechanics, he reads the flow of the game, understands army compositions and how they work, exploits the specific economics of each map and game, and predicts how each decision influences crucial positions throughout the map. All of this feeds into the strategic underpinnings of each match, and he takes all of that knowledge at every given point in the game in order to make the best decision possible. He stays one step ahead because he sees one step ahead, and takes that step before his opponent can even realize what has happened.
I'll explain with some concrete examples from some of TaeJa's most famous games. There are facets to his game that can be difficult to notice but become abundantly clear once pointed out.
IPL TAC 3, TaeJa vs YongHwa
https://www.twitch.tv/ignproleague/v/38217502?t=1h39m30s
What you need to understand about Antiga Shipyard is that you were given 3 free bases, but the 4th was a nightmare to take. Because of that YongHwa opted for a 3 base colossus/archon/gateway mix. TaeJa replied with ghost/viking/bio, but uses his army not to fight head on with YongHwa (TaeJa actually loses all three maxed out army fights in the game), but as the tactical and strategical focal point for his economic development in the game to starve YongHwa out.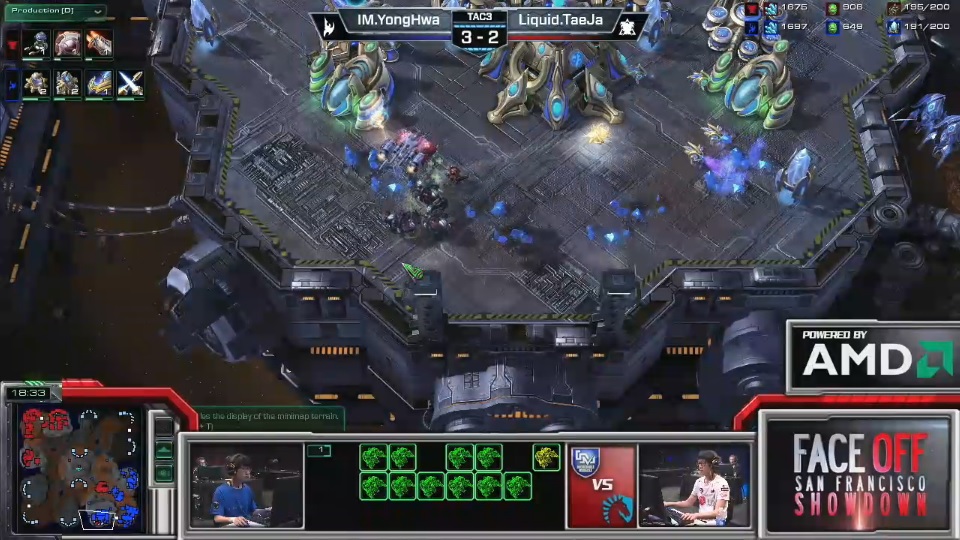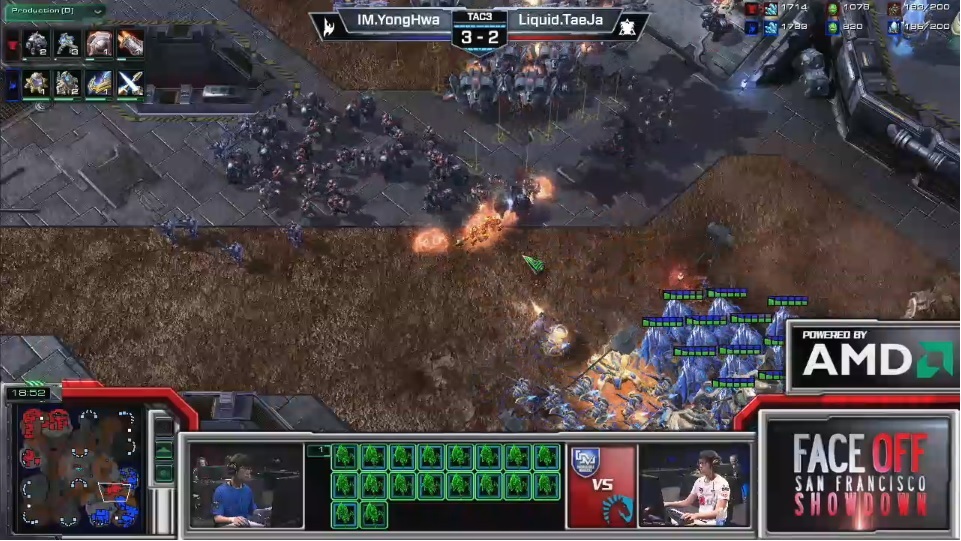 In these screenshots, we see that TaeJa has his army right outside YongHwa's doorstep. Instead of attacking, he just holds that position. This creates 4 openings for TaeJa. He can now drop in the main with a small group, and he can pressure at the third and pick off units at its fringes. This gives him time to build another CC and float it toward the bottom left base for a 4th. As long as he holds this ground, he can bait YongHwa into a bad engagement and keep him away from his side of the map.
The game see-saws, but TaeJa sticks to his overall strategic vision. He slowly starves out YongHwa on gas as he denies him the 4th for an interminable amount of time and constantly snipes observers which YongHwa has to remake. YongHwa keeps winning the big maxed out battles, but can never finish off TaeJa. This ends with TaeJa winning the final big fight as all of YongHwa's power units are dead and even with a bigger supply he cannot contend with TaeJa's bio forces.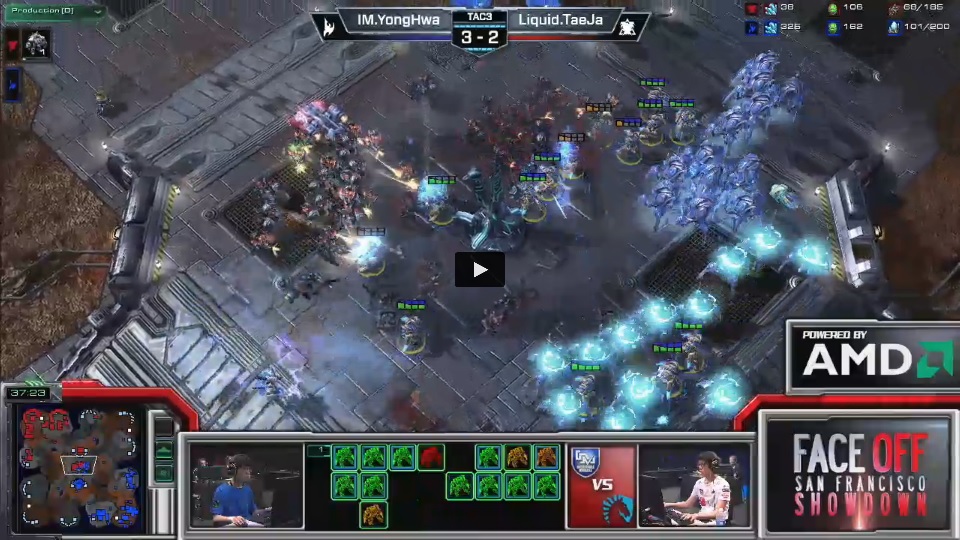 WCS Season 2 Finals, TaeJa vs INnoVation
This was a TvT on Newkirk Precinct. Correction: this was
the
TvT on Newkirk. Newkirk was considered a great map for mech as it was incredibly easy to get up to 4 bases. INnoVation does exactly that and plans to hit a maxed out army and then roll over TaeJa with a one hit punch. TaeJa's response is to use bio and run the strategic/economical game, and starve or catch INnoVation's armies out of position. It was a typical bio vs mech game on the surface, but unlike his peers, TaeJa does not push the issue or sacrifice his army in bad positions to do damage.
This particular game was at a curious crossroads. It was before mass speedivac base trades became the norm in TvT and was thus much more similar to WoL TvT. It ended in a 7 base vs 7 base scenario, however the map was never split as both players were constantly in action. Finally, it showcases TaeJa's constant re-evaluation of army compositions, strategic/tactical modes and control of economy.
In the first major engagement of the game, TaeJa splits his army in two. One is besieging INno's inner third. This is just a distraction as he wants INno to focus his mech army to break through there while his second army kills INno's 5th before he can mine from it.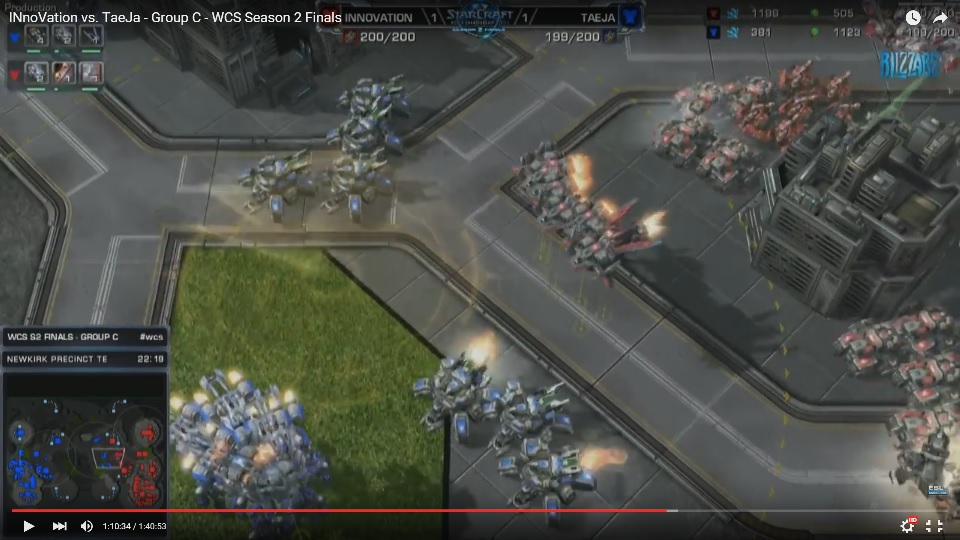 INno breaks through and decides to go for his max army attack to kill TaeJa. TaeJa however consolidates his army in the north from the remnants of his army in the south and uses his reinforcements to surround INno's army in a 270 degree flank. INno's mech army is still more efficient and wins. They both exit the battle bleeding and TaeJa has successfully broken the momentum of the push. INnoVation realizes that he cannot march on without his reinforcements.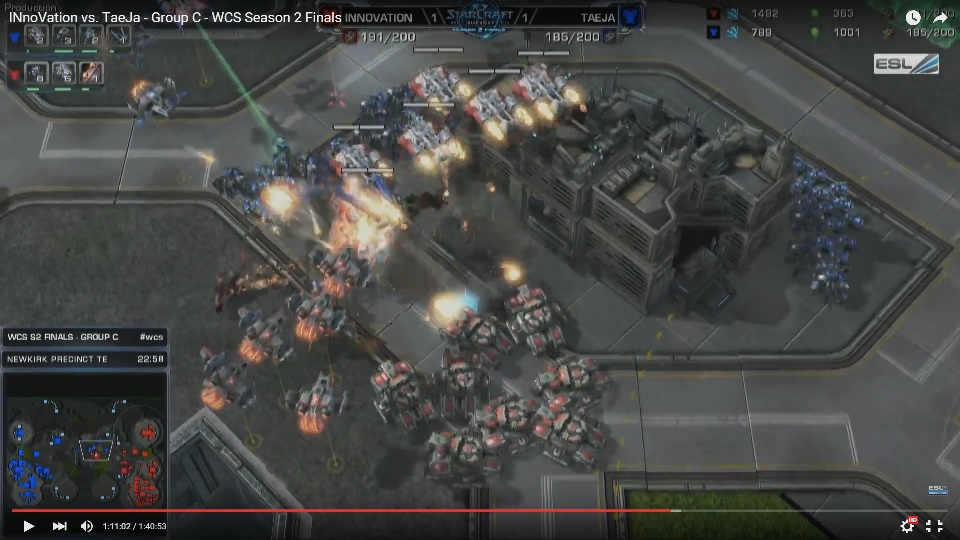 At this moment, TaeJa specifically micros 1 marine to kill 3 vikings. He does it again with a raven. These two moves lower INno's viking count from a possible 6 to just 2. These small tactical moves have a large implication on the actual fight as TaeJa defeats INno's second push by killing all of the support units (vikings and hellbats) before dropping on INno's fragile mech army.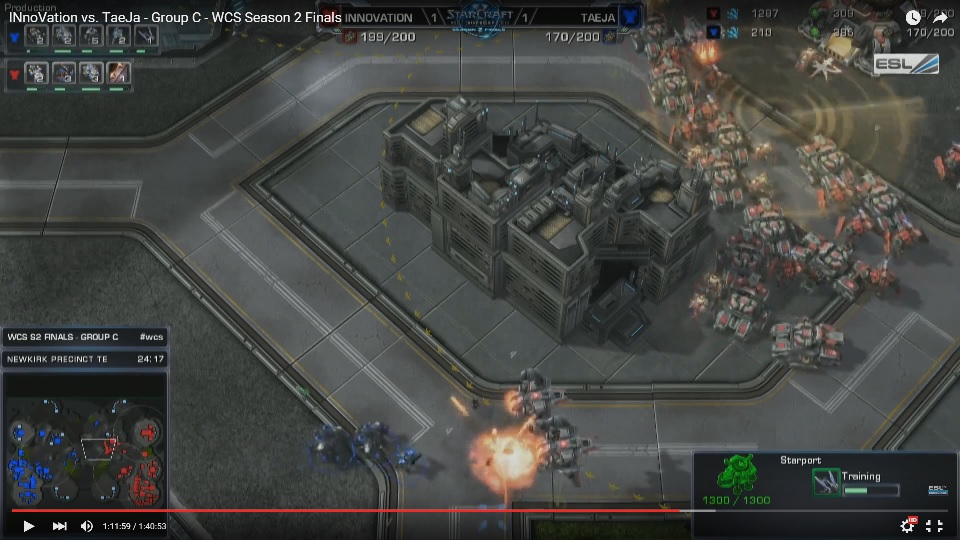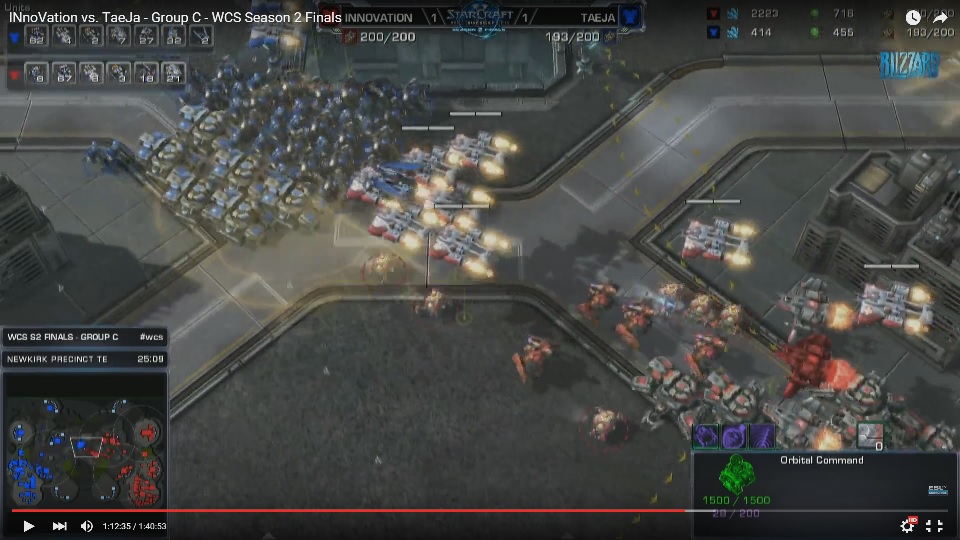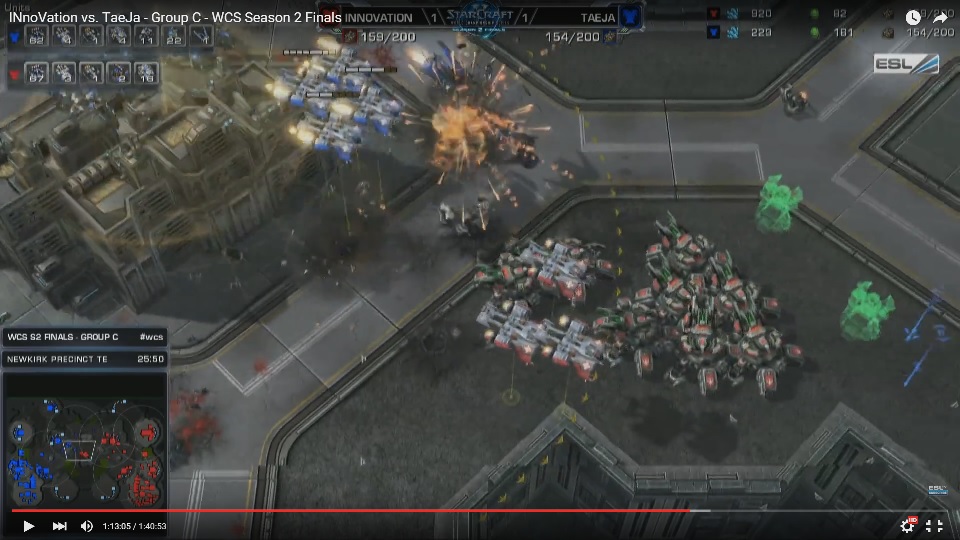 The two continue to trade blows and INnoVation sets up a siege line that protects his inner third to his upper fifth through the middle. However, he does not remake vikings, which gives TaeJa a chance to create chaos.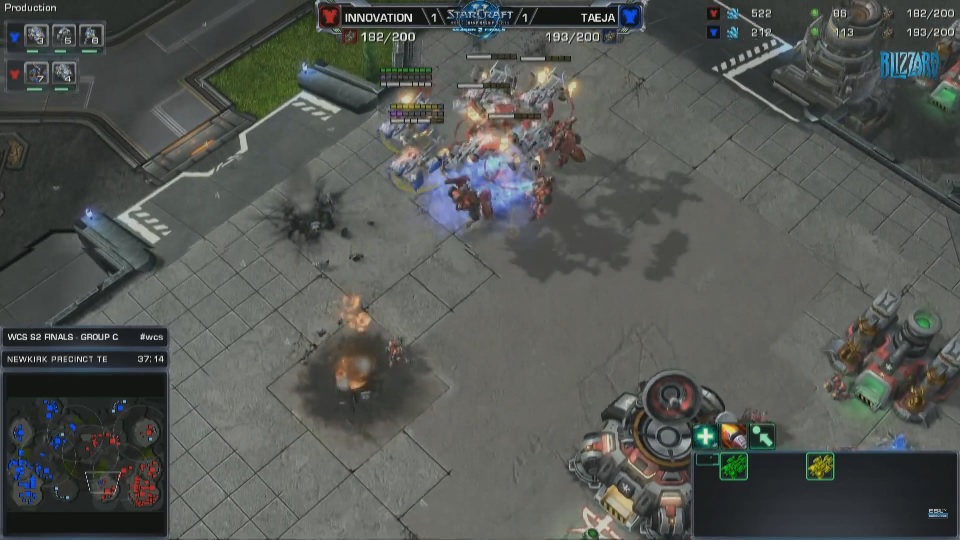 TaeJa performs 2 drops that threaten INno's 6th bottom base and close third. Simultaneously TaeJa is pressuring the top 5th with his main army, but both are just pressure points to conceal the fact he's stolen INno's 7th at the top. INno panics and moves his army to stop the drop and is instantly punished by TaeJa.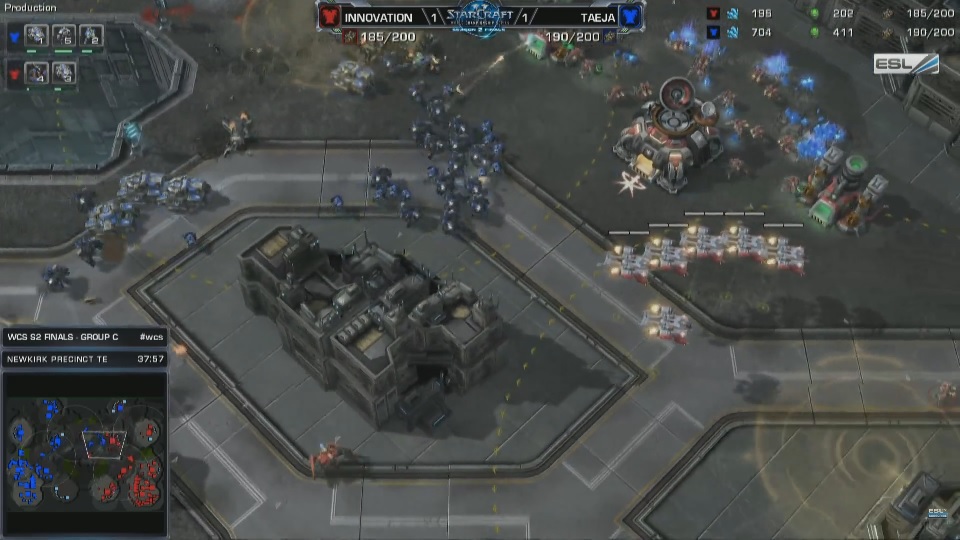 The rest of the game plays into TaeJa's hands. INnoVation has the better ground army and in straight fights, he wins the battles. However TaeJa is constantly strategically, economically and tactically outplaying INnoVation as the constant base trades means TaeJa's higher base count is letting him eke out the lead. His higher mobility helps him switch from attacking the bottom to the top and back again. And all of this economic devastation done by TaeJa leads him to the 45th minute banshee which closes things out as INnoVation cannot afford to include vikings in his composition and is then squeezed out of the game.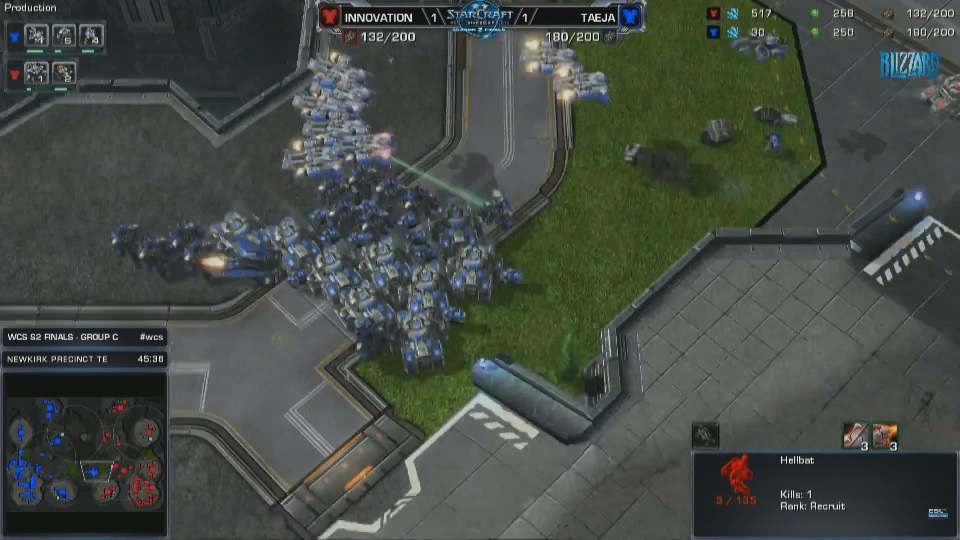 WCS Seaons 2 Finals, TaeJa vs Rain
This game is a masterpiece in frustration. First, the context: at this point in 2013, Rain had just lost the OSL to Maru, but was still probably the best PvTer in the world and likely had the best PvT late game in the world. He then played TaeJa at the WCS Season 2 Finals.
There TaeJa destroyed Rain's soul. In the third game on Whirlwind, TaeJa is gifted two colossus during a surprise flank when Rain moves out with his army. He then cancels the third of Rain. And then he spends the next 40 minutes ruining Rain's life. He constantly sniffs out observers ensuring Rain can never force him into a bad fight. Rain has to move with his max army from base to base to secure his economy, hoping that he can gather enough resources to replace his army with stronger gas units. He tries to goad TaeJa into a head on collision, but TaeJa just dances around him while picking off HTs and observers. Against the best Protoss in the world, against arguably the best late game PvT, TaeJa took Rain to town and refused to let him have even one advantage the entire game. By the end of the game, Rain appeared broken.
IEM Katowice March 2014, TaeJa vs Life
This game is notable for the ending. It is a prototypical Life vs TaeJa game where the two constantly fight for territory in every part of the map as Life tries to probe for counterattacks and TaeJa keeps chipping at the 4th. How it ends though is so very TaeJa and so very antithetical of almost every other Terran out there that it deserves a mention. Life goes for the full on base trade; TaeJa does too. At this point Life had to consider TaeJa's options given his experience in these scenarios. Either TaeJa pushes forward and Life times his attack when the Terran isn't looking, crushing the army once he steps on to creep (with baneling mines), or TaeJa retreats, giving Life more time to build more forces/economy while hurting TaeJa's own. TaeJa opts for a third choice and one that Life likely never considered. He kills the two expansions and the drones recognizing Life's economic deficit before lifting his infrastructure and rebuilding in the middle of the map. Effectively checkmate.
Blizzcon 2014, TaeJa vs soO
This is an incredibly important match for two reasons.
1 - This is the first and only time soO and TaeJa ever played each other.
2 - This is the first and only time soO ever played a defensive passive Terran like TaeJa.
Since TaeJa left Korea to participate in WCS and soO only got to play in a few international LANs, the two had completely missed each other. This is what the game looks like in the mid game: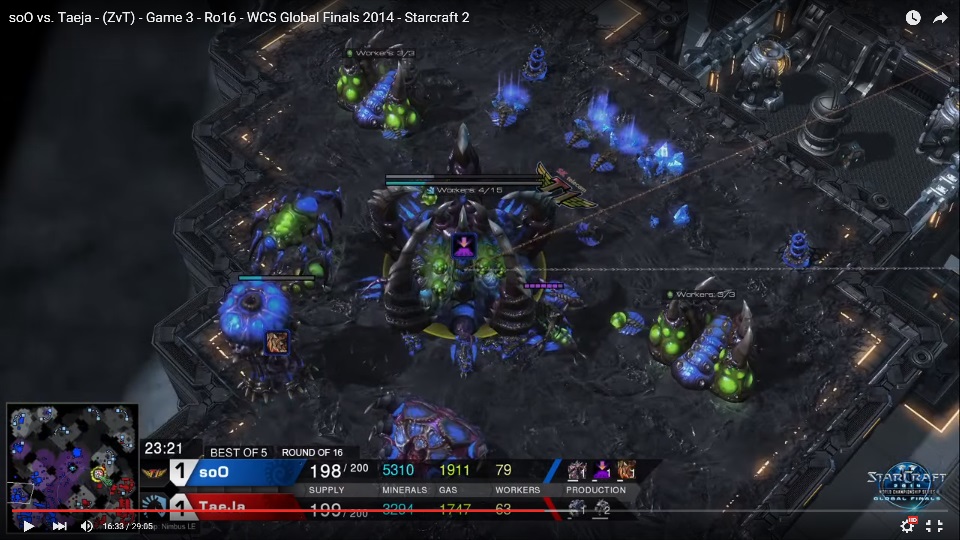 6 bases to 4, soO has a massive economic lead. His creep has taken up the middle of the map. You have to understand this: soO only played in Korea. And the only Korean Terran he met who could even play a similar style to TaeJa was Mvp and the only time he played Mvp was when Mvp's back was broken during the BL/infestor era. Going into this, he had almost no experience playing against someone like TaeJa. So he understandably assumes that, at some point, like every other Korean Terran, TaeJa will attack to keep him from getting so much money and tech.
TaeJa never does. TaeJa picks at the edges. He drops the top left of the map so he can kill the middle lane creep. He constantly baits soO into fights that are always just off creep, and soO takes the bait each time. It becomes apparent that soO has met his match. soO was the best Zerg player of that year and at the time was probably the best ZvTer (either him or Life), but in this one instant he was exposed for a weakness that only existed when he played against only one player in the world. TaeJa was his antithesis. soO knew how to overwhelm mistakes, punish over-aggression, but against a player like TaeJa? Against a player who didn't bat an eye at knowing his opponent was probably 10k+ resources ahead of him (by the end of the game TaeJa had killed 20k resources more than his opponent)? TaeJa left him scrambling for answers and soO was unable to find any and got starved out of the game.
That is who TaeJa is. TaeJa is a player whose sense for the game isn't even on the chart. At every minute, every juncture and every turning point, he knows exactly what to do, why he does it, and how it affects the game. He makes the right decisions for the right reasons, and that allows him to manipulate a game that so often looks like it's ready to spiral out of control. He has done this time and again to all of the best players he has faced, and results often lean in his favor. This is his record against some of the greatest players SC2 has ever produced over the past few years:
TaeJa's game record against everyone else on the GOAT list:
TaeJa 8-7 Leenock
TaeJa 10-8 DRG
TaeJa 3-0 Maru
TaeJa 3-1 SoO
TaeJa 9-10 MarineKing
TaeJa 3-6 Rain
TaeJa 20-12 INnoVation
TaeJa 5-6 Zest
TaeJa 4-0 NesTea
TaeJa 13-7 MMA
TaeJa 13-18 Polt
TaeJa 18-10 MC
TaeJa 5-5 Mvp
TaeJa 29-20 Life
TaeJa's match record against everyone else on the GOAT list:
TaeJa 3-3 Leenock
TaeJa 4-3 DRG
TaeJa 2-0 Maru
TaeJa 1-0 SoO
TaeJa 5-4 MarineKing
TaeJa 1-4 Rain
TaeJa 9-4 INnoVation
TaeJa 2-2 Zest
TaeJa 3-0 NesTea
TaeJa 7-5 MMA
TaeJa 4-6 Polt
TaeJa 6-5 MC
TaeJa 2-3 Mvp
TaeJa 11-6 Life
The numbers speak for themselves. People often underestimate the competition TaeJa had to face—because he never won GSL and competed in WCS—but at the end of the day he played against the Top 10 players of each race more often than his detractors would like to admit. It's entirely possible that he has played against more Top 10 players than any other player in the history of SC2 besides Life and Mvp. And he did so consistently for nearly 3 years. He did so during the BL/infestor era, the blink era, and through two expansions. He was mistaken for an entire race multiple times by David Kim and his very existence made it hard for Terran to be buffed.
When Terran players are given a choice between playing like INnoVation and TaeJa, they all choose INnoVation 10 times out of 10. Because it is either too hard or impossible to play like TaeJa. INnoVation gives you the crisp builds, gives you timings, gives you the gameplan of how an entire game will play out from beginning to end. When you play like TaeJa there is no roadmap. You must think constantly, unendingly about army compositions. Like when TaeJa decided to make a 45th minute banshee against INnoVation because he knew INnoVation had no anti-air and no money. You must know how your overall strategy fits into the economic concerns of the map. Like when TaeJa realized that YongHwa had run out of power units and that he could win a fight while 40 supply down. You must understand the strategic and tactical options of your opponent and divert them down the path of your choosing. Like when TaeJa carved Life into a crevice that he could not escape. You must seize control of every opportunity and block every path back into the game. Like when TaeJa shut off Rain's vision and waltzed around him. You must not crack under pressure and play patiently. Like when TaeJa allowed soO to have 20k more resources because he knew that soO did not know how to shatter his impenetrable wall.
More than an year ago, I wrote that no player would ever match 11 premier tournament victories in 2.5 years, that we would never see another defensive macro Terran capable of TaeJa's consistent strategic vision and decision making. Now more than ever, I know that these things will never come to pass. After all, TaeJa is a paradox. He never won a GSL, he never won a WCS. Yet he still won more tournaments than anyone in SC2 history against the best players SC2 had to offer. Over and over and over again.
Today, TaeJa retires as the greatest player Team Liquid will likely ever have. Not because Team Liquid refuses to hire great players, but because a player like TaeJa is a rare talent in any game. His results, his skill, his achievements have transcended StarCraft 2. In its 5 year history with hundreds of progamers, I can only list 2 who have had better achievements than him. And none have dominated the international circuit quite like him and no one will ever match it again. You can mark me on that.
Epilogue
Just when we thought that TaeJa was done, he gave us one more season of hoping against all hope. In Season 1 of Code S 2016, he made it farther than anyone could have imagined. In the round of 32, he played one of the best games of Legacy of the Void so far on Lerilak Crest against Zest. It was a classic, with both players reaching the late game and matching wits at each and every turn. A cruel defeat would foreshadow a 0-3 sweep in the Ro8 against the eventual GSL champion. His loss on Lerilak reminded us of what could have been while his capitulation in his final series reminded us that he could go on no longer.
Despite being seeded into the Ro32 of Code S, TaeJa has decided that this is, assuredly, the final curtain. Even sailing into the sunset, he has taken a route unlike any other.