Foreword:
Making a list like this was always problematic. With nearly 5 years of gameplay there is a huge amount of information to parse. First, there is prestige of a tournament, measuring and making judgements on the GSL as compared to international LANS, tournament formats, and paths taken to the Championships. Next, the player's level relative to the time must be considered with several caveats: the increased talent pool in modern times, the mass migration of KeSPA pros, and then the mass retirement of former KeSPA players and ESF players. Consistency over a long period of time as compared to peak/clutch has often been considered one of the most important measures, but their effect on the game itself is equally important. We must consider the innovation and creativity they used to make strategies as well as the refinement of pre-existing strategies, the meta in which they played and the outside factors they had to face during their reigns.
Another thing to keep in mind is the tiering of tournaments. A basic guideline is Blizzcons(Only 2013+) > GSL > OSL/SSL/Kespa Cup/WCS (2012 KR)/WCG KR/Blizzcon 2011 > International Tournaments. Blizzcon is at the highest because after 2013 it became the end all for the year, increasing the amount of pressure to win it. GSL is next as it has had the best format since Jan 2011, has the most preparation per round and has the best competition. The format and amount of players is what puts it slightly above the other Korean LANs like OSL, SSL, KeSPA/Hot6ix Cup, WCS KR 2012 and WCG KR. International tournaments are roughly below them, though depending on the player pool it can go all the way up being very close to GSL levels of prestige if many top players attended the event.
It is inevitable that many will argue for or against the inclusion or exclusion of certain players in the overall top 15 depending on what criteria you've used to judge their placing. However, as there is no definitive list to argue for or against, this is my attempt to codify a list of the all time greats as of this very moment.
You can read part 1 here:
http://www.teamliquid.net/forum/starcraft-2/500799-the-greatest-foreigners-of-all-time-part-1
You can read more about my criteria here:
http://www.teamliquid.net/blogs/482944-the-process-of-creating-the-top-15-greatest-list
#10 | VortiX, Almost There
Achievements:

2nd WCS EU 2012

Top 8 WCS EU S2 2013

Top 8 WCS EU S3 2013

Top 4 WCS EU S1 2014

Top 8 WCS EU S2 2014

Top 4 IEM Cologne 2012

Top 8 DH Valencia 2012

Top 4 IEM Singapore 2012

Top 8 ASUS Northcon 2013

Top 8 DH Valencia 2014

2nd Fragbite Masters Spring

1st Vasacast Invitational
"I don't see the Ro8 as a win, it's something you have to do."
If I had to sum up VortiX's career into one word it would be "Almost." He was always on the verge of almost being the consensus best foreigner in the world. He almost made it to the IEM Singapore Finals. He almost beat Golden to get to another Ro4 in WCS EU. He almost could have won IEM Cologne if Mvp wasn't Mvp. He almost beat Stephano to become the winner of WCS EU 2012. Always just almost there, almost.
Instead VortiX ran out of steam, which was a shame really. He had the consistency of Nerchio. He was a top 5 foreigner for 2+ years and had consistently top results in WCS and multiple LANs. He was able to resoundingly overturn the community's initial impressions of him as a PatchZerg by being one of the few top Zerg players from the end of 2012 to stay consistently at the top for nearly 2 years afterwards. LucifroN was always the more hyped of the brothers, but it was VortiX who had the staying power, VortiX who had the results, and VortiX who ultimately got the respect.
But VortiX lost interest in the game and moved on to Heroes of the Storm where he no longer had to constantly kill his brother in ritual combat in every tournament they played together. But the regret still lingers on. Perhaps if he had gone full time sooner, perhaps if he had more support to travel, perhaps if he had played just a little longer, he could have gotten there. Instead, just almost.
Playstyle:
VortiX was generally an aggressive macro player who liked to play the mid-to-late game. He was mostly focused on himself and was thus mostly immune to mind games and famously said, "Never mindgame a Spaniard" after his victory over Mvp and MMA in the Ro16 of WCS EU. If there was any failing it was that he could never make use of his preparation time as well as his opponents, causing him to lose out regularly in the WCS EU playoff stages. A very consistent player who always played each game with exact precision.
Difference between Vortix and Thorzain:
Vortix was a bit of a conundrum. Most of the players below him won lans. Bunny, DIMAGA, Lilbow, Thorzain, Jinro. However Vortix beat more top 10 players than all of them and has even beaten more than some of the players that placed ahead of him as well. Beyond his small 2012 stint, he even did it during a time when Zerg was slightly weaker than the other 2 races. All of that places him ahead of Thorzain, especially when you consider that most of Thorzain's victories were from a Terran dominant meta. Even excluding that, Vortix had a higher consistent peak than Thorzain that lasted longer (nearly 2 years compared to Thorzain's 1).
#9 | Nerchio, The Foreign Parable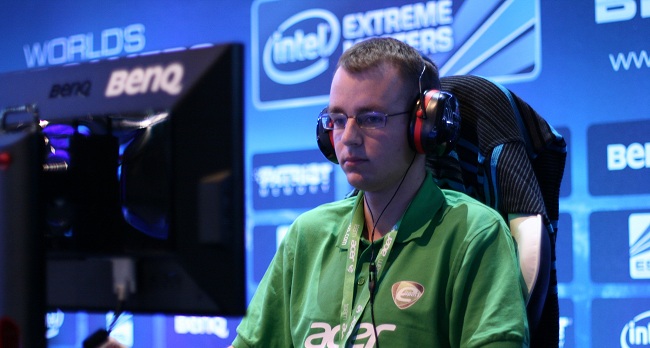 Achievements:

7th WCS EU 2012

Top 8 WCS EU S3 201e

2nd IEM Cologne 2012

Top 8 DH Winter 2011

Top 8 DH Stockholm 2012

Top 8 DH Summer 2012

Top 4 DH Winter 2012

Top 8 IEM Cologne 2011

Top 8 HSC IV

1st HSC V

1st DH Bucharest

Top 8 IEM Gamescom 2015
"I've never let anything like balance or who I'm playing or maps affect my play. That is why I'm consistent." - Nerchio
http://teamacer.com/en/nerchio_grilled.htm
Nerchio's role in SC2 is a bit of an enigma. He came from an amateur BW background and is one of Poland's top 2 best players (the other being MaNa). He did fairly well from 2011. He peaked in 2012, and has since been churning out very steady results in 2013, 2014 and 2015. That's not what makes him strange. What makes him strange is the consistency of it all. Nerchio for whatever reason, unlike the vast majority of pro SC2 players out there always puts up the exact same result for every year of SC2 that he's played. In 2011 to mid 2012 he put up a bunch of Ro8s, something you'd expect from a top foreigner. In the latter half of 2012, when he peaked, he started picking up top placings and winning events. In 2013 he got 9-12th in nearly every event he went to and stayed exactly decent for the rest of his career.
Nerchio's career is a strange one and needs to be studied. Not because of its success (though he was very successful), but how he attained that success. His training is atypical of Koreans and even most foreigners. He spent most of his time playing online cups for his practice, some ladder and less custom games (when it came to WCS for preparation). More than that he was a part-time student for a majority of his career which may have correlated to his much more relaxed mindset when it came to competition. We can even see other pro players do well after switching from full time to part-time player like Kane or Petraeus. An interesting parable of a player that provides an example that blindly following the Korean practice regime may not lead to certain success for the foreigner scene.
Playstyle:
Nerchio's strength has always been in his calm calculation, his decision making and his precision. When watching his games both online and offline, his builds and decision making are almost always the same. His peak happened to coincide with the BL/infestor era, which naturally played into Nerchio's hands as he liked to play strategically with a late game focus (much like Stephano).
Difference between Nerchio and Vortix:
In terms of consistency, the two players are fairly close in terms of consistency as Nerchio's run started at the latter half of 2011 to the end of 2012, while Vortix's was at the very end of 2012 the half way of 2014. In terms of pure players beaten, Vortix had beaten more top 10 players. He even played during a harder era in HotS for Zerg, while Nerchio's peak was during 2012 bl/infestor.
However Nerchio was still able to close and win lans, whereas all Vortix could manage were just high placings. That combined with the peak relative to their times and overall achievements meant that Nerchio barely edged out Vortix.
#8 | MaNa, The Pride of a Player
Achievements:

2nd WCS S3 2015

Top 8 IEM WC 2013

2nd ASUS Rog 2011

1st DH Summer 2012

Top 8 ASUS Summer 2012

Top 8 DH Winter 2012

3rd IEM Cologne 2011

2nd ESWC 2011

Top 4 DH Bucharest 2012

1st ESWC 2012

1st Who's the Best European

2nd HSC II

2nd DH Winter 2010
"I chose the life of a pro gamer and a pro gamer gives his best to make the people that believe in him proud." - MaNa
Keep trying. If there was ever any lesson you could take from MaNa's career as an SC2 player it would be that. Keep trying. To understand the character of MaNa it is important to understand the context of his origins. He started incredibly young and was a BW player. We joke now about the dead game of SC2, but the foreign scene in BW was actually dead. The only person who could make a real living off of BW was Tasteless with his casting in Korea. For everyone else and especially the players, there were no salaries, no tournaments, no prize money, no streams. It was essentially a hobby, but one that consumed all of your time and attention if you wanted to be good at it.
That was probably part of the reason why he didn't go all out from the very beginning in SC2. It was something he loved, but at the end of the day it is an insane risk and one very few people are willing to jump the chasm for. Yet even without going full time, he was still one of the better foreigners and had gotten multiple 2nd place finishes within his first year of play. In a sense he was a foreign Kong.
By 2012, MaNa had gone full time and won his first two LANs against DIMAGA and Stephano, the two players that had stopped him the previously. 2012 was the best year of MaNa's career and if NaNiwa hadn't been around, he would have been crowned the best foreign Protoss of that year.
Which brings us to HotS. In HotS MaNa struggled a lot more than previously. Both 2013 and 2014 were arguably his worst playing years as he was unable to finish highly in any of the top tournaments. He was always in the middle to upper tier of foreigners, but could never quite close out and get the big result. Until the very last WCS season of 2015 where he made a miracle run to get all the way to the finals.
There were a lot of things that made that run memorable. From the incredibly hard fought, almost miraculous wins that MaNa had to pull in nearly every round to get there to the fact that it was the season where it would be hosted in his home country of Poland. To me what makes it the most memorable is that MaNa did it nearly 3 years after his peak of skill. Nearly 3 years of turmoil, 3 years of constant practice, 3 years of middling results. Yet MaNa stayed true to his words and created one more miracle run for all of his fans in Poland who had believed in him the entire time. And the first step to that miracle was to keep trying. Over and over again, every day for nearly three years. and for that kind of mental strength, MaNa has my respect.
Playstyle:
Essentially there are three aspects in MaNa's play that he has used throughout his career to make his runs. First is that he not only makes builds, but thinks about them both in the context of the meta and the person he's playing against and how the style would clash favoring one player over another. Secondly it is his decisiveness. He very rarely fumbles around at critical moments in the game, and while a decision he makes could be wrong, the decisiveness with which he makes that decision is often what allows him to win the game anyway. And finally, he is adaptable. He is just as willing to go towards the late game as he is to bust out a Soul Train or all-in, making it very hard to read on any given day what kind of build or style he will go for.
Difference between MaNa and Nerchio:
MaNa's career peak spans a similar time as Nerchio's. Even their fall off was the same as they both went into HotS where neither was a championship contending player, but still good enough to make it into the second group stages of WCS. The big difference is that MaNa used Protoss from 2011-2012 which was weaker than Zerg and more importantly he came back at the very end of HotS to get 2nd place at WCS Season 3 2015, clenching this spot over his eternal rival.
#7 | Idra, "This is a joke. Fuck you."
Achievements:

Top 8 GSL Jan. 2011

Top 8 MLG Providence

Top 4 MLG Orlando

Top 4 MLG Columbus

2nd IEM Cologne 2010

1st MLG DC 2010

6th IEM WC 2011

7th MLG Dallas 2011

1st IEM Guangzhou 2011
"This means that an intelligent zerg will go 2 hatch, my build was designed to take advantage of that and so lost because he went 3 hatch. Going 3 hatch is utterly retarded for the reasons I just explained so yes I did lose because he did something dumb." - Idra on his loss to F91
Khaldor: Why would he leave with a 20k bank, even you wouldn't leave in such a position.
Idra: Don't challenge me, you'd be surprised
Cast from ASUS Rog - Goswer vs LucifroN
In nearly 5 years of play, there has not been a single American player that has outdone Idra in results (unless you count HuK as an American). Given what we know of Idra's history and career, it was largely almost all hard work. He spent years grinding away in the CJ house in their B-team with nothing to show for it, so when the beta turned on, he switched over full time to SC2. After leaving the house, he continued that work ethic so long as he remained competitive.
And that coming year, Idra would fulfill his potential as he was immediately lauded as the best foreigner out of the beta and remained one of the best foreigners throughout 2011. Yet what drew fans to Idra wasn't just his results, but also his theatrics. He was blunt, honest and had held no particular reservations when it came to voicing his opinions about anything, particularly balance and the way people played.
Or it could have been the way his tournaments always played out. Idra was always a very strong mechanical player with great understanding of the game, but especially the late game. Because of that it often felt like his opponents would catch him off guard with all-ins, clever builds or surprise attacks, in part just to infuriate him. Every time Idra won, a large crowd would gather. Every time he lost, an even larger crowd would gather for the resulting rage, which Idra often provided.
Idra's skill made him a player people liked to watch. Idra's personality made him a player everyone wanted to both win and lose in equal measure. As for Idra himself, the only thing that seemed to motivate him was his own competitive drive. He never hid the fact that he didn't particularly like SC2 at all, but he was good at it and he liked competition. The kind of competition where both players went to the late game and the player with both the better mechanics and the better decision making won. When asked what his favorite games were, they were often always those types of games, his victory against Bomber or Nestea at MLG, his ladder game against Mvp, but never games like his victory against Boxer or his victory against elfi.
And when that competitive ambition burned out, he left the SC2 scene and left a hole that no foreign player could ever fill.
Playstyle:
Idra was a very mechanical player that loved to macro. However his specialty was oddly specific. It was long macro Zerg vs Bio games. Particularly muta ling bling games. Even though he was well known as a macro player, he did mix in all-ins like roach ling all ins vs Protoss or 6 pools, but it was never something he pulled out very often.
He also has a very analytical mind for the game and if you had ever listened in any of his casts, he seemed perfectly fine with advising players to go all-in to secure an easy victory that he couldn't get normally. He analyzed games with a clinical objectivity that was at odds with his normal disdain of Protoss. The biggest example I can think of was his completely neutral and analytical cast of Hitman, arguably the cheesiest Protoss America had ever created. Which made it an odd dichotomy. Outside of the game, he could analyze when and why and how an all-in worked, but could never implement it himself. He often said a player was bad, but when in a significant disadvantage in a game, he'd rage quit rather than use his skill to make a comeback. A unique player who had the tools to win, but who often made you think his biggest obstacle was himself.
Difference between Idra and MaNa:
Idra's achievements were slightly behind MaNa in the grand scheme of things, like Nerchio. However a majority of Idra's wins came during the early phases of WoL when Zerg was weak. Idra was also much stronger relative to his competition compared to either Nerchio or MaNa. All 3 had similar careers, however Idra played against better players during his runs, in a worse meta and the difference in skill between the times of their peaks wasn't large enough to justify putting either Nerchio or MaNa ahead of Idra.
#6 | Sen, The Last of His Age

Achievements:

3rd Blizzcon 2011

3rd NASL 1

Top 4 WCS Worlds 2012

6th Blizzcon 2010

3rd NASL 2

1st TWOP 2014

3rd PPSL

Top 4 3rd Hong Kong eSports Tournament 2015

3rd TesL S2 2015

2nd TesL S4 2013

2nd TesL S3 2013

2nd TesL S2 2013

1st ECL 2013

Top 4 Star Wars S3

Top 4 Hong Kong eSports 2013

3rd TWOP 2013

2nd Star Wars 7
"I want Sen to win because I like him, he's like White-Ra." - Stephano about Sen in WCS 2015
At the age of 28, Sen is now the oldest competing foreigner in the world and has been so since DIMAGA's retirement in 2013. Yet that isn't the full story. Sen has been playing competitive RTS since 2004. Before SC2 came out he spent 6 years playing BW as the best TW player and one of the best foreigners. When we think about SC2 careers now, a vast majority of them have ended in 2-3 years. Sen's BW "career" if you could call it that was already twice as long as a normal SC2 career. He then joined SC2 where he had a similar year to Idra in his 2010/2011 years of play. He got multiple 3rd places, so many to the point that many started calling it the Day9 curse because Sen had once called Day9 a noob.
Yet what makes Sen truly amazing are the next three years. Sen, compared to all of the other great foreign players, has gone to almost the fewest international LANs despite being a competitive player in SC2. The reasons are three fold. He lives in Taiwan and much like Chinese/SEA players, it is too expensive to fly around the world to justify playing a LAN. The second reason is related to the first; very few teams can justify paying a player to fly across the world which is why we rarely saw any players from that region until the creation of WCS. The final reason is that most international tournaments like IEM group the Chinese and SEA/TW qualifiers with Korean qualifiers, or have them compete against Korea in an overall Asian qualifier. This meant that Taiwanese players often had to defeat championship contenders just to qualify for the main event, reducing the odds of attending. They never received the opportunities that EU and NA players received from IEM LANs, and teams in CN/SEA/TW could not afford to send their players to open bracket tournaments unless they were held in their home region.
Yet despite all of those inherent limitations, Sen has made the most of his opportunities and in the years of 2012, 2013 and 2014, Sen always put up one big performance. In 2012 he showed up to WCS Worlds and got 4th place by beating 2 Korean players to get there. In 2013, he got 3rd in TWOP by defeating TY. In 2014 he won both a Major and a Premier tournament and was the only foreigner to win a Premier in HotS up to that point. All of this at an age where players years younger than him with better opportunities retired years before. He is in many ways the NesTea of the foreign world, a player who is pushing the upper boundaries of how old a SC2 pro player can be and stay competitive. An incredible foreigner that proves his worth again and again.
Playstyle:
Sen is an anomaly in his playstyle. He switches often from the muta ling bling style to the mass roaches without rhyme or reason, often going against what is considered to be the favored meta at the time. It is backed by his strong mechanics which is why he was able to out-multitask HerO in their WCS 2012 match. Generally speaking however, he has always had a weakness against Protoss and has generally tried to get over it with very strange builds and timings (in his PPSL run he proxy hached NaNiwa's wall multiple times to take that series). Because of his lack of international presence, you never really know exactly what Sen will bring out at any time.
Difference between Idra and Sen:
They had similar 2010/2011 years with Idra having a higher peak. Both fell off a bit going into 2012, but the rest of Sen's career has Sen continually keep putting up high placings at lans over and over. Combine that with the fact that Sen played in many more metas Sen has played in and increasing difficulty made this a clear easy difference between the two players.