WCS Europe Season 3
MMA Wins WCS EU
Recap
Brackets and standings on
Liquipedia
VODs
on Youtube
(and looks to be in fine form to challenge the Blizzcon 2013 title)
by Premasiri
The story of the night is unquestionably MMA's 4:2 victory over MC to take first place at WCS EU's season 3 finals. However, the semi-finals that lead to that grand matchup also deserve at least a brief recap. But first, a rundown of the nights results:
Fifth Place Decider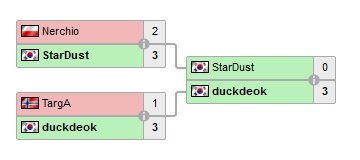 duckdeok advances to the WCS Season 3 Finals in Toronto!
WCS EU Semifinals/Finals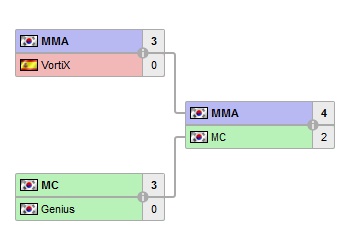 Semifinal one was MMA against Vortix, and it would be unfair to say that MMA was anything but the firm favourite. Perhaps Vortix had turned a few heads and dispelled any disbelief about his skill level with a 3:1 over stardust in the quarter finals, but MMA's 3:0 demolition of Nerchio in the relevant matchup, as well as his dominating performance throughout season 3 as a whole, pegged him as the player to beat. In Vortix's defence, the early and mid-games of the series often looked close – but in tried and true MMA fashion, once the widow mine count got significant, and the mid-late game drops and multi-tasking that are his hallmark kicked in, MMA appeared to be a class above.
Whether it was the hellion openings on Akilon Wastes and Frost in games two and three, or the well-established reaper opening shown on Bel'shir Vestige in game one mattered not – the end result for MMA was always a stable, aggressively postured early game that Vortix was unable to make a dent in. Even with Vortix at times ahead in supply (significantly so towards the closing moments of game three), MMA's excellent mine placement and consistent marine splits made sure he was essentially never in danger. Vortix wasn't disgustingly out played, and in his own words, with some work on his TvZ we ought to see a fair showing from him at the upcoming Season 3 grand finals.
The other semifinal was a similar affair – another 3:0 whitewash, with the eventual victor seemingly a level above his opponent throughout the series. In typical MC style, his semi-final match against Genius was all the more hotly anticipated due to some delightfully bad-manner insults, but in the end MC's cheek was vindicated. Game one on Bel'shir Vestige was for me the highlight of what I mentioned in the recap last time – MC's recently showcased defensive play. While this was perhaps abstracted to the extreme in the case of Genius's proxy 2-gate, zealot stalker cheese, seeing MC's units dance as he out-microed his opponent from an initial disadvantage to a crushing victory was nonetheless an excellent example of his defensive brilliance. Game two on Akilon Wastes was a bit less nail-biting, but no less satisfying in its conclusion. With relatively passive openings for the matchup, both players were able to establish uncontested expansions – things only came to a head when MC (After testing the waters with a small expedition of blink stalkers) made the initially baffling choice to attack uphill into colossi and forcefields. True to form, MC had calculated it better than the casual eye might have, and with a strong backbone of immortals to his force, was eventually able to knock down Genius's front door and secure an imposing 2:0 lead.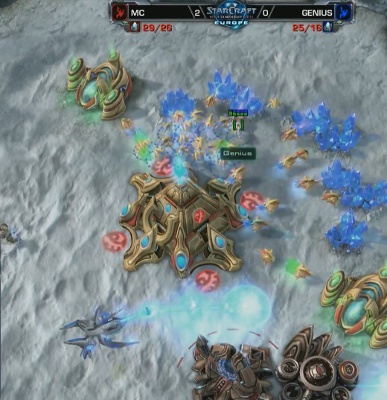 This is how game three ended, yes those are Genius's probes in MC's base
Game three and my personal favourite game of the night was an incredibly close (and weird) cannon rush base race on Yeonsu. With MC gutting Genius's base with a well-executed cannon rush, genius's sole hope in the game and the tournament was a proxied void ray. Despite unpowering and destroying several cannons in the making, Genius was unable to snipe the all-important mothership core – allowing MC to accrue enough energy for a photon overcharge that would win him the game and a place in the finals. This felt like a flashback to the MC of days gone by – risky, cutthroat and a master in the execution. Maybe it was a cheap way to close out the series, but MC hammered home his assertion as the superior player in style.
So, we arrived at the grand final not really knowing what to expect. If this were 2011, we'd be on familiar ground in an MC vs MMA final, but to be brutally honest, MMA in particular had not looked to be in championship form for a long time until this season. Having finally made it to a long-awaited final, MMA wasn't taking any chances in game one. A cagey, defensive four bunkers were immediately thrown down when MMA felt threatened due to lack of information on Akilon wastes. In the end, such fear was unfounded, and MMA held off the DT aggression of MC with flying colours while establishing his third. Eventually forcing MC into a botched two base all-in, the tempo of the series felt firmly in MMA's favour for the first three games. Perhaps it'd be unfair to say that MC got completely outplayed in them, but whatever strategies he had in mind, MMA had the perfect answer. In game two, MMA's trademark midgame strength manifested in a confident SCV-train shove, stating loud and clear that MC's presence was not welcome on Frost LE, and game three saw a fairly standard thirteen-minute timing catch a greedy MC completely unprepared on Whirlwind.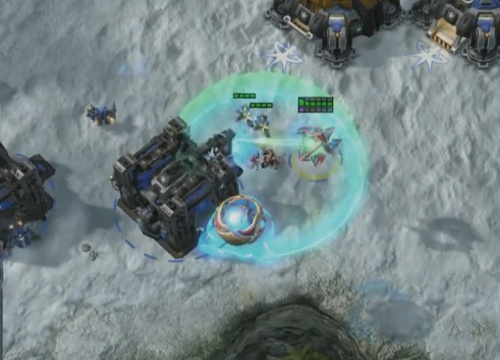 MC's Porxy Oracle in Game Four
Thankfully, it was a revitalised MC that showed up on Yeonsu after the mid-series break. After dealing admirably with a well-hidden proxy reaper, it was MC's turn to put on the aggression, wasting no time in returning the favour with a proxy stargate of his own. After some entirely necessary stalker dancing at MMA's meagre single bunker to prolong his suffering, MC moved in for the kill with an oracle and a smattering of gateway forces. Maybe MMA was overconfident in his 3:0 lead, maybe he was caught out with the kind of cheesy, overaggressive play that MC showed himself perfectly capable of handling in his opening match against Genius. With that in mind, it's all the more amusing that game five on Bel'shir vestige turned into essentially the same thing – MC smashing down even a well-prepared, triple bunkered MMA with a similar stargate (though in this case voidray) gateway all-in. But it wouldn't be a real TvP series if it didn't include a one base blink-stalker all-in – this time on Derelict Watcher to close out the tournament. Ever since wings of liberty, we've watched the best players in the world test their mettle either with or against it – watched the tech labs getting sniped with one second to go on stim, the bunkers barely get repaired back to full from a sliver of health. It's usually fair to say that once the bio upgrades and medivacs get out, the game is over and the Terran's won. With excellent stalker retention, MC almost had us fooled into thinking otherwise, but after an excruciatingly long, meticulously careful defence, it was MMA's marines and marauders that triumphantly stimmed to the win, leaving no one happier than MMA himself: