Genius and
Nerchio Advance
by lichter
Another group done, and a new pattern emerges: so far, a Zerg and a Protoss have made it out of each group. Genius and Nerchio advanced from Group C giving us 3 Zergs and 3 Protoss so far in the Round of 8, with MMA still to play. Many expected ForGG, as one of the strongest Terrans in Europe, to scrape past this group, but he was unable to get past Genius and Nerchio after winning his first match.
Detailed results from the live report thread by Denar
+ Show Spoiler +
ForGG vs ShoWTimE
ForGG
ShoWTimE
ForGG
ShoWTimE
ForGG
ShoWTimE
ForGG wins 2-1!
Genius vs Nerchio
Genius
Nerchio
Genius
Nerchio
Genius
Nerchio
Genius wins 2-0!
Winners' Match
ForGG
Genius
ForGG
Genius
ForGG
Genius
Genius wins 2-0!
Losers' Match
ShoWTimE
Nerchio
ShoWTimE
Nerchio
ShoWTimE
Nerchio
Nerchio wins 2-0!
Final Match
ForGG
Nerchio
ForGG
Nerchio
ForGG
Nerchio
Nerchio wins 2-0!
---
Genius and
Nerchio advance to WCS EU Premier Ro8!
The opening game of the opening series was held on Derelict Watcher between the Korean Terran ForGG faced rgw German Protoss ShowTime; who had previously upset Mvp in the Round of 32. The latter would not upset again, although he did put up a good fight in his first series of the day. Game 1 was a fairly straight forward win for ForGG: His 3 Medivac drop and poke at the front confused ShowTime long enough for his stimmed bio to take out every Gateway in the main, and with no unit production, it was game over. ForGG went for the same 3cc build on Akilon Wastes to follow it up, but ShowTime's miraculous hold despite losing his third gave him the time to catch up and get storm. The Korean Terran's insistence of using hellbats instead of ghosts was his downfall as storms rained on his army, evaporating all the bio. ForGG would shut the door on ShowTime's upset on Whirlwind, finding a favorable engagement in the middle of the Protoss natural and third to overwhelm the latter's army. Millenium's Ace would wait anxiously for his next opponent, hoping to avoid Nerchio in his worst matchup.
He would not have to wait long as Genius dispatched of Nerchio in only 20 minutes. Genius showed he deserved his name on Frost, completely duping the Polish Zerg with a Stargate fake--only 1 phoenix!--into 6gate attack. Nerchio was caught with his pants down, and that was game. Bel'shir Vestige offered a similar approach from Genius, but Nerchio did himself no favors with a poor defense of the initial Warp Prism harass. What was supposed to be a distraction for the follow up immortal push netted 14 drone kills, 2 queens, and a lot of units. The push came, Nerchio didn't have enough, gg.
This meant that we would have a Korean Winner's Match, and despite getting his preferred matchup, ForGG failed to capitalize on it. Genius trumped him 2-0 to advance in first place. The first game on Bel'shir started quietly, but things came to a head when ForGG outright killed Genius' building third. This did leave his vikings out of position, losing quite a few and forcing a quick retreat. With only 2 vikings left, ForGG could not stop the counterattack and lost his own third base. Another nexus would soon be denied due to a 4 medivac drop while Genius' entire army was on the other side of the map. But this seemingly decisive advantage was thrown away with a poor attack into the Protoss natural. ForGG trapped himself between storms and a ramp and sacrificed his whole army for nothing, and Genius' deathball rolled through for the win. Genius' short day ended soon after on Akilon Wastes. His early gateway timing went unscouted, and a poor moveout by ForGG offered 8 marines and a marauder for free. A few more warp ins against a desperate but barely full bunker spelled doom for the Terran, and Genius was out of the group in only 40 minutes.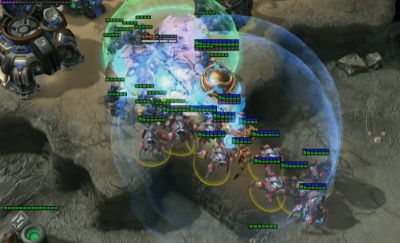 Genius Crashes Through ForGG
Once again ForGG would have to wait for his next opponent, fearful of facing Nerchio in an unfavorable matchup or another set against ShowTime. Unfortunately for him, the Acer Zerg would triumph in 2 interesting games. Derelict Watcher featured a unique zergling corruptor attack from Nerchio, an attempt to rid ShowTime's anti-air before the mutalisk switch. The attack did nothing, but the mutas still proved to be effective. ShowTime repeatedly failed to deal with Nerchio's air raids, and the dance continued until ShowTime could take it no longer and moved out on the map. Both players decided to finally engage, but Nerchio's comfortable 6 bases could not be stopped. The German was on the ropes, his dreams of going further resting on his performance on Whirlwind. And while it was an admirable one, he would fall short of another memorable upset. His build of choice with his tournament life on the line was an oracle into voidrays and an 8 minute third base. Nerchio responded correctly with zergling pressure to eliminate sentries and forcefields, and followed it up with a massive hydra push. ShowTime played his defense patiently, but excellent positioning by Nerchio in the gap between the third and the natural and a fantastic concave could not be denied. The Polish Zerg smirked in delight as he would go on to face ForGG for a spot in the Round of 8.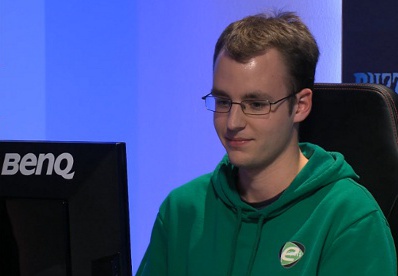 Oh, ForGG is next?
Polar Night was the scene of the first game of the last set of the evening, both players choosing to be cautious: ForGG opened with a reaper expand while Nerchio drone scouted around his base. The former did not deviate from standard play, but Nerchio's odd build confounded even 'Grupollo'. A big stockpile of gas very early looked like an odd choice, perhaps an early spire or roach bane all in, but Nerchio's delayed third worked out in the end. His usage of roaches was able to inflict damage on ForGG's third, and the eventual speed roach bane attacks constantly kept the Terran on 2 bases. Nerchio's never ending aggression wore down ForGG's economy while he teched up to ultralisks, and despite a sky covered with medivacs, it wasn't enough as he ran dry and could not replenish his army. Nerchio would repeat that feat on Derelict Watcher. 2 quick gasses were invested in early double ranged upgrades and a quick lair, while ForGG once again played standard. It looked similar to game one as Nerchio stockpiled gas, but +1 melee and a hydralisk den soon started, yet without ling speed. It was another perplexing build by the Acer player, but a 13 minute roach hydra max that lined up with roach speed and hydra range revealed his plans: a big attack before the Terran could consolidate his defense. It was 200 vs 130 supply with slightly better upgrades, and it did not look close. The Pole steamrolled through the front, and ForGG gave up on his faint dreams of Blizzcon.
Nerchio once again looked impressive despite a loss in his initial match, much like his performance in the Round of 32. He'll have to avoid these slow starts in the knockout rounds if he wants to reach the season finals. He is joined in advancing by Genius, who looked dominant in his brief 40 minute appearance. It was barely a glimpse of the teamless Protoss, but a solid advertisement of his winning talents. Should he make it far this season, it will be difficult to imagine him remaining without a few big offers by the time the Season Finals start.
Group D Preview: MMA, Titan, duckdeok, Starbuck
by DarkLordOlli
Group D goes live in
WCS EU enters the
finale
of the Ro16 with the two Koreans MMA and Duckdeok going up against Starbuck and Titan respectively. Everything's on the line - bragging rights, qualification for next season and the season finals and the chance at big glory.
There's No Stopping Now
The Son of Boxer has returned. Not as mighty and powerful as he once was but there's no denying that MMA is back. He's still improving as we speak and he's still far from where he used to be but he's back. Cruising through his Ro32 group without dropping a map. Reaching the Ro4 at Dreamhack, barely losing to Innovation. Being a key ingredient to Acer's team league strength. Those three feats he's achieved recently and the still rising trend make me favor him over the other three players in his group, especially as he has an easier first match (on paper) against Starbuck than his Protoss opposition who both must be worried about possible crazyness in the PvP mirror. If MMA just brings his A-game, that should be enough. Right?
Next-gen Special Tactics?
But didn't we say the same about Lucifron and Grubby? Both of them were favored against Starbuck and they both didn't play terribly. Starbuck just had an extremely impressive showing in the Ro32, bouncing back from a defeat at the hands of Lucifron to take down Grubby 2-0 and get his revenge against the Spaniard in the deciding match. Starbuck initially became known for unorthodox, aggressive strategies but demonstrated that he can keep up with Europe's best in macro games as well. Starbuck is still not favored to make it out of this group by any means but he's already overcome that situation more than once. Otherwise he wouldn't be here among Europe's best 16 of the season.
Smart, Reactionary, Conservative
I have to say though, I personally was most surprised to see Titan top his Ro32 group. I did not believe in him enough and I have to apologize for that. But I feel like I may be forgiven considering that Titan himself probably felt he wasn't performing too well. He even went on to say that he'd have taken drastic steps back from SC2 if he hadn't advanced from his group, indicating that he was well aware of his overall performance in HotS. And yet, Titan looked very solid as he fought his way through Nerchio and HasuObs. Especially in the PvP series against the German, Titan showcased a smart, reactionary and adaptive style. Against the Yeonsu cannon rush for example, he simply gave up his main base, re-expanded to his natural, used his mothership core to force a defensive cannon and came out at least even, eventually winning the game with far superior immortal numbers. Reactionary, safe PvP? You may have noticed by now. That's probably exactly what you want against MVP.duckdeok, his first opponent in the group.
Finale
There's very little to tell you at this point about duckdeok. Everyone who has followed WCS EU last season, at the Season 2 Finals and this Season as well as anyone who has followed duckdeok in the past knows how he plays by now. He is an extremely aggressive player. He will try to exploit any edge he can find in his opponent's defense with great control and razor sharp strategies. Oh... and he does it a thousand times better against fan favorites.
Predictions!MMA
> Starbuck
Duckdeok
> Titan
MMA
> Duckdeok
Starbuck <
TitanDuckdeok
> Titan
MMA and Duckdeok to Advance!