MMA
and
BabyKnight
Advance
by Plexa
Group G turned out to be an oddity in comparison to the other groups from this season -- both the fan favorites from the group made it out alive. MMA cleaned up the group without dropping a map, a performance that anyone could has called after his impressive Dreamhack run. Babyknight looked shaky at times, but was able to survive the group (despite the scoreline suggesting that he had an easy time). Tails and Krass fell short, neither looking particularly impressive, and will have to struggle back through challenger in 2014.
Ro32 - Group F
1.
MMA
2-0 (4-0)
2.
Babyknight
2-1 (4-2)
3.
Tails
1-2 (2-4)
4.
Krass
0-2 (0-4)
Detailed results from the live report thread by HammerKick
+ Show Spoiler +
MMA vs TAiLS
MMA
<

Derelict Watcher
>
TAiLS
MMA
<

Bel'Shir Vestige
>
TAiLS
MMA <>
TAiLS
MMA wins 2-0!
BabyKnight vs KrasS
BabyKnight
<

Akilon Wastes
>
KrasS
BabyKnight
<

Bel'Shir Vestige
>
KrasS
BabyKnight <>
KrasS
BabyKnight wins 2-0!
Winners' Match
MMA
<

Derelict Watcher
>
BabyKnight
MMA
<

Frost
>
BabyKnight
MMA <>
BabyKnight
MMA wins 2-0 and advances to the Round of 16!
Losers' Match
TAiLS
<

Bel'Shir Vestige
>
KrasS
TAiLS
<

Whirlwind
>
KrasS
TAiLS <>
KrasS
TAiLS wins 2-0!

KrasS falls out of Premier League!
Final Match
TAiLS
<

Yeonsu
>
BabyKnight
TAiLS
<

Bel'Shir Vestige
>
BabyKnight
TAiLS
<

Whirlwind
>
BabyKnight
BabyKnight wins 2-1 and advances to the Round of 16!
---
MMA and
BabyKnight advance to WCS EU Premier RO16!
The first series of the night, between MMA and Tails, started off with a 4Gate blink stalker all in from Tails. It's not clear to me whether Tails was planning to do this all along, or whether MMA's engineering bay block on Tails' natural prompted him to all in. Nevertheless, MMA was able to catch wind of what was going on after his scan saw all four gates and the twilight. MMA was well prepared to fend off the aggression with 3 bunkers and after some intense back and forth (and almost 30 workers killed) Tails was unable to crack MMA's defense. Game 2 featured a similar build choice from Tails; 3 gate blink with an expansion. However this time a scouting marine was able to scout out Tails' plans. Tail's blink play wasn't able to do any significant damage and the game progressed into a macro game where MMA was simply able to out play his Protoss opponent.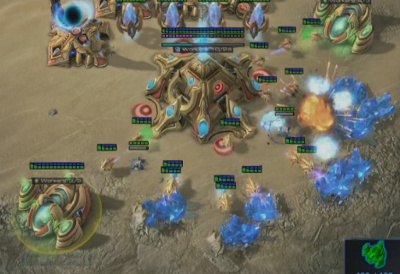 Krass takes an early lead against Babyknight
Krass vs Babyknight started out far less explosive than MMA vs Tails, but Krass quickly corrected that as he took a substantial lead going into the mid game with a very effective widow mine drop coupled with 4 hellion pressure. Krass maintained his lead throughout a rather passive midgame. Once he neared 180 supply he moved out with a scary MMMV army. Unfortunately, Krass blundered away his army by focusing down Babyknight's third base while Babyknight obliterated his forces. Krass tapped out knowing he could not defend any counter attacks. The second game revolved around a 100 supply +1 colossus push from Babyknight. The push was able to take out Krass's third base and natural while Krass counter attacked with some medivac drops. Krass's harass was fended off at the cost of 14 probes which was not enough to overcome the losses he had taken. Babyknight simply built on his lead in the remainder of the game and strolled to a 2-0 victory.
In the winners match Babyknight grabbed an early lead over MMA by sneaking a very early third base. Despite his best efforts, MMA's first few attempts to punish Babyknight's greed were shut down – but fortunately he never lost a critical amount of units which would have lost the game. As both sides reached near max, MMA was able to finally break Babyknight and gain a significant army supply lead. Compounding this, he dropped Babyknight's main and things looked dire for Babyknight. Somehow, Babyknight killed off enough of MMA's army to force him to retreat and the game stabilized. Both sides re-massed their respective armies and clashed again – even with +3 and storm finishing for Babyknight during the fight, MMA once again triumphed in the major battle and once again somehow Babyknight just barely defended. One more time both sides re-massed their armies but this time Babyknight opted to be the aggressor – this proved to be his downfall as MMA easily deflected Babyknight's attack and used that momentum to crash through Babyknight's base forcing him to tap out. This was undoubtedly the game of the night.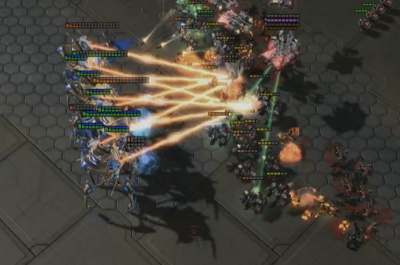 MMA's army overwhelmed Babyknight in Game 1
The second game of the winners match saw Babyknight take a page out of Tails' book as he opted for a 4 gate stalker build with an expansion. Just like the first series of the day, MMA got a perfect scan off seeing all four gateways just before Babyknight was planning on attacking. It gave MMA barely enough time to get 3 additional bunkers down which proved enough to deflect the attack.Off the back of this, MMA went to work harassing Babyknight with drops which grew his advantage to near game ending. Babyknight realized this and moved out with a last ditch immortal attack which MMA deflected easily.
With MMA off to the round of 16 it was time to work out who would be Babyknight's opponent. The first game between Tails and Krass was rather uneventful. The game essentially boiled down to a blob of Protoss units clashing against a blob of Terran units and trading fairly evenly until the Protoss found the right combination of units to win. The second game featured Krass's inability to deal with very basic harass which snowballed into a game ending contain. Krass attempted to get something done with medivac drops but they were deflected without dealing much damage. Once Tails' second colossus finished it was a straight forward victory for the Korean Protoss.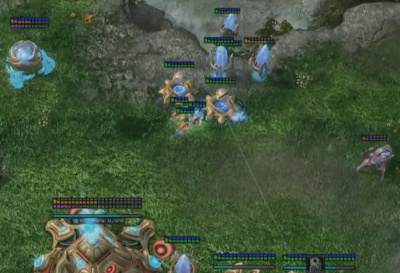 Is this now standard PvP on Yeonsu?
The final series of the night was between Babyknight and Tails. The first game featured what is rapidly becoming the standard Yeonsu PvP cannon rush. This is the third time we've seen it in WCS EU and the third approach to dealing with the cannon rush. Babyknight prioritized units and by sacrificing a few probes to stall, getting a mothership core out for the nexus cannon and having excellent stalker micro he was able to stop the cannon rush and win the first game. In the final game of the night, Babyknight's blink stalker build simply out classed Tails' three gate build and the game fell to Babyknight in a very straight forward manner.
Group H Preview: MC, Firecake, Stardust, Kas
by Zealously
Group H goes live in
MC, more than any other player in Starcraft II, embodies the "money hunter"-persona. He doesn't try to hide it, nor does he feel ashamed about it – both he and the fans know that over time, Jang Min Chul's ability to grab prize money from wherever he goes has become his most important talent.
On that note, Group H is very important for MC. We know, and hopefully he does as well, that the top 16 players in the WCS Rankings get to come to Blizzcon. MC is sitting nicely at #17. With MC (as far as we know) not going to IEM in New York, WCS EU is his last chance at taking home the all-important WCS points he needs to make it to Blizzcon in November. With a $100.000 first prize, this WCS may be the most important tournament for MC in a long time. He isn't looking as strong as he used to, with his ratings across all match-ups slowly sinking. He managed to take the fight to duckdeok in the Season 2 finals, but has since then looked fairly lackluster in all three match-ups. Not that any of this usually matters for MC – he, more than anyone save Mvp, has a tendency to bounce back to win some money before falling off for another while.
His first opponent, Firecake, is a player from the opposite side of the spectrum. Much like Showtime and Starbuck – both having advanced over clear favorites (Mvp and Grubby/Lucifron, respectively) – Firecake comes into WCS as a clear underdog and a largely unknown player in the international scene. Most interesting to note about the French Zerg (keep in mind what happened the last time a mostly unaccomplished French Zerg showed up at a big tournament) is that he made it out of his Challenger Group by beating Mana twice. It's not too huge of a stretch to say that Mana is probably MC's near-equal in PvZ, since neither player has looked that great in PvZ in HotS (E/N: bold call!). But even if Firecake were to beat MC in the initial match, there is a more significant obstacle ahead.
Stardust is a peculiar case. Ex-BW pro M18M was invisible in the scene for a long time before he popped up to win Dreamhack Summer. But contrary to many other players who string together one good run in a foreign tournament, Stardust has actually remained surprisingly relevant in the foreign scene. The thing is, no one knows for sure what to expect from Stardust. He made it deep in two Dreamhacks in a row, but fell out in fairly strange fashion in Bucharest last weekend, beating big names like Life and Hero but losing to both Huk and elfi, indicating some weakness to YOLOSWAG unorthodox play in PvP. However, even a loss to MC should feel fine for Stardust – his PvZ record inspires more than enough confidence to say that the lone Zerg in this group shouldn't prove much of an issue for him. The most interesting question about Stardust in this group is whether or not his play will attract the attention of the general audience, or if he's destined to become some form of European-Korean Protoss-version of aLive. Shooting down MC could be a step in the right direction.
The fact that Kas plays a lot of Starcraft is well-documented. Notorious for being one of the most ambitious and hard-working players in Europe in terms of practise time, Kas actually doesn't have that many big results to his name. Often brought up when discussing the near-extinct species known as "European Terran", Kas holds the banner of Ukraine going into WCS EU Premier League. It seems to be the destiny of the Eastern European players to play reasonably well for extended periods of time but never receive that much international recognition (or success, for that matter) – unless you're White-Ra. With Kas' team mate Happy having already advanced to the Round of 16, Group H will show us whether or not European Terrans, on the back of Eastern Europe, will reverse the trend of slow extinction, or if the endangered species will continue down the path toward oblivion.
According to Aligulac, Kas' ratings have remained fairly steady, with no high peaks or terrible lows, for a while. In accordance with his reputation of being a "solid Terran", Kas has no real weaknesses in any match-up nor any definite best match-up. Embodying the stereotypical good-but-not-great European player, this is Kas' last chance to make a mark this year by reaching the offline section of WCS EU. In a group like this, with no massive favorites or white-hot players, that's certainly something that's not out of reach.
Because no preview is complete without at least one cliche, this group is all about who wants it more. All four players (hey, maybe Firecake is a neo-Stephano!) have a shot at advancing, although the two players with major championship trophies certainly look like the slight favorites.
PredictionMC
> Firecake
Stardust
> Kas
MC <
StardustKas
> Firecake
MC
> Kas
Stardust and MC to advance