Thanks SilverskY!


Greetings TeamLiquid! You may be wondering why you're stuck with me instead of JWD this week. It's because he's on holiday for a week and a half, so I'll be here recapping the conclusion of the Round of 8 and previewing the semifinals. The latter will come out next week as there are no OSL/MSL games next week due to the Proleague finals, and whats the point in previewing something over a week in advance?

The second night of the Round of 8 is the biggest night in the entire OSL. While that statement is very vague, it is true on a number of counts;
There are potentially 8 games to be played in one night - more than any other regular round

It is the make or break day for many players

Winners receive seeds for the next OSL making their lives easier

OSL usually goes on tour for this round

Now I'm fairly sure the last one didn't happen this season, but nevertheless this is a hugely important night for so many people. In case you've forgotten here is what things looked like at the conclusion of last week;

It is said that in intra-team matches that Terran's are favored. The rationale behind this is that Zerg is incredibly style dependent while Terran's all more or less look the same. There are obvious exceptions to this, like when the Terran is a strategic player like UpMagic, but on the whole this rings true. Three notable examples would be Iris vs Savior from Shinhan 3, fOrGG vs Jaedong from Arena MSL and Iris vs Effort from GOM last week. Of course, maps had a little bit to do with it, but on the whole they just amplified the disadvantage.

This OSL has presented us something different. Yarnc and type-b both won over go.go and Leta respectively. While there are a few explanations for why Yarnc was able to beat go.go there are considerably less explanations for type-b being able to defeat Leta. Casting a thought back to Batoo I'm sure we'll all remember by.hero's OSL semifinal stint. Hero also advanced there by defeating a teammate, Hwasin. The similarities between hero and type-b in this regard are actually quite astounding.


Thanks fomos.kr for the image


Both managed to get where they are using a concept I like to call "Rookie Vigor". Every season we have newcomers to the OSL who outperform all expectations because they have literally come from nowhere. They are able to play miraculous games and keep winning over great opponents, but then inevitably lose the next season. It's not that they aren't great players, but rather that they are just not ready for consistent season play. Yarnc for instance had his rookie vigor spur in Shinhan 1 where we blew us all away with amazing Mutalisk control and brilliant strategies, but he just wasn't ready for it all. However, now he is one of the premier Zergs in the world - his time wasn't 2006, it is today in 2009.

In case you are wondering, Rookie Vigor comes from the biological concept of Hybrid Vigor where some hybrid plants outperform the pure breeds but often are incapable of reproducing for one reason or another.

Back to the topic at hand... type-b isn't out of the woods yet - he still needs to take one more game of Leta to advance. While he's got his rookie vigor carrying him at the moment; will it be enough to take out Leta? Well let's plunge in and take a look at the games that took place on Friday...


Thanks fomos.kr for the image
---
YellOw[ArnC] vs go.go
---




Game 2



This game took an interesting turn when go.go stole Yarnc's gas. Yarnc had to make a decision - get a late gas or go 3 hatch. He decided to go three hatch, and it was quite clear that he had not practiced it in a while. Yarnc tried to stall go.go with lings, but they were taken care of really easily. In wasting these larvae Yarnc was putting himself further and further behind. When go.go moved out, Yarnc had minimal lings remaining and no defense what so ever. Yarnc managed to get some last minute defenses on line just in time to save him - but not before he has to defend with drones (and lost 6 of them). With so many wasted Larvae, and Marine range completed, Yarnc couldn't get his Mutalisks to do any kind of real damage. Indeed, they were stuck defending a lot of the time. Eventually, go.go ran over Yarnc after keeping the pressure high - Yarnc did make a game of it though, and props to him for doing so.



Game 3


go.go had this game practically won but he choked under pressure. Firstly, he gained such a massive advantage from killing one of Yarnc's overlords early on and quickly followed that up with a nice vult/rine attack which resulted in go.go having 2 vults in Yarnc's main. Here is where things unraveled. go.go's reinforcements never got inside the main because go.go didn't control them. He was suppose to have the rine draw fire from the sunk allowing the vulture to run by - but he didn't and he lost his 3rd vult needlessly. Then he lost his 4th in the same way. If those two vults had gotten inside Yarnc's main that game would have been over. Instead, go.go wasted his units and was left helpless as speedlings tore through his units, and then tore through his main.


YellOw[ArnC] 2-1
go.go
YellOw[ArnC] advances to face the winner of type-b/Leta.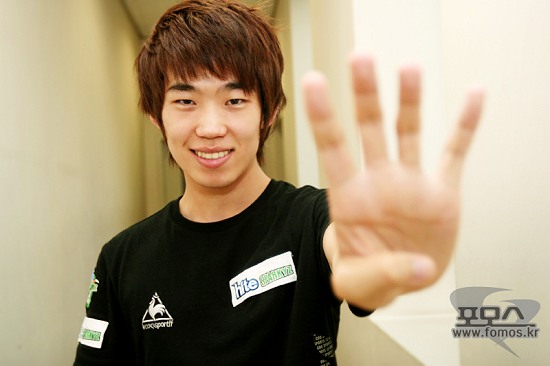 Thanks fomos.kr for the image
---
Leta vs type-b
---




Game 2



This is great example of Leta at his best. Leta gets all kinds of credit for being a great player, but really, his greatness stems from his mind. At the moment we have Flash with rock solid mechanics, Fantasy with dazzling flair and control (<3 vultures) and Leta with his strategical brilliance. The game opened up with Leta pressuring type-b ala go.go vs Yarnc on Heartbreak. type-b handled it far better than Yarnc did though, he didn't waste lings and he used every last one to stop Leta's push. From there type-b was in an excellent position and harassed with his Mutalisks well. When he charged into Leta's natural with a huge number of Lurker/Ling the game looked to be his. Then Leta shows what he'd been up to - he had massed wraith off of three ports. With about 10~ Wraith in the sky he picked off all the lurkers and repelled type-b's assault. It wasn't long before Leta overpowered him with ease.

That Wraith switch was so brilliant, and showcases why Leta is a great Terran in this crazy age.



Game 3



This game showed that there's something in the water over at Hite (beer perhaps?). Type-b pulled out a brilliant strategy here on the fly (you can check out his interview, its at the bottom) and completely destroyed Leta. type-b got unlucky at the start when Leta fast CC'd and type-b's 9pool was sent cross position rather than to Leta giving Leta enough time to complete his wall in and be 100% safe from lings. type-b then switched it up from his original game plan, and went for a super fast speedless Lurker drop. Leta was in inches of discovering it, but type-b just managed to get the Lurker inside Leta's main. Once they got inside it was pretty much all over. Leta almost pulled out some dazzling Marine micro to save the day, but Leta isn't Boxer and the scans ran out before the Lurkers died.

Excellent game by type-b, and a thoroughly deserved win.

type-b 2-1 Leta
type-b advances to face YellOw[ArnC] in the semifinals.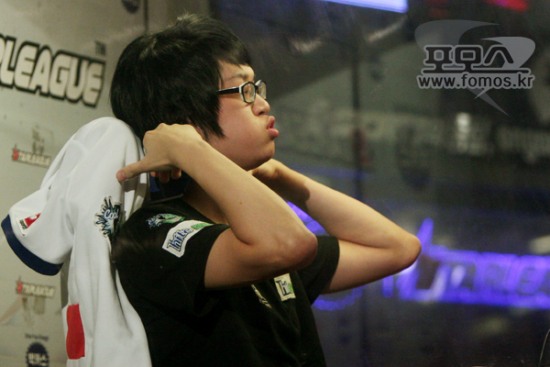 Image thanks to fomos.kr
---
fantasy vs Canata
---




Game 2



There isn't much to say about this game. Fantasy was the superior player the entire game. Even from the builds he was 1 supply ahead, and he just compounded on this minuscule advantage throughout the rest of the game. At the end of the game Fantasy's economy was far superior and had a much more stable gas supply and was able to max long before Canata and take the game. Fantasy looks so good right now, and this game is a testament to that fact.

fantasy 2-0 Canata
fantasy advances to face the winner of Jaedong/Zero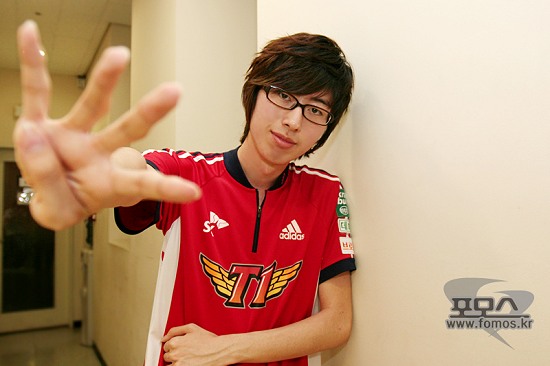 Image thanks to fomos.kr
---
Jaedong vs Zero
---




Game 2



This basically was a build order win, but really, the builds didn't matter. Zero fought off Jaedong respectably but with a build order disadvantage there was no hope for him. Jaedong made some very clever moves with his lings and with spore colonies to defend his expo/main there was nothing Zero's 1 hatch muta could do. Jaedong built up enough gas to overwhelm Zero - and looked basically invincible while doing it.

Jaedong 2-0 Zero
Jaedong advances to face fantasy in the semifinals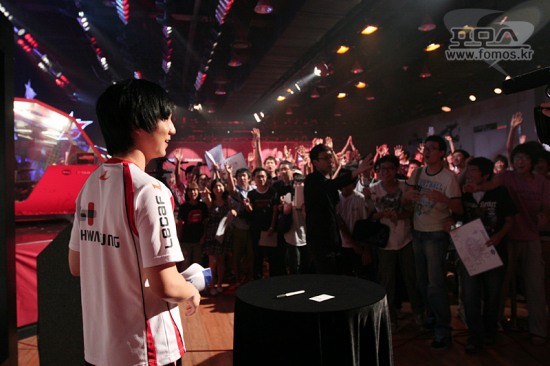 Jaedong and his adoring public - Image thanks to fomos.kr
---
Interviews thanks to ghostWriter
---
Yellow[arnc] (Park Myung Soo): "This is the best day of my life"
I will definitely win in the round of 4 to get to the finals.


-This is the first time in your life that you've reached the round of 4.
▲I am really happy to make it into the round of 4 for the first time. It's been 5 years since I've debuted as a progamer and to only make it to the round of 4 after all this time is a bit pathetic. I am very thankful towards go.go, who congratulated me lightheartedly after the games were over. Today is the best day of my life.

-You won against a teammate
▲Before the game started, we agreed to congratulate the winner with a laughing face, no matter who it was. I'm very thankful that he kept our promise.

-How were today's games?
▲I tried to play a very safe style in game 2, but for the final game I decided to play a game that fits my style. Although I lost the 2nd game, I wasn't shocked. I lost the pace of the game as soon as I got gas rushed. The way he took control of the game almost felt like go.go was physically pulling my body away. He really played very well.

-You've already beaten teammates several times before.
▲Since I've done it several times, it didn't feel that unfamiliar. It felt inevitable. There have been times when I've won and times when I've lost, but whether I lose or win, the winner has to be cold-hearted.

-The 3rd game was very dangerous for you.
▲I thought I lost. If a Terran puts on that much pressure, you have no choice but to play a low-economy game so I tried to keep calm and maintain my composure. I think that go.go relaxed a little, thinking that he won the game already. That's why I was able to capture the vultures so easily.

-You have to meet another teammate in the round of 4.
▲Since both players are very good, no matter who comes up, it will not be an easy victory. Until now, I've only been able to win in best of 3 games but the next round is a best of 5 series. Since I haven't been able to get to a finals in my long career as a player, I will try my best to get there.

-It must have been difficult to practice.
▲Since the proleague just ended, my teammates are on vacation and there are no available partners within my team. Therefore, it was difficult but I was able to split my practice time with go.go, so that they wouldn't overlap.

-Do you have any last words?
▲I am very exhausted, so I want to rest now. Since I was able to get such a good result, I want to just rest during my vacation and recharge my batteries properly. Therefore, I will be able to prepare for the upcoming Starleague round of 4, WCG and next season's proleague. I hope my fans will trust in me and watch me as I play.
My mother called me yesterday because she was worried. I would like to thank her for thinking about me, but I hope she believes in me and won't worry anymore.

Source: Yellow[arnc]'s Interview
_________________________________________________________________________________




Type-b(Moon Sung Jin): "I will defeat Myung Soo hyung (Yellow[arnc]) and make it to the finals."
I feel like I've passed a difficult turning point.


-It is the first time you've reached the round of 4.
▲When I first made it to the round of 36, I did not have any expectations. At the introductory ceremony (?) I said that I wanted to win it all, but I didn't believe that I would be able to do it. I just thought to myself that I would win one game but now that I am going up to the round of 4, it feels a bit surreal. I expect that the excitement of reaching the round of 4 will hit me as I lay down in bed to go to sleep.

-It must have been difficult to play against a teammate.
▲Of course, it was difficult. The pressure from playing against a player like Leta (Shin Sang Moon) was harsh. But Leta didn't play the way I expected today. I didn't even think about the chance of a no barrack double command (13 or 14cc I guess) but that's what he chose. Rather than going bionic, he tries to play mind games, but today he went for a macro fight at his natural.

-What do you think of Leta's decision to go bionic?
▲It is probably due to the fact that we are on the same team. Since we are teammates, I know his strategies better than anyone else, so he went for a build that only partially utilizes his strategy.

-The practice schedule must have been difficult.
▲Since we were in the same practice room, Leta surrounded the area around him with partition walls while he practiced. Justin (Won Jong Suh) and Miracle (Park Dong Soo) on Samsung helped me practice and I feel that their help played a huge role in my victory.

-How were today's games?
▲I prepared really well for game 2. I practiced against every Terran strategy and had to neglect game 3. In game 3, Leta concentrated on his tech tree and to counter that strategy, I was going to play a drone heavy game, but since he went for bionic again, I was disconcerted. Therefore, I switched to a strategy that favors military strength so that I could break his attack his natural, but since I felt that it wouldn't work either, I decided to go for drop play.

-Now you have to play against Yellow[arnc] in the round of 4.
▲Although I was able to defeat Leta, Yellow[arnc] is like a huge barrier blocking my way forward. If you look at it differently, you could even consider yarnc to be an even more difficult player to beat than Leta. Ordinarily, I don't have that much confidence in Zerg vs Zerg games and in practice, I haven't been able to beat Yellow[arnc]. But since it's only one more series before the finals, I won't be able to give him the game. I will practice intensely (he said until I die, which is an idiom) and make sure that I will definitely reach the finals.

-If you had one word of comfort you can say to Leta, who lost painfully, what would it be?
▲I think that trying to comfort him would be even worse than his loss. Although I was able to show him an apologetic face for beating him last week, to do so today would be be difficult. All I can say is that I will practice enough for Leta's sake as well as mine own so that I can win in the finals. This is probably the only thing that would relieve Leta's mood.

-Do you have any last words?
▲I would like to thank the fans who are supporting a relatively unknown player and hopefully make it so that they won't think that it was a mistake for me to advance. I think that the most I can do is to simply show my best effort.

Source: Type-b's Interview

_________________________________________________________________________________




Fantasy (Jung Myung Hoon): "This season, I will prepare like no one else has ever done."
If we win in the proleague, I will be able use that excitement and win the OSL as well.


-You have been able to reach the round of 4, 3 seasons in a row
▲Strangely, I have been able to reach the round of 4 many times. However, I want to win it all for sure this time.

-You had to defeat your own teammate, Go In Kyu (Canata).
▲Although we practiced as teammates and saw each other play, it was okay for the most part. Probably because Canata has more tournaments to prepare for than me, it was easier for me to win.

-How was today's game?
▲At first, I was able to block his attack and it almost started to seem easy, but I started to feel a little pressure from that point. Therefore, I tried to go for a more defensive game. Since I felt so pressure, I let enough mana build up for 5 scans, but after I used all of them, I could see the entire map and felt like I could relax and play more safely.

-Now it feels like you will be able to prepare for the proleague more comfortably (at ease).
▲After I entered the team, both I and my team haven't had any victories yet. If we win in the proleague, the excitement will motivate me and I feel that I will be able to win in the finals.

-You will play against the winner of Jaedong vs Zero (Kim Myung Woon) in the round of 4.
▲Since I have lost in the finals (in the Batoo OSL) before and since In Kyu hyung (Canata) lost to him (in the Avalon MSL), I want to get my revenge on Jaedong. I want to defeat Jaedong and make everyone fearful of Sk Telecom Terrans players.

-Lately, there have been many games between teammates. Does it have any effect on the teams?
▲I don't feel like there have been any negative repercussions due to team kills (beating a teammate). Everyone is concentrating on the Proleague and since all the team kills are now over, we will be able to concentrate solely on the Proleague. Although we had to be separated because we were playing in individual leagues, now that it's over, we can all get together and prepare for the proleague together.

-In the past 2 seasons, your team was able to win in the semifinals. Do you have confidence in victory this time?
▲I really want to win this season. Our will to win is different from that of the other seasons. We will definitely win.

-Do you have any last words?
▲I want to thank the terran players that helped me practice and after the game, In Kyu hyung's (Canata) facial expression was bad so I will buy him something delicious to help lighten his mood.

Source: Fantasy's Interview

_________________________________________________________________________________


Lee Jaedong: "If I get to the finals, I will definitely win it all."
I will win the proleague as well to make it all "The Week of Jaedong".



-This is your second season in a row for making it to the round of 4.
▲I am very happy. Since I won last season, there was much pressure for this season as well. I tried to break the winner's curse and thankfully, there was a good result for me. I thought that all I had to do was to reach the round of 4 and I would win it all, so I am confident.

-Because you have games daily, it must have been difficult to practice.
▲I have been practicing for the proleague almost non-stop. I practiced for the individual league in my own time. After the official time for practicing was over, I cut into my sleep time to practice for my game. At my last fan meeting, I said that my goal was to definitely win and I tried hard to keep my promise. Because this week was a turning point, I was happy that I won.

-How were today's games?
▲I feel that I was able to win because I had a lot of luck. I was able to make a situation in which I definitely wouldn't lose and so I even made a sunken to stay on the safe side.

-Now you have to participate in the proleague playoffs.
▲Tomorrow is the day where all our efforts for an entire year come to fruition. Therefore, the desire to win is huge. I practiced much more for tomorrow's games than I did for today's or yesterday's games. Although I was able to advance in both individual leagues, if we lose in the proleague, I will be heartbroken. Since we prepared very well, I believe that we will be able to have a good result tomorrow.

-You have to face Jung Myung Hoon (Fantasy) in the round of 4.
▲Since I have defeated him in the finals last time, I'm sure that Fantasy will prepare for this series with gritted teeth. But I will also practice no less than he will and make sure that I'm ready. Since I believed that all I had to do to win it all was to reach the round of 4, I will entrust everything to that confidence.

-If you win this time, you will be able to get a Golden Mouse.
▲I definitely covet that prize. Although I am very greedy for it, I am trying not to think about it. I will just consider the Golden Mouse as something that just naturally follows after I win, so that I can concentrate wholly on winning.

-Do you have any last words?
▲The fans have been very worried about me. Since I have been playing many games in the proleague, they worried that I might carelessly leave out the individual leagues but since I have advanced, I will show my good form in the round of 4. Since the very important proleague is left, I will make this week the "Week of Jaedong".

Source: Jaedong's Interview

---

So there you have it, the two semifinals are Yarnc vs type-b and Fantasy vs Jaedong. There is so much raw potential and excitement in these two matches it's ridiculous. Okay, well, most of you probably can't see it yet since the prospect of a ZvZ finals sounds rather dull - but I assure you, this is going to be an historic OSL one way or another. The semifinals aren't until next week since Proleague finals have halted MSL/OSL games so the players can better prepare. But then we have both semifinals in one week - and I'll be here to preview them both right before JWD gets back

.

Hope you enjoyed it!



Plexa