Code S Ro8 Day 1 Recap
by: kollin
Results from Live Report Thread by UnholyMessias
+ Show Spoiler +
INnoVation vs. Symbol
INnoVation
<
Cloud Kingdom
>
Symbol
INnoVation
<
Neo Planet S
>
Symbol
INnoVation
<
Whirlwind
>
Symbol
INnoVation
<
Daybreak
>
Symbol
INnoVation
<
Icarus
>
Symbol
Symbol wins 3-2!
Curious vs. PartinG
Curious
<
Daybreak
>
PartinG
Curious
<
Bel'Shir Vestige
>
PartinG
Curious
<
Akilon Flats
>
PartinG
Curious <Neo Planet S>
PartinG
Curious <Whirlwind>
PartinG
Curious wins 3-0!
Symbol of Victory
The first match of the night was between two of the most talented players around right now. There is Symbol, the Zerg formerly of TSL, who showed some great results throughout 2012. Despite having been hyped up by Artosis, things were looking good for him, though he didn't manage to take first place in any of the tournaments he attended. Symbol does have a history of choking in the Ro8, doing so twice before. He has only made it past the quarterfinals on a single occasion, in Season 1 of the GSL last year where he arguably looked his strongest.
His opponent was Innovation, formerly known as Bogus. The relatively unknown Terran player has been on the rise since KeSPA switched to SC2, and in his first GSL appearance made it to the semifinals before getting knocked out. Now he is widely considered one of the best, if not the best Terran player in the world, combining flawless mechanics with meticulous micro. That is not to say that he always displays this form, as he is forced to practice for both Proleague as the ace of his team and the GSL.
Opening on Cloud Kingdom, the first game looked fairly normal, with both players taking three fast bases. However, Symbol decided to throw a match in the tinderbox and add on two macro hatches, bringing him up to five hatcheries off three bases. A huge roach baneling attack came barreling down the doors of Innovation's natural, however the single siege tank and some hectic micro meant the attack was held at bay. Some economic damage was sustained, but not enough to end the game as Symbol took an extremely late fourth. Both players stabilized and Symbol teched to ultralisks, while Innovation took his fourth. Both players harassed each other, Innovation killing Symbol's fourth while Symbol returned the favor at his opponent's third. Innovation took fantastic engagements from here on out, and after denying Symbol's last mining base one too many times took the game.
The second game on the Proleague map Neo Planet S, started similarly to the first, but Symbol instead chose for a ling baneling attack on the Terran's third, attempting to slow the economy and production of Innovation. It was a success, and delayed Innovation's 2-2 timing by more than a minute. Symbol had more than enough time to get out ultralisks, and cleaned up the push without any trouble. He proceeded to deny his opponent's fourth base, while shutting down Innovation's constant efforts at harass. While it briefly looked like Innovation had clawed his way back into a previously lost game, he failed to scout a fifth base at the gold expansion, and eventually Symbol's broodlord-ultralisk-infestor army broke through Innovation's defense, and Symbol tied up the series.
The first two games had both been master classes in how to play the modern TvZ matchup, however the third game on the gargantuan giant of a map Whirlwind proved to be anything but. Symbol channeled the spirit of his creator Nestea through his body and opened with the insanely greedy 3 hatch before pool. Despite it being scouted, his opponent was powerless to stop it having opened CC first himself. Innovation, must have been watching Naama's games, as he decided for a banshee heavy style building one starport for medivacs and another solely for banshees. However, Symbol got an ample amount of static defense and took very few losses, responding by making a lot of banelings and right clicking them on Innovation's third base. Symbol managed to bust down Innovation's simcity at his natural, and forced the GG out of his opponent, putting himself on game away from the Ro4.
The next game was far more normal, as Symbol looked for the quick win with a roach bane bust. Innovation defended fairly handily and Symbol backed off, taking a third base. Innovation did likewise and pushed with a sizeable marine tank army, intending to doom drop in his opponent's main. Unfortunately for him, Symbol had been following the force with two burrowed infestors and as soon as everything loaded up, the Zerg unburrowed his infestors and hit two huge fungals, completely wiping out the Terran army with very few losses. The two enemies took fourths, and Symbol went for his preferred ultralisk based composition. Once again the Azubu Zerg displayed the power of his right click, as he traded his army for Innovation's fourth base, which was a huge blow to his opponent's economy. Innovation double expanded in an attempt to catch up, while counter attacking and taking out Symbol's fourth base in the process. The game stabilized yet again, Symbol adding broodlords to his infestor-ultralisk-zergling composition, which Innovation responded to with thors and vikings. Innovation's trademark harass picked off Symbol's fifth, and stalled the Zerg's economy quite heavily. Innovation pushed out one final time, taking the top center base as he took out not one, but two of his opponent's bases putting him on three. Symbol was forced into engaging the STX Terran and while it was close, Innovation's beautiful micro ensued in Symbol's loss.
The final game was on a newer map in the GSL map pool, Icarus. A lot of Zerg players had been trying out two base roach timings here, and with roaches being Symbol's favorites unit it was unfair to expect him to do anything else. He opted for an extremely hard hitting roach nydus build, and despite Innovation pumping out marines and marauders he didn't have the production to keep up with his opponent. Eventually his army and SCV count was whittled down too low, and while Innovation microed his heart out it wasn't enough. Game, set and match in Symbol's favor, advancing him to the Ro4 for the first time in around a year, where he could well end up going onto the final.
Breaking the Curse
Coming into this series, most would think Parting pretty much had this in the bag. Bar some kind of miracle play from Curious, surely Parting's former teammate had no chance. After all, Curious was just some random Zerg who had always been loitering around the lower echelons of Code S and who had finally managed to break through. However looking at the up and coming Zerg's recent results paints a different picture. Looking at his Code S run this season he has so far beaten TY, Leenock, MC and Gumiho. Some of the most talented players in the world were swept aside by Curious, and it just shows that he is to be taken seriously and Parting should not underestimate him.
On the other side of the ring we have the
SoulToss
TraitorToss himself, Parting. The inventor of the WonWonWon, the all-in he solely trained and practiced with constantly against Zerg. After refining it to perfection, Parting was widely seen as the greatest Protoss player in the world. Breezing through Zergs like an afternoon wind, it seemed the only player that could stop him was arch nemesis and former teammate Life. Alas, Parting is not looking as unbeatable in PvZ as he once was. His WonWonWon is not a 100% WinWinWin, as Zergs realize they just need to turtle in their natural behind an enormous wall of spines until they wear down the immortal sentry army. That is not to say that Parting relies on this as a crux, his late game control is excellent and should be respected and even feared by a lot of Zerg players.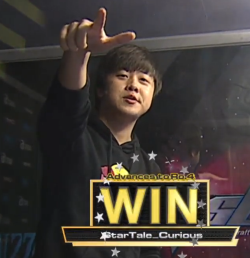 The first game would not see a Soul Train, instead it would be an insanely long macro game which ended up in the rarely seen 'super lategame'. The openers from both players were nothing too strange, Curious wanting to put the pressure on early with a fast pool which Parting neatly defended. Both players went up to three bases, and the game seemed to be progressing nicely along. That is until a significant amount of the mutalisks Curious had been building, which were unscouted from Parting, flew into his base and began annihilating the probe line. By some miracle Parting held them off with very few stalkers, so Curious backed off and transitioned into infestor-brood lord. Curious' army was getting closer and closer to the perfect composition, as the number of infestors, brood lords and corruptors increased. Parting tried to harass, but Curious dealt with it excellently. Parting, accepting that he was going to have to fight Curious' army head on, went into turtle mode. He began adding void rays and carriers to his composition, while constantly forcing small engagements with the infestor-brood lord ball. Curious constantly denied Parting the gas needed for the SKT Protoss to get his own ultimate army, and when the final engagement came it was swift and brutal. Parting's carriers fell quickly to the corruptors, the high templars were swarmed by a sea of broodlings and the void rays were frozen by fungals and shot down by the infested remains of the Terran's who previously inhabited Daybreak. A long macro game ended in a crushing defeat for Parting.
The second game showed that Parting didn't seem to be all too confident in his play. Despite his experience in tournament situations, he seemed to choke very hard when it came to a crucial moment of decision. While both players with standard builds, Curious decided to start playing HotS and produce a large amount of mutalisks. Despite Parting's seeing a coming dilemma, he reacted horribly. He first started a templar archive, before wavering on that decision and cancelling it for an extremely delayed fleet beacon. Needless to say the result was not pretty and slaughter of probes and stalkers alike ensued. To the shock of nearly everyone in the known universe, it put Curious in a position to sweep.
The final game was a saddening one, to say the least. Parting went for a fast third base and Curious scouted it with a small set of zerglings. Parting chose a seven gateway timing attack off the back of his third base, by some insane coincidence Curious chose the army composition that directly counters these kinds of pushes, hydra-ling. As Parting's push came, so did the signature on his death warrant. While for a minute it looked shaky, Curious' excellent control resulted in the push being destroyed, taking some drone losses in the process. The counter attack came and it was not pretty. The third base and the gateways located at it fell. The rocks to the natural fell. The wall at the front of the natural fell. Parting's miniscule army fell, and as it did so did his hopes and dreams of winning the final WoL Code S, he typed GG and left the game. Curious had done the impossible, David swept Goliath. After this victory his status as one of the best Zergs in the world is assured, and from here it seems no foe can stop him. Whether he will go all the way and win Code S, or fall to his next opponent is hard to say, but people will not forget when the unknown, unrecognized StarTale Zerg got revenge for his teammate's demise in the GSL. The Curse of ST had come full circle, with Squirtle and Parting, the two traitors, having been hyped up and then promptly obliterated. StarTale does not forgive, and it does not forget.
Code S Ro8: TaeJa vs SoulKey
by: Zealously
Liquid`TaeJa

Strengths
-Has plenty of experience in elimination rounds
-In between Proleague and GSL, there are a lot of games for Taeja to study
-GSL is probably his top priority

Weaknesses
-Looked somewhat questionable against Zerg both in the Ro32 and the Ro16
-His wrists may still not be in good condition
-Is at mental disadvantage after being crushed by Soulkey in the Ro32.

Ideal Winning Scenario: After losing to Soulkey and barely edging out the win against DRG, just winning this series would be a great accomplishment. With how he has looked in the match-up lately, a win in this series would go a long way to prove that Taeja's back to being a championship contender.

Craziest Winning Scenario: Beats Soulkey into the ground in 3 straight macro games, where he constantly goes on the offensive to pick the Woongjin Zerg apart with Soulkey helpless to stop him, reminding everyone of how good he can be.


Woongjin_Soulkey

Strengths
-Has been showing great form in ZvT recently
-Is up against a fan favorite, and those never do well
-Beat TaeJa convincingly 3 weeks ago

Weaknesses
-Predicted by Artosis to win
-Doesn't have a lot of experience in the elimination rounds of tournaments
-Has to split his time between Proleague and GSL

Ideal Winning Scenario: Crushes Taeja in convincing fashion with both heavy macro builds and quick, decisive early attacks, proving himself to be the best player on Woongjin Stars in the process.

Craziest Winning Scenario: Goes down 0-2 after looking very unconvincing, then flips a switch and dominates Taeja in 3 straight games, crushing Taeja's dreams and his spirit along with them.


Here we go again
With 2012 Season 5 being considered an enormous fluke and the swarm of complaints that followed the ZvZ final in Vegas, most people seem to have missed a player not named Innovation has quietly put together the impressive performance of reaching back-to-back quarterfinals. This player is Soulkey, and he has gotten to the Round of 8 not only once, but twice – and has knocked out a few fan favorites on his way there each time.
This goes fairly well with Soulkey's general theme. His play is unquestionably solid, he tends to stick to the standard side of the game and avoid going crazy like Zergs such as Leenock and Life. As a result, the games his path to the quarters has been riddled with strong performances, but very few memorable games. And while reaching the Round of 8 twice is no means easy, the semifinalists are the players people remember, and the Ro4 is considered a true feat.
And while Soulkey has, like every former Brood War pro, a group of loyal fans, reaching the semifinal is his goal for more than one reason. While Innovation and Flash share the spotlight for the KeSPA Terrans, Rain (and now Parting) for Protoss, there is only really Roro for Zerg. Though the Samsung Zerg has a better overall record than Soulkey, this is Soulkey's second quarterfinal to Roro's first. Adding a semifinal to that resumé is both very attractive, and quite realistic.
Although his ZvZ is statistically his best, Soulkey is very potent in the other two match-ups, as well. This tournament alone, he has beaten Noblesse, Marineking and the player he's matched up tonight: Taeja. Beating any of those three is a sign that you're pretty good at the match-up. Beating
all three
is a sign of understanding and consistency as well.
In the end, consistency would be a good word to use for describing Soulkey. While he regularly performs in Proleague, he is not the highest ranking player on Woongjin at the moment, and while other players have had both great highs and abysmal lows, his play has been consistently solid.
With one victory over Taeja already in the bag, Soulkey will be brimming with confidence coming into a series where he is already favored.
Remember the last time a Terran with broken wrists played in GSL?
Few players have gone from mediocre to superace, best-in-the-world material back to mediocre again. Even fewer have gone from mediocre to championship contenders
again
. Curiously, one of the players that have made this journey did so with wrist/back injuries. And that guy also played Terran, and won 2012 GSL Season 2.
Coming into this series, there are a lot of parallels to be drawn between Liquid`Taeja and LG-IMMvp. Both had a period of utter and complete dominance, where you could line up top players from all three races and they'd beat each one to the ground and then move on to the championship. Of course, Mvp's period of dominance was longer and actually took place in Korea, not just on foreign soil, but one cannot argue against the fact that Taeja had a monstrous stretch last summer. Not only did he win three major/premier tournaments over the course of 3 months against top opposition, he had another job on the side: carrying Team Liquid through IPL TAC 3.
As is now well-known, Taeja's stretch of dominance ended as Life crushed him 3-0 in his first GSL semifinal. He crashed and burned in the following season, not at all looking like the player that tore through team after team just a few months earlier. Not much later, we were made aware of Taeja's wrists being in worrying condition, and as his play gradually became more inconsistent, he disappeared from EG-TL's Proleague roster for a while, in preparation for his GSL matches.
Whatever he did to his wrists while he wasn't playing in Proleague, it worked. On his way to the quarterfinals, he took out Nestea, Noblesse, Bomber and one of the world's best ZvTers, DongRaeGu. Even if he isn't radiating dominance like he did last summer, he is still a dangerous opponent. He has the entire "Good Terran" package – his macro and micro are very good, he doesn't kill himself with aggression like some other players would, and he has generally solid decision making and mentality, meaning he doesn't tilt as easily as someone like Marineking.
All in all, Taeja's greatest asset in this series will be something not immediately visible to the naked eye – preparation. When Taeja disappeared from Proleague to rest his wrists in preparation for GSL, there could no longer be any doubt which tournament is his top priority. He has known that Soulkey would be his opponent for two weeks, and he should come to the studio well-prepared tomorrow. With Soulkey juggling GSL and Proleague, well-planned builds could prove Taeja's greatest ally. But with Woongjin Stars performing very well without having to rely on Soulkey, Taeja will have to bring more than just intelligent strategy; he'll have to bring better play than we've seen from him in a long time.
Overall thoughts and predictions
This match will either end up being very, very close – in which case I will give the edge to Taeja due to his superior experience and the fact that he prioritizes GSL over anything else, or it will be utter and complete dominance. I don't think Taeja has what it takes to dominate Soulkey, because even though he looked quite good in the Ro16, it was mistakes from DongRaeGu that allowed him to eventually edge out the final win. Taeja is good, make no mistake – but Soulkey is equally so.
Taeja
could
show up in beast mode, but I think it's far more likely that an early win from Soulkey will spiral the series out of control.
Comeback stories are great, but this time the Woongjin Stars Zerg is the favorite.
Soulkey 3-1 Taeja
Code S Ro8: MC vs RorO
by: Zealously
SK.MC

Strengths
-Has an enormous repertoire of builds and creative all-ins that can bring anyone down
-There is no Protoss more experienced in the elimination rounds of the GSL than MC
-His PvZ is very potent, both in the earlier stages and in the late-game

Weaknesses
-His level of play tends to fluctuate
-Was dominated by another Zerg, Curious, in the Ro16.
-Doesn't have as good hair as RorO

Ideal Winning Scenario: Gets his revenge on RorO by winning one game with a potent all-in, one with superior late-game control and a third won however he wants, preferably with a ceremony on top.

Craziest Winning Scenario: MC brings out the craziest all-ins ever witnessed against Zerg, proving to RorO that anti-fans alone won't get him past the Boss Toss. Oh, and a ceremony to seal the deal and send the Samsung Zerg into a slump much like that of Symbol in Season 3.


Samsung_RorO

Strengths
-Beat MC 2-0 the last time they met
-Becomes better for every person that roots against him
-Has been looking better and better across all match-ups recently

Weaknesses
-Hasn't actually run into a good Protoss player recently
-Is up against MC, someone with an uncanny knack for winning when he shouldn't.
-Fairly inexperienced

Ideal Winning Scenario: With 2 Zergs already in the Round of 8, RorO advances by showing us the best ZvP play yet, bringing new and innovative strategies to the table that catch MC completely off guard, repeating their last meeting.

Craziest Winning Scenario: MC all-ins RorO three times, and RorO stops each attempts in their tracks, ending the series in less than an hour to advance to the semifinals in convincing fashion.


How to win
There came a time when people gave up on trying to predict MC. He would show up at tournaments after being knocked out of the last, and kill everyone to bring home some money. Then, at the next tournament, he would repeat the process of getting stomped again.
It seems to be the curse of the multiple GSL-champions, to hint at incredible brilliance and dominate the opposition in new and creative ways one tournament, only to look helpless the next.
Next to Mvp, MC is the only player to fluctuate from championship-caliber to abysmal on a regular basis. First he looked completely dominant in the Ro32, stomping Curious and Leenock to advance to the round of 16 without dropping a map. Picking Curious again in the group nominations, MC then ended being the one to get stomped in the second group stage, as Curious destroyed him and made him look a lot less dominant in the process.
MC's loss to Curious sums him up as well as anything could. On a good day, when he has preparation time behind him (and isn't jetlagged), he'll beat more or less anyone in a BoX no matter the match-up. But it's hard to know if it's the good MC that will show up, or the MC that looked helpless against Seed in the Season 3 finals. Or the MC that got himself thrown out of Code S the season after his last finals appearance.
Knowing MC, I fully expect him to bring out, at the very least, one two-base all-in. Min Chul has become predictable in the sense that you can almost always expect him to go for some kind of heavy aggression. But that usually doesn't help, since attacks are usually timed and controlled well enough for it not to matter.
MC is a smart guy, despite his silly ceremonies and (sometimes) laid back attitude. Simply expecting MC to go for all-ins and prepare with safe, defensive builds won't cut it either. The SK Protoss is ridiculously experienced – he has been in every possible situation against all kinds of players and won from most of them. He might flip a switch and go for hardcore macro builds every game in this series to close it out with a proxy 2-gate, or go for a carrier rush. The point is, when you're facing MC you will never really
know
, and that alone will be enough to intimidate a lot of players.
Considering the histories of MC and RorO, this could either be a match decided by great plays and small details that eventually end the series in the favor of one player. It could also, if MC's recent tournament history is anything to go by, be a disaster for either player. With the preparation time they've both had, such an outcome is unlikely – they both have something to prove and they both doubtlessly take this match very seriously.
In the end, this series will be decided by MC's killer instincts. He knows how to win, just like his fellow GSL veteran Mvp. He isn't afraid to do anything no matter how boring or abusive it might seem.
If
he is on the top of his game,
if
his instincts are right, MC is a terrifying opponent to have to play against.
Let's get ready to RorOll
Who is RorO? The narrow-minded folk think that he is just another KeSPA Zerg come to the Round of 8 on the back of "Zerg imba", "winfestor" and "gglords". To others, he is the result of the KeSPA practice regiment, that has honed his skills and turned him from a slightly below-average Brood War Zerg to a top Zerg in Starcraft II. A few people know the truth, though:
RorO is the person you do not want to bet against. Ever.
All jokes aside, RorO has made a habit of upsetting every tournament he comes into. He sent Life to the Final Match in the Round of 16, eventually resulting in the two-time GSL champion being eliminated, but not before eliminating Keen and Mvp on his way there. This, more than anything, is what RorO does. He could be consistently mediocre over the course of an entire tournament, but once people start counting him out he bounces back and goes into beast mode. I'm not even going to say that he wins
because
people count him out, he just does.
And that puts RorO in a strange position for this match. Somehow, RorO's recent strong performances and (unusual) consistency has made him the favorite in this series. This, in turn, puts everyone else in a strange place. Given the fact that MC has a history of coming back when people count him out, that makes him some kind of reverse-favorite, which means that RorO will probably do better because he'd be both the favorite and underdog at the same time.
To look at the less abstract aspects, RorO has been doing really well lately. Samsung KHAN was performing
way
below expectations throughout round 1 in Proleague, and they looked to continue that trend in Round 2. But suddenly, something changed and the entire team went from abysmal to really freaking good. RorO, who had been slumping up to that point, became the solid ace that Samsung needed, and all of his match-ups became better along with it.
Right now, RorO is coming in at above a 60% winrate in all three match-ups, with his ZvP the weakest (at 60%). Although he had a streak of losses, where even Bisu managed to beat him, he recently took down Stats and Rain to show that he isn't without hope in the match-up. Though his confidence may lie in solid macro and late-game decision making, he has a decent enough early game. Against an opponent like MC, who is known for his deadly timing attacks and relentless aggression, it is quite likely that RorO has been practicing his defense against Stork and Jangbi.
I think a lot of this match will come down to nerves for RorO. He can be a stone-cold killer in the ace match one day, but he can also completely lose confidence another. He looked very confident in the Round of 16, which is a good sign – his highest level of play might be higher than that of MC at the moment, but it will all come down to if he can keep his calm when he goes into his first GSL quarterfinal.
Overall thoughts and predictions
With the risk of becoming repetitive, this match will come down to confidence and what form the players show tonight. They can both play at an incredibly high level – MC has shown us that he can bring himself back to championship caliber play on a regular basis, but he can crash and burn when things don't go his way, as well. RorO is much the same – if he keeps his nerves in check, he is the favorite in this match with how good he has looked lately.
But the problem with a match with two players like this is the unpredictability: it can end up 3-0 in either player's favor or 3-2 after 3 hours of intense games. I'm going to give MC the edge based on his experience alone – he made DongRaeGu look silly the last time he faced a Zerg in the elimination rounds, and if he can bring himself to that level of play, he can knock out RorO just as well.
Prediction: MC 3-2 RorO