Team 8, Team 8, Team 8. You've heard me go on about them for some time. You've also watched them stumble through R1 and into R2, losing to anyone and everyone. This week, however, the unthinkable happened. They went out and beat a marauding CJ. How did that happen? I dunno, but
CSheep has some theories
.
Long story short though, CJ is 5-2 R1 and 1-2 R2 so far. And there, my friends, is Professional Starcraft for you.
As we all know, it ain't over till Fantasy ggs.
Games aside, there was exciting news from Korea this week, with
KeSPA releasing an Android/iOS app for Proleague
. Be sure to read on as our man about town SirJolt
puts it to the test
and shows you how to get Proleague results
without typing
. What a remarkable age we live in. Want to know what else you can do without a single key press?
Catch up on last week's games
and
look forward to the week ahead
.
Our ESPORT came first, our bonjwas are better than your bonjwas, we have our own team league and now we have an app.
Broodwar4Lyfe!
-- riptide
Recaps, Round 2 Week 2

By: Kiante




The reasons for the poor form of Team 8 were hotly debated after they were summarily destroyed by KT. What sparked the discussion wasn't so much the 3-0 scoreline, but more the manner in which the players lost. Jaedong and Baby in particular looked in spectacularly bad form. Jaedong lost to a simple pre-muta bio push because he decided not to make any creep colonies. Baby then came out and got his 4 factory push destroyed by a handful of Stats' goons after a disasterous attempt to push out of his main base. Jaehoon's loss to Hoejja came from him failing to have sight of the back mineral patches and dying to a Hydra bust. The common theme among these losses was a failure to implement basic scouting techniques, showing just how unsettled Team 8 must be and increasing their loss streak to six.



The start of a bad week for SKT fans was defined by Bisu's loss to Hon_sin. After managing to clean up Hon_sin's 2 factory push due to a failure to bring reinforcing marines and bringing the match to a fairly even state Bisu fell to the follow up 6 fac. For a player who has publicly said that his PvT was improving at the end of last season Bisu showed no real feel for the matchup, being completely fooled by Hon_sin and being unable to show some of the prowess that other protoss have shown in the matchup recently (specifically Stats). The other matches in this series went pretty much to formula. Zero disappointed against an in-form Fantasy, Light showed why his TvZ is still untouchable, Best utilised his new-found PvZ form and Sun was taken out in his worst matchup PvP by the unlikely sniper Flying.



After such an encouraging start to the season it seems like Ace is starting to fall off. Despite their win over Team 8 last week, their performance against Khan was like one of old. Although Orion managed a win over Sharp, the rest of the games were relatively short and quite one sided. With Khan being able to play Stork and Jangbi in their later sets and their less well known players like Shine and Brave picking up wins it seems like their charge up the rankings back to number one might be starting again.



Yet another stab to my heart occurred in the form of an SKT loss and was made all the more painful by the fact that it meant that STX moved above SKT on the ladder for the first time in a long time. Bogus easily crushed Sun in a short game with Sun attempting to be a little too greedy and essentially dying to a straight FD. Bisu returned the favour punishing Trap for an attempted early expansion in an equally short game. Fantasy out classed classic in a split map TvT and Best disappointed against an in form Last who easily took down the PvT specialist dealing well with Best's attempted 2 base Carrier build with ease. Finally Hyuk came out and after a the irrational decision of cancelling his expansion hatchery after 12 pooling against an overpool was easily cleaned up by Modesty (Medesty?) to give STX the victory. This series showed the possibility for anti-climactic 5th sets in the new format which was a by product of both the teams front loading their talent to attempt to finish the series before it came to a deciding 5th game.



There was a definite feeling of Déjà vu in the air with KT's second game of the week. Once again they won with a quick 3-0 victory with most of the games being quite quick and disappointing. After getting in a good position against Wooki, Zero managed to fall apart, losing his entire army of hydralurk to some good storms from the KT protoss and being unable to make up the deficit after it happened. Stats easily dispatched of sHy holding off a 3 gate push against his earlier nexus with a well timed reaver and riding his economic advantage to victory with a strong 3 base push. With Stars needing to win or else they sent out their TvZ specialist Light to deal with Crazy-Hydra. Unfortunately due to Light being unable to glitch an SCV through his wall to scout, he lifted his barracks just as 8 speedlings arrived at his door and his death was quick and painless after that. KT are really on fire right now and have more than earned their spot at the top of the table.



After racking up a 6 game loss streak Team 8 finally kicked their funk out of the way and got down to business, taking down CJ convincingly and knocking them off the top of the table to be usurped by KT. After so much criticism and debate surrounded Team 8 after their disappointing loss to KT earlier in the week they silenced the critics with one fell swoop. Even though Jaedong lost in the face of a build order advantage that Effort got with a 12 hatch, the rest of the Team 8 players stood up and took the victory while even being able to rest Baby. Leta was quickly dispatched by a fast 2 gate DT build from Tyson after making no real detection apart from mines. Jaehoon took out the PvP specialist Horang2 with some good dragoon micro and a favourable build order and finally Sea took out Hydra in an impressive game on the unfavourable map for terran, Outlier. All in all it was a good shot to the system for Team 8 and they showed that maybe they can become a threat this season after all.

Team Spotlight: Team 8


Making bad titles since 2011
By: Carnivorous Sheep
Fun fact: T8 is the team owned by most participants of FPL currently. Among many others, this is but one tidbit that reflects the high hopes held for T8, the Dream Team.
Unfortunately, dreams and reality often have a distance between them. For most of the past two months, T8 simply displayed disappointment, not promise. Against all logic and reason, T8's star-studded lineup fell, and fell, and kept on falling until they rested uncomfortably at the bottom of the rankings. Cries of anger and resentment echoed across the net, and Korean netizens and TLers alike expressed doubt at T8, at Coach Ju and the coaching staff, at the practice regimen – at anything and everything.
On the other hand, I remain quite unmoved. "So what?" I ask. A common quirk among Broodwar fans, or at least a very vocal one, is the tendency to bandwagon quickly and ferociously based on the results of just a few games. Cries of "slump" and "bonjwa" came fast and often, and though more subdued today, their spirit remains, especially in the treatment of T8. The attitude shift in just two months towards the Dream Team is astounding – from fans of all teams acknowledging that T8 is a contender for the throne to completely disregarding T8 as a factor.
I admit, a six game losing streak is not cause for celebration. But nor, I will argue, should it be cause for the amount of distress seen today. Posts dedicated to exploring the "why" behind T8's "failure" and expectations of "fast and lopsided" losses abound. But if we take a step back and observe the situation on a larger scale, I think it's not nearly as abysmal as one would think looking just at the 3-7 record and the six game losing streak.
The bottom line is, all teams lose, sometimes embarrassingly. As Tossgirl famously said, "the skill between progamers is as thin as a sheet of paper." Progaming is a world when the smallest slip-up have dire and embarrassing consequences, and the result is, everybody loses sometimes. Simply and vulgarly: Shit happens.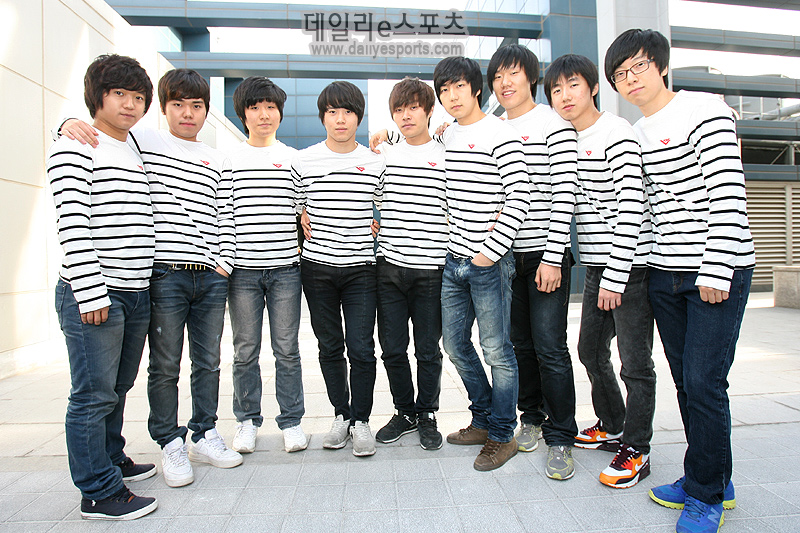 Sometimes that winning feeling can be elusive
Some of the shit T8 had to go through:
Sea got 7 TvPs in a row, to the extent that he lamented in last night's interview "I didn't want to play vP, it's just a coincidence. I really wish I could get a break, 7 TvPs have exhausted all my strategies." All that was needed for Sea was a breath of fresh air in the form of an easy TvZ victory. "Now that I ended my losing streak, it won't matter if I get TvP again."
All-ins. Lots of all-ins. Personally, I think losing to an all-in indicates very little about the skill of either player. More important is the effect on the confidence of the losing party. Jaehoon: "I don't understand why everyone always cheeses me. I was the victim too many times. But today, I also all-in'ed, which proves I am also capable of winning with all-ins."
BO losses. They suck, they happen, it's a part of progaming. Oh well, not a big deal. T8 has had its fair share of them. A small segue: the only BO losses that seemed inexcusable to me were Jaedong's. The game against Canata was very ugly, but it was (barely) within tolerable bounds. Against Flash, however, there really was no excuse. Greed? A complete lack of preparation? Just a momentary lapse? It's undeniable that Jaedong has been underperforming. Whether this trend continues is anyone's guess. Jaedong has gone through mini-slumps before and always rebounded quite well; are we still just worried over nothing? Also remember that an under-performing Jaedong is still a force to be reckoned with.
T8 remains a strong team. The initial allure that attracted so much hope still remains – Jaedong is still Jaedong, Baby and Sea are still Baby and Sea, and T8 has no shortage of good players. We have seen countless times in the past strong teams falter and struggle for a few rounds: SKT often falls behind in the early rounds of the past few years, but always manages to pull back; Khan is always wildly inconsistent; even this season, STX climbs from eighth to fourth and SKT drops to the bottom half all within the span of two months.
Short term results mean nothing.
All that is needed is confidence, and one little kick of momentum to get them going…
I write with smug satisfaction at the result of the match between the last place team, T8, obviously the weakest link of the entire Proleague, vs. the top dog, the mighty and unstoppable CJ Entus last night.
Sheet of paper indeed.
Introducing: The Proleague App


Making Professional Brood War More App-etizing Since 2012.
By: SirJolt
If you're anything like me, you've spent those hours in class just wondering how the proleague results panned out, too lazy to take out a laptop and check. Until now, the only sure option available had been to trudge through Liquipedia and dig up the results you were looking for; it's not that there's anything
wrong
with Liquipedia, but let's not kid ourselves, we live in the future now, and the idea that anyone would go to all the time and effort of actually typing things out is sheerest silliness. I can't type with these hands; these are a poet's hands. The very idea…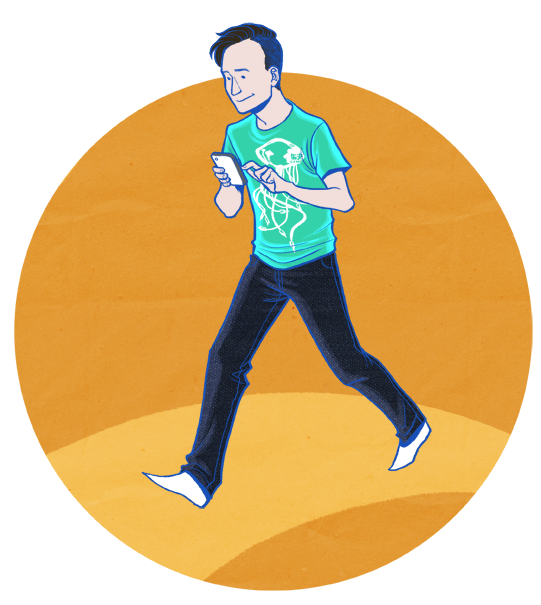 Art by fishuu
Fortunately, Kespa has released an app for Android and iOS devices that should alleviate the hurt of tedious hunt-and-peck that so plagues us. It's as straightforward as you could possibly imagine, with a layout that feels near-identical on both platforms without feeling out-of-place on either.
For those of us without lives, the calendar tells us what days we'll be sleeping through.
For the moment, there's not an awful lot to be said; it functions well and, with the possible exception of some minor awkwardness in phrasing/spelling, it's actually pretty difficult to find much to complain about. Ranking data is presented neatly and in tables, and the event listing has a pop-up calendar to facilitate easily seeing what's scheduled for any given day (or looking up results from past matches). There's also an option to "favourite" players so that you can check on them more easily, if you're so inclined. You don't even need to type player names, you can just browse lists; another victory for those of us who can't endure the nightmare of type.
Yes, Hyvva, don't ask.
The only real confusion for the moment is that the iOS app doesn't seem to have nearly as many options for checking the rankings of individual players, or if it does they're located somewhere more out of the way than under Android. Hopefully those are teething issues along the way to a more standardised experience on both platforms.
This screen lacks the options along the top in iOS, perhaps ending the Android/iPhone debate forever.(Also, this image stolen from OopsOopsBaby)
In summary: Destroy your keyboards, friends, cast off your techno-shackles. Where we're going, you won't need them.
Previews, Round 2 Week 3

By: mustaju
Current Proleague Prediction Challenge Progress:
Matches
Predicted
Actual
Gain/Loss
Current
4
KT Rolster v Team 8
3 - 1
3 - 0
+1
SK Telecom T1 v Woongjin Stars
3 - 2
2 - 3
-1
Air Force ACE v Samsung KHAN
3 - 2
1 - 3
-2
SK Telecom T1 v STX SouL
3 - 2
2 - 3
-1
KT Rolster v Woongjin Stars
2 - 3
3 - 0
-2
CJ Entus v Team 8
3 - 1
1 - 3
-2
Final
-3
+ Show Spoiler [The Rules] +
If I predict the winner and the result correctly, 3 points
If I predict the winner correctly, and the result is off by 1, 1 point
If I predict the winner correctly and the result is off by 2, 0 points
If I predict the winner wrong, and the result is off by 1, -1 points
If I predict the winner wrong and the result is off by more than one, -2 points.
Tuesday, January 17th


Air Force ACE vs. SK Telecom T1
If you know what happened to these two teams, let me know, because I'm not entirely sure. The analysis of SKT always starts with FBB, so I'll start there. Fantasy is doing well, no question about that. The man has earned his rank on Power Rank and is probably SKT's ACE right now. Bisu and Best however... seem like complete opposites of what made them great in some games. BeSt is known for solid, albeit predictable play with lots of macro. Bisu is known for spectacular micromanagement. Then last week, Bisu failed spectacularly against Hon_sin, despite the rookie Terran's botched 2 factory build and despite being 20 supply ahead in one point of the game with one expo ahead. BeSt followed up with a 2 base carrier build, which was promptly demolished by a superbly playing Last who would definitely have had more trouble against BeSt expanding like a madman or pressuring his front. The SKT Zergs maintain their level of suck, and Sun's nerves failed him miserably against Bogus. Against ACE, my recommendation for SKT would be to play players like s2 and Ssak, both to be less predictable and to allow the slumpers a bit of reprieve.
ACE was looking really strong when Kal won his games with superb micro against Stork, ZerO and Sea. FBH looks decent, and I begrudgingly must say even Canata is performing above expectations, with special cards PianO and Iris ready to demolish any unsuspecting Terrans and Zergs on the way. Then how did ACE suddenly switch gears to "we play Chavi and orion now, hur-dur"? And how did Kal look suddenly helpless against Shine? No idea. I am all for switching up the lineup a bit, but it backfired immensely. They can't allow themselves the same mistake against SKT.
While SKT lost their previous two games, they lost them by a very close margin, whereas ACE was pretty much crushed, so I am inclined to give this to SKT, who will likely surge up in the rankings again. ACE can win this, but bar a spectacular failure of one of the FBB, it will take great snipes to have a decent chance.
My prediction:
ACE 1-3
SKT
Wednesday, January 18th


KT Rolster vs. STX SouL
December seems so long ago now. STX and KT switched last place between themselves like playing a game of "hot potato", and spirits were low. Then, all of a sudden, came the wins. It was to be expected from KT Rolster, who made great acquisitions in the form of Mind and Wooki and who played Stats and Flash to spectacular effect, yet no one thought STX would perform so well, so I'll focus on them today. The Terran duo in Last and Bogus is a very solid 1-2 punch, both streaking high. While Bogus has admittedly the more spectacular games, Last is content with his 6-0 streak. Dear, the STX fanfavorite as of late, is also still undefeated 3-0, but also untested against non-Terran. Where STX shines is it's Terran and Protoss lines. KT should also be wary of Shuttle, who might easily be ready to attempt to snipe Flash again. You should never underestimate anyone who has the balls to go D-web against the Ultimate weapon.
What about the results themselves? STX has shown spectacular sniping, KT a bit less so. KT seems more solid overall, but if I trust any non-Flash non-Fantasy player to beat Stats into a pulp at the moment, it's going to be Bogus. Last is untested against Zerg and might not have what it takes vs. Flash or Stats, but I favor him over any player that is not one of them. Mini and Calm might pop out of nowhere to snatch unsuspected wins, but so might Mind and Crazy-Hydra. It should be a spectacular match that you should definitely watch, so tune in!
My prediction:
+ Show Spoiler +
I haven't favored STX once during this entire prediction series. I also rarely predict upsets, so maybe I should vary it up a little.
KT Rolster 2-3
STX SouL
(upset!) (OK, maybe a bit of fanboyism too)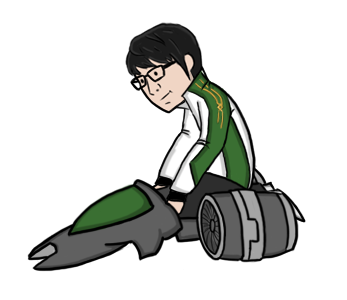 Mustaju's complaints about the SPL macot were silenced now that he has his own Bogus Vulture to compete with the obviously superior Bisu Pylon
This Proleague update was brought to you by Team Liquid's SPL 2011-12 R2 coverage team - riptide, HawaiianPig, Kiante, mustaju and SirJolt, with guest writer Carnivorous Sheep. Special thanks to Simplistik for the standings tables and fishuu for the art. See you all next week!