---

By flamewheel, Milkis, swanized and tree.hugger

Good evening, gathered netizens of Teamliquid. I'm sure by now you're all wondering "where did the Proleague team go?" No, we (actually they, since I'm technically not part of Proleague?) are not dead, we've just been hard at work pushing things back! I hope you've got nothing to do for the next foreseeable period of time, since this is going to be quite a long post to read. I mean, just look at the "Special Features" minibox.

How am I supposed to come up with enough filler text to make the formatting not wacky?

Anyway, we apologize for the severe lateness of this post, since the last Proleague update was more than three weeks ago, and that was the Week 2 Review post! Keeping that in mind, as you read through this some of the material may be ever-so-slightly outdated, but at the time it was written it was well in context!

In this post, we've got brilliant battle reports, heartwarming homecomings, shoutouts to Soulkey, Protoss power, amazing [map] analysis and hastily-made predictions that fail to hold to alliteration. Normally, this introduction would be used to spit some mad lines or give a little preface to everything that will follow, but I think the following articles will more than be able to stand by themselves.

Let's take a look at Round One!

First off, let's have a final look at the overall standings. Did your favorite team do well this round? Or did they fall off the face of the worldSouth Korea?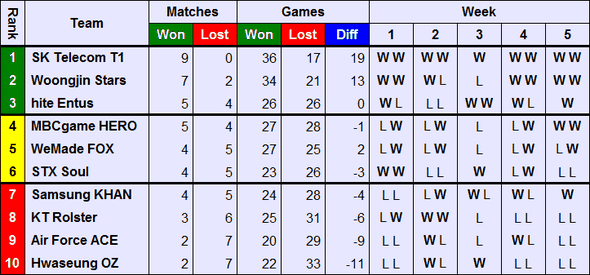 Final Standings After the First Round.


We've got loads to say about this pretty interesting graph. Furthermore, check out the full R&S thread here. Major, major props to Simplistik for creating some pretty sexy graphs and for being very, very detailed. Keep it up!

Anyway, let's talk about the teams. Here's Milkis with an overall look at how the ten teams fared.



Round One Recap
By Milkis

There was something odd about the first round of this Proleague, and it isn't just related to how many games players in Hwaseung Oz
Hyuk
'd away this season. From SKT's clean sweep, to Plains of Protoss, to the technical errors that plagued the games this round, there's no doubt we've had one interesting round.
Despite how smug SKT fans are right now, some congratulations are in order -- after all, SKT has managed to pull off something no other team has ever done before -- pull off a perfect round, a feat much aided by the fact that we only had 10 teams this season. Of course, much to their credit, they've done a fine job reviving
Bisu
from the dead while keeping
Fantasy
and
BeSt
in fine shape, managing to hold on while SKT Zergs oscillated once again towards the "we may actually be decent" period.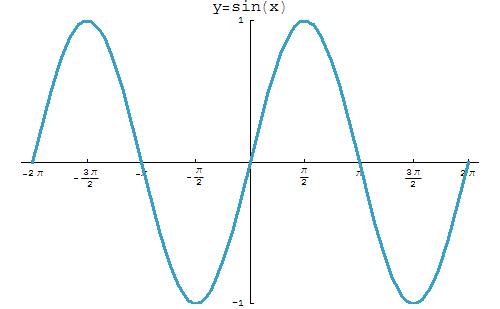 The Sine Curve, a rough estimate of performance of SKT Zergs. My current theory is that they have a period of about two rounds.
There's no doubt that SKT is one of the strongest teams right now, as with their 3 A rank players, they would be able to bring the game to the ace match even without considering their highly variant Zerg lineup. Bringing SKT to ace match proved to be a difficult task for many teams, with only KT and Woongjin being able to bring SKT to Game 7.
Speaking of KT Rolster, KT had somehow degenerated into a one man team this season, despite adding on
Action
, one of the most hyped Zergs from last season. While
Flash
still proved that he's in god mode with his 9-1 record, the rest of the players failed to pick up the slack -- no other player other than Flash had over a 50% record, with many of the players such as
HoeJJa
and
Tempest
failing to pick up any wins this round. KT seems to have been really damaged by this best out of seven format change, much like Hwaseung, who is suffering from similar symptoms, as
Jaedong
's dominance is now supported only by a slumping
HiyA
, mediocre
Killer
, and
PerfectMan
who clearly got too complacent after his initial 4-0 streak. KT and Hwaseung will both likely need to depend on Winner's leagues to carry their team so that they may have a chance of making the post season this year. Luckily for them, there are two rounds of Winner's League this season, a fine feeding ground for the only two S rank players in the league currently.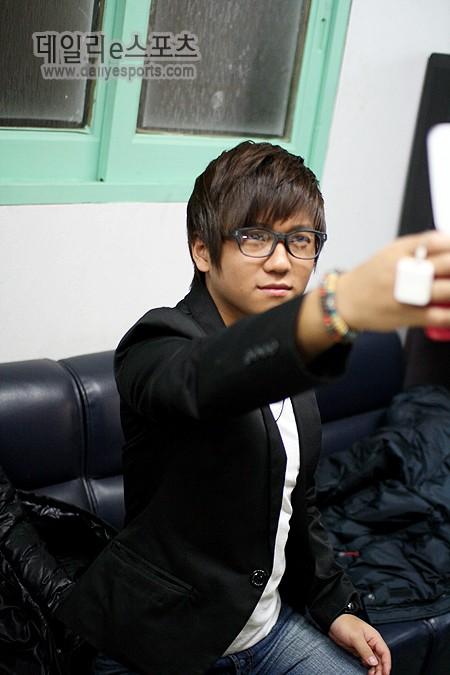 Killer decides he is too good looking to practice as hard as Jaedong, and prepares to become a KPop star instead
Of course, Woongjin played extremely well this season, as
Really
started picking up steam after his initial slump. The addition of Really to the already fearsome lineup of
ZerO
,
free
, and
SoulKey
will make Woongjin one of the most dominant teams this season, and there's little doubt that Really can finally learn to deal with his achilles' heel of TvZ practicing amongst Soulkey and Zero. Woongjin is a fine contender for first place, as they seem to be the only team that can currently take on SKT.
The performance of Hite Entus this round was rather disappointing. While
Snow
had picked up the role of team's ace, his spark of genius he seemed to have last season seemed to have all but disappeared, although this may be due to the novelty of the maps. Meanwhile,
Leta
seems to be rather underperforming, as he's still adjusting to his new environments. While
Horang2
may be currently performing well, he can no longer rely on easy wins on Central Plains as the map is being replaced with Bloody Ridge. All in all however, Hite is a team with a lot of potential, and there's no doubt that they will be picking up steam as Leta begins getting his game in gear.
Hite went 4-1 in the last 5 games, a sign that many teams will be going DOWN next round.
The success of WeMade this year would highly depend on the performance of
Pure
. While Pure has utterly dominated PvPs this round, his performance in the other matchups makes you wonder if you're watching Proleague or a random C- ICCup game (How does one lose to
Modesty
, and how does one lose to Modesty THAT BADLY?). Other factors are how well
BaBy
develops as a player -- he showed signs of growth last season, and albeit a bit more shaky this season, he is off to a good start. In the meanwhile,
RorO
and
Shine
had both performed rather well, as they have last season.
In the meanwhile, MBC, STX, and Samsung Electronics seem to be suffering from similar diseases, as one of their star players seem to be thrown into a deep slump.
Light
,
Calm
and
JangBi
are all underperforming, some even to the point where many of just believe they don't have it anymore. While some players such as
Jaehoon
,
Bogus
,
TurN
and
Brave
have stepped up, their consistency is in question, and the success of the three teams will depend on how well their stars perform once again.
Ace seems to be in deep trouble this season, as they are the team that is having the most trouble with the transition to a best of 7 format. Simply put -- they don't have enough players to prepare for best out of seven games, as they had enough trouble preparing for best out of 5 games. While
Iris
will be joining the struggling team soon,
YellOw
will be leaving the team in a few weeks, making their future unclear. Will
ggaemo
and
firebathero
be able to find their groove? We'll only be able to tell in the future rounds.
This man has hit nirvana -- after all, they can at least beat Hwaseung any day.
There's one thing I hope that doesn't come back next round though -- technical errors the one of them. The season was plagued with them it seems, from monitors flickering out, Windows going in a BSoD -- all these unfortunate delays that frustrate the fans who actually made a commitment to watch a BO7 match live. There was also two default losses given out this season -- once to Backho, who apparently used up his get out of jail free card, and lost the game due to pausing without ppp, and once to Ruby, who exited before the game started against Flash. We hope that nothing like this happens again this season.
---

But enough about the teams, let's take a look at the games! Or, to be specific, one certain game, the one that we've dubbed "Game of the Round." Here's swanized to take you through the magical wonders of late game TvZ. Mech imba!



Game of the Round: Neo.G_Soulkey vs Sea
By swanized

The game kicks off on circuit breakers, Soulkey spawning at bottom right while Sea spawns at top left. Soulkey opens up with a 12 hatch while Sea takes a risk and goes for a 14 CC. Sea adds on a 2nd and 3rd rax and moves out to pressure Soulkey's 3rd which is located at the top right main. Soulkey stalls Sea's advance with his muta/lings yet cannot put an halt on Sea's inexorable advance, slowly Sea's units move up the ramp and find the 3rd and at the exact same time the lurkers finish morphing, soulkey finally defeats sea's forces with his mutas and his lurkers. Yet Sea, unfazed, immediately moves out from his natural with about 2 control group of bio, 3 tanks and a science vessel. Simultaneously, a dropship leaves sea's base and heads for Soulkey's 3rd. Sea also adds an armory to prepare his mech transition. The drop is easily cleaned up by a few lings and the remaining mutas but the tanks siege at the natural and start hammering down the sunken line. However, Soulkey flanks Sea's forces beautifully with his lukerlings and destroys all the tanks, neutralizing sea's push.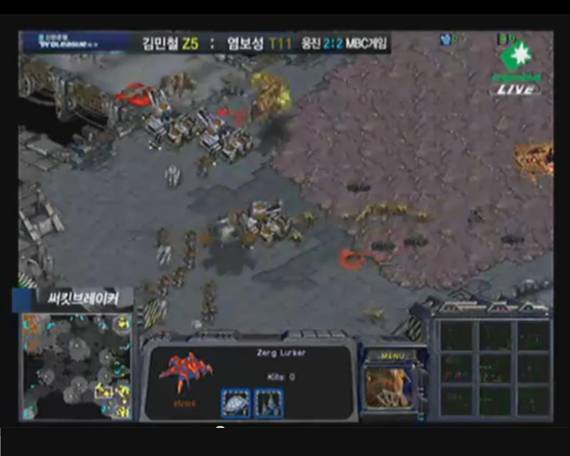 Beautiful flank.
Sea tries to expand to the top left main, yet soulkey notices and instead of cancelling the expansion burrows 4 hold lurkers on top of the ramp. Sea tries a bio/vult push toward Soulkey's 3rd and 4th base but is repelled by Soulkey's newly morphed defilers. Meanwhile the hold lurkers slaughter a control group of MnM that were moving up the ramp to defend the expansion and sea is forced to cancel. Sea tries to double expand to the 9 and 12 o'clock but a ling counter forces the 12 o'clock to cancel. The 9 o'clock nevertheless goes up without a problem. Soulkey makes a few small push on the MnM ball in the middle of map and makes a lurker defiler drop at the 9 o'clock, forcing a lift.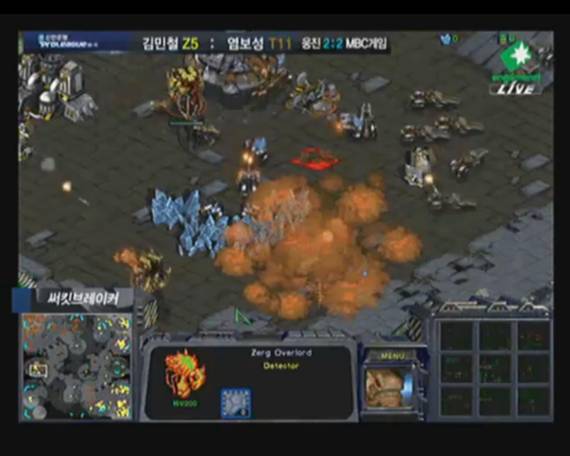 Nice lurker drop.
More skirmishes happen between Sea's vultures and soulkey's ling army, Sea manages to destroy a morphing expansion at the top mineral only and tries to destroy soulkey's morphing base at the 6 o'clock but is repelled. Soulkey starts adding on a few hydras in his unit mix and tries a push at the 12 o'clock but sea's tank line holds.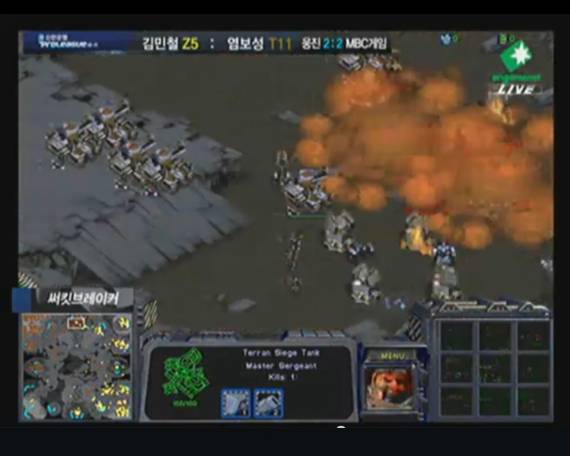 Tanks reign supreme!
Meanwhile, sea's vulture manage to take down soulkey's 3 o'clock and sea engages the 6 o'clock with a large tank and goliaths force, soulkey stalls the attack by streaming hydralings with darkswarm support but sea brings in more troops and sieges up on the high ground leading to the 6 o'clock. Soulkey tries another ling counter at 12 o'clock but is repelled easily while sea's tanks leapfrog forward to try and finish 6 o'clock but an hydra/ultra/ling force come out of nowhere by soulkey and crushes sea's push, miraculously saving the 6 o'clock.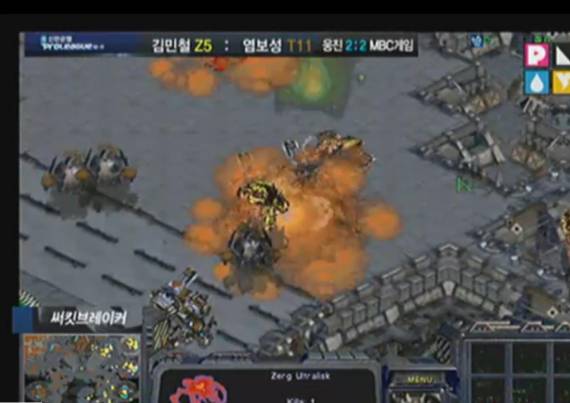 Ultraling comes out of nowhere and saves the day.
Having finally secured a little bit of breathing space by fending sea's constant aggression, Soulkey tries to break Sea's huge tank line at the 9 o'clock but his attack is repelled. Soulkey masses his forces once again but heads for the 12 o'clock this time but sea's defences hold once again.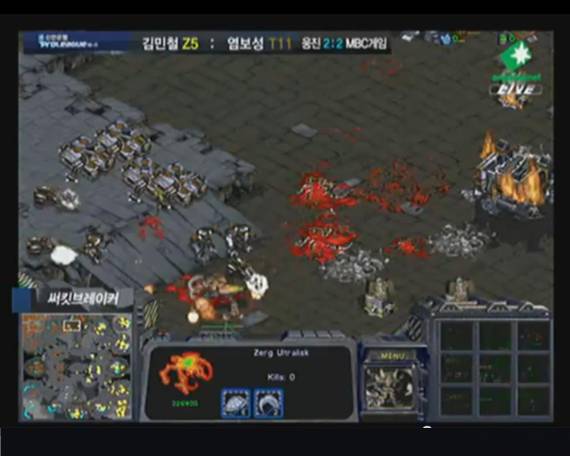 Tanks reign supreme once again.
Meanwhile Sea lands a CC at the bottom left natural, soulkey moves out with a HUGE army and assaults sea's tank line at the 9 o'clock again, his forces are defeated but made a dent in sea's ironclad defence.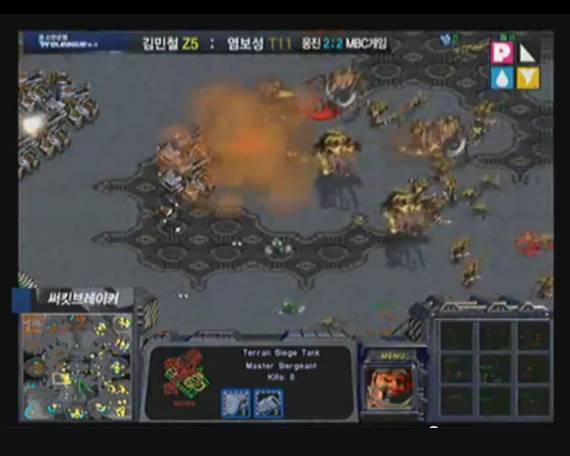 The tank line holds but takes heavy losses.
Soulkey macroes another round of unit and launches a 3rd assault on the tank line, breaking the lower half of the line, soulkey opens up a bloody path toward the bottom left natural, Sea is forced to unsiege a part of his tanks to defend one of his last mining expansions. However, that is only playing in soulkey's game like a puppet , with the tank line split up , soulkey can launch an assault and trade his army for the remaining part of sea's mech ball. Souleky then drops 16 hydralisks at the bottom left main and destroys it easily, finally, he hammers down the last nail in the coffin with a huge push that finally breaks the 9 o'clock, working his way up toward the main, Soulkey finds little resistance and Sea is forced to type out.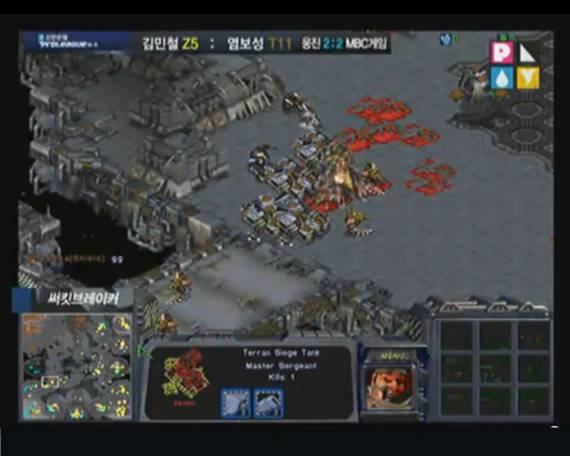 Geee Geeeeeee wahhh Eee Je Donggg NEO.G_BONJWA
From Soulkey's brilliant defense of the 6 o'clock to sea's constant aggression and beautiful mech army usage, this game simply demonstrated perfectly how a late-game TvZ should be played. Such a strong showing by both players earn this game the Game of the Round award.
---

Since we're already on the subject of Soulkey, swanized has an additional artice (written a few weeks ago but still great) that's part fanboyism, part hype, all awesome. Read on about the Neo.G_Bonjwa.



My Soul to Take
Also by swanized

1..2..3 STX FIGHTING!
1..2..3.. WOONGJIN FIGHTING!

Both players step in their booth and start their warm-up under their teammates anxious gaze, this is no random proleague game, this is the 2009 winners league play-offs. 4th ranked team woongjin stars face the 3rd team, STX soul for a chance to fight MBCgame in the semi-finals. Woongjin's first man, MVP is sent out to snipe Kal on fighting spirit. Yet after 30 minutes of an intense TvP, Kal is the one who marches out of his booth victorious. Woongjin fans ponder, whom of guemchi, free, zero or Kwanro is to be sent out to kill the red shuttle? After a moment of reflexion, with a slight pat in the back, Woongjin's coach sends in his man to the booth.

On March 20 2010 13:47 swanized wrote:
Who the fuck is that?

On March 20 2010 13:48 Jaksiel wrote:
What in the fuck? So now one of Zero, Kwanro, Free isn't playing tonight? This completely baffles me.

On March 20 2010 13:49 okum wrote:
I wonder if Woongjin have forgotten that this is the playoffs. Maybe they think it's just the last regular set, and since they won't win WL anyway, they can give their worst players some experience.

Neo.G_Soulkey, an unknown Zerg player, is sent out by Woongjin to take out Kal, an already established player and STX's ace.

And the game kicks-off on roadrunner. An hydralurk contain later and it's over; Kal types out.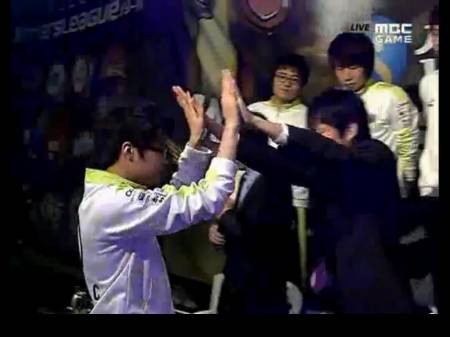 As does modesty.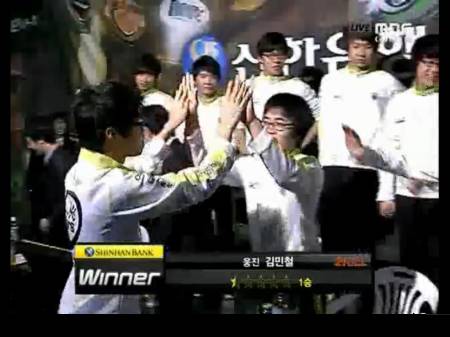 Likewise, Hero.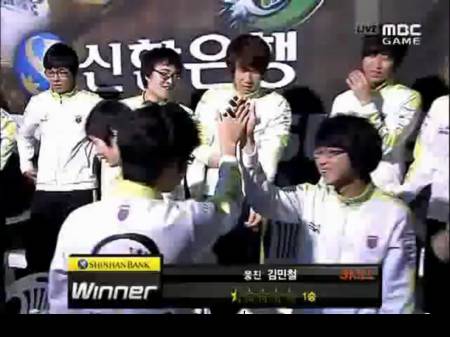 And finally, Calm.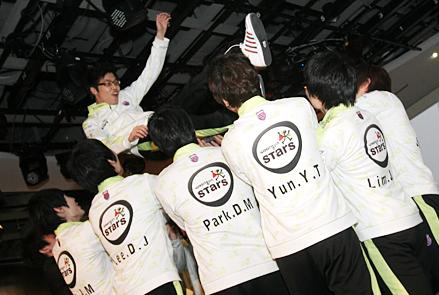 And like the tiger falling down on his prey, soulkey fell down on the starcraft world in one clean and decisive all-kill. Following this memorable night, Soulkey entered woongjin's regular line-up, earning a very respectable 17-10 record for the 2009-2010 proleague and the STX masters. What's most impressive about this record is how constant soulkey has been for woongjin. Since the 20th of march 2010 (WL play-offs), SoulKey has never lost more than 2 games in a row.
Daeinbae's child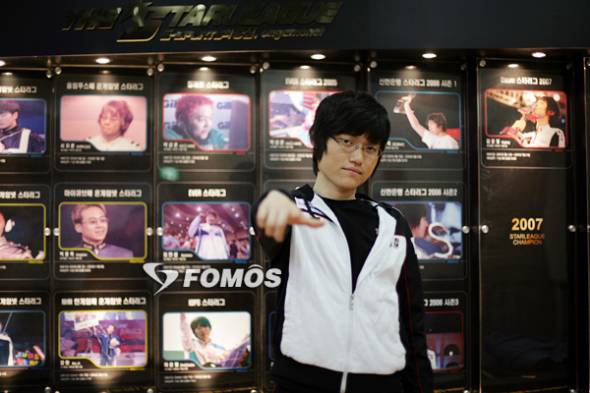 Awaken my child, and embrace the glory that is your birth right.
Even more impressive then that however, is how much soulkey improved over the last few months. Remember that game on GrandLine where SoulKey let Flash take all the expansions on grandline? Fast-forward now and watch SoulKey obliterate Sea's (imba) late-game mech transitions on GrandLine and on circuit breaker alongside with his dismantling of Midas on empire of the sun. Simply put, over the course of the last few months, SoulKey has stepped up and became the strongest late-game zerg player of this young season
I even am going to go ahead and compare SoulKey to GGPlay, Daeinbae, the Gentleman. Back in 2007, GGPlay shook the Starcraft scene by suddenly taking the Daum OSL after 4 consecutive Round of 16 loss in the OSL through his flawless late-game managment. GGPlay microed his mutas beautifully, brilliantly defended terran's midgame push, and was simply unstoppable as late-game came around. SoulKey is currently giving me the same feeling then GGPlay used to, he uses his mutas like GGPlay used to, he defends midgame pushes like GGPlay used to and more importantly he has a late-game as good as GGPlay's. Coincidentally, they both happened to be on woongjin at the same time.
As Sea already showed us twice recently, I don't think any terran has what it takes to take on SoulKey in a late-game situation beside Flash and Light (non slump-mode light that is). While not quite at this level yet, SoulKey's ZvP as shown considerable improvement lately as his recent games against shuttle and Stork showcased and will for sure get there.
Just like the GGPlay/Free/Daezang chimaera once did, Soulkey free and Zero are dominating proleague, with Soulkey breezing through the MST 2-0 in dominating fashion. However, his one shortfall this season so far has been falling prey to Magikarp's splash attack in the OSL Ro36, but hey, that doesn't make him any less awesome at all.
Plus, HiyA's a baller. O:
Neo.G_SoulKey is the storm that is about to shock the starcraft world, who's falling before Neo.G_Bonjwa's relentless assaults? The tyrant? The ultimate weapon? There is a monster emerging from his chrysalis, it's quite a sight to behold.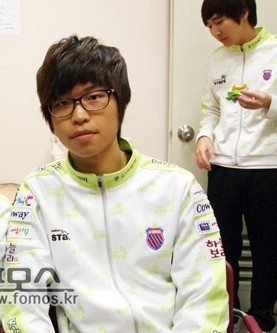 Neo.G_Badass.
---

But this isn't just a season of new players. As the next couple of articles will discuss, 2010-2011 is also the year of homecoming, of reckoning. Of rebirth, revitalization, and domination. Also it's about the Fall. What an awesome season.



Homecoming
By tree.hugger

Among the new crop of legal issues

that sprung up

this round, as well as the hype surrounding the Clare—Zergbong battle royal, it's understandable if you passed over the release of the

November team rosters.

But, of course, that's why we're here, to catch the stories that slipped through the cracks, and recycle them for you; piping hot and tied with a bow.

So... let's see here... there can't be too many young kids getting into BW at this point can there? Hite Entus added some zerg named
SonGDuri
(who the hell?) and demoted
Rush
(Aww) and
Fake Mong
. Hwaseung dropped
Eun
and
Speed
(Whatever) and added
Dear
and .....
Wait a minute.
Anytime?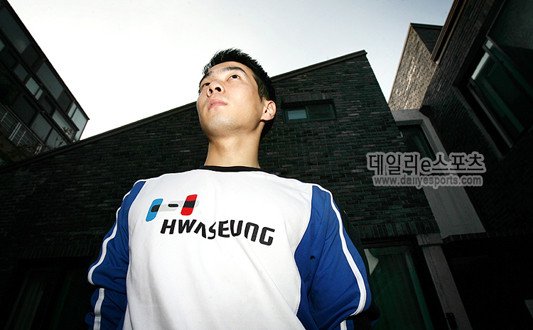 YEAHHHH
Yes, that's right,
Anytime
, the Death-God-Sashin-Toss, came back this month home to the team where he spent his better days. And not only that, but he immediately assumed the captaincy of Oz, providing much needed relief for Jaedong, and providing a much needed shot of gosu into Oz's line of inconsistent protoss players.
Well there couldn't be a better pick-me-up than that, can there?
Hold on... there was one more name there...

Mind = Blown
Throw your hands in the air
,
pop open the non-alcoholic champagne
,
fire up the grill
, and
put on your favorite cheerleader
, because it's time for
homecoming.
! Two BW legends put their mandatory military service behind them this month and rejoined their long-lost comrades in arms.
What this means for the teams and for the scene in general seems difficult to guage, but the potential is huge. Anytime's influence at Oz was likely immediately felt in a lightening of the load on poor Jaedong's shoulders. Of course, it always seemed natural that since Jaedong
was
the team, he might as well captain it, but in actuality it seems to have put an unnatural toll on the tyrant. Having a revered hyung around to manage things and pitch in when times are tough should be exactly what the team needed after having lost it's coach over the summer. For KT, things looked to be going swimmingly but the protoss line's early season struggles have manifested themselves in a stunning losing streak. Reach got plenty of playing time on ACE, and could pitch in and play if needed, but his role as a
man-tor
to an under-performing Stats and Violet could turn things around in a big way for those two in the second round. And while things have not changed greatly since the beginning of the month, it's worthwhile to remember just how much time player development, and team turnarounds can take. Recall how long it took to lead Flash out of the starleague wilderness, how Bisu's turnaround last year was slowly and painfully brought about, or how Wemade broke out of it's shell in the past season.
More importantly, the return of these two greats is a desperately needed appreciated injection of life into the scene at a critical time. The return of these two legends bolsters the chances of two of the greatest teams in BW, and gives fans a huge reason to cheer and tune in. After all, who wouldn't want to see these two ballers in action and with actual hair? Not only that, but Reach's legal advice (Read: Fists) may be an important factor in the pending litigation over professional Brood War. And it's yet another reminder that the history of this scene is one of it's strongest assets. To see Anytime and Reach years later, as leaders of the community is a testament to the strength of the bond between the players, teams, and the fans that has only continued to grow.
---

And now, the part that Protoss, SKT, and Bisu fanboysgirls have all been waiting for. Kim Taek Yong, who I'm going to start calling KTS again if he keeps this up, is this season's dominant champion. tree.hugger has the story.



Legend of the Fall (Of at Least one Legend)
By tree.hugger

On the 8th of February 2009, protoss was in its ascendancy—perhaps the one and only time in BW history when this was the case—and
Bisu
and
JangBi
, the two best protoss users of the day squared off in a dramatic Bo5 for the GOM Classic Season 2 finals. Against this backdrop, Bisu prevailed by a score of 3-1, winning some cash and a trophy, but more importantly reclaiming the undisputed leadership of his race, and seemingly solidifying a new paradigm for the game. For around a month, it seemed to all be falling into place. Then, on the 20th of March, Bisu was decimated by the dynamic play of fantasy in the semi-finals of the Batoo OSL, and the following day, JangBi was brushed aside by a supremely assured Luxury in the Lost Saga MSL finals. In the span of two days, the two harbingers of protoss were humiliated in tournaments they seemed favored to win.
And suddenly, it was all over. JangBi's decline was precipitous, losing immediately after to a 13 year old BaBy in GOM, and a slew of games in the following weeks. From a 62% (109 - 66) winning rate in his career before the MSL finals, JangBi has since won just 46% (56 - 65) of games since. Even more dramatic, JangBi's signature PvT collapsed from a stunning 71% to an anemic 42%. Bisu's fall was more subtle as he holds a strong 66% winrate since his loss. Yet Bisu has never again made it past the Round of 16 in a starleague, and his play has long been characterized by tremendous inconsistency. In the beginning of this year, Bisu suffered a colossal breakdown across the board. Furthermore, questions about his ability to beat top level terrans persisted throughout most of the year, even as SKT's coaching staff seemed to have staged an intervention which averted the same disaster that plagued his one-time rival. (It suggests itself that JangBi might have avoided his massive decline had he had the same support that Bisu has had.) Nonetheless, neither player has ever come close to the heights they had achieved when they played their last series together.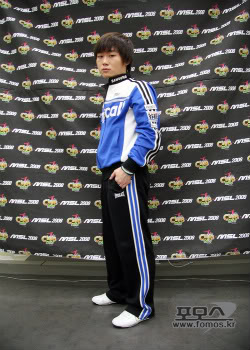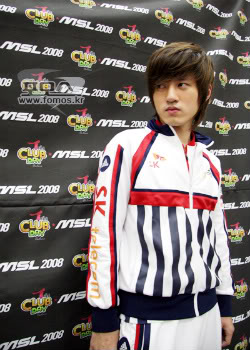 Where did it all go wrong?
So why bring this all up now? This season, from October to November, has highlighted both of these players more so than any since that fateful February and March in 2009. Yet this time, everything is different. There is no greater gulf in results than between Bisu's 15-2 resurgence, and JangBi's 1-11 implosion. Two protoss have diverged in the woods, and for once, there's little doubt as to where each one is going.
Bisu once more looks like a force to be reckoned with, and has handled protoss, zergs, and terran with poise. His sole losses came in the little-pressure wild-card finals against Kal, and he dealt with his subsequent Survivor qualification easily. And while it may yet be too early to declare Bisu among the favorites to take a title, Bisu fans now look forward to his subsequent appearances, rather than dreading them. A test remains in Bisu's OSL group, which carries the ever-dangerous Shine, but this writer feels that Bisu is once again more likely than not to pull through.
There is simply nothing positive left to say about JangBi. If it weren't for a random and confusing win against HoeJJa, JangBi would have lost twelve consecutive games and would be
knocking on the door
of
JinNam's consecutive loss record.
But we don't even need statistics or superlatives to describe quite how bad JangBi looks right now. There may not be a player in the game whom I would favor JangBi against. Even Jaehoon is playing miles ahead of him. There comes a time in every progamer's career, when they must cross the river Styx, and give themselves up to
the great starcraft void.
For JangBi, that time may be very soon.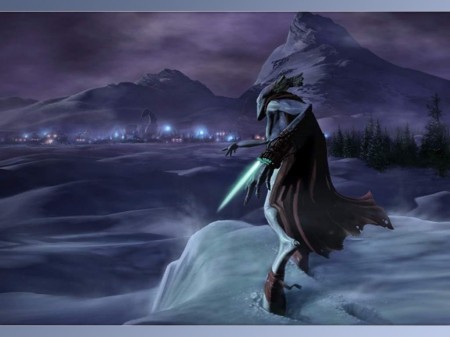 Pictured, JangBi staring off into the distance, or some Sc2 concept artZeratul.
As we move on to the second round of proleague, its worth following these two players. Their destinies; intertwined for a crucial period have unraveled, leaving each player to chart their own course. Amidst the uncertainty of the present situation, the divergent tales of these two protoss are perhaps the most certain thing we have right now. It seems likely that these trends will moderate somewhat, but the overall direction should largely be the same. And ultimately, that will dictate the futures of these two greats. A long awaited starleague finals? Retirement in Starcraft 2? And perhaps (just perhaps)
something even more momentous?
Stay tuned.
---

As I'm formatting this massive post, I realize everything seems to fit nicely together. For instance, what's coming up next was meant to be a GOTW for whatever week it was written for... but now since we're on the subject of Bisu I guess I can just put it in here. Enjoy!


Revitalist Revolution
great vs Bisu
By swanized

Game kicks-off on Icarus, Great going for a 12 hatch at 6 o'clock, while Bisu opens up with a standard fast-expand at the 3 o'clock. Great takes his 3rd base at the left main's natural. After a hero scouts sees no incoming hydra bust, Bisu adds on a fast robotics facility and robotic support Bay and prepares to play sair/reaver. A really sexy play on icarus considering the short air distance and the juicy spots for reaver drops. Meanwhile, Great takes an expansion at the 9 o'clock main. Bisu tries a reaver drop at Great's main, while expanding at 4.5 , but is met by a readied defence.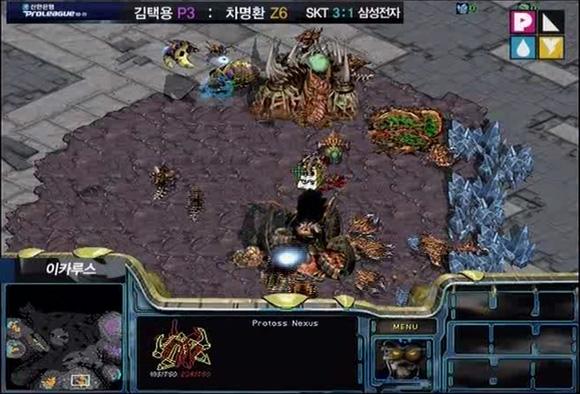 Great's readied defense.
Great tries to take down Bisu's 3rd but is easily repelled by zealots. He then moves up toward the natural but is once again blocked by canons/zealots/reavers. Gathering his whole hydra force in the middle for a powerful assault, Great unexpectedly meets Bisu's charging zealots in the center of the map. However, Great beautifully snipes the shuttle and the reaver, quickly surrounding and slaughtering the remaining zealots.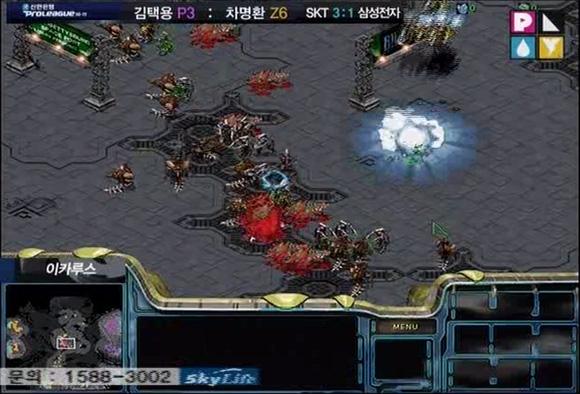 Reaver is sniped (blue explosion) and zealots easily are taken care of.
Trying to capitalize on his advantage, Great morphs lurkers and makes a hydralurk drop in Bisu's main. However, Bisu pulls off a Jaw-dropping defence, delaying first with zealots, then cannons until his reaver spawns, losing nothing but a single pylon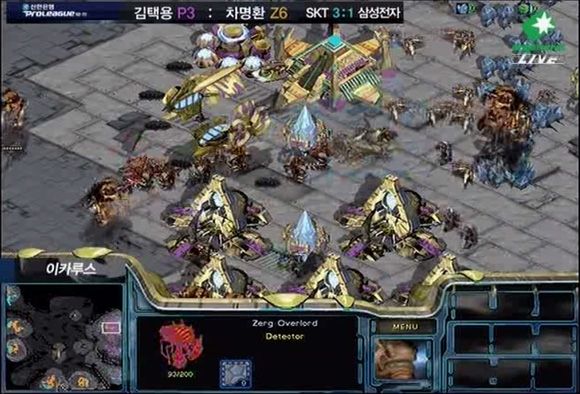 5 lurkers and 6 hydras...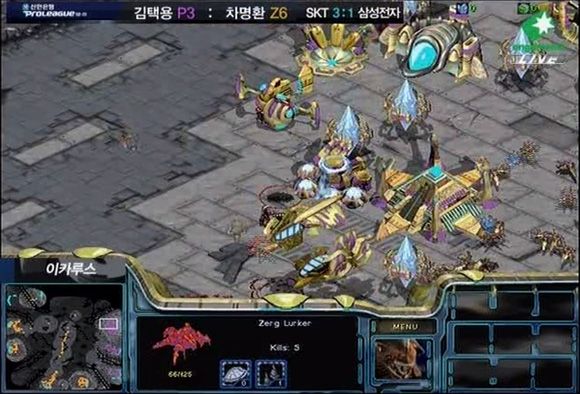 ...Manage to snipe a pylon...
Great pulls off a lurker drop at the high-ground pod next to the natural's mineral line and manages to snipe a reaver and 7 probes. Great starts massing his hydralisks in front of Bisu's natural to try and deliver the finishing blow but Bisu moves out with a perfect timing, hitting Great's army while his lurkers are still morphing and terminating all 6 lurker just as they pop out, and most of great's army while he's at it.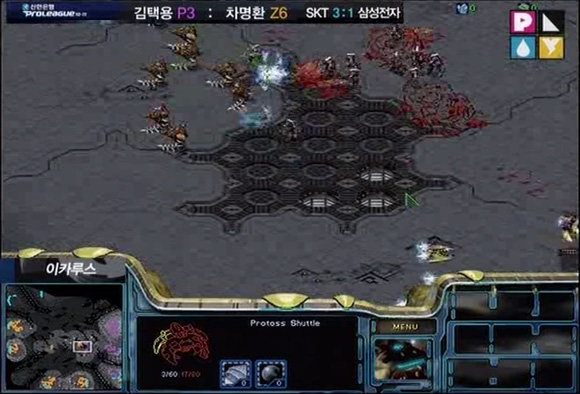 Perfect timing on the attack.
Bisu moves out toward Great's natural but Great drops 2 lurkers at the 3rd, delivering a swift death to all the probes mining there. Great drops the lurkers at Bisu's natural but Bisu Balls it up and attacks great's natural nevertheless. Great somehow defends the attack but loses his natural's hatchery in the process. Bisu moves out toward Great's 3rd base and kills all the drones there while great drops lurkers at the 3rd again. Stopping mining there.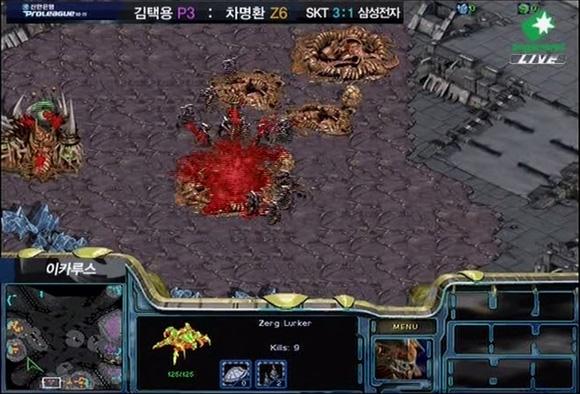 Natural is taken out.
And as the atmosphere gets tenser, the blows become fiercer and the pace quickens. Storm drop, lurker drop in the main, drop at the third, another storm drop, hydralurkers dropped in the main, both players, dance a deadly ballet. Yet, with every step the Assassin's blade is closing in on his opponents throat and Bisu finally takes his opponent for a final dance when he reaches Great's natural with a large zealot/archon force. With his army too occupied destroying stuff in Bisu's main to defend in time, Great is forced to type out.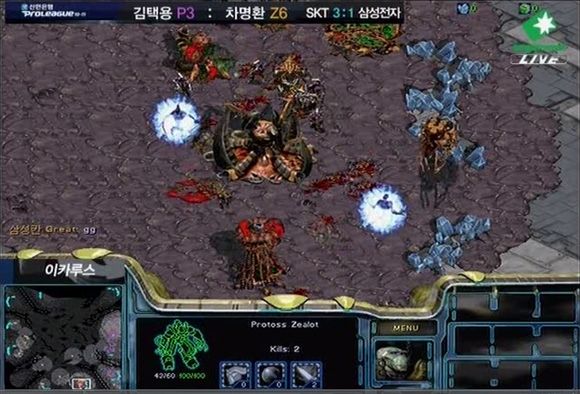 Gee Gee.
---

I need a nap. Let's talk about Benzene! Such a cool map.


Map Analysis: Benzene
By swanized

MatchPoint 2.0?

Taking a quick glance at benzene, one can't help but notice how similar it is to matchpoint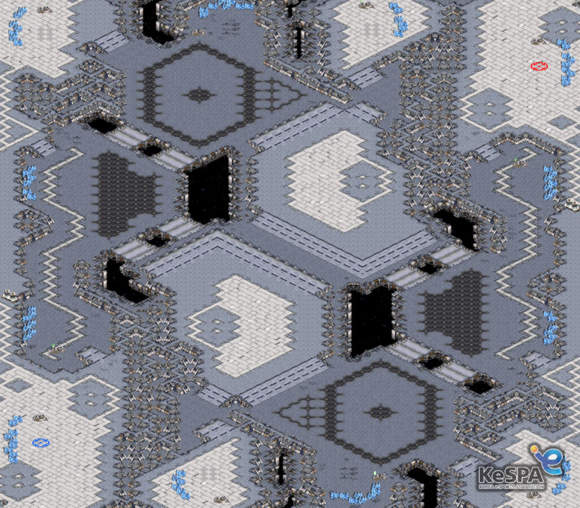 Benzene.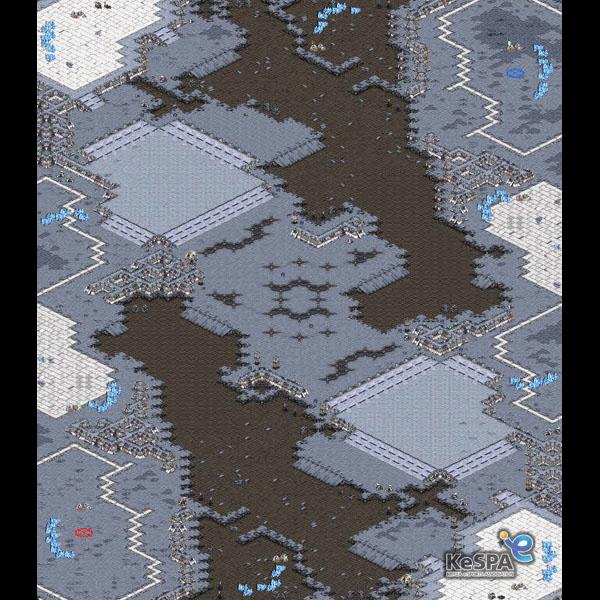 Matchpoint.
Yet the truth is, Benzene and Match Point, despite a very similar layout, are both fundamentally different maps with a completely different dynamic that is unique to each. If we first take a look at Match Point, what was the most noticeable feature about this map?
Surely it is how important controlling the high ground pods (Pod A and Pod B) . Holding your pod gave you...
a secure 3rd gas at 10.5

secured the mineral only

made attacks on your natural a nightmare to pull off

Check out those weaker defensive positions.
How does this apply to Benzene?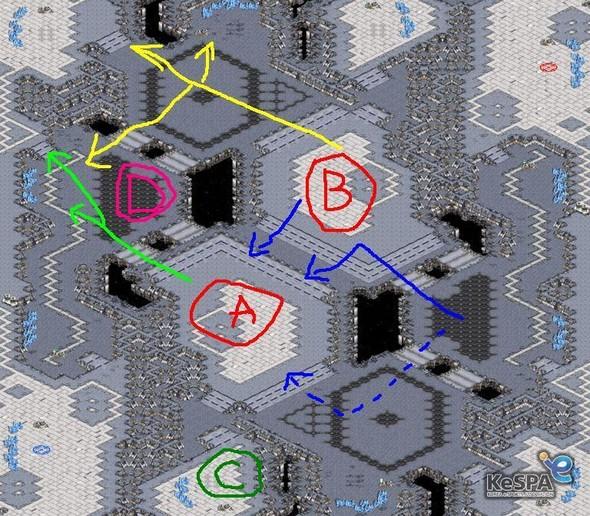 Truth is that because the pods are located in the middle of the map instead of right next to your 3rd and 4th, holding the pods on benzene is far from being as useful as it was on MatchPoint, If Player 1, spawning at the bottom left side of the map, tries to hold Pod A, the only defensive advantage this gives him is an easy 4th gas at area C, as illustrated by the yellow arrows, Player 2 can run downhill from pod B and attack the top left base, the 12 o'clock base and even the mineral only, which is going to be awkward to defend considering Player A needs to cross the double bridge to get back into area D (green arrows), reaching top left expansion to save it also is nightmarish considering how narrow the path is.
Securing pod B instead of Pod A sounds like a bad idea considering player 2 can then push into the min-only, natural and top left using the path marked by green arrows.
Another important point to note is that matchpoint's pods were significantly smaller then Benzene's, in fact, on a 640x480 picture, I calculated that Matchpoint's pods were 3.5 x 3 cm while Benzene's are 5 x 4 cm. Of course this is critical since taking the pod from your opponent using the blue arrow path, is made a lot easier now that they are so big, how many times have you watched an army of infinite hydra/ling taken out by the mech ball on top of matchpoint's pod?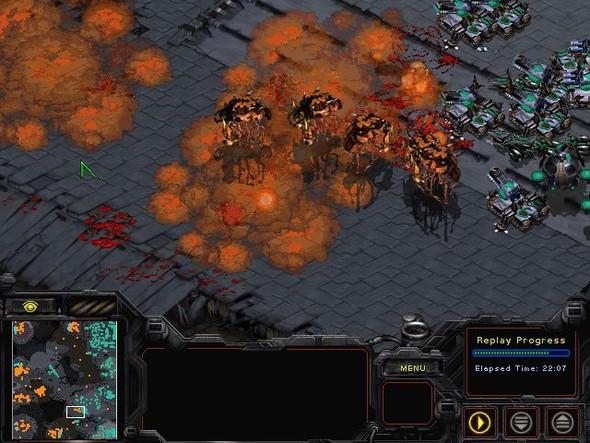 Never again.
Attacking the pods from both sides also is made much easier on benzene considering how much more effective attacking through the dotted blue line is compared to matchpoint's alternative.
Check out those very strong offensive positions.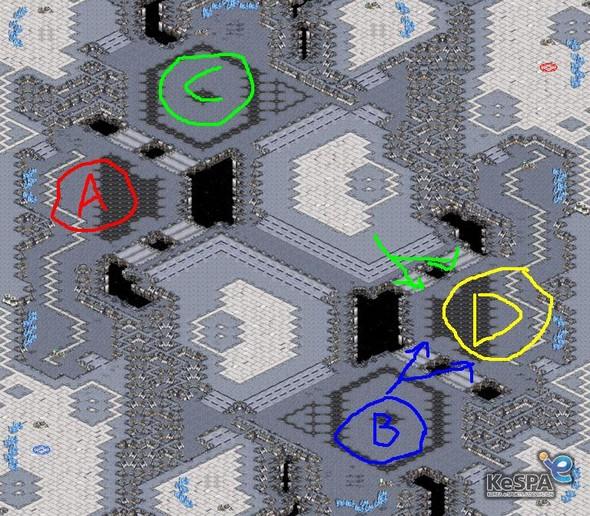 If they don't defend anything what's the purpose of Benzene's pods? Whilst on MatchPoint you took the pods with the objective of establishing a strong defensive position, Benzene's pods are taken with the objective of establishing a strong offensive position. You will be using the pods to attack downhill into area B and area C. Taking control of your opponent's pod lets you cross the double-bridge while going downhill, making access to area A and D a little bit easier. I actually think everyone should open a ZvP vod on Benzene and watch the mini-map to see how ridiculously good progamers are at abusing the control of the pods to be aggressive and in their opponents face all the time.
Overall, while MatchPoint favored defensive and static plays a lot, Benzene favors offensive and dyamic plays a lot.The layout is similar, but the mentality is totally different. Both are great maps but Benzene certainly is not Matchpoint 2.0.
---

Whew... I think that's pretty much it. Did we forget something? I'm sure we have. Don't think that this is everything that has transpired this round. TurN's rise is definitely something left out. Check out this thread here and add your own memory of this first, epic round.

Oh yes, soccer. Just one (of two) last things I want to bring up...

KeSPA Soccer! Worth a read if you've missed it. Check out that insanely cute picture of ZerO.

LAST THING. PREVIEWS TIME GO GO GO.
Incidentally this is what I started out writing for PL... Something something about full circle. I'm ready to go to sleep! Sorry these are going to be short and to the point.



Previews (Round, Week 1)
By flamewheel

Stork vs Sea! Also, maybe we'll be seeing Light perform better... but more importantly, will Jangbi break out of his slump? To me, this is going to be the true test of whether or not TurN is overhyped or not. I want to see him matched up against Sea, and hopefully an aggressive TvT will ensue.

It's all about the matchups, still very reminiscent of how CJ was last season. Even without Cho though, they're doing pretty well. I can see a lot of good matches coming from this, with an aggressive and fast-paced TvT between BaBy and Leta, Snow vs... any WeMade Terran, Pure versus Horang2 in a storm-filled PvP... Hopefully this match goes to Ace.

Last time these two played, I was pretty sure KT would win. Neither team is doing pretty well, so let's see who will finally get some momentum. KTFlash should start performing better, hopefully Tempest can pick up a win, and let's see if Kal gets unlucky (as always) and draws Flash again.

I REALLY want to see fOrGG vs Clam man, you don't know how much.

Isn't ACE on a three-game winstreak vs OZ? Poor Jaedong

Very, very much looking forward to Soulkey/ZerO vs Sea/Light. For some reason, I feel like Jaehoon is going to be pivotal in this match.
I really don't think FOX has the power to stop T1 right now with the way the teams are playing. Depending on the matches, this could either be very one-sided (who's gonna Deep Six BeSt this time?) or it could be pretty close. Bisu vs Shine again go go go.
Last time these two played it seemed pretty close, with ACE taking two games. However, I think Hentus is more in form now, so I fear for the men in blue. Hopefully the "new Ace player syndrome" as my roommate has dubbed it continues and ACE players continue to do well. One can dream.
STORK VS FLASH. Think about it. If Stork wins, he has a winning record against both Jaedong and Flash. Sexy.
OZ vs Stars gave a great match last round, ending with an amazing ZvZ between Jaedong and ZerO that broke Jaedong's ZvZ streak. Hoping for another good match this time, especially with OZ players not failing hard.
There are so many good matches that could be brought out of this. Perhaps Shuttle vs BeSt? Bisu vs Calm was played last round, so I'm hankering for some Bisu vs Kal, since those matches are always hilarious. Either way, I still don't see SouL taking this, but perhaps Calm can shoot some goals to help SouL out, with by.hero on his wing.
---

Bam we're done. Move over SCII, Brood War coverage is back! Get ready for another exciting round of Proleague, and let's hope for some great games.

---
This Proleague update was brought to you by Team Liquid's PL 2010-11 coverage team -- flamewheel, Harem (what a cute zergling), tree.hugger and swanized. Thanks to Milkis for the nice recap! alffla is cute.