Sicilian Mafia Style!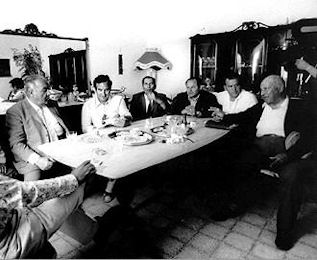 Have you ever imagined what would happen if real mafia sat down with rival families and played a game of mafia, to the death? Rather than endless bloody struggles, the dons of Sicily have decided to settle their ancient and irrelevant scores by playing the most appropriate game of all. Success will land you riches, honor, and a steak dinner with the Pope, but failure may lead to swift burial. But beware, the supervising godfathers are short-tempered and quick to cut down loose-mouthed fools. Anyone who is likely to talk too much in mafia is likely to blab to the law.




Important Posts



+ Show Spoiler +

RebirthofLegend is helping host this game. He will collect night actions/abilities during the game. You can also ask for a link to the Observer Quick Topic as long as you are not alive in the game. I will provide my play-by-play thoughts and analysis after the game finishes.




---



Introduction:



Mafia is an educated guessing game of epic proportions. The objective of the game is to lynch or kill all mafia members before they outnumber the rest of the town. It's much like a game of poker because mafia members are also part of the town during the day and may manipulate the vote to their liking. If the mafia at any time outnumber or equal the townspeople, they win. The town's goal is to lynch all the members of the mafia.


---



Rules:



Same as normal if not listed here. Consult the mafia legal booklet if you are unsure. Have fun, play fair, and be nice!



Special Anti-Spam Rules



A primary concern of this game is to give a reduced spam environment where people can still participate without needing a large number of hours to sift through gigantic filters and 300 page threads. Currently the plan is to have a day cycle post limit of 25 posts, and night post cycle limit of 15 per player. Any player is free to give up to 10 of their posts to another player in case a situation pops up like a heated defense. This rule will not be absolutely strictly enforced so you don't have to watching over your shoulder at every turn, but is more of a guideline in hopes of making the thread more readable.

This rule may be changed before game start, so if you have better ideas to accomplish this objective please contribute!



Time Cycle:

This game will follow a (23 + 1 hour night/48 hour) day cycle. Night will last 23 hours with a 1 hour intermission where no Night Actions will be accepted. When that hour is up the following Day post will be posted. In case we are not able to post around deadline, any votes after the 48 hour mark will not count and the game will be put on halt until the night post is up. Currently the deadline is 11:00 PM ET/12:00 KST, but that is subject to change. Actions/votes will be accepted up to and including the posted time, but not after.



Voting rules:



1. Voting is done in this thread . Do not PM us your vote.
2. This game uses Plurality lynch.
3) Use ##Vote: Player or your vote will not be counted.

---



Signups:


This game is open to anyone with priority for experienced players who will create a high quality game atmosphere. If you are not accepted you go on the replacement list. If signups are competitive feel free to send the hosts a pm for why you should get in. The game will cap around 21 players depending on demand.


---



Game-specific rules:



This is a closed setup
Roles are hidden to start the game but will be revealed upon death, with the full role PM posted. All the town knows is this:

6 Mafia
1 Traitor


Traitor: There is a traitor in the game. The traitor is a townie who wants the mafia to win. He does not know mafia, and the mafia do not know him. Mafia have a one time guess to figure him out and if correct, can add him to their team with full benefits. The traitor also has a one time guess to join the mafia as well. If at any point he can pm the host with one less than the total mafia count mafia correct out of the total count (i,e 3 mafia correct out of 4 guesses with 4 mafia alive), he will join with the mafia. If the traitor is still on his own he will flip black and show up as townie to all detective actions. Once he has joined with the mafia he will flip red and shows as mafia to detective actions. If the traitor is not converted, the town does not have to kill him to win. If he is converted, the town must get rid of him for victory.

PMs:
This game has limited PMs. Everyone has the ability to choose to talk to two people for the game. Once you choose someone, you may talk to them in PMs for the remainder of the game. Once you choose someone, you cannot change your choice. If anybody chooses you, that does not count toward your two choices. You can decide who you want to talk with at any point in the game. Just PM RoL who you are talking to, and he will notify them.


---


Signed Up
1. EchelonTee Ace Vigilante, Killed D2
2. Kushm4sta
3. VisceraEyes America Lynched D1
4. layabout Parity Cop, Killed Night 3
5. Mr Wiggles
6. strongandbig
7. raynpelikoneet
8. Meapak_Ziphh
9. Vivax Town, Killed N2
10. FirmTofu Jailkeeper, Modded D2
11. VayneAuthority
12. kholly Town, Killed Night 3
13. Altairius Korynne
14. Yamato77 Silencer Killed N1
15. gumshoe Bodyguard, killed N1
16. sandroba Town, modded D2
17. Node Adam4167
18. Koshi
19. Oatsmaster
20. HiroPro Traitor killed N1
21. Hapahauli marvellosity
22. DoctorHelvetica Townie, Modded N3.
23. slOosh Mafia Goon, lynched D3
24. Malongo Town Killed N2


---
1. EchelonTee
2. Kushm4sta
3. VisceraEyes
4. layabout
5. Mr.Wiggles
6. strongandbig
7. raynpelikoneet
8. Meapak_Ziphh
9. Vivax
10. FirmTofu
11. VayneAuthority
12. kholly
13. Altairius
14. Yamato77
15. gumshoe
16. sandroba
17. Node
18. Koshi
19. Oatsmaster
20. HiroPro
21. Hapahauli
22. DoctorHelvetica
23. slOosh
24. Malongo
---
+ Show Spoiler [Polls] +
Polls:
Please only answer if you plan on playing in this game or will play if one of the following rules is adopted.
Poll: Post count Limit
20
(10)
45%
25
(9)
41%
30
(1)
5%
35
(1)
5%
50
(1)
5%
22 total votes
Your vote: Post count Limit
Poll: Silent Night Cycle
No
(12)
52%
Yes
(11)
48%
23 total votes
Your vote: Silent Night Cycle