Carnival Cruise Mafia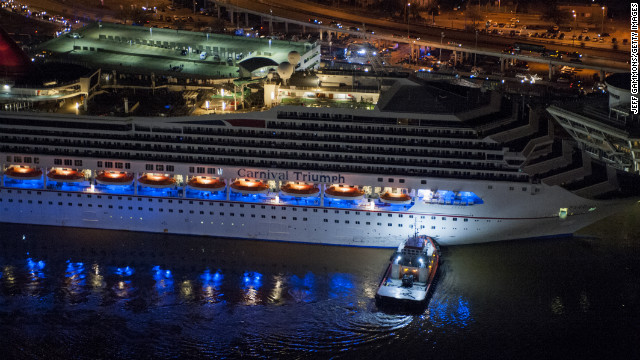 ---



Introduction:



There you were enjoying summer vacation on this cruise with your family and friends. Awesome parties at night in the cash bar, drunk people everywhere, free prizes from all the great games on the ship - and then it happened. Tragedy struck as the crew announced some unsavory elements have been detected on the boat. They can not pull into the port of Miami with stowaways or cheap skates on board as it is forbidden by US Law. You're still in international waters and there are no laws governing you. Help take control of the ship and get back to Miami in one piece by working with your fellow passengers to root out the Scum ruining your vacations. Good luck...

Mafia is an educated guessing game of epic proportions. The objective of the game is to lynch or kill all mafia members before they outnumber the rest of the town. It's much like a game of poker because mafia members are also part of the town during the day and may manipulate the vote to their liking. If the mafia at any time outnumber or equal the townspeople, they win. The town's goal is to lynch all the members of the mafia.

The game is typically very active, so the thread will get big quickly. However, it is essential to read the thread to play the game. If you do not have the time or patience to read the whole thread, do not play. I will not compensate for ignorance.

*Dandel Ion and Kurumi are helping me co-host this game. Any PMs can also be directed to them. You can also ask for a link to the Observer Quick Topic as long as you are not alive in the game.


---



Rules:


Cheating:
Cheating includes (but is not limited to):
1. Posting after death. You may have one polite goodbye post, but it may not contain any potentially game-changing information.
2. Ruining the game by doing something like hand out your mafia's member list to the town.
3. Logging on to someone else's account to get their role or looking over someone's shoulder to get their role.
4. Comparing role PM times to determine roles.
5. Posting screenshots of your inbox.
6. Posting or sharing any PM you receive from a host.
7. Getting yourself modkilled to help your team. Your non-majority-decided death may not be used as a bargaining chip.
8. Signing up more than once using smurf accounts.
9. Betting items outside of the game in exchange for in-game benefits.
10. Sharing accounts with other players unless cleared by the host in advance. Otherwise, only you may post on your account.
11. Breadcrumbing the specific phrasing of your role PM. Do not compare the phrasing in your role PM to prove your alignment. You can claim the abilities you have, but you can't use the specific phrasing of your role PM.
12. Posting a false role PM phrased as if you received it from the host. You can still fake roleclaim, but you cannot make it look like you are posting a PM you received from the host.
Cheating is not tolerated here. The punishment will be severe.



Posting:


Mod Font:
This is mod font. It is reserved for moderators. Please do not use it.

Question Font:
This is question font. Use it to ask the moderators questions about the rules. Please do us a favor and read the rules before you ask anything.

Activity:
You must post in this thread once per day/night cycle and vote every day while you are alive. If you fail to do so, you will be modkilled or replaced out.

Smurfs and Hydras:
No smurfs or hydras are allowed this game

Spam:
Spam is not tolerated, nor is any off-topic material. Do not discuss Proleague here. Do not talk about Starcraft II here. Play Mafia here. This also means you should condense your posts when possible. 15 one-liners in 30 minutes is unacceptable.

Encryption:
Don't do it.

Editing:
Editing is not allowed for any reason. Editing will result in a warning. After that, you will be modkilled. This is the one part of the site where it is okay to be double posting, even triple-posting. While I ask for everybody to post as concisely as possible, post again if you have to edit anything.

Inappropriate posts:
If you want to post something insulting or inappropriate and know the TL mods would have a problem with it elsewhere, don't post it here. If you do, a host will warn you or modkill you and request that you be banned from future games. The hosts have the final say on what is inappropriate. If you do not like how someone is talking to you, please PM a host, Flamewheel, or Mig before involving the TL staff. If you are unsatisfied with how the situation is resolved, then you can appeal to the TL staff normally.

Reporting posts:
The report button is a nice feature for regular TL, but not for this forum. We prefer to deal with things in house if possible to avoid confusion among the TL staff. If you have a problem with how someone is posting, talk to the host, co-host, Flamewheel, or Mig before using your report button. Please do not use your report button for anything other than inappropriate posts which you feel are not being dealt with adequately.

Ban discussions:
Please wait until this game is over to talk about modkills and bans resulting from this game.

Play to win.
This means you play your best to help your team win while you are alive and in the game. However, this does not mean that you should try to win by being a jerk to the other players so they all want to quit playing.

This also means that you cannot leave the game without a good reason without a ban. These situations will be dealt with on a case by case basis. PM your host if you need to leave the game.

You have been warned.


---



Out of thread communication:


It is common for mafia (and town circles if PMs are allowed) to use a medium outside of TL such as QuickTopics or IRC to communicate during the game. Please be mindful that other players may be more tech savvy than you and they may attempt to impersonate members of your team or attempt to infiltrate your chat. You use these media at your own risk.


---



Voting rules:


1. Voting is done in this thread . Do not PM us your vote.
2. This game uses instant majority lynch. The first player to acquire over half of the living players' votes will instantly be lynched.
3. Please vote in the following format: ##Vote Qatol. Votes not done in the correct fashion will not be counted. We will update vote counts whenever we get the chance.
4. No conditional voting.
5. You may vote for yourself. You may not vote for anyone dead or outside the game.
6. Voting is not mandatory. You may vote for no lynch. If you do not vote it will just be counted as abstaining. If majority of the Town votes for No Lynch then that will occur and we move to Night.
7. Be aware that voting for yourself and not voting (abstaining) are usually heavily frowned upon. It is generally advised not to perform these actions unless you know what you are doing.

---



Signups:


This game is open to anyone with preference for experienced players. Signups will remain open until all 20 player spots have been filled.

---



Game-specific rules:



This is a closed setup
Roles are hidden to start the game but will be revealed upon death, with the full role PM posted.

Night 0 start:
This game starts at Night. Instead of everyone voting to start the Day like in normal games, the first 24 hours will be devoted to all roles that are able to act at night.

Mafia Killing Power and number of Mafia:

There are 5 Mafia. Their killing power is hidden.

Passenger (Vanilla Town) role PM:
+ Show Spoiler +



*unique flavor will be included for each role PM. This is just an example of the default PM. The win condition stated here will be in every role PM.

Passenger (Vanilla Town) - Welcome to another wonderful adventure with Carnival Cruise lines where high fantasy meets the high seas! We have many hours of entertainment planned for you and hope you enjoy your stay while we charge outrageous fees and rape your pockets. Feel free to mingle with your fellow passengers and get drunk. You win when all threats to the cruise passengers (Town) are eliminated. Good luck! Have fun!





Modkills:
This game follows the TL Mafia Ban List. If you are modkilled, your punishment will go beyond being eliminated from this game. Please refer to it for questions about your punishment. If you want to use this game to sit out your ban, please PM Flamewheel or post in the Ban List.

Replacements:
This game uses replacements. Replacements will be made in the game until the hosts feel it is no longer helpful to the game to replace players. If a player is modkilled during the designated time, then they will be replaced by a player on the replacement list.

Clues:
There are no clues.

PMs:
PMs are not allowed in this game unless you are explicitly told to do so.

Time Cycle:
This game will follow a (23 + 1 hour night/48 hour) day cycle. Night will last 23 hours with a 1 hour intermission where no Night Actions will be accepted. When that hour is up the following Day post will be posted. In case we are not able to post around deadline, any votes after the 48 hour mark will not count and the game will be put on halt until the night post is up. Currently the deadline is 11:00 PM ET/12:00 KST, but that is subject to change. Actions/votes will be accepted up to and including the posted time, but not after. Since this game uses instant majority lynch, extra time will be added to keep the 24 hour cycle flowing if the Day ends early.

If you have not read all the rules, go back and do so. I will not compensate for ignorance!

---
Signed Up


Replacement List



Dead Players
+ Show Spoiler [roles are revealed here] +


kitaman27, the Ship Warden (Jailkeeper) killed Night 0
DarthPunk, The Wall Street Investor (Vanilla Town/Self Aware Miller) killed Night 0
VayneAuthority, The Virgin Cruiser (Vanilla Town) killed Night 1
raynpelikoneet, Internet Contest Winner (Vanilla Town) killed Night 1
Vivax, The Crew Barber (Vigilante) killed Night 1
Bill Murray, Entertainment Director (Vanilla Town) modkilled Day 2
sinani206, Crybaby kid with a lollipop (Vanilla Town) modkilled Day 2
chaoser, Mimic Octopus (1-shot Copycat) modkilled Day 2
HiroPro, Carnival Cruise Dancer (Vanilla Town) lynched Day 2
BlazingHand, Thomas Jefferson (Framer) killed Night 2
Promethelax, Somalian War Pirate (Serial Killer) lynched Day 3
WaveofShadow, Drunken Jersey Shore Guido (Gladiator) killed Night 3
sl0osh, Hammerhead Shark (Hammerer) lynched Day 4
Oatsmaster, Accountant (Macho Cop) killed Night 4
shirokami, Old Man in a Wheelchair (Vanilla Town) lynched Day 5
kushm4sta, Single Adult (Vanilla Town) end gamed
grush57, Jeb Bush (Vote Thief) end gamed
ObviousOne, Unregistered Sex Offender (Voyeur) end gamed





Day and Night Posts
+ Show Spoiler +

FAQs and extra info

1.) Mafia KP is factional. It can not be roleblocked. However, if there is one Scum remaining and they are hit by a roleblock their KP will not go through.

2.) Are protective roles informed of night hits?
Yes. Any player that can protect another will be informed if they stopped a hit unless otherwise notified in their role PM. Just assume this is the case for every role unless you have information that negates this. The target of a hit however, will not be notified they were hit in most cases.

3.) Are there any 3rd parties in the game?
I dont know.

4.)How does voting work?
Voting is done in-thread.

5.) Are dead people's roles revealed?
Yes. On death a player's full role PM will be revealed, except names of their allies.