mod edit: for the most current list, check out http://wiki.teamliquid.net/starcraft/Tools
---

Too many times have I seen the same questions asked again and again : "I can't watch old replays", "how do I add a server", "I need a NoCD launcher", etc... Every time, the same answers are given and it's becoming to be tiring.
So here's a list of StarCraft utilities that will hopefully make your life much easier while giving a break to the people who answer those questions. I've split this list into different sections :
* Launchers and Patchers
* Replays
* Maps & Map-making
* Misc

REMINDER : most of these tools can be found in the Downloads section of http://www.bwprogrammers.com (except for the Map-making ones). I'm not making some advertisement for BWP but I find it quite convenient to have a place for all this kind of tools.

REMINDER #2 : most (if not all) of these tools run on PC, not Mac. Sorry guys !


Launchers and Patchers

Official patches

Broodwar Patches
StarCraft (Vanilla) Patches
Author : Blizzard
Version : from 1.07 to 1.15
Description : the official patches by Blizzard. It does not contain patches older than 1.07.

No-CD launcher
Sorry, but this is illegal. Blizzard didn't use that kind of protection for nothing. You might want to take look at Daemon Tools which is a utility that can emulate a CD from an ISO image.

SC Extension (aka BWLauncher)

Homepage
Download
Author : Ashur
Version : 4.0.3.1 beta
Description : SC Extension is a launcher that allows plug-ins do various features INSIDE StarCraft. The most famous plug-in was PenguinPlug (PP) but it wasn't updated for 1.15 because of some issues with Blizzard (don't know the details). See a list of various plug-ins somewhere below in this post.

Mini SC

Homepage
Download
Author : BSW_Rama
Version : 1.13f
Description : (I don't know how legal this is... given there are so many topics on the subject, I thought it was OK to put it into the list too. But if there's any problem, don't hesitate to tell me and I'll remove it) This is a ripped version of SC. The idea was to get rid of unnecessary resources in the StarCraft files to optimize its size. So say goodbye to music, menu backgrounds, campaigns, single player mode, etc... The only things you can do is play Multiplayer games or watch replays

But that's the price to pay to have a 20 MB StarCraft install file ! WARNING : it is really version 1.13f, so you need to patch it (using the official patcher or the 7x patcher) to get version 1.15. Some topics discuss it about version 1.14 but maybe it also works with 1.15 :
How to use/patch it (very simple but useful topic)
Another version of Mini SC (I haven't tried it)
WARNING #2 : it doesn't seem that Mini SC works on B.net (which is quite understandable given the type of protection Blizzard put into place in 1.14). Thanks to Vin[MBL] for the info.

Bnet Gateway Editor

Download (disabled)


Author : Octopussy
Version : 2.00
Description : nice simple tool that lets you add/remove Battle.net servers without messing with your registry manually. You can also export/import the list to/from an external file, making your life easier when you need to reinstall your entire system.

7x Patcher

Homepage (in Russian)

Download

Author : [7x]Tassadar (I guess}
Version : 1.14
Description : patches you StarCraft with the version you choose from 1.08 to 1.14, including all subversions. Other nice features include setting the path to you StarCraft CD, changing CD key, adding Battle.net servers, etc...

Old executables

Download
Author : Blizzard


Versions : 1.09b, 1.10, 1.11, 1.12, 1.13, 1.14
Description : old executables for StarCraft. Very useful if you want to watch old replays (which won't work most of the time with the latest version of SC). Which brings us to...


Replays

BWChart

Homepage
Download

Author : JCA
Version : 1.03G
Description : BWChart is the tool that created the notion of APM (Actions Per Minute). It is a graphical tool that draws charts from replays, helping you to analyze it : what kind of action was taken and when, number of units created, hotkeys, etc... It even has Build Orders. There's also a file browser for your replays but since BWChart wasn't updated since October 2003, it is unable to find the correct version for replays older than 1.12. Must have anyway.

ReXplorer

Homepage
Download

Authors : Chrisbk and Taiche
Version : 2.0.2
Description : ReXplorer integrates itself in your file explorer, adding custom actions to .rep, .scm and .scx files. Here's a list :

Custom tooltips, diplaying APM, players names, map name, game length, etc... for replays, or map name, size and tileset for maps.

Lets you load your replay into StarCraft in 2 clicks. It even allows you to customize and choose the version of SC you want to launch. Doesn't break when a new patch comes up

Generates minimaps from either maps or replays. You choose the size of the image (from 16x16 to 4096x4096, which is the real size of a map like LT), the compression rate and the details (resources, starting locations, units, etc...)

Extracts maps from replays and saves them in your maps directory in 2 clicks. Also works with drag-and-drop if you want.

Adds a new tab in the "Properties" of .rep files

Allows you to see text that was typed by players for RWT.

Adds new columns in the "Details" view (map name, game version, game type, game name, etc...) so that you can actually sort your replays using these criterias.



Lord Martin's Replay Browser (aka LMRB)

Homepage
Download
Author : Lord Martin
Version : 1.12
Description : I have barely used this tool a few years ago and I don't remember it very well. Here's the official description from the site :
LMRB is a freeware Win32 application that makes browsing Starcraft replays collection easier. LMRB allows you to browse replays by replay or by player. In first case list of replays is shown and each replay is described by:

rep file name

players names, races and actions numbers

game scores (who was a winner)

map name

game duration, date and engine

replay directory and comment


If browsing replays by player each players is described by:

player name, games number and average game time

player stats for each race

player stats for each match up

BWRepInfo
Homepage (in Russian)

Download

Author : bottleneck
Version : 1.01a
Description : This is where EAPM (for Effective APM) comes from. The author used an algorithm of his own to remove so-called useless actions like hotkey spamming, right-click spamming, etc... Arguable but useful anyway.

AdvBrowser

Download
Author : Rus_Brain, Mickey Mouse, SmK
Version : 1.2
Description : I haven't ever used this tool but it looks like it's a very advanced replay browser that runs into StarCraft. If someone has a better description, let me know : I'll be glad to put it here :D


Maps & Map-making

WARNING : I'm not much of an expert in map-making. So if you want more info and more tools, please visit BroodWarMaps.net and Maplantis. These sites have what you're looking for

ScmDraft
Homepage
Download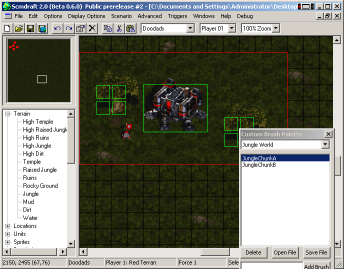 Author : Suicidal Insanity
Version : 0.7.3
Description : a third-party map editor for StarCraft, ScmDraft allows you to do much more advanced stuff than StarEdit. I do believe it is used by the guys at Mapdori.com to make the pro maps.

StarForge

Download
Author : Heimdal
Version : 2.2
Description : another third-party map editor. Looks like it was very popular at some point in time, I don't know how much it's used nowadays.

Xtra Editor 2.5

Download
Author : General Mengsk
Version : 2.5 ; apparently there's a patch to 2.6 but it appears to be somewhat buggy.
Description : same as above, except that this is not an editor in itself. It mods the original StarEdit editor.

Uber@tion

Download
Author : LegacyWeapon
Version : 3.0.0.2a
Description : one of the most famous (and used) map protector out there. Again, I believe the map-makers at Mapdori.com use it.

StarCraft Picture Mapper

Homepage
Download
Author : BannedScag
Version : 4.1
Description : nice tool that allows you to generate a StarCraft map from a picture

Please see pheer's thread for a guided tour !


Pro Maps pack

Homepage
Download
Author : Mapdori.com
Version : N/A
Description : this is a compilation I've made of all existing pro maps made by Mapdori.com. It might contain errors or ommit some maps in which case don't hesitate to tell me and I'll update the pack as soon as I can.


SC Extension/BWLauncher Plug-ins

Chaos plugin

Homepage
Download
Author : MasterOfChaos
Version : 0.5
Description : Adds various useful features inside StarCraft :

Replay Autosaver

Friend follow

Chat saving

Disables Windows key/Caps Lock

APMAlert
Download
Author : tec27
Version : 0.2
Description : Allows you to set a minimum APM and a sound to play ; whenever it detects your APM as being below that amount, the sound will be played.

Windowed StarCraft

Download
Author : tec27
Version : 0.2
Description : Allows you to play StarCraft in a 640x480 window on your desktop rather than full screen. You need to install BWLauncher in order to use it.


Miscellaneous

Player vs Player Gaming Network (PvPGN)

Homepage
Download sources or Download Windows binaries
Authors : PvPGN Team
Version : 1.8.0
Description : PvPGN lets you install and configure a private server for Blizzard games. It supports various games like StarCraft, Warcraft 3, Diablo 2. It's quite tedious to configure but very customizable.

BW AI Project

Homepage
Download
Authors : Entropy and Bajadulce
Version : 3.1
Description : players have always complained about the original AI. Therefore, Entropy (aka Physician on most SC forums) tried to enhance it using some scripts of his own. He was helped in this task by Bajadulce and it appears that the AI is now quite competitive... give it a try !

BWChat

Homepage (in German) You can also check out BWChat's official topic on TL.net for more info !

Download
Authors : Mike (aka June_ger on TL.net)
Version : 1.2
Description : BWChat is a StarCraft Broodwar Chat on your desktop. You run Broodwar, join Battle.net - and then run BWChat.
BWChat features :

BWChat includes its own IRC Client

Winamp Control as form

Winamp Control when Broodwar is maximized (while you are in a channel, but also when you are ingame and playing)

Greet Message

Idle Message

Lock Capslock while playing (system)

Lock WindowKey while playing (only while playing a SC/BW game)

Included Clock

Autoupdate (or manual) function

Colour Themes

Save Battle.net ChatLog

SC Cd-Key Changer
Download
Author : kmx
Version : 1.0.0.5
Description : SC-CD Key changer is the saviour of all our SC Cd's. The Program offers the ability to change your cd key without having to re-install Starcraft.

APMLive

Download
Author : zdd
Description : External application that displays your APM in real time when you play SC.

Windowed StarCraft (the hard way ; doesn't need BWL)

Download
Description : Allows you to play StarCraft in a 640x480 window on your desktop rather than full screen. How it works : unzip the whole package somewhere and then create a shortcut (on your desktop or somewhere else) that will look like this : "PATH TO DxWnd.exe" "PATH TO starcraft.exe" "PATH TO Starcraft.dxw". Example (on my computer) : "C:/DL/Drivers et installs/Jeux/DxWnd/DxWnd.exe" "I:/Starcraft/starcraft.exe" "C:/DL/Drivers et installs/Jeux/DxWnd/Starcraft.dxw"
NOTE : in order to make this work properly, you might need Microsoft's Visual 2003 C Runtime Library. This package consists of 2 DLLs you will unzip in your %WINDOWS%/system32 directory (at least, that's what I did). These 2 DLLs come from my own system and DO NOT come from Microsoft's because I couldn't find them anywhere ; so if you don't trust me, you can run an antivirus on them if you like

Evolution Forge
Homepage
Download
Author : Clemens Lode
Version : 1.62b
Description : (from Physician's GG.net news post) The program simulates an abstract StarCraft:Broodwar environment and calculates the time a certain build order needs. By comparing different build orders, randomly changing them and taking the best build order for the next generation, the build order is improved step by step.

Battle.net Auto Login

Homepage
Download
Author : homebrew89
Description : If you ever get sick of typing your password every time you log in to Battle.net, then this program is for you. Battle.net Auto Login automatically logs you in to Battle.net with the nickname and password you specify.

Battle.net Friend Follow

Homepage
Download
Author : homebrew89
Description : If you like to follow your friends as they join games, you probably get sick of copying the game name, character by character, into the join game box. With this program, whenever you see the familiar "Your friend (blank) joined..." message, all you have to do is right click.

Replay With Audio (RWA)

Homepage
Author : JCA
Version : 1.00S
Description : WARNING This program is outdated and won't work with StarCraft > 1.11. Basically, the idea was that people could comment a replay and this program will record the audio as MP3 directly inside the replay. An alternative for newer versions consists in recording your comments using some dedicated software like Audacity and play the audio separately using Winamp or other MP3 players while the replay is running in SC.


Phew... I finally come to the end of this post. Kinda boring stuff but I hope it helped (and will help) people

Of course, I will edit this post as soon as possible if there are errors to be fixed, tools to add, etc... As you can see, the list is far from being exhaustive but I tried to enumerate the most common and useful tools.
I'll try to add a "How do I..." section either in this post or in the post below ; for now, it's almost 3 AM here so I think I'm gonna go to bed :D Don't hesitate to post any (constructive) suggestion or remark ; I'll answer whenever I can.

GL HF



History :
+ Show Spoiler +

- 02/07/2007
Created the "SC Extension/BWLauncher plugins" section

Added tec27's plugins

Added Chaosplugin

Added zdd's APMLive

Fixed BWLauncher's description

- 17/06/2007
Removed links and references pointing to StarEdit.net because it's down.
- 16/05/2007
Minor fixes here and there to update with the release of patch 1.15.
- 11/04/2007
Added the method and the dependancies to run Windowed StarCraft. Sorry I didn't do that before and thanks to Phantom for bringing up the point ^_^;
- 29/03/2007
Added StarCraft Picture Mapper to the Maps & Map-making section (thanks to pheer for making a thread about it)
- 09/03/2007
Added Windowed StarCraft to the Misc section (thanks to Cadical and Vin[MBL])
- 04/03/2007
Added BWChat to the Misc section (thanks to June_ger)
- 22/02/2007
Added Evolution Forge to the Misc section (thanks to Knickknack)

Added RWA info to the Misc section (thanks to One Page Memory and Knickknack)

- 21/02/2007
Added Battle.net Auto Login to the Misc section (thanks to Vin[MBL])

Added Battle.net Friend Follow to the Misc section (thanks to Chosi)

Added PvPGN to the Misc section

- 20/02/2007
Added StarForge to the Map-making section (thanks to evanthebouncy and CharlieMurphy)

Added Xtra Editor to the Map-making section (thanks to evanthebouncy and CharlieMurphy)

Added broodwarmaps.net to the links for map-making (thanks to CharlieMurphy)

Added Blizzard's FTP site to the Launchers/Patches section

- 19/02/2007
Added LMRB to the Replays section (thanks to Knickknack)

Added StarCraft CD Key changer (thanks to funKie)

Added Mini SC info (thanks to RaGe)