WELCOME TO THE SKT T1 DREAM FAN CLUB!
Upcoming matches:
S2SL s3 ro16:
Dream
MyuNgSiK
Dear
Rain
Proleague 2015 SKT vs Jagw :

Dream vs no one
GSL 2016
KeSPA Cup s3 qualifier

Name:조중혁 Cho Joong Hyuk
ID:
Dream
Team:SK Telecom T1 https://twitter.com/sktelecom_t1
Wiki:http://wiki.teamliquid.net/starcraft2/Dream_(Korean_Terran_player)
Aligulac: http://aligulac.com/players/109-Dream/

Achievements:
2nd NSSL Season 1 2015
2nd SSL Season 2 2015
1st EWM Season 3 Week 1
Top 8 MLG spring arena 2
Top 8 GSL code A July 2011
Consistent Code A
2nd IEM Katowice


+ Show Spoiler +
Qualifier interview GSL season 4 20120
+ Show Spoiler +
Source:
This Is Game
You've returned to Code A in four seasons.
I feel really good since I haven't made it in such a while. I kept on thinking that I was going to get through the preliminaries each time I participated but I kept failing. If it wasn't the finals then the Ro4 was my obstacle. But today, I overcame those obstacles.
Your finals opponent was the newcomer Lucy. How was the match?
I was taken by surprise because I thought Ready would advance. I won the first game easily with a hellion attack but I just barely won the entire series. I lost humiliatingly in game two thanks to a warp prism rush and in game three, it was just a really difficult victory.
You faced Dear in the Ro4. That must have been your first encounter against a KeSPA player.
He was really good. However, unless I face the top of the top I think I can beat KeSPA players. I think it's doable as long as I don't have to face the best ones.
You made a comeback after being gone for a while so how far do you want to make it?
This time I don't want to fall out of Code A. Beating Genius hyung will be my goal. Genius hyung keeps making fun of me saying that I suck and he keeps on refusing to acknowledge Code B players. This time for sure, I want to defeat Genius hyung.
Anything else you would like to say?
I hope my teammates who have to perform tomorrow also do well and I want to thank our sponsors Lotte, RAZER, and our partner MYM.
+ Show Spoiler +
Some pics:
Dream showing the respect the emperor deserves (Credit to PeonSanders on reddit for creating the image)
+ Show Spoiler +
Dream last year in code A July
+ Show Spoiler +
Dream enjoying his win at MLG Spring Arena 2 (Credit to r1ch for taking the photo)
+ Show Spoiler +
Dream at MLG Spring Arena 2
+ Show Spoiler +
Dream waking up (Courtesy of SKT.PartinG)
+ Show Spoiler +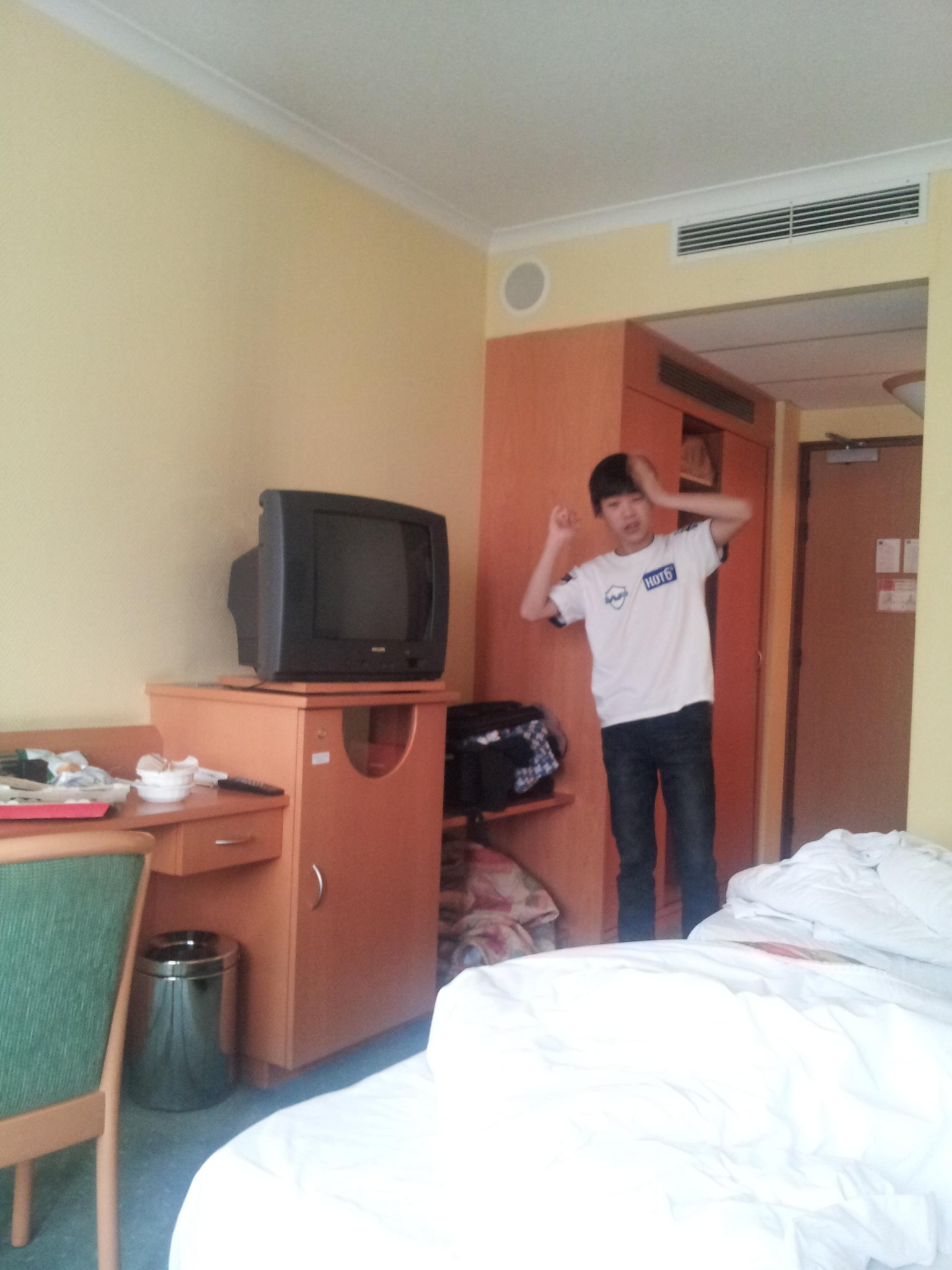 (From the team MVP facebook page)
+ Show Spoiler +

+ Show Spoiler +


Fusilero
Doubting
TommyP
SystemXN
Cornix
Shellshock1122
Inzan1ty
Zealously
vzSo
prOpSnuffe
TsGBruzze
Keeemy
hooahah
Kenny_oro
Jakuu
MysterySC
enVias
CosmicSpiral
redpeople
krutopatkin
Otherworld
Shuffleblade
Seeker
wstubzi
Darkhorse
KtJ
Cricketer12
Philozovic
The_Templar
Seeker



Post in the thread if you wish to be signed up and enjoy the games of this awesome terran when they come.