---
OnGameNet - Monday 5:00 EST, 19:00 KST
---

Set 1: Circuit Breaker
Set 2: Bloody Ridge
Set 3: Empire of the Sun
Set 4: Fortress
Set 5: La Mancha
Set 6: Icarus
Set 7: Benzene
+ Show Spoiler [Individual Sets] +
+ Show Spoiler [Overall] +
+ Show Spoiler [Individual Sets] +
+ Show Spoiler [Overall] +
+ Show Spoiler +
Thanks to all who rated tonight's games!
---
http://www.teamliquid.net/video/streams/npnl.fedOr
Thanks to all of our streamers.
---
+ Show Spoiler [Winner Interviews] +
On January 25 2011 02:52 rotinegg wrote:SK Telecom T1 group interview "Happy to see a huge crowd"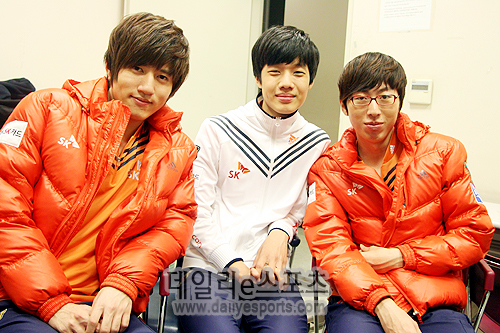 Q How do you feel
A
By.Sun
=I'm happy that our team won. However I am regretful that I only got 1 kill.
Fantasy=I didn't wanna lose a game before the OSL finals, but I lost in the last match and this match as well, so I am regretful. I'm still happy that our team won, though.
Bisu=It's been a while since I've been our team's anchor, and it's good that I was able to close it out. I feel like I did my part. It's been a while since three of us contributed to our team's victory, and it feel's good.
Q You started off with a disadvantage early on.
A
By.Sun
=In the first game, I was flustered by my opponent's harassment, but won by having a much larger force. I am confident in my macro abilities, and I think that's what won me the game.
Q In most games you respond poorly to your opponent's harass, but turn the game around through macro. Any particular reason
A
By.Sun
=I usually defend harass well but in this game I lost alot of observers so I was unable to defend properly. I am not happy with my performance today. I'm not sure why I am good at macroing, but I guess I just am.
Q You killed
Neo.G_Soulkey
and
free
to record 2 kills.
A Fantasy= I've never won against
Neo.G_Soulkey
so I am happy just by the fact that I won. In my game against
free
I was able to show my vulture harass for the first time in a long while, so I am happy.
Q Your early game wasn't good
A Bisu=I wasn't set up completely before the game started. So I kept getting this bad feeling that my game wasn't going to go well, and I was right on. If he had just defended my zealots properly, I would have been at a disadvantage. I was relieved that I was able to turn the game around with my corsairs hunting down ovies left and right
Q Your wraith control was superb
A Fantasy=It's easy to use wraiths on the map Fortress. Even in practice I had a lot of success with wraiths, so I was confident that I would win the game today. Even though I don't use wraiths in broadcasted matches often, my win rate with them during practice was so high [that I was sure I would do well in today's game]
Q You were off to a bad start [same question???]
A Bisu=I was nervous while playing so I wasn't able to perform well. It happened last time I had to play
Flash
, and just in general when I go out as the anchor.
Q You are on a 13 win streak in ProLeague [again!!]
A Bisu=My team comes before my win-streak records. However it did occur to me that if I continued my win-streak, our team would be able to keep winning in ProLeague too(Laughs). I don't have a burning desire for the most-wins title, so I just played my games, but somehow I'm far ahead of 2nd place. If I keep playing without thinking about the title much, I feel like I can keep my position as 1st place.
Q This season alot of protoss players performed an all-kill. It feels like you were gunning for it, as you were sent out first.
A
By.Sun
=I went out with the mentality of at least getting one kill, but after only getting 1 kill, it didn't feel that great. I want to get at least 2 kills now.
+ Show Spoiler [tonight's match between Khan and…] +
Q Stork lost today too. You must be relieved.
A Fantasy=Even though I lost, I saw that Stork lost too. It is relieving indeed(Laughs).
Q Woongjin (the company) sent 200 of their new-hires to the match. Did that affect your performance at all.
A
By.Sun
=I feel better when alot of people are watching, so it didn't really matter.
Fantasy=Yea, it felt like the finals when I heard all the Woongjin new-hires banging their cheering devices. I think in the finals [of the OSL] alot of Stork fans will come out, so I thought of this as a good mockup for the actual match. I wish this many fans would come out every match. I hope SKT1 sends their new-hires too.
Bisu=I was pressured when we were down 1:2. They applauded so loudly everytime they were ahead, so it was nerve racking, but it was fun at the same time.
Q Any last words
A Bisu=I thank all my fans who stayed despite being late. It's regretful that I have no individual league games left at this stage, but I hope my fans will wait for me. I will practice hard to perform well in the next individual leagues.
Source:
Daily E-sports
---
PM me to have your content added here.
Bisu interview after SKT/ACE game:
Q: Flash said "I hope Bisu stops allkilling."
A: Even in other interviews or on NateOn chat, Flash would say "Stop winning." However if you look at the big picture, it's harder for me to earn wins than Flash. It was weird hearing him say that. I thought he didn't care much for the most-wins title.
Poll: Who are you cheering for?
Bisu
(111)
62%
I just hope someone can kill Bisu.
(29)
16%
SK Telecom T1
(23)
13%
Woongjin Stars
(16)
9%
179 total votes
Your vote: Who are you cheering for?
(Vote): SK Telecom T1
(Vote): Woongjin Stars
(Vote): Bisu
(Vote): I just hope someone can kill Bisu.

Poll: Who will win?
Bisu will continue his murderous rampage.
(119)
73%
SK Telecom T1
(30)
19%
Woongjin Stars
(13)
8%
162 total votes
Your vote: Who will win?
(Vote): SK Telecom T1
(Vote): Woongjin Stars
(Vote): Bisu will continue his murderous rampage.

---
Image styling ripped shamelessly from inspired by disciple.