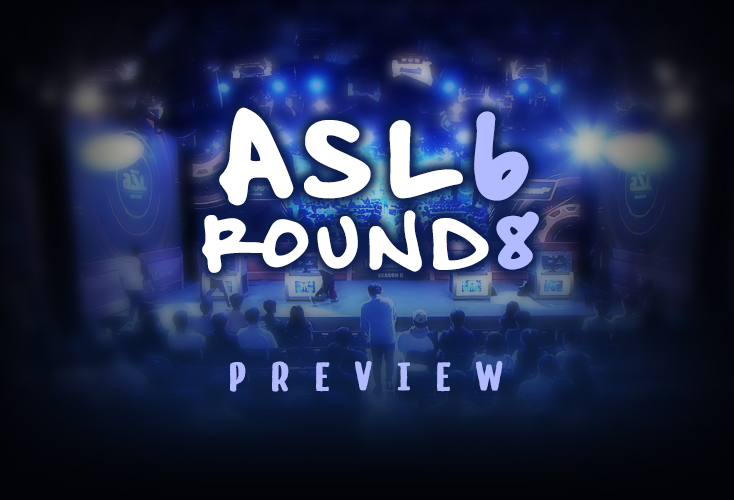 Halfway through the quarterfinals, and the results are as expected. Despite Sharp being a great TvTer, his match against Last was one-sided aside from game 1 where Sharp put up quite the fight. He showed that tactically, he can be the superior player, but his lackluster macro in comparison to Last sealed his exit. Please read the recap by Ty2 for more details.

The second match between EffOrt and Rain was a bit less one-sided, with the pendulum swinging around in some games. EffOrt's macro was on full display that night as he won their first encounter, and made short work of the previous ASL champion, despite Rain trying his best to appease his fans. Please read the recap by Bigfan for more details.

The last two remaining groups feature Action vs Shuttle which starts in , and Flash vs Mini which starts 2 days after. Please read the two previews written by BLinD-RawR then let's get hyped for more BW!


Roll Out!
Game 1 on Autobahn:
Last and Sharp open factory expand, but Sharp quickly deviates making a proxy Starport in the top right. The unknowing Last blissfully continues teching towards mass vulture. Upon the reveal of the first wraith, Last sneakily makes two starports at the 6 O'clock, but they get quickly spotted.
Last continues to rely on vulture mines for map control and is forced to make goliaths and some siege tanks. Sharp aims to produce more tanks, and hopefully use the wraiths in tandem.
Then, misfortune strikes. Sharp, loses several of his units to mines mid-fight, giving Last the lead. Last's follow up of faster bases, and defense of Sharp's pushes continue to put him in a proactive position. Minor drops and further skirmishes are made, before Last makes a disastrous uphill battle at Sharp's 3rd.
The game now levelled, Sharp takes the initiative, shutting down Last's center expansion and doing a failed drop at Last's heavily fortified 12 O'Clock. Further pushes continue to be halted by Last who then drops Sharp's 6 O'clock in a bid to prevent a split map. Both players hurriedly reinforce the contention point, but Last's tank line hails victorious.
The game falls stagnant before Sharp bypasses the ground terrain with a devastating drop at Last's center right third. Last's supply plummets in the ensuing cleanup effort while Sharp retakes his 6 O'Clock.
Last, down, but not out, has still been mining from more bases for longer, and displays his power in full force. With one punch, he forcefully retakes control of the center base.
Sharp's rescue attempts are in vain, losing most of his army as Last's army penetrates further into Sharp's territory. Last begins sieging Sharp's main and diverting guerilla forces to take out Sharp's undefended fledgling bases. In a back and forth first game, Last takes the first win.
Game 2 on Transistor:
Last and Sharp both fast expand before factory, but Last opens CC first before barracks unlike Sharp. They both transition into factories and a starport, but Last is the first to mass speed vultures. He lays mines down to establish map control for a faster third. Meanwhile Sharp slowly advances forward with more goliaths and tanks to his name. However, he makes the crucial mistake of losing his 3 wraiths, not scanning for Last's 3 cloaked wraiths.
The exchange greatly favors Last, who can now use the superior vision of wraiths and the defensive tank line to protect his much faster third. Meanwhile, Sharp struggles to break out of Transistor's winding and cumbersome terrain, unable to push his army advantage or use dropships. Last's spider mine containment strategy works wonders as he continues to expand. Finally, with his driving momentum, Last drives a wedge into Sharp's fragile tank line to leave Sharp's 3rd completely exposed.
Sharp's hand now forced, he desperately attempts a full on offensive. He pushes his units up to Last's right wing of expansions, which sees mixed success, but eventually peters out to Last's superior economy. Sharp's remaining spread out attacks are held off before Last's encroaching tank line suffocates Sharp's remaining bases, ending the game.
Game 3 on Circuit Breaker:
In a brilliant mind game by Last, Last makes a proxy 11 barracks at the 9 O'Clock, anticipating Sharp's 1 rax FE. With incredibly meticulous micro, Last stalls completion of the bunker and forces Sharp to pull SCVs. Despite the promising start, Last's vulture micro disappointingly is unable to capitalize. However, the damage is done, severely delaying Sharp's factory timing.
Last's continued aggression is pushed back with more pulled SCVs, marines, and well positioned siege tanks. Last settles with making a siege line just outside of Sharp's double bridges. Last, however, continues his contain, setting up several more mines and two siege tanks above Sharp's 12 O'Clock.
Sharp's repeated breakouts fail one after the other before Sharp eventually GGs. In a dominating 3-0, Last advances to the semifinals.
Last
advances to the semifinals!

Putting EffOrt
Coming into this series as the ASL5 champion,
Rain
had his work cut out for him against the current best ZvPer in the scene,
EffOrt
. Unfortunately for him, EffOrt's amazing macro and micro were on full display that night as he rolled Rain 3-1 to win the series.
Game 1 on Circuit Breaker:
The first game was quite the quiet one early on as both players played for the macro game. It was also the game that showed just how strong EffOrt, and Zerg can be in general if they are left to macro up as they desire. After some zealot harass failed, and with Rain sitting back after a small hydra attack at his exp which forced cannons, EffOrt continued macroing up taking a fourth, then a fifth later. 12 minutes and 40 seconds in, Rain was faced with a nightmare as EffOrt was producing hydras from 10 hatcheries and started going on a large offensive. Rain survived the first attack, then managed to barely survive the second after losing his fourth before he was eventually overwhelmed at his third in the followup attack causing him to tap out.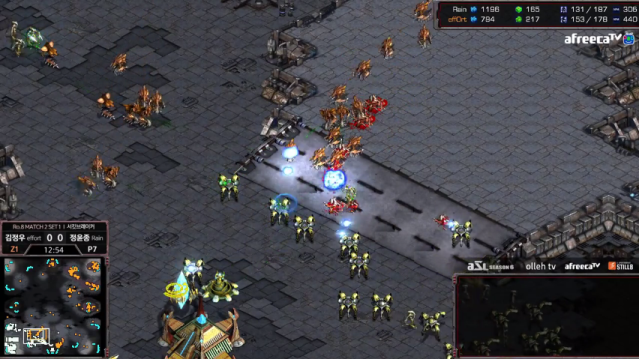 Game 2 on Sylphid:
EffOrt opened pool first to the forge FE of Rain. EffOrt ended up opting for a den and put some hydra pressure early on, sniping the forge and the first gateway. Rain on the other defended the attack, added more gates, and proxied a gateway outside his base for dts. EffOrt defended the dt harass well, but he was not expecting a dt drop in his main which cleaned up his whole drone line! With EffOrt preoccupied, Rain went for his own assault, utilizing good storms to break EffOrt's defense at his expansion and win the game to tie the series, 1-1.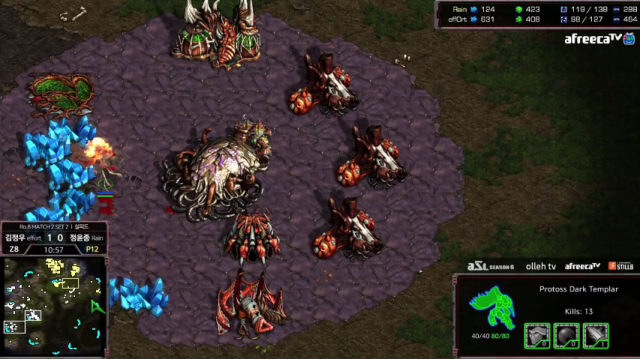 Game 3 on Autobahn:
EffOrt ended up going for a pool first while Rain went for the usual forge FE, opting for 2 cannons as 6 lings ran across the map. Realizing that he can't break the front easily, EffOrt tried for the back entrance, which forced Rain to eventually add a cannon in his mineral line. With his third hatchery already underway, EffOrt added a hydra den in plain sight of the scouting probe. Rain added more gates, a citadal and tried to zealot harass to deny some mining, but this was defended by EffOrt who had already started hydra production. From there, it was the usual with EffOrt trying to press, and Rain barely defending. Eventually, EffOrt was able to break Rain to take game 3.
Game 4 on Neo Transistor:
If there's one game that you must watch in this series, it's this game. Rain early on pressured with zealots, then went for a speedlot attack on EffOrt's third killing some drones to get himself a nice position. However, EffOrt was not out of it yet as he utilized overlord drops with hydras to attack Rain's expansion and cause Rain to pull back, as he tried to establish his fourth.
Rain's best chance came when EffOrt's mutalisks were busy attacking his expansions. He had already taken his third, so he went for a large attack on EffOrt's fourth, killing it, before he went for the third base while a zealot squad went for the main/expansion. Unfortunately for Rain, EffOrt defended the attack, and re-established his fourth while Rain was still stuck on three bases with a heavy goon templar army. From there, EffOrt kept sniping high templars everytime Rain moved on, and crushing every army Rain had until Rain eventually gg'd out.
"That's a lot of hydras, tasteless" - Artosis
EffOrt
advances to the semifinals!

Action Traction
I believe that Shuttle vs Action could possibly be one of the better matches of this stage, despite most people considering it the odd match of an otherwise very stacked Ro8.
Shuttle had a rocky start in his Ro16 group, but managed to overcome Soulkey and Snow to secure his spot in the Ro8. Going back to what I said about Shuttle's record vs Soulkey, and his series against him in the KSL where he took the first game, he did still end up prevailing in the Bo1 scenario. However, the Ro8 is a Bo5 series, and much like his head to head with Soulkey which heavily favored Soulkey, the same goes for his opponent now with Action.
Having not fought at all in October, which is of course par for the course as they are going up against each other offline, their September record in sponmatches is a 14-5 in favour of Action.
Action's road to the Ro8 has been rock solid going 2-0 in both his Ro24 and Ro16 groups and showing his best form. Looking at his Ro16 match against Light which is the pimpest play of 2018, his massing of 200 sponmatches overall, and his ZvP rate which is better than Shuttle's, it's clear that his hard work has translated to results in the ASL. Let's just say Shuttle has got his work cut out for him, and will be needing to take more out of the box solutions to win. This happens to be one of his strengths in the matchup.
Maps:
Set 1&5 - Sylphid
Sylphid is a zerg favored map. No two ways of looking at it, but it's also the map that Shuttle eliminated Soulkey on with his two base push following up that initial reaver speedlot. It's definitely on the cards against a player such as Action, but if Action can get his scouting right, and take 2/3rd of the map, which is what zergs wants, then he'll be in a great situation to take the game.
Set 2 - Neo Transistor
Expect the action to pick up very quickly on this map. It will be interesting to see which way both players try to expand, towards or away from each other. Zergs have a lot of options early on, such as mass speedlings or pincer hydras. Personally I'm feeling hydra into hydra/muta play from Action, and Shuttle is definitely going for early DTs. Most likely against the potential hydra/muta, we might see a dark archon. Maelstroms are going to be pretty powerful against this style of play.
Set 3 - Autobahn
Clearly this ASL was designed to develop the era of Zerg because ZvP on this map is quite disgusting to play on with those backdoor stacks of power generators not having enough hp to really be considered a blocker. But more importantly, zergs really prefer 3 hatch hydra on this map, and it's been proven to be very powerful so far. I'd expect Action to bust it out here.
Set 4 - Circuit Breaker
Standard a map as it may be, at this point in the series, I can only foresee Shuttle crashing into Action, going 8-10 gates on 2 bases. If this map is going to be a standard game, Action will take it.
Action
to advance to the semifinals, 3-1.

Flashing A Light On The Dark Horse
Some say Flash looks vulnerable and may not be as dominant anymore. Some also say that Mini is the dark horse of the tournament. All I know is that this Ro8 match is gonna be good.
Mini tends to fly under the radar for a lot of people, but he did make top 4 last season of ASL, and sure, some might argue the maps for ASL5 were protoss favored, but up until his meeting with Snow in the Ro4, Mini had not dropped a single set his entire run from the Ro24. 2-0ing his Ro16 group with a solid response to Last's 2 factory push in the winners' game plugged in one of the major holes of his play with solid defense, not just his solid attack micro. More importantly, he's learned to keep a calm mind in a tough situation, not like before where he'd whiff, and storm his own forge in a tight defense. But against Flash, he needs to pull out all the stops if he's going to take advantage like he did against Last.
Mini's entire game plan this series will revolve around getting ahead as soon as possible against Flash as both players seem to have great army control, especially with their early game armies. This allows a player like Mini to take greater risks at the start if he's able to keep his early units alive. If he doesn't manage to cripple Flash in some way in the early game or he won't be able to take on Flash's macro, expect an intense start from any match in this series.
If there was some truth to the rumor that Flash is more vulnerable, I don't see it. It's true that he was knocked out in the Ro8 last season by Snow and dropped a match against Jaedong in the Ro16, but Flash still has a 77% overall win rate across all matchups with 75% in TvP on sponbbang. Maps don't look all that favoured against Terran as they were in ASL5, and Flash has had Mini's number constantly over the last two months. In a Bo5, Flash is still the most untouchable player in the history of the game, and Mini is going to need more than godlike preparation to take on Flash, because he's going up against god himself.
Maps:
Set 1&5 - Sylphid
Sylphid is an interesting choice to be the repeat map in TvP. On one hand, Terran has a good number of expansions to take while expanding towards Protoss, almost all of which have gas. On the other hand, Protoss can take advantage of the fact that the mains are so big that you can easily sneak in shuttles. I fully expect Mini to take advantage of the current PvT meta with speed shuttles, and be more mobile with his army from the early to mid game trying to keep Flash's production in check as Flash slowly tries to creep towards him leapfrogging tanks and expansions.
Set 2 - Circuit Breaker
Bold prediction: Mini proxy robo at 6/12 location, flash scouts it, and game gets busted from there on.
Set 3 - Neo Transistor
Protoss have so many cute tricks that they can do to Terran on this map. In fact, we've seen Snow try it and fail against Flash in their encounter last season, but the match should roughly play out the same as it did. It's up to Mini to try and do damage with his first couple of zealots. From there on, it's likely that Mini will forgo taking a third base to hit a 8 gate timing. Flash will likely want to rax FE and push for siege before vulture upgrades with a safe defensive opening rather than a greedy opener here to take the 3rd and 4th on either side, and hold for a 2/1 timing push.
Set 4 - Autobahn
Autobahn is once again a map of good Protoss proxies especially robos behind the power generators. If placed properly, a worker would need to go almost all the way around to see if a proxy is there or not. The map is also very good for contains seeing as the mains are flat ground, and there being no real safe space to shuttle units around a contain either especially if units are moving out from the tiny ramps at 12/6 since they will die to splash damage very easily.
Flash
to advance to the semifinals, 3-1.
---