The group stages are finally over and we are into one of the most exciting parts of ASL, the elimination stage. Unfortunately, we've lost some fan favourites along the way, including Jaedong who fell in group C to both Larva and EffOrt. It seems that the time is not yet right for Jaedong to hold that ASL trophy, perhaps next season! Shuttle was the talk of group C as he showed us some of the best games this ASL, advancing first after beating both EffOrt and Larva on Transistor and Third World respectively.

Group D saw 2 protosses advance in Mini and Rain. Action who had a good run this ASL looked like he might make it to the quarterfinals, but was stopped short by Rain on Gladiator. Of note is the fact that he shot down his own hydralisk den during a zealot attack, a mistake that cost him dearly. Movie was eliminated in last place showing some lackluster games considering his caliber. Read the recaps by Ty2 for much more juicy details!

After the Ro16 concluded, the quarterfinal matches were drawn and boy are we in for a treat. The first half feature Shuttle vs Rain and Mind vs hero which have been previewed by Bigfan and BLinD-RawR respectively. The second half feature Mini vs Larva and Flash vs Snow and should be a treat!

With the games set to start in , let's get hyped for PvP action!
The Competition is Ruthless!
Game 1 - Jaedong vs. Larva on Transistor
In the days leading up to the match,
Larva
had practiced with
Shine
and
Where
dozens of games. Going down Larva's match history, the results were littered with loss after loss save only four or so games. Meanwhile,
Jaedong
had been more than capable in ZvZ, butting heads with
hero
, and having winning margins over
Soulkey
and
Action
. The precedent was set for who was distinctly better and worse for these two players. How exactly the two would dance around the mindset of the other proceeds to unfold in an electric cascade.
Jaedong spawns in the 9 o'clock while Larva spawns in the top right. The ominous gong of war is sounded first by Jaedong. An early 9 pool is placed, an insanely risky move by Jaedong. The first piece put into play is somehow apt for the bygone Tyrant trying to catch his former spark of incredible daring.
Unfortunately, Jaedong must pay the price for the gamble he has made with fate. As he plays his card, Larva plays his own, the nefarious gas before pool build. The build has enough lings to defend Jaedong's and a higher gas count. At every corner it reigns supreme. The long rush distance and comfort of defending an expansion from the ramp only compounds the ineffectiveness of Jaedong's build. Jaedong's premature attempt to outsmart Larva based on his higher stature going into the game. Larva, predicting that JD would play the riskier move despite his better standing in an average game, countered with the perfect build to gain the upper foot. As far as the game of wits, JD played right into Larva's hands.
By the time JD's lings arrive to Larva's ramp, the unwelcome sight of lings waiting to receive them strikes the impulse of action into JD. For every second that passes is a second Jaedong falls behind, and so must do all he can. An intense battle ensues. At first fended off by Larva, JD swoops in again, this time with ling speed, outmaneuvering Larva. JD, threatening the other side of the ramp with a few of his reinforcements now forces Larva to relinquish ramp control and defend his main choke point. JD slips his lings freely into Larva's natural, naming the entire breadth of Larva's base his playground.
Two reinforcement lings pluck away at the mineral line as JD's main ling force threatens a hatching egg. JD who once had a threatening position though falters as his multitasking is pushed to its limits. All at once, his main ling force takes a bad engagement, coupled by reinforcing lings rallying blindly to their deaths. In total, JD picked off only 1 drone. He stands before an opponent that possesses far more lings and 2 hatcheries worth of larva.
The lings are on a downpour of fury, a grim sight for Jaedong. Jaedong, a shallow, thin pan of paper, does not drive against Larva's raging current, but instead follows, gradually subduing the raging bull. With drone pulls, a sunken colony, and careful ling micro, Larva's attack peters out. JD hurriedly sends his muta cross map as Larva sends yet another wave of zerglings to JD. In the exchange Jaedong is reduced to 25 minerals and 1 drone while Larva is much the same.
In the process of breaking down Larva's unmorphed creep colonies, Jaedong haplessly loses a muta. His further attempts to do ling runbys and abuse his air superiority falter in the face of Larva's spores and 2 hatchery production. With each passing second, Larva's supply vastly exceeds the infantile economy of Jaedong. Eventually, the passing rhythm of the game now beats for Larva as JD taps out to Larva's en route Mutas.
Game 2 - EffOrt vs. Shuttle on Transistor
EffOrt
spawns in the 9 o'clock while
Shuttle
spawns in the top right. The game quickly transitions into the midgame where EffOrt has gone 3 hatch spire and Shuttle has gone for sairs and speed zealots.
The initial push at EffOrt's bases prove futile as Shuttle is more than prepared for the puny blows. Shuttle poses an elaborate distraction of speed zealots to make way for his DTs to wreak havoc. While EffOrt quickly notices the imminent threat, one of the dark templars makes its way to EffOrt's main base ungraced by an overlord's presence.
The attack is minor in the greater economic workings of EffOrt as his fourth base pays himself dividends. Shuttle's position only continues to worsen as his 2 base assault finds no openings in EffOrt's unassailable sunken and lurker fortifications. A petty storm drop finds much the same success, dying to hydras and managing to unload only one high templar in its death throes. A single storm takes only three drones.
EffOrt expands his outer reach to the other main base, sealing his economic advantage. The game quickly leading to his advantage, EffOrt is pushed to make his next move. An attempted doom drop is made, but is flicked off like dust motes on Shuttle's shoulder. EffOrt continues to make further hapless attacks, almost to the beat of a metronome, attacking Shuttle's fourth, but with each wave of units less effective than the next. Several plagues appear to spell doom for Shuttle's army, but Effort is unable to gain a direct engagement. Before long, the protoss army is in full swing, clad with the maiden force of a dozen archons.
EffOrt then takes a haphazard engagement, with too many lurkers and too few supporting units. The shocking absence of defilers beckons the doomed failure of the army. Shuttle's storms and the hardy resilience of the archons makes little work of EffOrt's ragtag group. EffOrt continues his efforts of an all out assault, attacking Shuttle's army and his 4 o'clock before finally momentum swings in Shuttle's favor. Shuttle's snowballing army of reavers and archons surely but gradually defeats EffOrt's attempts at battle at every turn.
EffOrt's wasted attacks have drawn the ire of the Zerg gods as all hope has been exhumed from him. A bank left hollow and the will to fight all, but extinguished, Shuttle's army soon overwhelms EffOrt's natural. Sighing at the advantage lost, EffOrt concedes.
Winners' Match - Shuttle vs Larva on Third World
Larva spawns in the top right while Shuttle spawns in the bottom left. Shuttle opens 1 gate FE while Larva expands to the third, reachable only through a mineral walk from his main. Shuttle's precocious zealots take a poke at Larva's natural, but Larva's wit bests Shuttle. Hiding four lings in the shadows, Shuttle is too far entrenched in Larva's territory to back out of the disadvantageous fight.
Larva pokes at Shuttle's gateway before taking a passive stance. He again attacks on Shuttle's next moveout, felling the damaged gateway and doing a ling runby. Meanwhile, Shuttle's en route zealots are made little work of. Despite the chaos, Shuttle is still prepared, arming himself with four stargates of corsairs and two robotics bays worth of reavers and shuttles. Shuttle expands to the bottom right while doing reaver harass with mixed results.
As the game appears to settle, Larva does a surprise attack at Shuttle's natural. Before that the entire focus of the game was on the other side of the map. Shuttle barely hangs on, making use of d-web. Larva alternates an attack to the other side once again to Shuttle's isolated fourth base. Shuttle's many gateways fell to the hydra siege as once again Shuttle barely defends. As the gateways are made, Shuttle's dominant hand takes root, a force made on the other side to contest Larva's expansions.
With one fell swoop, Shuttle wins an engagement that fells Larva's top left base. Further engagements fall into Shuttle's favour, toppling Larva's expansions and running his bank dry. Shuttle slowly forges on to win, with a snowballing army value and Larva who is left with no mining bases. Shuttle advances to the Ro8!
Losers' Match - Jaedong vs. EffOrt on Third World
EffOrt spawns in the top right and Jaedong spawns in bottom left. Both players having the longer game in mind open 12 hatch, but EffOrt noticeably makes his second hatchery on the other side of the map.
Jaedong makes his move to pressure EffOrt's natural by trying to glitch lings through the wall. However, despite the repeated attempts, no lings manage to pass through. Meanwhile, EffOrt launches a surprise attack on the right side of the map, complete with nearly two control groups of lings. Jaedong who has been droning happily, is completely oblivious, not expecting so many lings from just one hatchery. His lings are too close to beat a hasty retreat, awkwardly forcing JD to split his lings into two. However, unable to conjoin the two parts, his lings and drones suffer massive casualties. In the muta followup, Jaedong's two muta flock falls to EffOrt's, prompting the surrender.
Final Match - EffOrt vs. Larva on Gladiator
Larva spawns in the top left while EffOrt spawns in the top right. Larva opens with the cautious 12 pool while EffOrt lunges first with the aggressive 9. The ling attack from Effort comes in fast and steady, taking a rousingly good first engagement against Larva's lings. Larva, knowing his dire circumstances, pulls upwards of 5 drones. A later engagement cuts even where both players lose several lings. Larva, pressed to make use of his 2 hatcheries, goes for a committed ling attack. In an almighty push, Larva's lings break EffOrt's ling concave and quickly make their way to the exposed mineral line. Drone after drone falls as a painfully late sunken manages to save all, but one drone for EffOrt. Larva manages to snatch victory from the jaws of defeat.
Shuttle
and
Larva
advance to the Ro8!
Land of the Toss
Game 1 - Rain vs. Action on Transistor
Action
spawns in the top right and
Rain
spawns in the bottom right. Rain opens fast forge expand into 2 stargates while Action opens 3 hatch spire. Rain's build relies on Action being unprepared to leave overlords open to attack. Action unfortunately is not only unprepared, but makes five mutas, a move excellently handled by double stargates. Neither threatening or exactly good for defense, Action looks to be in a sorry shape - that is until Rain makes his next catastrophic move.
Rain in his eagerness moves out to attack while Action seizes the opportunity, moving in his mutas to backstab. The corsairs kill a round of overlords, but not without suffering probe losses back home. Rain's hasty retreat home makes the corsairs waste time not killing overlords. Rain now heavily delayed trudges through to several gateways to follow up the corsairs. A DT drop manages to kill all of the drones of Action's natural, but does little to make up for the mediocre effect of the corsairs.
Action positions to return the favor, launching a triple pronged attack. The first attack is a lurker hydra drop at Rain's main, and a followup lurker drop at Rain's natural. Rain, pulled every which way transferring probes has left his third exposed to Action's main force.
Rain, remaking his third and walking on a hurt economy summons what he can for a last attack at Action's third.
Action, firing off on all cylinders, quickly works to encircle Rain's dot on the map. Complete with lurkers, cracklings, hydras, and plenty of reinforcements to come, Rain's forces fall pitifully.
Game 2 - Movie vs. Mini on Transistor
Movie spawns in the top right and Mini spawns at the 9 o'clock. Both players open gateway expand, but Mini sends his zealots offensively. Movie, taking the defenders role has immense trouble putting a lock on Mini's slippery zealots as he uncomfortably shuffles his probes and ends up losing one too many. Movie counters with his own aggressive zealot, but ends up getting nothing done. Both players go for fast DTs, Movie's being slightly slower. Movie attempts his own determined DT drop while Mini manages to simply walk a DT into Movie's cannon-less natural.
Movie's DT drop kills a cannon and a few probes at the cost of a shuttle and two DTs. Strangely, despite Mini's far more efficient DT harass, Movie's subtly better multitasking appears to level the economies of the two.
The midgame is later marked by precarious and turbulent storm drops by both players as they expand to a third. Movie manages to gain the upper hand with a twenty supply lead. A zealot runby on one side of Movie's ramp manages to sneak two zealots into the main base that go unnoticed. Movie soon loses his entire probe line. Movie, discombobulated from the recent tide of events hurries to make his own move, but falls over himself in the attempt.
A clumsy and forced attack into Mini's fourth is compounded by a DT in Movie's mineral line. Carefully outmaneuvered before a single attack was made, Mini wins.
Winners' Match - Action vs. Mini on Third World
Action spawns in the top right and Mini spawns in the bottom left. Action dictates the pace by sending an inquisitive drone along the path of the other side. Action's drone up to hijinks manages to just barely evade Mini's probe.
Action's timed maneuver to make a proxy hatch in the corner of Mini's main appears to have worked flawlessly. Mini, walking up to Action's natural sees no hatchery, and clairvoyantly makes cannons just as the proxy hatch is about to spawn. Action's proxy hatch manages to make only a single pair of lings and wasted zergling speed.
Action in desperation makes a spire with two hydras, tricking Mini into thinking Action is going for a hydra bust. Mini in his paranoia makes 6 cannons at his natural, but the Mutas are already en route to Mini's main. Mini warps in several cannons and corsairs. Despite all factors lining up for Action, the damage he inflicted was not enough to catch up.
Somehow, perhaps because of Mini's complacence, Action gets the perfect engagement of mutas and scourge on Mini's corsairs. The victory breathes hope into Action's fettered spirit, but means little in the face of three bases, and four stargates, against Action's barely saturated 3 hatcheries.
Before long, victory is won by Mini, the final engagement of a swarm of corsairs destroying Action's pitiful flock.
Losers' Match - Movie vs. Rain on Third World
Rain spawns in the top right while Movie spawns in the bottom left. Rain begins the festivities by manner pylon'ing Movie several times over. Throwing in a zealot for spice, not a single probe ends up dying as neither player looks ahead.
Movie, assuming he's in the lead, pushes into Rain before being repelled. Rain's two gate followup, a dizzying addition to the pylon prisons, catches the all too assuming Movie. The dragoons force Movie up his ramp, picking off several probes in the process. A back and forth fight ensues that leaves Movie far behind in economy.
The commotion dying down, Movie strangely attempts an attack into Rain's natural, suffering several losses in the process.
Rain, so far leading an increasingly frustrated Movie along, makes his own move to Movie's side of the map. Movie, wielding only dragoons makes repeated tries at delaying the push and picking off Rain's shuttle only to lose more Dragoons. Rain, barrelling down on Movie's front door snaps up victory.
Final Match - Action vs. Rain on Gladiator
Action spawns in the top left while Rain spawns in the bottom right. Action goes 3 hatch spire while Rain makes corsairs and fast DTs. Aiming to replicate his success on Transistor, Action makes several Mutas once again. However, this time Rain does not move out with his corsairs, wary of the first game.
Rain makes the first move to break the silence, attacking with his speedlots. Action's hidden mutas and zerglings spring into Rain's natural only to come face to face with corsairs, getting only a high templar for their efforts. A few of the speed zealots manage to pass into Action's main base while a DT passes unnoticed into Action's 3rd.
The damage appears minimal as a nearby overlord comes to the rescue, only to be thwarted by the arriving corsairs. Rain's DT now goes uncontested, killing several drones and forcing a drone transfer.
A commanding lead, Rain's subsequent corsair and zealot attack, then large dragoon army batters Action into submission.
Mini
and
Rain
advance to the Ro8!
All Shuttles
Ah
Rain
vs
Shuttle
, PvP. A matchup that both players seemingly wanted. On the bright side, we are guaranteed to see a protoss in the semifinals which is great. On the other hand, we are going to be losing an extremely capable player when this is all said and done. Regardless, this is going to be an interesting matchup considering that both players have around the same level of success in PvP when it comes to sponmatches in this past year, averaging close to 60%.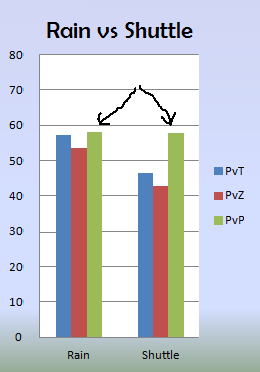 Neither player has faced the other in any serious offline competition since Rain's return to the scene so at the end of day, it'll come down to who really wants this win. They both won some PvPs this ASL with Shuttle beating
Sky
and Rain beating
Movie
respectively, but their game felt a bit shaky and it's not much to go off of anyways. The new maps will factor heavily into the outcome with reaver plays looking like the norm on maps such as Third World.
All things considered, we've seen Shuttle impress us greatly this ASL, coming out first in the group of death in the Ro16. He's still the ASL1 champion and is known for being an extremely hard worker who wants to provide for his family. He seems to prepare well and plays amazing Starcraft when he empties his mind. His games against Sky in the Ro24 on Sparkle showed that he still has some way to go with island maps but Third World feels like it's his territory.
Rain's play has been a bit less impressive and his control has needed some work in his matches. That's not to say that Rain doesn't have the same or higher potential than Shuttle, but he still seems to lack the motivation to prepare and practice. His desire seems to be less than that of Shuttle and in a series where that's a huge factor to consider, it doesn't bode well for him. This means that Rain will perform better on standard maps where his years of practice will come in handy (look at how badly some players performed on new vs repeat maps).
Everything considered, Shuttle is likely the winner of their encounter if he can maintain the same mindset that he had during the Ro16, but Rain won't make it easy either.
Shuttle
<
Transistor
>
Rain
Shuttle
<
Third World
>
Rain
Shuttle
<
Gladiator
>
Rain
Shuttle
<
Sparkle
>
Rain
Shuttle
<
Transistor
>
Rain
Shuttle
to advance to the semifinals!
A Hard Path
Looking back at this season in the future, people will come to call it one where the map pool overreacted to Flash and ultimately almost caused an extinction event for Terran. But like I said, almost, because Mind survived where the other 6 terrans not named Flash failed and made it to the bracket stage where he has to deal with all of the maps that could have taken him out earlier against the same opponent now. Yay? Well now that hero is in the way of him moving forward, things are sure to get interesting for him.
While Mind has not been streaming or playing in sponmatches as much as hero has, he still boasts a winning record against every zerg he has faced on stream (except for soulkey with whom he has an even record against). This should come as no surprise as he is one of the best TvZ players out there. Another advantage for him is the fact that Third World is the repeat map of the series, a map where he has so far only had 2 losses against zergs, however he has avoided playing on Sparkle. He has only a 40% win rate there which may give hero enough breathing room for him to prepare on the worse maps.
Hero's greatest strength going into this series is preparation. We've seen it time and again how hero who normally exhibits a weaker ZvT record in general takes unexpected series against terrans in actual tournaments. This is usually done with tactics that are meant to tackle his opponent's particular playstyle. hero's ZvT is what one would consider for the most part to be something that is reactionary towards whatever the current trends are in TvZ and poking holes into those existing strategies.
Sparkle and Transistor are his maps to take. That would mean that he would need to come up with strategies for Third World (twice may I add) and Gladiator. On both I expect some form of heavy lurker play with drops (I don't expect them to be slow drops) and a tighter mid game army instead of just rushing for hive immediately. He would take a more aggressive stance to overwhelm mind with his superior APM and micro with those tactics that make him so deadly in the first place.
Mind
<
Third World
>
hero
Mind
<
Transistor
>
hero
Mind
<
Sparkle
>
hero
Mind
<
Gladiator
>
hero
Mind
<
Third World
>
hero
hero
to advance to the semifinals!