With little information available about the Xenix' 7th National PC Bang Event, it has faded into the background among the other ongoing events. From the information provided by Stratos, this event started on August 24th with the preliminaries and finished today with the finals being broadcasted live on GomTV. Without further ado, here's a quick recap of the bo3 finals between Sharp and free:

Game 1: Cross spawn on Python. Free opened with a gate expand while Sharp went for a factory expand opting for vultures with mines. Some minor harass occurred with Free losing 2 probes. As time passed, Sharp ended up adding another fac going up to 3 and went for a hidden starport for drops which was stopped. On the other hand, Free went up to 6 gates, got a templar archives and added a stargate for arbiters. Both players sat back, grabbed a third with Sharp grabbing a fourth though it was denied by a zealot drop. Free eventually found a hole in Sharp's wall but lost his army and subsequently his newly established fourth as well.


I'll exploit your lack of defense!


A recall into Sharp's main did little damage with Sharp taking a fourth base. Free would eventually take a fourth though Sharp maintained his eco advantage with a fifth base. After getting a good engagement, Free forced a lift on Sharp's fifth but lost his army. Free also went after Shark's fourth base forcing a lift but it was re-established shortly after. Free tried to do some damage with his army but Sharp's positioning and defense was pretty good. As Free slowly mined out all his bases, he took a promising engagement near the ramp to Sharp's fifth however Sharp barely managed to defend with new units (pic). Both players ended up trading bases soon after leading them each to have one mining base only. Free eventually GG after realizing the situation.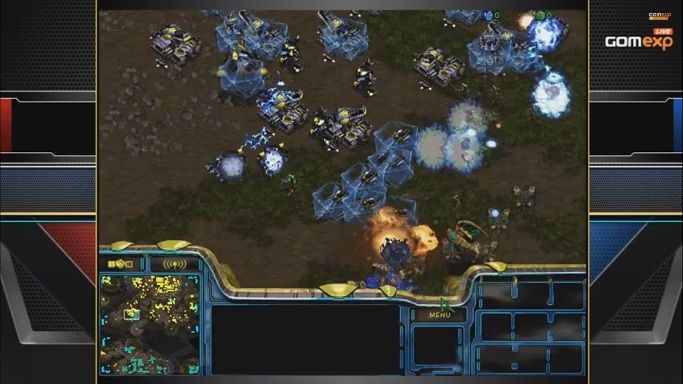 So much stasis!


Game 2: Close spawns on Fighting Spirit. Free decided to go for a 1 gate expand and tried to scout but was denied with some marines. Sharp decided to go for a 2 fac and used his early marines+1 tank to make it look like a FD. Free went up to three gates and robo for obs though he was not ready for the 2 fac as Sharp bulldozed his way into the main to take out the goons and win the game and series 2-0.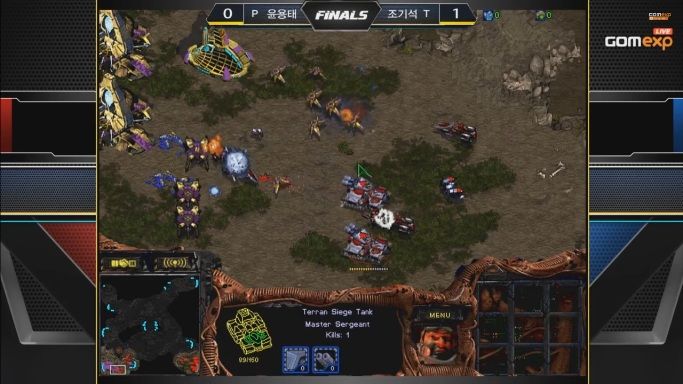 Is it over yet?
Sharp is your Xenix' 7th National PC Bang Champion! With that, he's $2000 richer!