Here we are. The fateful day of the grand finals of the biggest league in Brood War. The two current best players, in both in their signature match-up. Last week showed exactly what they are capable of. This week we crown a champion, the true king of SOSPA and PvZ. I'm hyped, and you should be too.
As usual you can catch up with KristofferAG as he
recaps the semifinals
. This week we have the addition of endy's
battle report of a crazy ZvP
. My
preview
has a bonus section filled out with a short history of both players. The article ends with a prediction from TeamLiquid community members. The grand finals start in just
!
Table of Contents

Semifinals recap
Buttoned-up

A battle report
A crazy ZvP

Grandfinal preview
Match-up specialists


More info at

Liquipedia
The final four of the 9th SSL weren't quite what people expected, but after some strong quarterfinal performances, people's hopes were high. Surely, Movie, hero, Bisu and Kwanro would deliver some great and entertaining games!
No happy ending for Movie
hero
<
Circuit Breaker
>
Movie
hero
<
Mist
>
Movie
hero
<
Match Point
>
Movie
hero
<
New Sniper Ridge
>
Movie
hero < Tau Cross >
Movie
hero advances 3-1.
Movie and hero were first to bout, going at it on Circuit Breaker. It all started out very promising, with neither player dying before five minutes. It didn't take much longer though, as Movie failed to scout the three-hatch hydralisk attack coming in from hero. With only a single cannon to defend, the hydras easily busted through with the help of zerglings, securing a fast lead over the Protoss.
In the second game, hero tried to fend off corsairs with hydralisks only, which ended up in more dead overlords than necessary. However, Movie's drop harass got shut down fairly effectively with hydras in place, while the lurker drop from hero only delayed mining for a short time. Hero's hydralisk push was completely deflected by reavers and with Movie's bases safe he went back to harassing, dropping DTs, HTs and reavers. With scourge out and good coverage from hero, the harass didn't really do as much damage as it could. Behind this, Movie massed up a fairly large army and grabbed a third, and as he pushed out, the hydralisk army could do very little. A drop into the Protoss main failed in delaying the inevitable push, which absolutely obliterated any and all defenses the Zerg player had.

Movie defends his natural with reavers before accumulating a force strong enough for a 1-hit K.O
For game three, hero went back to a tried and tested stratagem with his three hatch hydralisk push. This time, Movie was a bit more prepared and had three cannons in place when hero's army arrived. His single corsair was also able to kill off an overlord, and without the instant reinforcements, Zerg couldn't bust through the cannons. With three bases and something like five hatcheries, hero attempted a huge hydralisk attack, which Movie successfully delayed by taking out the Zerg fourth, to which hero responded by denying the Protoss from taking a third. It looked like Movie could close it out when he pushed and killed hero's army, but a huge wave of hydralisk reinforcements annihilated Movie's army. With a drop in the main and a simultaneous attack on the third, hero managed to deal enough damage to push Movie out of the game.

A sure-fire way of catching wild mutas is with maelstrom, cast a storm to deep fry, two for extra crispy.
With the potentially last game of the series, hero decided to switch it up a bit as he went for two-hatch mutalisk. At first it looked like the mutalisks were far too delayed, but as the two cannons in Movie's main fell, the corsairs were unable to fight off the mutalisks and scourge. For the exciting conclusion and a play-by-play breakdown, check out
endy's GIF battle report below!
Kwanro ends SSL debut at semifinals
Bisu
<
Circuit Breaker
>
Kwanro
Bisu
<
Mist
>
Kwanro
Bisu
<
Match Point
>
Kwanro
Bisu < New Sniper Ridge >
Kwanro
Bisu < Tau Cross >
Kwanro
Bisu advances 3-0.
As we moved into the second game, even Bisu anti-fans would find it hard to cheer for Kwanro, because no-one really wants a ZvZ finals, right? Kwanro decided not to start out with the cheese we all expected, while Bisu went for a six-gate goon attack with a single archon and a couple of zealots. Instead of defending, Kwanro massed up zerglings and attempted a counterattack, letting Bisu just push through the sunkens defending the natural without any problems. Some mutalisks saved the day for Kwanro, until Bisu's corsairs arrived, which let the Protoss push back in. Then even more mutalisks and scourge arrived and the corsairs died. But then a second huge wave of dragoons came in, and there was absolutely nothing Kwanro could do.

Two fully charged HT lay waste to both mutas and zerglings. It almost seems unfair, almost.
In game two, Kwanro remembered how to build a spawning pool on nine, but Bisu had two gateways up, defended the first wave handily and then countered with zealots and three probes. Though Kwanro wasn't ready to GG, Bisu managed to kill some drones and expanded behind it while making more zealots. Kwanro kept making zerglings, he then tried to attack but lost all his units and eventually called GG.
In game three, neither player wanted to make the first move. As Bisu went for a forge expand into dark templars and corsairs, Kwanro went for a spire to stop the corsairs from killing his overlords, which meant the dark templars were unable to do much. Meanwhile, Kwanro's mutalisks were unable to do much more than kill cannons, as the scourge easily got picked off while being completely clumped up. A huge zergling attack on Bisu's third failed completely to storms, and Bisu's now terrifying army could easily crush through the Kwanro's lurker-free natural to take the final game.
After rather lackluster games, the score is 2-1 in favor of hero. This game is played on New Sniper Ridge. Movie spawns at 7 o'clock and hero at 5 o'clock. Possibly inspired by Bisu vs Larva during quarterfinals on the same map, Movie builds a pylon in his main and scouts in the right direction. He has started a gateway and upon seeing hero's overpool decides to, albeit a bit late, throw down a second one, as if his original plan was to go for a one-gate tech build.
Movie pulls three probes to accompany his first zealot. Hero, who has not drone scouted and whose overlord has not reached Movie's natural yet, only produces four lings instead of the standard six when his pool completes. This puts him in a tough situation given that two more zealots will soon join the party. However Movie's micro is sub-par and with the help of more zerglings and a sunken colony, hero is able to keep control of his natural. While Movie does not deal any damage, he has not lost any of his probes including the scouting probe, and both players look quite even economically.
Movie makes more zealots off his two gateways and techs to corsairs, while hero goes for two-hatch mutas, keeping an eye on Movie's natural with a control group of speedlings. Movie takes his natural, scouts the spire with his first corsair and builds two cannons in his main. Hero takes a third base at 2 o'clock.
Movie pumps zealots and corsairs while hero now has a flock of ten mutalisks with scourge to match and goes for Movie's main. Both players micro well, hero kills the two cannons without taking too much damage from the corsairs but also fails to snipe more than one corsair.
Meanwhile, Movie's zealot force moves towards hero's third base. Hero still has a few mutalisks in the Protoss main, killing the still-warping cannons. There are no probes to snipe as they have all been transferred to his natural.
Hero makes the questionable decision to send his four new mutalisks to defend his already doomed third base instead of sending them at 7 o'clock to keep control of Movie's main, possibly because he forgot to rebuild enough scourge.
Everything dies at the third, including five drones that did not even try to escape.
This allows Movie to rebuild two cannons in his main and reach a critical mass of corsairs, so hero decides to harass Movie's natural mineral line and kills four probes without losing a single mutalisk.
Movie adds gateways for a total of six, and moves out with a sizable army of five zealots, two archons, two dark templar and eight corsairs. He heads towards hero's natural but notices that it is well defended with four sunkens and goes for hero's newly rebuilt third base instead. There, hero already has three sunkens and builds three more. Movie's corsairs are not stacked, which allows hero to easily snipe half of them with scourge! What a terrible blunder!
He commits anyway, all but one sunken dies and Movie loses what was left of his corsair fleet. He takes a third base at 9 o'clock during the attack.
Hero takes a fourth base, adds tons of sunken at his natural and his third and techs to hive. Are we really seeing a
Crazy Zerg
against Protoss?! Both players macro for a while, then Movie's new ground army goes yet again after hero's third base. The latter being defended by no less than ten sunkens! Hero's mutalisks dodge four storms and picks off a lot of units. Hero holds easily, without even using the the fifteen zerglings stationed at 1 o'clock to deny a fourth base.
Movie attempts to take a fourth base in the center but is immediately denied. Hero notices that Movie is not rebuilding any corsairs and upgrades to greater spire. Movie then moves his army to 1 o'clock trying to secure an expansion and hero seizes the opportunity to attack the 9 o'clock base. Movie drops a dark archon and lands a superb maelstrom on the stacked mutalisks and proceeds to storm them.
Movie moves his deathball that's supported by two reavers towards hero's natural. Hero responds by sending three dozens of angry cracklings to 9 o'clock. Surprisingly, Movie holds with storms and cannons, but more than half of his probes die and the nexus is heavily damaged.
Movie finally attacks the natural. Hero has no army, only seven sunkens, a handful of zerglings, and three guardians morphing! It looks like Movie finally has a serious opportunity to turn the game around! At some point, there are only three sunken colonies standing, three guardians and zerglings coming from the third, trying to desperately hold against Movie's army of 20 zealots, four dragoons, two reavers, one archon and six high templar!
Eventually all the sunkens die, but Movie commits another blunder. His two reavers, three dragoons and two high templar are not brought forward close to the zealots, and are picked off extremely easily by the zerglings reinforcements coming from hero's other base. On top of that, Movie forgets to bring his own reinforcements and the hatchery at the natural survives.
Movie has another wave ready to finally clear the bottom right corner of the map. He kills the hatchery, but there are too many guardians and zerglings for him to reach hero's main. And once again, instead of keeping his units tightly in a death ball as one is supposed to, he lets all his dragoons die to zerglings. Meanwhile hero takes a new expansion at 3 o'clock.
Cows are out and crush what is left of Movie's army. Movie types out, Crazy Zerg moves into the finals!
Third place match
Movie and Kwanro were both outclassed in the semifinals to superior players in PvZ. It wasn't surprising to see both of them being denied a place in the grand final. Kwanro looked like he did earlier this year, no style, no charisma, and just overall bad play. Much due to his opponent though. After Movie got eliminated once again by his rival he was quite frustrated and couldn't sleep the night after. Coincidentally CJ were scheduled to play STX in proleague the day after. Movie comes out as the ace and destroys Britney before facing hero. Movie gets his revenge and finishes off STX by killing Mini.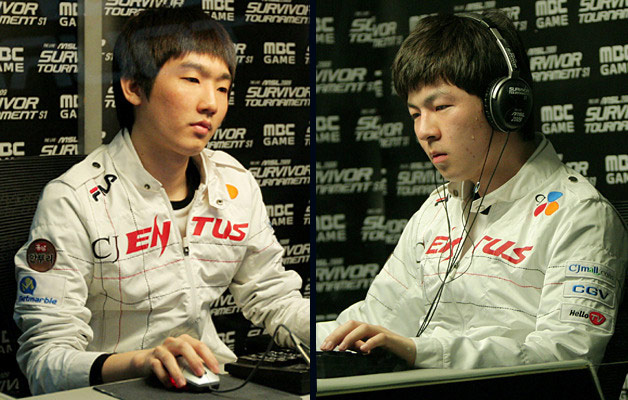 Zerglings and shuttles to warm up the crowd.
In my opinion Movie has the best PvZ behind Bisu. Kwanro is no where close to the top of ZvP specialists. Movie will make the team-kill a quick 2-0. It will be great as we will have both a Protoss and a Zerg win on the day of the finals, rejoice.
9th SSL grand final
Bisu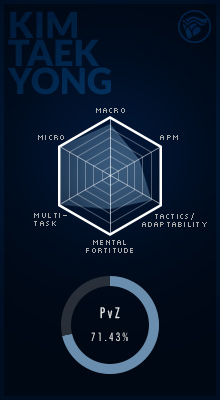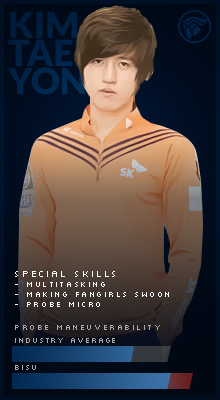 mouse over for more
There has been many pieces on Bisu and I don't feel like my writing can do him justice. This will just include a short summary of his outstanding career. Bisu first got picked up by Pirates of Space in 2005, shortly before becoming MBCGame HERO. Bisu started of decently with a few wins in proleague and made it to the MBC Survivors and ODTs but couldn't quite make it to the big leagues. His first appearance in OSL was in the second season of Shinhan OSL in 2006. He 2-0'd his round of 24 group before getting knocked out by Goodfriend in the round of 16. Shortly after in December of the same year; Bisu managed to qualify for his first MSL, and not just any MSL. Bisu went 2-1 in the round of 16 group stage with wins to Iris and Canata and a loss to Nal_rA. He continued the tournament by advancing undefeated 2-0 vs. Hwasin and Light in his round of 8 group. In the semifinals Nal_rA was waiting. Bisu got his revenge, 3-0.
The grand final was vs. sAviOr. Bisu wasn't going to win it, sAviOr was supposed to win his fourth MSL. Bisu crushed sAviOr 3-0 and formed a new era of PvZ and Protoss as a whole, earning him the title of Revolutionist. Bisu's career continued being successful, two more MSL golds netted him a golden badge. He also transferred to SKT where he secured numerous Proleague titles for his team. If you don't know who Bisu is I don't know what kind of Brood War world you are living in. Nevertheless you can read on further
here
and
here
.
Bisu played StarCraft 2 for a while before eventually retiring in late 2013. Bisu's arrival on Fish and Afreeca was mysterious and filled with rumours. A certain account on Fish had been beating all the ex-pro's with ease. People started having their suspicions of who it was. After a couple of weeks Bisu started streaming on Afreeca and all doubts disappeared, Bisu was here. Bisu was on a quest, a quest to destroy everyone. His head-to-head record with all the ex-pro's was insane, the list went on and on with crushing figures. Things kept getting better, in his SOSPA debut he went undefeated for his first ten games in Proleague, ending the season with the best record of any player at 14-3. That landed him a top three place on the power ranking and things continued. He is now the #1 ranked player on the SOSPA TLPD and is in the grand final of his first SSL.
hero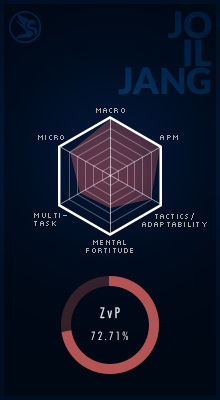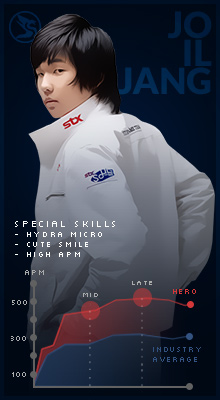 Jo Il Jang started his career relatively late, his first televised game was in 2007. His career started out just like most progamers, participating in both OSL and MSL preliminaries. Unfortunately he lost to pretty much everybody. After seven months hero was playing well enough in in-house tournaments that STX had enough trust in him to get fielded in proleague. His first appearance was against BoxeR on Monty Hall, and unlike Killer, hero didn't only get through without getting ridiculed, he defeated the Emperor himself. 2008 came along with more OSL and MSL preliminaries, the first GOM Classic, but the results were still poor as he got knocked out early in all of the tournaments.
Fortunately hero was in the perfect team to grow in 2008. The team had homegrown star players of each race - Hwasin, Kal, and Calm. All of them had good performances during the year. One particular Zerg joined the team that year. July didn't only find resurgence on STX, he managed to win the much coveted golden mouse. This was the perfect environment for hero. July and Calm did without a doubt play a crucial role in forming hero. Along came his first breakthrough, the second season of the GOM Classic. hero managed to qualify for a tournament. Yet again hero beat BoxeR, and he also beat Nbs in the round of 64 before getting knocked by a revenge-hungry BeSt in the round of 32.
December of 2008 was when hero first became noticed as an up-and-coming Zerg. He managed to qualify for both OSL and MSL during the same season. He got there by beating Pusan, Stats, iloveoov, GoRush, and BackHo, with a perfect record of 8-0. First up was Batoo OSL, he was against RuBy in the first match of the round of 36. He barely got through 2-1. Who was waiting for him? No one other than Bisu, who was #1 on the TLPD ELO at the time and was hot off his Golden Badge award from winning his third MSL gold in the Club Day MSL. What happened? Bisu got smashed 2-0. hero got dubbed the Neo-July for his trademark aggression, he also formed his own style as a ZvP specialist with insanely high APM. Batoo continued well for hero as he managed to advance to the quarterfinals by beating Tester, Fantasy, and Leta in a tiebreaker. Hero continued on his streak by beating teammate Hwasin 2-1 before losing to Jaedong 0-3 in the semifinals. During Batoo he also managed to score another win against Bisu in winners league.
Hero never achieved much post-Batoo. He kept qualifying for the leagues but never made it past the round of 16. He also did below average in teamleagues. Hero transferred to Team 8 in 2012 in the hopes of a resurgence. Nothing really happened and he eventually retired when KeSPA switched to StarCraft 2. He immediately joined SOSPA and had his fair bit of success with his best finish in SRT10 where he lost in the final to HiyA. Hero developed into the second best Zerg behind Killer, and at times was the best in ZvP. He was a contender for titles during the entire year of 2013 but had problems in ZvT and thus never made it further than the semifinal. Now things are different.
Preview
As early as in the second day of the round of 16 almost all of the major competitors to Bisu to take the title were eliminated. Killer, Lazy, Shuttle, and Sea, all of them were already gone. The only hope for a close final was hero, he crushed his round of 16 group, but our hopes were crushed when he got matched up against Mong. Hero was supposed to have an easy time against anyone in the quarterfinals but Mong, HiyA, and Bisu. Mong had already eliminated Killer from the tournament, hero wasn't supposed to win in ZvT against such a
monster
. Five games later and hero crawled out on top. The rest of the tournament was ZvP, and hero secured himself a spot in the grand final. Bisu and hero did what they could not in Batoo OSL, instead of a Jaedong vs. Fantasy final, this is what we could have had.
Bisu and hero are both the personifications of modern day PvZ, both are the ones who are pushing the match-up for the respective races. They are #1 & #2 on the overall TLPD ranking, Bisu has the second highest PvZ ELO and hero has the all-time best vP and is the current leader, even topping Killer. Incidentally Bisu's win rate in PvZ is his worst, at a whopping 71.43%, but the sample size is quite small with only fourteen games played. ZvP is on the other hand hero's best match-up
by far
, at an even higher 72.29%, with 83 games played. What's also to be said is that hero has numerous dominations against top players, it's not only stomps vs. noobs.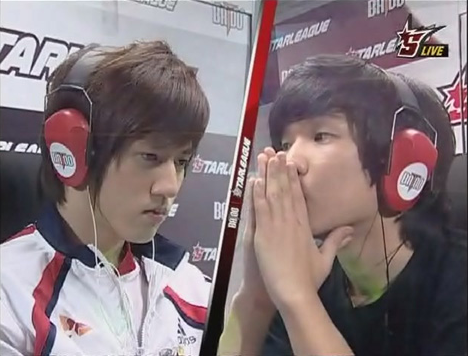 We pray too.
Hero is one of the few people who actually have a winning record against Bisu, not only in SOSPA, but in KeSPA games too. Hero is actually 4-3 against Bisu in KeSPA games. 2-0 in Batoo, where he knocked Bisu out of the tournament, and two wins in Winners league and Ultimate Proleague respectively. While Bisu netted his wins in Proleague and Winners league in three consecutive seasons, hero is also 2-0 in SOSPA with both of the wins in Proleague. This makes hero 6-3 overall against Bisu. I have always been a believer in statistics, and never a fan of Bisu. My prediction goes to hero. Either way the games go, and they really can go either way, we are sure to have us a fantastic series that is sure to go to a game five. DTs, corsairs, lurker drops, hydra busts, ling busts, zealot trains, storm dodges, you will see all of it. Whatever you do, don't miss the first big PvZ finals in five years, almost to the date.
TL Predictions
Bisu
3 - 2
---
ArvickHero
tonight
Bisu
3 - 1
---
2Pacalypse-
Falling
BisuDagger
KristofferAG
endy
JohnChoi
Bisu
3 - 0
---
mustaju
hero
3 - 1
---
Sayle
Kau
Cambium
hero
3 - 2
---
Epoxide
Crunchums
538
---
WRITERS:
KristofferAG, Endy, and Epoxide
GRAPHICS & EDITING:
Hyde
PHOTOS & IMAGES:
SonicTV
,
Blizzard Entertainment
,
Mr. Jack
,
538
,
Nathanboydart
,
FOMOS
, and
STX SouL
.