As a staunch KT Anti-fan it pains me to say it, but during this first week of the SK Planet Proleague Playoffs, KT were the better team. As such they managed to force their way through CJ and into the semi final against the second placed team from the regular season, Khan. Luckily for the viewers we were able to see CJ put up a good fight and take the best of three series to the deciding match, despite being run over after making it there. Unfortunately for CJ it seems to simply be the norm for their team to drop out early in the playoffs, living up to their reputation of choking when it came down to the crunch.
Despite that the games we saw this week were both education and exciting, with both teams showing off some new and interesting builds that had obviously been hidden until the playoffs to catch their opponents at a disadvantage. The star of the playoffs were, to my own shock, the KT Zerg players, with all of them, particularly Hoejja and Action managing to play with a fire that we hadn't really seen from them all season. This kind of resurgence in form from their somewhat unreliable players was exactly what KT needed with the playoffs in full swing to show themselves as a realistic contender for the SPL title.
This week the SPL has come together to bring you an almost unprecedented level of coverage, with a ton of articles from strategical analysis to community hype pieces. As always, we've got the
top five recommended games of the week
as chosen by 2Pacalypse- to help you work out which games to rewatch before the KT vs Khan series starts on Saturday. In case you missed any of the games last week we have also provided the traditional
recap of the games
to help bring you up to speed. Following up with some
strategical analysis of the Leta vs Stats
game from last week, we have ace commentator Sayle to tell us why optimisation can be both good and bad.
The newly penned Hyde has written another stunning battle report featuring
Hydra vs Wooki on Chain Reaction
and all it's shenanigans. While it is a week late, VGhost has pitched in and done some
statistical analysis
of the map balance from all of round three, to help you get to grips with which races prefer which maps and why. As we did last week, community members were invited to represent their teams with some friendly hype pieces to help you get riled up about your favourite team, whether it be
Khan
or
KT
. Finally Kjwcj has once again given us an in depth
preview
of the series between Khan and KT which will take place starting on Saturday, to give you an idea of how things might go down once the dust settles.
So who do you think is going to win the semi final and make it through to play SKT? Being the anti-fan that I am, I cant help but hope that Khan will come through, but with KT in such good form it will most likely be an extremely tight contest whichever way it goes.
--Kiante
PS: Congratulations to both Hyde and Kiett for earning their Pen icons for their writing/graphics contributions to the SPL writeup!
Top 5 Games of the Week


The Good, the Bad and the Cheesy.
By 2Pacalypse-
▲ Back to Top ▲
Recaps, Playoffs Week One

By: Kiante





While the first match playoffs started particularly well for CJ, with Skyhigh actually winning a game, it was all downhill from that moment, with CJ getting done four to one by an in form KT on the first day. Wooki was Skyhigh's victim for the first game, with Wooki attempting to double expanding while Skyhigh was two fac rushing him, and the outcome was messy. Flash came out next for KT to swing the momentum back in their favour, and did so with ease, easily outplaying the former WeMade Zerg, Hero, who attempted to mass expand but got punished for trying. Action snagged the next win for KT, taking out Effort in a tense match decided by a brutal ling backstab by Action that destroyed Effort's spire and sealed the game.

Hoejja was the next KT Zerg to shine, taking out the other ace Zerg from CJ, Hydra, with superior muta micro. Finally Stats dismantled Leta in a quick and one sided game, with Leta falling for Stats' faked Carrier switch, his premature push being subsequently crushed by a good flank and excellent storms, giving KT the victory four to one.



The start of the second match of the series looked to be following in the same vein as the first, with KT scoring two easy wins, but CJ fought back to claim the victory and draw out the first playoff to a third match. Once again Hoejja and Action did their job with ease, this time with Hoejja beating Effort, who continued his disappointing playoff series. Effort attempted to do a +1 attack timing with his mutas but once again being outmicroed by his KT Zerg counterpart. Action did his part cheesing out Snow with a cute double hydra den post-lair bust that Snow just couldn't see coming and got completely overwhelmed by. With Flash coming out in the third set a KT victory seemed all but assured, but Horang2 has other ideas, defending Flash's early timing attack and then capitalising with a strong three base attack to catch Flash spread out too thin, overwhelming the start KT Terran with brute force and zealot recalls.

With the momentum swung back CJ's way, the rest of the CJ lineup had no trouble in finishing off the series four to two, with Hero catching Crazy-Hydra off guard with a two hatch speedling allin, featuring a silly overlord scouting mistake by the KT Zerg so that he had no idea the rush was coming. Leta then got revenge on Stats with a particularly viscous mine that took out almost all of Stats' workers, making the result of the game thereafter a mere formality. Finally Hydra made short work of Wooki, with a overpool drone rush that caught Wooki off guard and despite a miraculous display of probe micro, couldn't convert it into a win.



Despite managing to pull back a cool comeback victory in the second match of the series, CJ were unable to continue with their momentum, being shut down four to zero by a KT who were hot for revenge. Once again Effort lost disappointing in a ZvZ by Action like he was earlier in the week, allowing Action to expand and being unable to complete a killing blow before Action's economy kicked in. Hoejja then came out and dominated Leta, who looked out of sorts playing on Outlier, with Hoejja never looking to be threatened by the CJ Terran throughout the whole game. Flash then got revenge on Horang2 with a quick biomech attack that Horang2 attempted to resiliently defend, but was left just slightly wanting and then was forced to concede the game. Finally Crazy-Hydra completed the dominant showing by KT with a quick win over Hydra, with the CJ Zerg simply getting out-micro'd once again, sealing KT's perfect victory.

▲ Back to Top ▲

Sayle Says

Optimization in Proleague
By: Sayle
Ladies and gentlemen! Welcome to my little corner of this wonderful publication that is the SPL weekly news update! Today we will be looking at why Samsung Khan is the number one team in the world, why all the current SPL maps are actually Terran-favored, and why even Bunkie has a girlfriend when I don't.
Actually, I thought I'd talk a little bit about a very interesting game from the recent playoff match between KT and CJ. This would be
Leta vs Stats
on Jade from the first Bo7 series.
In this game, there was some early aggression from Stats but we basically got to an even mid-game situation with both players on three bases and Stats moving to take his fourth. What happened next was very interesting. Stats starts +1 air weapons at his cybernetics core as if going carriers. Leta presumably scans this, assumes that Stats is making the carrier transition based solely on the spinning core, then pushes out with a mere 120 or so supply and only +1 attack finished on his mech army.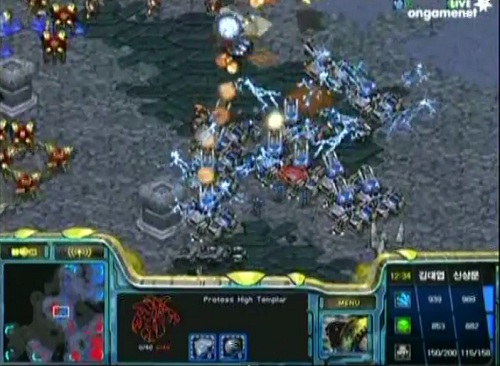 Stats had in fact not gone for carriers at all and easily crushed Leta's attack with a 160 supply Protoss ground army supported by storms. Now my question is, why did this happen? Leta had three comsat stations at that point in time and Stats had not gone particularly out of his way to hide his templar tech or his gateways. Everything was in the main base but the core was placed at the very bottom right. Essentially the only way for Stats' fake +1 to work was for Leta to only use a single scan on the main to check the core and not scan anywhere else on the map. Had Leta scanned anywhere else in the main, he would have seen either the templar tech or a number of gateways indicative of a bigger ground army. Had he double checked Stats' fourth just before moving out, he would have seen that Stats had in fact not made a nexus there despite walling it in, and would perhaps have been more careful. Had he scanned Stats army, he would have seen way more units than one would expect from a Protoss making a carrier switch.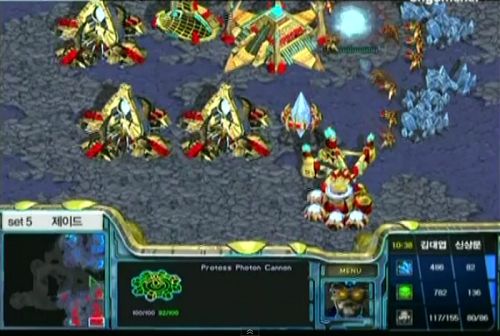 Individually, I don't think I can fault Leta for any of these oversights. When you see a Protoss getting air weapons at that point in a game, it's usually safe to assume a carrier switch. When you see a Protoss moving dragoons to his fourth base and walling it in with pylons, it's usually safe to assume he's expanding there. I'll even give Leta some credit and say that he did scan around looking for the Protoss army before moving out, which is a pretty standard move, but maybe he got unlucky and only saw bits and pieces of it. The question is, did Leta just get very unlucky with his scans or was he actually being too conservative with them and trying to get away with using as few scans as possible?
My initial thoughts on this game were actually that it might bear some subtle similarities to
Flash vs Dear
. Flash tried to make an optimization based on an assumption he made from incomplete information, and Leta appeared to do the same. If it's really so easy to trick a Terran player like that, why is it not standard play in PvT to start +1 air weapon after your third base is up? The +1 air weapon upgrade costs 100/100, which is almost negligible on a 3-base Protoss economy. An example of this concept from another matchup would be Zerg making a fake hydralisk den along with their spire in ZvT. A hydralisk den is extremely cheap (100/50) and basically forces the Terran to double-defend against both lurkers and mutalisks until he can get a better read on what the Zerg is doing. Is something similar going to occur in PvT?
The answer to that is actually probably not, but the interesting thing is why. As I said before, there were many ways Leta could have averted disaster in that game. All a Terran really has to do when he sees the core spinning is spend 1-2 extra scans around the Protoss main and then the fake +1 does absolutely nothing because the rest of the Protoss infrastructure reveals what the real strategy is. So the question essentially becomes "is it worth spending 100/100 to force the Terran to scan a couple more times" and as negligible as that cost is, I'm sure most Protoss players would say no. On the other hand, given the number of assumptions made at the highest level of Brood War play (see Zero vs Hydra on Outlier or Soulkey vs Leta on Jade), perhaps the question is actually "is it worth spending 100/100 on an X% chance that my opponent makes too many assumptions and I get a free win?" Against Flash this is probably always a yes, but as far as 'regular' players go, I'm not so sure.
▲ Back to Top ▲

Hydra vs Wooki: Chain Reaction

A Battle Report
By: Hyde
It's the second day of playoff series between CJ Entus and KT Rolster. The teams have battled it out to the sixth set with CJ leading and hoping to end it here, rather than being forced to face Flash, for a second time, in the final set.
The map is Neo Chain Reaction, a two-player map that has seen its share of 'strategic plays,' and today will be no different. Hydra spawns at three o'clock, while his Protoss foe, Wooki, spawns at nine o'clock.
Hydra opens with an overpool, while Wooki places his pylon at his natural, unaware of the early aggression unfolding on the opposite side of the map.
Five drones are pulled off the mineral line and sent on a cross-map treck. The commentators shout out in surprise, as does the crowd. The drones carefully make their way over toward the Protoss base, following a plotted route and avoiding the obvious paths by which a probe-scout might travel. They wait outside Wooki's natural until the time is right to spring the trap.
Surprise!
Hydra's lings spawn and race over to the Protoss base, an overlord drifts into the natural and watches a probe plant a cannon, signalling that the time is right for the drones to move in and take it down. The crowd cheers and the CJ coach raises both arms and starts clapping, already confident that victory is assured.
The nexus continues to warp in at the natural, while the cannon is cancelled. With the cannons taken care of, the drones set their sights on the lone probe, chasing it around the natural. Wooki quickly pulls nine of his own workers to deal with the unfolding crisis. Another cannon is placed and the probes take a defensive stance, creating a barrier between the drones and the warping cannon. More probes are pulled as Wooki anticipates the impending arrival of zerglings.
Wooki displaying some great probe micro
The lings arrive at the natural and Wooki somehow manages to interpose his probes in between the lings, scattering them and blocking most from reaching the cannon. The probes manage to hold off the lings, taking a few losses along the way. Then, they drill through the drones, allowing the cannon to complete its warp-in. The crowd shrieks in excitement. Players on the KT bench are on the edges of their seats, hearts in mouths, as Wooki holds off the assault.
A shot of Wooki's main reveals no mining activity; most of the probes have been pulled to create a small line of defense at the natural, with only two probes spared to maintain a meagre income. Hydra still has five drones mining away at his main, he starts a hatchery at his natural and continues to spawn more zerglings. He then gathers a small number of lings and attempts a runby at the natural, but Wooki's probe micro continues to impress, stopping the lings from breaking in. All the while the cannon blasts the lings away.
Wooki warps in a gateway, further narrowing the entrance, and allowing him to start massing some much-needed zealots.
Lings continue to gather at the front of Wooki's natural. A probe scout is dispatched to survey the situation, revealing more lings en route. Six lings attempt another attack, but Wooki pulls a few more probes, successfully blocking the pathway and killing two more lings.
Hydra is dogged and dispatches a detachment of another six lings as soon as possible, this time managing to breach the probe line. Four lings squeeze into the main and, in short order, the lings are free to tear down the naked nexus.
As the nexus falls, Hydra places a third hatch at twelve o'clock. More lings are made and rallied towards Wooki. A zealot spawns from the gateway and guards the narrow entrance. The lings from the main head into the mineral line at the natural and destroy many probes before finally being wiped out. At this point, Wooki's disadvantage is insurmountable, and it's only a matter of time before Hydra over powers him.
A breach to end it all
Two zealots move out and spot a pack of roving lings just outside the cannon's range. With the zealots out of the way, the zerglings run through the undefended gap, heading straight for the half-dead cannon.
Wooki concedes, knowing there's nothing more he can do.
▲ Back to Top ▲

Map Balance Analysis

The Statistical Side of Round Three
By: VGhost
Overview
This season's map pool has been fairly successful The standings (as of round three in parentheses, playoffs not included) look like this:
The PvT record is 38-30, 56% (14-7, 67%)
The TvZ record is 39-28, 58% (12-11, 52%)
The ZvP record is 43-37, 54% (19-8, 70%)
There have been about 70 games in each matchup, though ZvP got up to eighty. The win-percentages are more heavily imbalanced overall than they were last year, but are (with the possible exception of TvZ) within acceptable balance ranges and are also (including TvZ) within historical norms for the game.
I have been tracking game data based on a combination of calculated win-probabilities and actual results; for the entire set of games in the first three rounds, I have generated these balance numbers:
PvT: -0.79
TvZ: -0.49
ZvP: -1.03
What do they mean? Each number represents the likelihood that an average player from one race would upset a player of another race. All of these numbers are swung towards the "weaker" race in each matchup – because that is the direction most upsets will tend to happen. Even most bad Zergs are somewhat competent when it comes to ZvP; most bad Protoss players (and some good ones) die easily to hydra busts. Notice that these facts line up well with the win-percentages; Protoss players this season are more likely to win against Zerg than Zerg players are against Terran, and TvP is in the middle.
Of course, these overall numbers were not acquired in a vacuum, each map has its own strengths and weaknesses.
---
Electric Circuit has been much the most diverse map over the course of the season, with 48 Zerg players coming out, as well as 42 Terran, and (well behind, but still reasonable) 30 Protoss. The standings are as follows:
PvT 6-2, -1.00 (1-0, +0.15)
TvZ 11-11, -0.66 (7-2, +1.39)
ZvP 5-3, +0.01 (2-1, +0.01)
The map is most friendly to Zerg and looked far more so before the changes for round three. So, what did the changes mean? The 7-2 record does not indicate an awful lot, the major swing comes from
Sea
– in a horrific slump – beating two competent ZvT players,
great
and
RorO
. The other five wins come from
Flash
,
Light[aLive]
,
Fantasy
,
Bogus
, and the under-rated (in TvZ at least)
Canata
. The round was less an anomaly than a correction from the previous two rounds.
Similarly, the map is "Terran favored" in TvP, despite the record, because every Protoss to come out has been favored statistically. ZvP is right about where it "should" be.
Electric Circuit is my current candidate for map of the year; it has an interesting design, it seems viable for all races and has seen diversity of play. For the moment, I've attributed the lower Protoss numbers to the presence of heavily Protoss-favored maps elsewhere in the map pool.
---
Sniper Ridge is the other map in the map pool to have shown evidence of really diverse play. The map has seen 50 Terran, 34 Protoss, and 30 Zergs in season one, with the following results:
PvT 10-10, -0.94 (4-4, -0.07)
TvZ 7-5, -1.02 (1-3, -0.50)
ZvP 6-2, -0.49 (2-0, +0.87)
As you can see, Sniper Ridge is somewhat Terran-favored, but it is also reasonable for Zerg, being fairly good for ZvT, relatively speaking. Moreover, Protoss players are not too far behind. The real difference on this map between results and "balance" comes in ZvP, but is relatively easily explained; almost every Zerg has been favored, while the two Protoss wins are from Stork beating ZerO. If we saw enough games on the map, I suspect the advantage would continue to swing back to Zerg, but we can only work with the dataset we have.
Sniper Ridge is another good candidate for retention in the map pool; the games have been exciting, the design is fairly unique, and the overall results have been close to what we would expect.
---
Unfortunately, not all maps are good. Ground Zero is the last map with anything resembling equality. The numbers sit at 49 Terran, 30 Zerg, and 27 Protoss. The results of the games have given the lie to that apparent parity, though:
PvT 6-7, -0.99 (2-1, -0.12) 81%
TvZ 12-4, +0.51 (2-2, +0.18)
ZvP 4-3, -0.64 (2-1, +0.45) 44%
Ground Zero is heavily Terran favored. Games throughout the season have made this painfully clear in TvZ: most memorable, perhaps, is
Canata
's win against
Jaedong
. Meanwhile, in PvT, things aren't quite as obvious, Protoss is favored relatively heavily. On average, Protoss players have managed a losing record, and by "losing record" I mean
Light[aLive]
won a TvP.
ZvP, on the other hand, has been pretty much a disaster.
BeSt
beat
Jaedong
soundly to open the season for the map; Sun beat
HoeJJa
,
Neo.G_Soulkey
retrieved the situation somewhat for Zerg, picking up three of the four wins the bugs have managed, but two of those were busts made possible by sloppy play on the part of his opponents.
Ground Zero is not a very good map right now. However, it is a fairly standard map in terms of layout layout and the only terrible results are in TvZ; it is entirely possible that, either with small changes or player adaptation, it could well be viable.
---
With Jade, we reach the maps where you look at the statistics and have to say, "...lolwut?" The map has seen 53 Protoss, 52 Terran, and ... 15 Zerg. How do those numbers break down?
PvT 13-10, -0.40 (6-2, +0.20)
TvZ 4-1, +0.80 (2-0, +0.81)
ZvP 4-6, -1.65 (2-1, +0.71)
The best thing you can say about Jade is that it's a great PvT map. ZvP is heavily Protoss-favored, and ZvT is badly in favor of Terran. True, it is a standard-ish map, reminiscent in some ways of
Byzantium
; it's possible (sort of) that it could be fixed. For the moment, my verdict is "not worth it".
---
To be honest, I really want to like Chain Reaction, and I am not entirely sure why it has been such an unmitigated disaster in terms of results. Regardless, here are the numbers, and they speak for themselves: 63 Protoss, 49 Zerg, 10 Terran. That leaves us with:
PvT 2-1, -1.67 (1-0, +0.83)
TvZ 3-2, -0.85 (0-1, +0.21)
ZvP 13-15 -1.34 (9-3, +0.65)
This is a Protoss map through and through – one of two maps where Protoss has a positive record against Zerg. True, with more good Zergs playing on the changed map things are swinging back the other way, so it doesn't look quite so horrific. In truth, I do not have much confidence that the map, despite its ingenious design, can be balanced properly.
---
Last in this parade of unfortunate maps comes Outlier. It's an unholy combination of
Outsider
and
Requiem
, with a blue paint job. Play on the map so far has boiled down to 60 Zerg, 50 Protoss, and 8 Terran. And they've given us:
PvT 1-0, 0.00 (0-0)
TvZ 2-5, -2.00 (0-3, -0.59)
ZvP 11-8, -1.05 (2-2, +0.03)
This
is
a decent ZvP map. I am not quite sure yet that it is actually terrible for TvZ – half of the "imbalance" here comes from
Light[aLive]
being unable to manage his wall-in, and
Mind
's inability to micro valkyries. Really though, the fact that no one has even bothered to send Terrans on the map is telling. The map is bad.
---
Conclusion
As always, the biggest problem with drawing conclusions about the balance of any particular map is a lack of data. The most games in any single matchup on any single map is 28 (that's ZvPs on Chain Reaction). The only map with a reasonably balanced number of games across the three matchups is Ground Zero – and even there ZvP lags far behind. It is all interrelated, of course; the presence of strong Protoss maps (for instance, Jade) limits how many will play on a weaker map.
Looking over the map pool and results, taking into consideration the two maps that have done best this season in terms of balance, I would suggest (as a true amateur here) five points for mapmakers to observe to help balance.
- Avoid sunken main bases. It seems unlikely to be a coincidence that the three worst maps – Chain Reaction, Outlier, and Jade - all have sunken mains. (Whether we also need to avoid the Twilight tileset I leave to your judgment.)
- Give the natural a choke point. It doesn't have to be the interminable overhanging cliff of Lost Temple, but you don't want zerglings waltzing through at random intervals in the early game because there is simply too much ground to cover (or should I say, too much ground to zero?).
- Allow the third.
- Allow the third to be contested. By these two points I mean that the third base should be connected to the natural; but there should be some way for an opponent to attack. The textbook example is
Fighting Spirit
; as long as there is no contain on the natural bridge, the third can be taken freely, but it can be contested from outside on the ramp. On Electric Circuit, the "third" is accessible from the main, but is easily dropable and the temples can be destroyed. In contrast, on Ground Zero the third can be easily denied by a Terran without even attacking the natural; the shorter ranged Zerg and Protoss have more trouble.
- Break up the
middle
. This is the most difficult principle to successfully implement, I suppose. You have to have a middle region, but it needs to have features. Sniper Ridge has ridges; Electric Circuit has a relatively small middle and larger outside paths. Jade's middle is virtually featureless (the violation on one side); Chain Reaction doesn't have a "middle", just bridges (the violation on the other).
▲ Back to Top ▲
Suffocating Force

A Khan Fan Piece By: Shader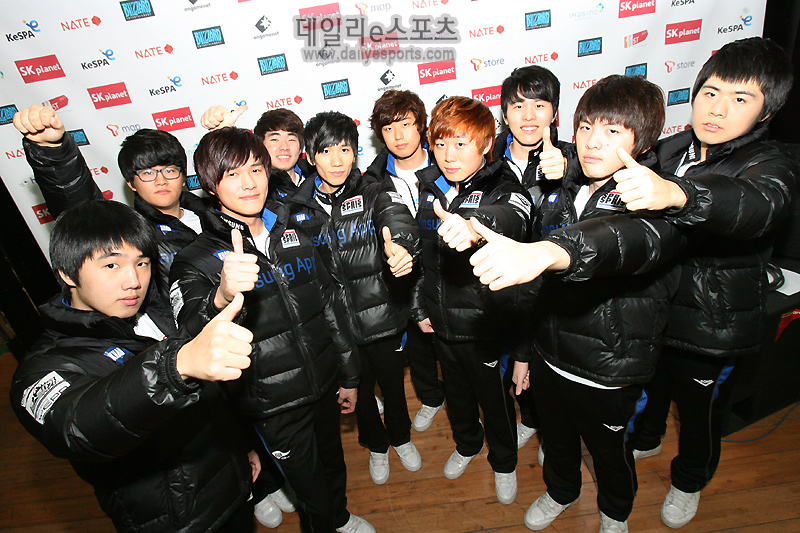 Pitiful KT fans prepare to feel true despair as the ferocious Khan Horde tramples over your sorry excuse for a defensive line. Envision this, an angry Turn riding a galaxy tab hovercraft repeatedly running you over and rear ending your humiliated corpse down into the asphalt. We will destroy you so thoroughly that the entire roster and coaching staff will all require replacement bionic appendages.
The theme today is the number two!
Pack and spare pair of trousers and behold. The Samsung Khan lineup!
Master strategist
Beautiful coach January is her name and chaos is her game. Unassuming onlookers will think that January is random or crazy with her seemingly insane lineup choices but ya'll just fail to see her genius. There are no troll ace match selections only epic maneuvers and incredible foresight.
Commander without peer
Dinotoss Song Byung Goo can do it all. Our commander with no weakness is actually a jack of all trades artist. With sublime shuttle reaver play Stork performs deadly incisions leaving opponents limp and helpless as well as brutally honest goon zealot aggression that hit like your grandmothers brick filled handbag. Michael Angelo and van Gogh step aside.
Almighty Storm Lord
Most well-known for his superb storm control and immaculate mechanics Jangbi is the reigning OSL champion and confirmation of the next scheduled OSL has no doubt gotten his blood pumping and what better way to warm up for another gold than to roll Flash again? Expect Jangbi to barrel down opponents regardless of race.
Terran
Khan has a unique Terran lineup composed of Turn and Reality. These two rookie players have matured a lot and the way their play styles have clearly diverged is a bonus for Khan in terms of versatility as well a testament to their skill and power. Reality has evolved a management orientated play style that many would call fantasy-esque (In fact the two are 2-2 head to head). In contrast Turn with an energising game and consistent hyper-aggression is reminiscent of the old Hong Jin Ho and fans have rather aptly christened him the Rabid-Dog Terran due to his fearless play. Expect Turn to JACKPOT against KT.
Zerg
Wemade Zergs Roro and Shine have assimilated nicely into the Khan roster and are our go to guys for ZvX. Respectively known as S-Class Reader and Typhoon Zerg both players should have no problems dispatching feeble KT foot soldiers and if worse comes to worse we can spike Toilet Zerg's coffee with a diuretic.
Protoss
And rounding out the Samsung A-team are Grape and Brave. While we haven't seen much Grapage recently it's worth noting that Grape did make it into the round of eight of the MSL so I'm confident in his ability to make a sorts of a comeback. Brave on the other hand continues his not playing vT streak, playing only PvP and PvZ for the past 35 games. The question remains, will Brave come out on chain reaction?
Currently second place, two ace players, two strong players from each race. Khan is unimaginably deep.
Conclusion
Best of seven with ace match? KT are too easy. Done in two sets.
▲ Back to Top ▲
Some Things Never Change

A KT Fan Piece By: okum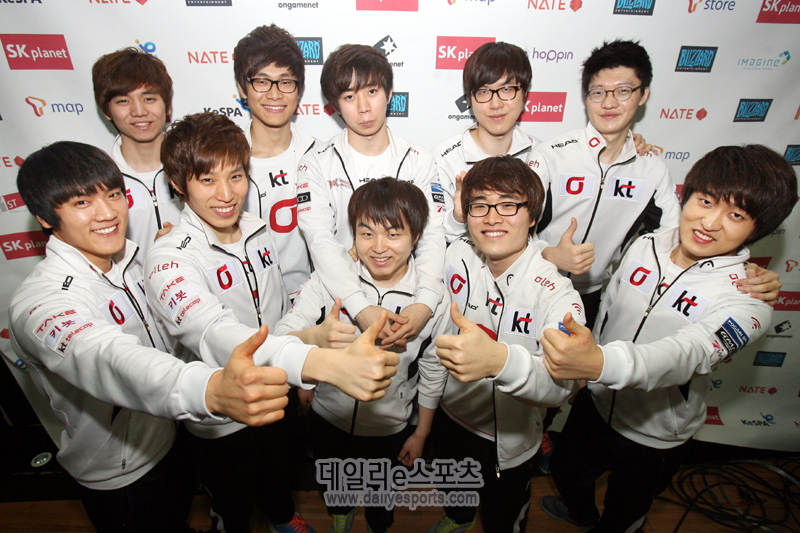 Every story needs a villain, a challenge for the hero.
To some Broodwar followers, the villain this year is KT Rolster. The argument runs along these lines, "What surer way to destroy esports than to have the same team go to the finals and win over and over again, removing any element of surprise and excitement?" For proponents of this thesis, what nobler protagonist than Samsung KHAN to put an end to this tedium?
We KT fans can afford to sit back and laugh at that reasoning.
More than any other team in Proleague, KT Rolster has shown time and time again that it can renew itself as a beacon of fighting spirit and artistry (in a game otherwise often reduced to cheap win-grabbing). Its rightful, dedicated and modest followers have reaped the reward of their trust, sharing the sweet taste of victory. This time, as surely as ever, any hope invested in KHAN will only result in crushed dreams and bitter disappointment.
If we assess the situation objectively, little suggests that KT's victory over KHAN will be anything but a quick, brutal affair.
While KHAN's players have been sitting in their practice house for two weeks now, growing weak, fat and complacent, KT is coming off a clean-sweep finish against CJ Entus with the momentum of a steamroller Even admitting the temporary hiccup on the second day, the KT that opened and closed the series against CJ was a team of players that simply did not know how to lose. This is a team that turns the amp right up to eleven in the playoffs. This is the team that won the SP the last two years and the team KHAN has to face.
Samsung KHAN will, no doubt, have prepared a few magic tricks in the hope of sniping Flash. KHAN's coach, January, will have designed lineups to instill confusion (and, to a lesser extent, fear) in the heart of her enemy. Doubtless, Stork and JangBi are currently greasing the springs under their 'C' and 'T' keys with industrial-strength lubricant, and Shine is snatching a few squirts for his 'H' key while no one watches.
KT will deflect any blows KHAN attempt to deal, and its own strategies will be merciless. KT, already warmed up, is the team with the better composure under pressure, and a team whose every player steps up when it matters. It is a team that plays to outmatch the opponent's strengths and exploit its weaknesses.
Player for player, KT is the stronger team. Flash is in a higher league. Stats and Wooki will easily hold their own against anyone on KHAN. Most importantly, KHAN will have severe difficulties dealing with KT's Zerg powerhouse of Action, Crazy-Hydra and HoeJJa (okay, I'll be honest, I'm as surprised as anyone else). If need be, Mind, Barracks or PerfectMan can squeeze out a win or two as well. All Reach needs to do is maintain a presence on the bench to ensure that KHAN starts out with a severe mental disadvantage.
As much as this is a team game, it's unavoidable that the spotlight is on Flash, particularly considering the possibility of an encounter with Stork or JangBi. I can already calm those who fear that Flash's recent handful of TvP losses signify more than a rounding error in the statistical record. Flash has rebounded from bigger setbacks in the past, each time stronger than the last. Flash knows he has to fear KHAN's best players, but that's exactly why he won't lose to them. I suspect that he has a spectacular game prepared, and, if anything, he has been holding back until now.
The ravaging of CJ Entus was only the beginning. Samsung KHAN is a sturdier opponent, but that only means the beating will be more vicious, more gruesome.
I like KHAN, I really do. Stork is probably my second favorite player, so it saddens me that KHAN (and its fans) must be the victim of KT's onslaught. It saddens me that KHAN won't have the opportunity to add a silver medal to its trophy cabinet this season. It saddens me that Sayle will break down while he casts the games. Such is life.
The more things change, the more they stay the same.
KT is going to crush SKT T1 in the Proleague grand finals, as is tradition, and Samsung KHAN will be the roadkill.
The same as it ever was.
▲ Back to Top ▲
Previews, Playoffs Week Two

By: kjwcj
The ride continues. The Rolster will be relying on momentum, a small dip in their most recent past will likely be forgotten following a dazzling burst of speed on Tuesday night. Many of those riding on the Rolster are yet to be convinced that it is truly as good as last year's version but there is no mistaking the similarities, with two previously
forgotten
wheels
helping keep the Rolster on the straight and narrow. Meanwhile, the
Dragon KHAN
continues its ratcheting ascent towards the final. Although it hasn't had too much of a chance to show its pace in recent weeks, the KHAN has been preparing, slowly building up towards a point from which it will either continue on to the peak or come plunging back down to earth.
One of these two teams is facing a steep drop out of this season's Proleague
Coming into this semifinal, KT and KHAN both possess a unique advantage over their opponents. KT completed their quarterfinal win over CJ with a 4-0 evisceration, with HoeJJa and Action dismissing CJ's two strongest players. Flash also broke his TvP hoodoo against Horang2, employing a characteristically efficient biomech timing to secure a crucial win before facing the famously Protoss heavy KHAN lineup. Clearly KT have momentum on their side versus a KHAN team who have played only one match in the last fortnight.
KHAN, on the other hand, have the benefit of preparation. In a recent interview with TurN, TosSGirL made reference to Coach January's reputation for strictness when it comes to using prepared builds. Having had the last week and a half to study their potential opponents and prepare strategies specifically for these three best of sevens is a huge advantage for KHAN, especially against a KT side likely to be scraping the bottom of the barrel when it comes to new material. The fruits of KHAN's planning have not been clearly apparent in recent Proleague seasons but were most recently illustrated by JangBi's performances in the knockout stages of the Jin Air OSL, KHAN will be hoping that their diligence as a team can again succeed in delivering a trophy.
As in the previous playoff round, neither team's map pick comes as a particular surprise. KT again opted for the Terran favoured Ground Zero while KHAN picked the decidedly anti-Terran Neo Outlier. The strength of the Ground Zero pick for KT is slightly diminished by the fact that KHAN possess two of the best PvT players in Korea but KT are likely to have a trick up their sleeve for any potential Outlier ace match with Flash referring to their plans for the map as "a secret".
The presence of Ground Zero early in all three map lists suggests that Flash is unlikely to play on Outlier in a non ace match setting however KT have generally done their best to use him early in the series in recent months. Lingering memories of Flash's losses to Dear, M18M and Horang2 are likely to be in the mind of fans if he is matched up against either of KHAN's Starleague winning Protoss. However, Stork has lost the only two PvTs he played this season against S class opposition and Jangbi's only truly notable PvT victory came against Last.
KT's two biggest stars against CJ could also be their most important weapons against KHAN. HoeJJa and Action are currently sitting at a combined playoff record of 6-0, most notably combining to shut out Effort who was undefeated in ZvZ prior to the quarterfinal. Unfortunately for the KT Zerg heroes, it's unlikely that they will have many chances to continue their ZvZ runs against KHAN. However, against the somewhat suspect PvZ skills of Jangbi and Brave, HoeJJa and Crazy-Hydra could be very valuable and Action could look to profit from TurN's weakest matchup.
A round of applause for the current playoff win leaders
Unsurprisingly, KHAN's three win leaders from the regular season are members of their Protoss line, with only Grape failing to manage an even win loss record. Other than a small three loss blip early in the season, Stork has been as solid as a rock for KHAN this season. Although his 13-5 is not quite as spectacular as those of the KT and SKT aces, Stork is unlikely to be genuinely challenged by anyone in the KT lineup not named Flash. Jangbi has been unable to match the consistency of his teammate this season and KT's likely Zerg heavy lineup, along with Action's win over Snow on Jangbi's preferred map Jade, could be troubling for the OSL champion. KHAN's third Protoss, Brave, sits somewhere between Jangbi and Stork in terms of his form this eason. Brave's prowess on Chain Reaction is now well known but KT are unlikely to want to give him his preferred matchup, especially considering Stats and Wooki's losing records on the map.
TurN's performance in KHAN's most recent meeting with KT was enough to earn him an interview with TosSGirL and he will no doubt be hoping to progress their relationship by again showcasing his aggressive style against an unsuspecting victim. Having emerged in the second half of the season as KHAN's first Terran, TurN could be used in a number of ways against KT. The position of his normally favoured map, Sniper Ridge, in the map order for games two and three means that his matches may play a deciding role, assuming he isn't sent earlier to combat Flash. Reality has largely fallen out of favour in the second half of the season but his specialist TvP could prove useful against the KT Protoss, neither of whom have been convincing versus Terran this season.
Out of all the KT players, Wooki is probably the only player to have come out of their quarterfinal against CJ with a frown on his face. Having extended his PvT loss streak to four in his first game versus sKyHigh, Wooki then went on to lose his first PvZ of the season to Hydra's cheese. The two main KT Protoss have been incredibly versatile this season, plugging gaps in the lineup wherever they were needed. Even in defeat, Wooki's defense against Hydra was a thing of beauty and as such he could prove to be a better PvZ option than Stats against the relentless hydralisking of Shine and RorO.
In his team's quarterfinal win over CJ, KT Coach Lee Ji Hoon's player selections largely went according to plan with one or two exceptions. Against Kim Ga Eul however, Coach Lee faces a completely different beast. With Outlier and Chain Reaction occurring in the first four games of all three series, the way Coach Lee chooses to use his Zerg players could prove crucial. HoeJJa's strength on Outlier was apparent over the course of the CJ best of three but when up against Stork, KHAN's most common pick for Outlier in recent matches, the left handed Zerg is likely to struggle. Also important to note is Coach January's unwavering use of Brave on Chain Reaction, something which KT could look to exploit in the semifinal should Coach January fail to change it up. Since the map revisions racial stats on Chain Reaction have swung heavily into the favour of Zerg and the change is clearly reflected in Brave's 0-2 versus Zerg on Neo Chain Reaction.
KHAN Coach January is also known for her sometimes unpredictable choices when it comes to ace match selection, although this season has been relatively sane KHAN still occasionally play a lineup that leaves most people
scratching their head
. Regardless of her sometimes unorthodox methods, KHAN's two most recent wins over KT were in no small part due to her ability to provide her players with favourable matchups. The balance between the coaches in this best of three could be down to whether or not Coach January decides to deviate from her normal selection pattern or continue to trust the players on their strongest maps.
Both teams find themselves one best of three away from a shot at their third Proleague title. KT's hunger has clearly not been diminished by their success in recent seasons, Flash even showing some
distinctly un-robotic enthusiasm
following his vindicating win over Horang2. For KHAN, it has been a long time between drinks, they are playing for a chance at their first Proleague final since 2008. A win for KHAN over KT would continue the revival which has seen them participating in two consecutive OSL finals and realising the Legend of the Fall, and would reaffirm their place at Korean Brood War's top table.
▲ Back to Top ▲
Art by fishuu
This edition of the SK Planet Proleague news write-up was brought to you by the amazingly talented SPL Writing Team consisting of riptide, HawaiianPig, Kiante, Mustaju, SirJolt, 2Pacalypse-, Carnivorous Sheep, Simplistik, Hyde, Kiett. Special thanks to guest writers kjwcj, Sayle, VGhost, Shader and okum for their contributions. Have a great week!