Winner is... KT Rolster!


Flash - "I had a fun time watching
Jaedong's game."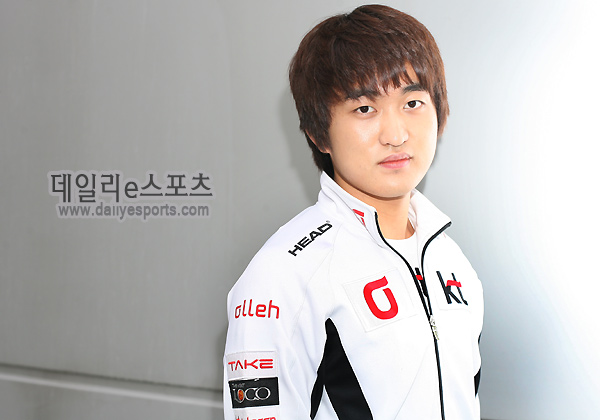 Back in 2010 when CJ Entus'
EffOrt retirement was announced,
Flash was probably the most disappointed player. The reason is because
Flash lost the chance to get revenge on
EffOrt who beat him on a finals from a 0-2 deficit. Also the fact that he was on a 4 losing streak to
EffOrt at the time of retirement probably made him disappointed as well.

And after
EffOrt returned,
Flash was waiting for the right moment. Being called the greatest player, he did not like the story of losing to this player.
Flash won over
EffOrt flawlessly after 617 days and proved to the world that there is no one who can stop him.

Q - The chance of you getting the most winstreak is slightly higher.
A - I feel like I got about 15% more hope after that game. We are also on a winning streak and the team is in 1st place, so I feel very good.

Q - It has been a while since you had a match against
EffOrt.
A - Truthfully I just wanted to play against a zerg instead of
EffOrt.

Q - Do you still remember when you lost 3-2 from a 2-0 lead in Starleague?
A - Isn't that something that happened a long time ago? It's been a while since I forgot about it. Because I won many times after that incident I felt I didn't have to worry much about it. I earned much more after that finals so I felt that it wasn't a devastating loss for me.

Q - But every time people talk about
EffOrt, you must've had the thought of meeting him and winning?
A - I did have thoughts like that *laugh*. But I know that since
EffOrt had a short break, I forgot all about the emotion and just thought about playing against a CJ Entus Ace. Instead of playing against
EffOrt, I just wanted to play against a zerg very much.

Q - You've been showing lots of confidence in your TvZ matchup.
A - I wish to keep on playing TvZ in the future. At the moment my TvZ is in the greatest height. I feel like if I want to have a record of most winningstreak, I want to play against zergs. When I look back and think about the 1 loss I had, I feel that i will be very disappointed. At the state I am in, I will not lose easily to a zerg.

Q - It would be fun if you played against the rising zerg
Neo.G_Soulkey.
A - I really want to play against
Neo.G_Soulkey. I was actually preparing myself against
Neo.G_Soulkey in our game vs woongjin, but I was disappointed as the game was over 3-0 *laugh*.

Q- Is there your own style of preparing against a defensive zerg?
A - When I play TvZ, I'M a player that goes to the offensive. The person that is attacking has a calm mind than the person defending. I feel that if I keep on attacking until my opponent is exhausted, I can eventually break in.

Q- In the previous games,
Jaedong showed us a very comedic game.
A - I was watching the game screaming the entire time so I felt tired when I was playing my game. Truthfully it was very funny *laugh*. When I saw that scene I really wanted to know
Jaedong's expression and he was very shocked *laugh*. I feel it's the most comedic game of the recent years. Everyone was having a fun time watching it.

Q - Is there any last words you want to say?
A - My grandmother gave me lots of allowance so I feel great. I really hope she lives a long Life. Every New Years and Thanksgiving when I meet her, I want her to remain healthy. When she turns 90 years old, I want to give her a big feast.


[DailyESports Reporter Lee Sora sora@daileysports.com]
"Together with SK Telecom in the eSports world (www.sktelecom.com)"