What was TaekBangLeeSsang doing over the New Year?


Well Flash participated in this little tournament called SBB Starleague for a 1350$ first prize and elected to play the finals versus Shuttle in Terror's derelict and decrepit crackhouse of a "studio" while hanging out with Bisu, Sea and Terror, they were having a Clan meetup for [NeOx], which according to ClassicYellow stands for Never Ending Oral Sex, go figure!




Bisu trying to find the glitch in the matrix and figure out how to take down Flash in the ASL 2




Sea joins the party and Flash can't refrain from cracking up while Bisu and Sea banter with each other.




Sea can't help, but keep his mouth aghast and marvel at Flash's play while Bisu, characteristically of a teenage girl, cannot keep his eyes' off his phone (Please don't crucify me Bisu fans + Show Spoiler +)




Innevitably as Flash always does, Flash + Show Spoiler +, dropping only a single game in a drawn out Carrier game versus Shuttle, but going 7-1 overall taking out Zero and Skyhigh to accomplish this.

+ Show Spoiler +


Flash, Sea, Bisu and Terror thank the viewers and that's supposedly it for our New Year, HOWEVER once the stream was over, something magical happened Bisu continues the stream, but decided on age restricting the stream to 19, suffices to say that things got a bit crazy after this point:




Things started normal, and then they got weirder and weirder:


On January 02 2017 13:31 sickkungen wrote:
Bisu dancing



+ Show Spoiler +

Edited in, thanks to Sickkungen for making the GIF



I can't exactly say I thought this is where Brood War would be at in 2016!

___________________________________________________


Poll: Flash and Bisu flirt with a girl who wins?

Stork

(12)

44%

The Girl

(8)

30%

God

(4)

15%

The Revolutionist

(3)

11%

27 total votes

Your vote: Flash and Bisu flirt with a girl who wins?

(Vote): God
(Vote): The Revolutionist
(Vote): The Girl
(Vote): Stork



___________________________________________________


Flash putting his moves on the lady and inadvertently spawning a new meme
+ Show Spoiler +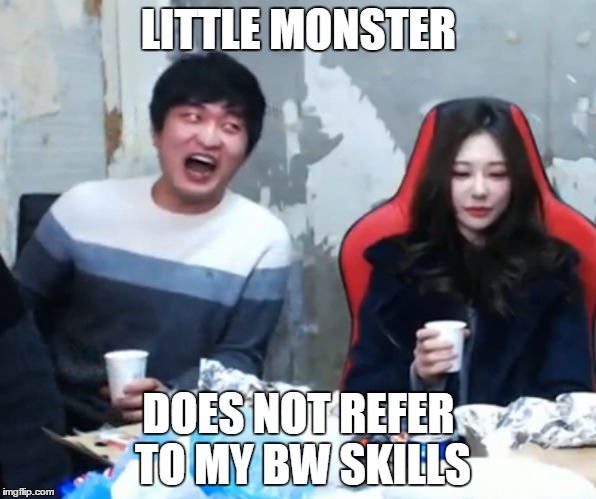 Where is she looking at?
___________________________________________________

Where were Stork and Jaedong you ask, while I finish off this picture fest of a blog, well...



Playing the game.