+ Show Spoiler +

[Event "Keres mem 29th"]
[Site "Vancouver"]
[Date "2004.05.22"]
[Round "2.3"]
[White "Yoos, Jack"]
[Black "Davies, Lucas"]

1. e4 c6 2. d4 d5 3. e5 Bf5 4. Nc3 Qb6 5. Nf3 e6 6. Be2 c5 7. O-O Nc6 8. b3
cxd4 9. Nb5 Bc5 10. Bb2 d3 11. Bxd3 Bxd3 12. Qxd3 Nge7 13. Nd6+ Bxd6 14. exd6
Nf5 15. d7+ Kxd7 16. c4 Kc7 17. Ng5 dxc4 18. Qxc4 Raf8 19. Rad1 Qb4 20. Qc1 h6
21. Ba3 Qg4 22. Nf3 Rd8 23. Ne5 Rxd1 24. Rxd1 Qe4 25. Nxf7 Nh4 26. Bd6+ Kc8 27.
f3 Qg6 28. Bg3 Nxf3+ 29. gxf3 Qxf7 30. b4 a6 31. a4 Rd8 32. b5 Rxd1+ 33. Qxd1
axb5 34. axb5 Nb4 35. Qd6 Nd5 36. Qb8+ Kd7 37. Qxb7+ Ke8 38. Qc8+ Ke7 39. Qb7+
Ke8 40. Qxf7+ Kxf7 41. Kf1


This was back in the day when 40 move time controls were standard, so I'd just gotten out of time trouble and have an hour left in this position. While the material is equal, black has some problems here: first, white's bishop is extremely strong. It controls several key squares, one of which is the queening square of white's passed b pawn.

While white's b pawn is isolated and a distance from his king, it's also difficult for black to really get at it. ...Nc3 obviously loses immediately, as white simply pushes his pawn and wins. Since white will move his bishop to e5 next move, there'll be no future opportunities for this either.

Black also will have to deal with his kingside pawns, since they will come under attack from white's bishop. I thought for half an hour on this move as it's the kind of position where black needs to play every move perfectly or he will lose.

41...Ke7 42.Be5




Here I have the choice between g6 and g5. Any sort of plan involving g6/h5 loses. For example: 42...g6 43. Ke2 Nb6 44. Kd3 Kd8 45. Kd4 Kd7 46. h4 Kc8 47. Bg7 h5 48. Ke4 Kd8 49. Kf4 Ke8 50. Kg5 Kf7 51. Bd4 e5 52. Bb2 (52. Be3?? Kg7 followed by Nf8 and white gets mated) and black loses.

42... g5 43. Ke2 Nb6??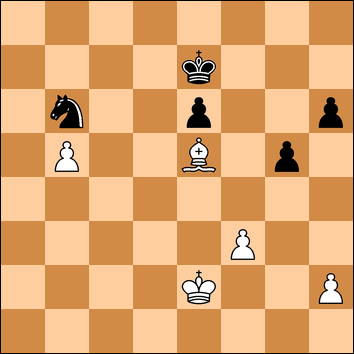 While the plan behind this is sound, there's one crucial move which both of us overlooked coming up. Instead, 43...Kd7 was the correct move (44. Kd3 Kc8 45. Kc4 Kb7 46. Kc5 Ne3 47. Kd6 Nc2 48. Kxe6 Kb6 49. Kf5 Kxb5 and miraculously black has a draw. White can't move his king up because he needs to defend the f3 pawn and if 50. Bg7 Ne3+ 51. Kg6 Ng2 52. Kh5 Ne1 53. Kg4 h5+)

44. Kd3 Nd7 45. Kd4??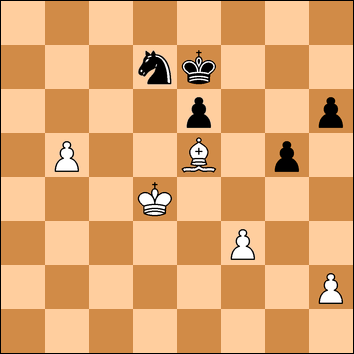 Instead, 45. Bc7 is the winning move that we somehow both missed. Since h8 is a dark square and white has a dark squared bishop, any plan involving sacking black's knight for the b pawn won't work as long as white's able to keep his h pawn.

45...Kd8 46. h3 Kc8 47. Bg7 h5 48. Ke4 Kc7 49. Bd4 Kd6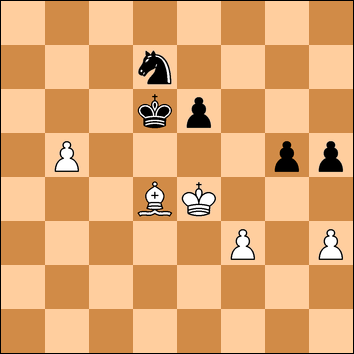 50. Be3 Nf6+ 51. Kd3 g4 52. fxg4 hxg4 53. h4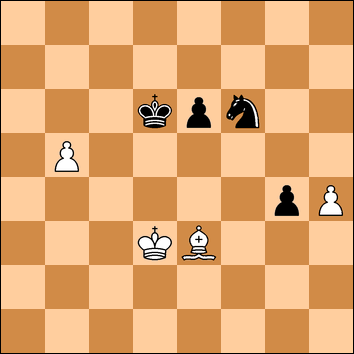 53...Kd5??

Having once again gotten myself into time trouble, I blundered at this crucial moment. While I'd seen the correct move, I somehow convinced myself that it didn't work, and instead lost the game a few moves later: 54. b6 Nd7 55. Ke2 e5 56. h5 Ke6 57. b7 and I resigned.

Instead, 53...e5! leads to a very interesting draw:




With just two pawns, a knight and a king, black is able to set up a fortress by moving his knight between f6 and h5. White has no way to break through without giving up his b pawn, which will always result in a draw. A few possible variations:

54. Bg5 Nh5 55. Ke4 Ng3+ and white's forced back.
54. Ke2 Kc7 55. Kf2 Nh5 56. Bc5 Kb7 57. Ke3 Nf6 58. Kd3 Kc7 59. Kc4 Kb7 60. Be3 Kc7 61. Bg5 Nh5 62. Kd5 Kb6 63. Kxe5 Kxb5 (or 63...g3) and black draws.


Please let me know if you see any errors I've made, and I hope you enjoyed!