I got some news that I'm having a hard time grasping myself and hoping someone can help me. Ever since I was a kid, maybe around 10 or a bit older, I felt that a part of me was missing. Describing it is difficult but I guess the best way is if you've ever been in a relationship with someone for a long time, you get really close with them but when you guys break up, move apart, etc... you'll find yourself looking over your memories, feeling lonely as if someone carved a hole straight through your heart and took a part of it for the keeping. This is usually much worse with people that you've known for a long time who ended up leaving your life for one thing or another. You feel a void in your heart, your soul and your mind wanders.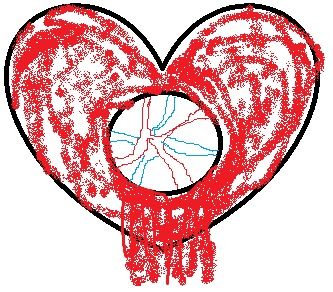 blood


Well, I've been having this feeling and after years of just bearing it and not doing much since I figured it'll pass, I decided to look into it. Made me feel crazy, you know? I mean, I didn't even know what I was looking for. Is it a friend that I'm missing? Someone I've forgotten about? Time has certainly taken its toll on my memory so I didn't even know at the time what it was. I've always been the introverted type and kept to myself unless I had to attend some group event or do some presentation. Always relied on myself and not much on others so looking around and asking questions never suited my style. Felt like I would be cheating my true self in that case but I had to do this. For the sake of giving my mind the closure it needed!

Anyways, I decided to start by looking in some old family photos. I thought they were in the attic at the time (creepy place, heard some voice there once) but turned out it was the basement. My parent were curious as to my interest in old photos. I just passed it off as something to do since I was bored and they didn't question it further though I could see their expression change. Didn't think much of it, just went to our basement and started looking through boxes of photos. There must've been several of them. Didn't realize we took that many. Figured that maybe I'll see a photo or that something will jog my memory. Well, I did end up happening upon a single photo at the bottom of the boxes where there seemed to be someone I didn't recognize. I could tell the others were my family members but there was this one person in this photo that had their face scratched out. My first thought was: wtf? who would ruin such a good photo? then I realized it was odd that the face of that one person wasn't in the picture:


approximation of picture


I decided to probe my parents. My parents saw the photo in my hand and stopped what they were doing. I can tell they were watching me so I had to make it count. I ended up dropping it on the kitchen counter, turned around and looked at them both. I can't tell you how long there was silence but I honestly had no clue what was going on which was pissing me off even more. I just needed the truth damn it!



I breathed in and figured I'll take the diplomatic route. I'll make them admit to it indirectly then that'll be my chance to bring it all out and get a firm confirmation. I was ready so I asked right off the bat why this photo had someone I didn't recognize. My family just calmly said it was a friend of mine. Seems like a possible explanation but I countered that their face looks like it's been scratched out. They answered back that it was an old photo and likely got scratched at some point. Ok, fine. Still trying to keep my cool. So, why is it that the face is the only thing scratched and nowhere else? I figured this is it. Here it comes, the admission! They asked to look at the photo. I gave it to them as I waited anxiously. Their curiosity seemed to peak and they spoke something in our mother tongue which I didn't quite get then said that the lens at that spot was scratched out when they took the picture but they didn't realize it.



They said the camera was dropped on our way to the beach and seemed fine. We ended up having other obligations that day so we had to rush back and only took the one photo which we didn't check at the time. Apparently, the camera was sent in for repair which is why we never had other photos with this friend afterwards. Saddened by their denial of a brother of mine, I decided to try and keep pushing for details about this so called friend.

As the story goes, he was a really close friend of mine when I was younger. After that photo was taken, there was an unfortunate accident and he lost his life. My parents didn't know how to answer my questions whenever I asked where he was. Some trip or he'll be back soon is what they'll tell me hoping that I'll forget with time. It's true that I've forgotten but my heart still holds those memories dear and was filled with sorrow since. My parents seemed to breath a sign of relief, as if a great pressure has been lifted off their shoulders. At this point, I started to swell up with emotions. The world is really unfair, I thought. I ended up balling my eyes out and ran out of the kitchen up to my room. As I passed the vent, I heard a sound reminiscent of some old voice I've long forgotten calling my name:



I was creeped out and sat on the stairs starting at the vent and wondering what I heard. I eventually ended up limping to my room. In my current state, I didn't even have the energy to walk but I somehow made it all the while questioning what I have just heard from my parents. Their story almost added up. Only part is my friend dying. People dying on family trips to the beach are stuff that is reserved for anime and not for real life, I reasoned therefore it can't be right. I decided to try and look around the house for more clues. There must be something other than photos. Looking around the next day, I didn't happen on anything of importance. I was 17 at this point so it's been over 7 years since the incident.

I checked the photos again and outside my house. Maybe there was some small toy or some letter from ages past but still nothing. Only place that I didn't check was the one place I hated in the whole house, the attic. Before going in, I prepped hard. Lots of lights, food just cause and a bat for protection. I figured what I heard the other day was just due to the emotional strain that I felt and nothing more but still, better safe than sorry. After bringing down the stairs, I slowly peaked my head afraid of being caught by the equivalent of The Grudge. I loved those movies but being her next victim wasn't on my mind:



The attic seemed normal at first. Very dusty and some old stuff with lots of cobwebs. Nothing really interesting. Some old desk, a very small window closed by a wooden plank and what seemed like the remnants of a ladder. It was pretty small as well and there was some chewing on some of the pillars. Rats I thought. There did seem to be some wooden toys on top of the desk and they were arranged in some order as if someone was playing with them but they also had dust on them. I was a bit disappointed because I figured that maybe, just maybe this attic would have my answer but it didn't. With no more clues to go on, I was back to step zero at this point. My parents' explanation seemed more likely by the day even if I had my suspicions and it was time I accepted the fact and moved on.

The next day, as I was walked outside, I heard that voice again. I followed it around my house and noticed a rope coming from the attic. Confused, I decided to climb it. Bizzare, I know but the closer I got to the window of the attic, the more I wondered what was going on. Suddenly the rope gave way, it snapped in two. It looked like this was it for me all due to my curiosity but something caught me. It was warm, looked like a hand. Even though I should've felt scared, I was comforted that someone saved me and didn't think of what could possibly come. I was pulled through the window and hit the ground hard. When I got the dust out of my eyes, I saw a figure standing infront of me. It looked similar. Suddenly, it clicked as to who it was. It must've been my friend but how?

I breathed in, stood up and looked at him with awe. It's like he hasn't grown up since we were younger. I asked him, how? I checked last night and there was no one here. He said that he lived in our attic since that faithful day. He never really got into an accident, it was all made up. He never did me the full story at all, seemed pretty hesitant to do so even after my re-assurances. As to why he wasn't in the attic last night? He apparently snuch out to see his girlfriend of 4 years LOL.