The Pitchfork Preserver
Twitter At The Speed Of Print
Volume I, Issue 4
NASL Still Pretending NASL Season One Never Happened
With just weeks left until the North American Starleague will host the WCS Season 3 Finals, NASL employees are still pretending that 2011's NASL Season 1 never happened.
"Season 1? I don't know what you're talking about." replied a senior NASL official when asked for comment. "Sorry, I'm pretty sure I was in a coma between April and July of 2011, so I can't really tell you anything about that period." said EG.iNcontrol, the former NASL season 1 caster whose career suffered nearly irreparable damage after the catastrophic tournament, requiring nearly two years to rehabilitate.
---
Several small moons discovered in orbit around Slivko's bicep
---
News At A Glance
· eSports industry skeptical of SC2 community's promise to spend their money more wisely
· David Kim demands you apologize for complaining about that race
· Former NASL intern Terry Kim disappointed with racial imbalance at WCS EU
· Unemployed hellbat ponders League of Legends career
Dreamhack explains that NaNiwa's "eat s*** and die" is display of sportsmanship in Swedish culture
The brief outrage after Swedish pro-gamer NaNiwa told his opponent to "eat s*** and die" quickly subsided after the DreamHack organization explained that NaNiwa's statesments would be considered good sportsmanship in Swedish culture.
"While Americans might consider statements like 'eat s*** and die' or 'I hope everyone you love gets cancer' to be poor manners, it has been long established in Sweden that they are signs of respect and sportsmanship." explained DreamHack historian Börk Börksson. "This isn't the first time NaNiwa has been treated unfairly because of cultural differences. For instance, he was harshly criticized for refusing Polt's handshake at MLG when he had done nothing wrong by Swedish standards."
"Similarly, he was unfairly punished by GomTV in 2011 for probe-rushing Nestea, even though it was clearly a traditional Scandinavian gift-giving custom with origins in the late bronze age."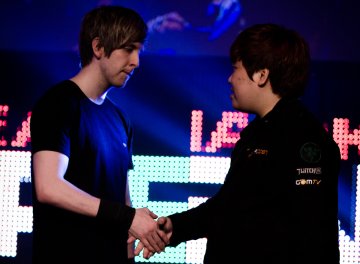 ESL Announces IEM Doha
At a press conference from the ESL headquarters, IEM Director Michal "Carmac" Blicharz announced that the 2014 IEM World Championship would be held in Doha, Qatar.
"I couldn't be more happy to bring IEM to the middle-east. Though we received impressive bids from established esports cities such as Katowice, Seoul, Anaheim, and Stockholm, the delegation from Doha made it very clear to me that the future of esports was in Qatar." said Blicharz, stopping to light a Cuban cigar with a burning one-hundred dollar bill. Blicharz went on to explain how innovative, new cooling technologies would prevent computers from overheating.
The director then stopped to check his solid gold, diamond encrusted wristwatch. "Well, look at the time! I have to be going, esports calls." concluded the director, before departing via private helicopter.
Pitchfork Preserver brought to you by a mysterious cabal.