CREATORPRIME
NAME:
Jang Hyun Woo
TEAM:
Prime
RACE:
Protoss
ALTERNATE IDS:
CreatorPrime, 에이핑크 (A Pink)
COUNTRY:
South Korea
BIRTHDAY:
August 19, 1996 (age 16)
TLPD:
International Korean
LIVESTREAM:
Stream
FOLLOW:
Fan Club
ROAD TO THE SEMIFINALS
Round of 32
Creator > Select
---
Round of 16
Creator > Coca
---
Round of 8
Creator > Hack
HIS MOMENT

By opterown

At face value Creator is a sixteen-year old Protoss player for the Prime Team. You might know him as the WCS: Korea champion or maybe one of the TSL4 semifinalists. While perhaps more people know his name nowadays, let me take you on a quick tour of how I became a Creator fan.

The GSTL 2011 Season 1 marked Creator's first performance for Prime in the Team League. Previously, Prime was was considered a fairly mediocre team, especially as their top Terrans like MarineKing, Polt and Maka couldn't carry their weight in team leagues. They were carried by their solid Zerg, BBoongBBoong, and barely qualified for the playoffs, only doing so after Fenix defeated MC in a surprise upset. Their roster was pretty different from the one that they carry today.




Prime's reaction to qualifying for the playoffs.


Prime came into the Playoffs as the clear underdogs against the StarTale. After all, Prime had never progressed far in the earlier 3 GSTLs, and many were predicting them to be dumped out again. Creator would be their starter. It would be the opportunity for Creator hipsters to come out from underground and have Creator prove to them that he, indeed, was solid stuff.

Creator took the first game, destroying July would really solid play. He took the second one against AcE too in another upset. Unfortunately, he fell to Curious in game 3, but putting up Prime 2-1 allowed for the rest of the team to close it out and upset the clear favourites StarTale.

This was just a sign of things to come. Very soon after, Prime, after having defeated StarTale, would go up against Team SCV Life. TSL then is not the TSL we know now – they were considered a very solid top-tier team, boasting Team League monsters like aLive, RevivaL and JYP. Prime and TSL had met earlier in the tournament, where PuMa unceremoniously dumped Prime out – even when Prime had Polt to play for them.

Now, Polt had left Prime and joined TSL (although he wouldn't be able to play for them). Things were, as again, looking dim for Prime – even dimmer than their match against StarTale. And indeed dim did it look. Gerrard pulled an admirable IMCoach impression for the first games, sending out Zerg after Zerg to take on PvZ specialist JYP. While he did catch to his senses when he was 3 games down, sending out MarineKing, soon he would face a 4-1 scoreline when Clide sniped MarineKing's then-weak TvT.

Prime was down to their last player, and they needed him to take four games in a row to advance. Creator steps up.

Reception to his choice was mixed, to say the least. While the kid performed pretty well a few days earlier, Prime still had players like HongUn to send out. The LR thread is amusing to read at this point – MooMooMugi would eat his pants if Creator won 4 games in a row, while Shellshock 1122 suggested the TL 10 million dollar poll curse.

Creator took out Clide. He then beat Heart, and RevivaL in tense games.

Hey, look at that. It's a 4-4 scoreline, and aLive comes out for the ace match – Creator beats him, too.


Creator after defeating Alive


That was really Creator's moment – where he became a much more respected and really made a splash in Starcraft 2. Prime, the underdog, the consistent underperformer – had they found their ace player? The hero that MarineKing, Polt, HongUn, Maka, Check and anypro could not be? Sadly Creator would fall in the Grand Finals of the GSTL to Noblesse, after an intense base trade.

Now, you may wonder what all that was for – after all, we've already had battle recaps of that GSTL. It's because, during those playoffs – I became a Prime and Creator fan. Now, I'm not the most hipster of fans – hardly noticing Creator when he nearly took out Mvp (I missed the matches) nor when he knocked Leenock to Code B – but the underdog story, and the holy-crap-I'm-fifteen story really got me. There was something about Prime's reaction to qualifying – and then showing their grit and determination and heart when they got to the finals, where few would have expected so.

After his rise in the GSTL, Creator was considered a consistent Code A level Protoss as well as one of Prime's GSTL regulars. Up until very recently, GSTL has been where Creator has really shined – he has a 14-2 ace match record in the GSTL. That's an insane statistic that none of DongRaeGu, MMA, Bomber, Mvp or jjakji – or anyone in the world – can say for their team. More recently he's proven himself to be one of the very best Protoss in the world after he won WCS: Korea.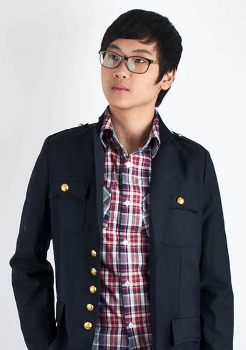 Creator also is one of Prime's models


Creator is only recently sixteen (Western age). This is really, really young. It's five years younger than Mvp and MC and Seed, eight less than MMA, and barely half Nestea's age. Few can imagine performing amazingly well at such an age, and his fans are delighted to see what he might do in the next five years – when he will only have turned 21. Creator has also had quite the revolutionary impact on the metagame. His PvT build would be the Protoss' ray of hope against the TvP lopsidedness, and in recent times, he's shown excellent PvZ play (that Day[9] did a daily on) and PvP skill too.

But Creator's on-screen and in-game achievements are well known to someone to follows Starcraft religiously, which I'm sure a lot of TL members do. What is he like as a person? For that, I asked for the help of masterbreti. Masterbreti is a Canandian progamer who lived for several months in the Prime team house, and currently still resides in Korea. While I have talked to Creator on-stream, who better to ask about Creator than someone who's lived with him for months at a time?

It's often said that Koreans are faceless progamers, but here's what masterbreti had to say (edited slightly):

And so, I'd like to thank masterbreti again for letting see a different side of Creator that we may not be aware of.

It's been difficult to say the least, writing this just after Creator fell out of his Up/Downs group. Creator's one of my favourite players, and his heart and determination and slick play have really gotten me as a fan.

Creator fighting!!
Saturday, Sep 08 6:00pm GMT (GMT+00:00)
---
Sponsors:
TwitchTV is the world's largest video game entertainment and chat community. TwitchTV features the top gaming personalities, players, tournaments and commentary, in addition to the most active and interesting discussions around video games. TwitchTV provides publishers and advertisers a platform to create long term engagement and commitment from gamers.
Learn more at
www.twitch.tv
Razer has been a pioneering supporter of e-Sports since its conception. It is in our blood and we are driven to further the culture of professional gaming in all that we do. We work hand in hand with our pros to forge weaponry for the players who stake their livelihood on podium placements. Our gear is designed to perform flawlessly in high-stress tournament conditions where winning is everything and mistakes cost championships. Those who compete with our equipment will attest – We live by our words: For Gamers. By Gamers.
For more information, please visit
www.razerzone.com