The main casting team for TSL4 will be Sean "Day9" Plott, Mike "Husky" Lamond, Marcus "djWHEAT" Graham, Blake "Chill" Muzar, and Shaun "Apollo" Clark. Additionally, Dan "Artosis" Stemkoski may make a guest casting appearance depending on his availability and GSL schedule. The total prize pool for TSL4 will be $34,500 and will pay out to all qualified players.
Casters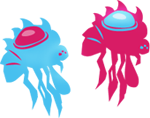 We are very happy that all four TSL3 casters are returning for TSL4. They are a big reason why our tournament was successful, and we just had to try and bring them all back to create the same great chemistry and atmosphere. We're also very excited to add Apollo to our casting team, and we can't wait for him to make his TSL debut.
Day[9]

Sean "Day[9]" Plott is a man that anyone who follows Starcraft, even a little bit, will recognize. His days in Starcraft go back many years both as a
player
and
Team Liquid contributor
and is known for an extremely positive attitude and upbeat personality. He hosts the
Day[9] Daily
and the
After Hours Gaming League
in addition to casting for nearly every major event outside Korea, and has a unique style of
humor
that can't be found elsewhere.
Husky

Mike "Husky" Lamond has been casting since the days when being an English commentator meant taking Brood War videos and talking over the top of them. Since his foray into Starcraft 2 early in the beta he has grown into one of the most popular channels on all of Youtube and brings a passion and enthusiasm few can match. He has a
special knack
for music and turns any game into a fun, light-hearted affair that anyone can enjoy.
djWHEAT

Marcus "DjWheat" Graham is truly a veteran of the scene, having started his casting career with Quake over a decade ago. Within Starcraft 2 he has become a pillar, regularly commentating on games for MLG as well as hosting popular shows Kings of Tin, Inside the Game, and Live on Three. Now working as Twitch.tv's ESPORTS manager, he helped bring an air of professionalism and experience to the TSL3 experience and will do it again with the fourth installment.
Chill

Blake "Chill" Muzar has been a staple of all TL run events since the early days of
TL Attack!
and
Liquibition
, in addition to TSL. From casting the very first event to achieving his own
catchphrase
during the last game of TSL3 he has been here rain or shine. He casts games with an honesty that approaches bluntness, mixing in dry Canadian humo(u)r at a pace that makes each match fresh and new.
Apollo

Shaun "Apollo" Clark is the newest addition to the TSL's casting crew. A
world champion
in Command and Conquer 3 he started playing Brood War several years ago and moved into Starcraft 2 immediately during the beta. Most recently he commentated at DreamHack Stockholm and started working with the GD Studio for their Arena events. His experience both as a player and commentator allow him to give valuable insights in a wide number of situations and make him a perfect fit for the TSL.
The analytical half of the famous GSL Casting Archon, Artosis, may also be making a guest appearance if his busy schedule allows. He has been with the TSL since its humble beginnings and we hope he'll be able to cast at least one match in every TSL we run.
Prize Structure
| Place | Prize |
| --- | --- |
| 1st | $15,000 |
| 2nd | $7,000 |
| 3rd | $3,000 |
| 4th | $1,500 |
| 5th - 8th | $700 |
| 9th - 16th | $350 |
| 17th - 32nd | $150 |
Sponsors:
TwitchTV is the world's largest video game entertainment and chat community. TwitchTV features the top gaming personalities, players, tournaments and commentary, in addition to the most active and interesting discussions around video games. TwitchTV provides publishers and advertisers a platform to create long term engagement and commitment from gamers.
Learn more at
www.twitch.tv
Razer has been a pioneering supporter of e-Sports since its conception. It is in our blood and we are driven to further the culture of professional gaming in all that we do. We work hand in hand with our pros to forge weaponry for the players who stake their livelihood on podium placements. Our gear is designed to perform flawlessly in high-stress tournament conditions where winning is everything and mistakes cost championships. Those who compete with our equipment will attest – We live by our words: For Gamers. By Gamers.
For more information, please visit
www.razerzone.com