TSL3 on LiquipediaTSL3 Round of 16 Week 2 Recapby Lovedrop & Heyoka



Last weekend the TSL Round of 16 finished, with some of the most incredible and notable matches we have seen yet. Boxer and Sen, teammmates MorroW and HasuObs, Naniwa showing his unbeleivable play on a big stage again, the seige master, and Cruncher showing his PvZ again, this time against the legend Mondragon. Not a bad cast for half of round 16.

We had Husky, Wheat, and Day9 join us for the matches live, and now we're here to bring you the stories of just what went down.




---
Battle Reports

FnaticMSI.Sen
< 2-3 >

SlayerS_BoxeR
+ Show Spoiler [Show Games] +
Z1
FnaticMSI.Sen
<
Xel'Naga Caverns
>
SlayerS_BoxeR
T7
Sen clumsily splits his drones to start our second weekend of TSL RO16. BoxeR proxies his second barracks outside of his base, prompting Sen to send his drone all around the map, but he does not discover the second barracks. BoxeR's attempt to put up a bunker fails and he is forced to pull back, but not before taking another peak with half a dozen marines. Sen sends his hungry zerglings to his enemy's natural to see BoxeR expanding behind his push, but with good micro BoxeR has no problem dealing with the zerglings. BoxeR walls off one entrance to his natural to prevent run-bys. Sen breaks down the rocks giving him access to a third at either location, but decides to drop the third hatch next to his natural instead.
BoxeR attacks Sen's gold expansion as soon as a hatchery finishes, and Sen attempts to flank from both ends. The muta-baneling army takes out the majority of BoxeR's army, but the remnants of his original force easily takes care of Sen's gold. Sen counterattacks and BoxeR is unable to lift his depots in time, but little damage is done due to units continuously popping out from BoxeR's production facilities. BoxeR moves his bunker/tank line up to secure his own gold. Dropping in Sen's main, BoxeR splits his marines towards the 10 o'clock base and Sen's gold. Sen has to sacrifice a big part of his economy to withstand both attacks, but is left with very little. Sen tries one more time to clear out the Terran troops camping his gold, but does not have enough banelings and concedes game 1. [21:03]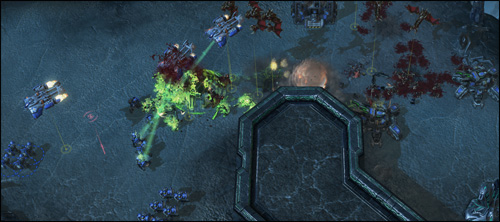 ---
Z12
FnaticMSI.Sen
<
Terminus RE
>
SlayerS_BoxeR
T9
Both players FE as soon as they are able to produce T1 units. BoxeR slaps a reactor on his starport, while Sen grabs all four gas, before taking a quick third base. BoxeR's first two vikings get free overlords all over the map; using the distraction to octodrop Sen's third. Once mutalisks are out however, air dominance is turned over to Sen and BoxeR has no way to drop or harass with his vikings. BoxeR decides to try an attack with MM and tanks, but is overwhelmed by banelings and many, many mutalisks.
Sen's fourth and fifth base are beginning to be saturated, while BoxeR tries his best to fend off the harassing mutalisks (even using medivacs to ferry around clumsy thors). BoxeR pushes at 145 food, hoping somehow to secure a central expansion, but Sen is already maxed on muta-baneling. Sen engages at a horrible angle with his ground forces, losing all of them and mutalisks alone cannot finish the fight (an unusually slow baneling speed upgrade is to blame here). As BoxeR sets up a contain outside Sen's base, his reinforcements are cut off by Sen's smart mutalisk counter. Sen's economy has been unhurt so far, so he's quickly able to max out again with over 100 zerglings and breaks the contain with ease, forcing the Emperor to gg. [21:43]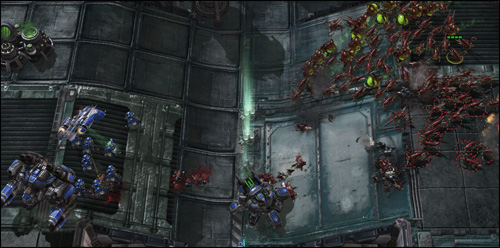 ---
Z12
FnaticMSI.Sen
<
Metalopolis
>
SlayerS_BoxeR
T6
Knowing Sen cannot spawn at a close position, Boxer proxies two barracks at the opposite gold, but Sen responds soundly by pulling half his drones to defend, stalling for zerglings. Seeing no positive outcome, BoxeR retreats, floats his barracks back to his main, and expands. As soon as Sen eyes BoxeR's expansion and makeshift wall, he takes a third himself. Sen looks for an opportunity to try a ling run-by, but Boxer reacts quickly enough. BoxeR soon pushes to lay siege on Sen's third base with tanks and marines, lining up just below the lower ramp. Sen engages prematurely and loses a lot of troops trying to dislodge Boxer, putting his expansion in imminent danger. Sen tries to counterattack instead, but cannot get past BoxeR's building wall at the natural, and eventually has to sacrifice his third base, opting to take the gold instead.
Sen finally cleans up the contain at his third, but loses a lot of units in the process. They are the units that he needed to defend his gold, now under fire from siege tanks atop Xel'Naga Towers. BoxeR can freely double expand from his position, while Sen tries to do the same while under significantly more pressure. BoxeR, seeing mutalisks now harassing his third base, moves forward to counterattack instead. Sen completes a surround with banes and mutas to wipe out BoxeR's offensive endeavors, pushing him back for the time being. BoxeR's strong economy and macro allows him to quickly rebuild his force and go forward again, but they meet the same fate as the last expedition. The third time's a charm for BoxeR, being able to wear Sen down with his impressive macro. Boxer drops the main while attacking the left side expansions simultaneously. Sen taps out after intense pressure from BoxeR all game long. [26:09]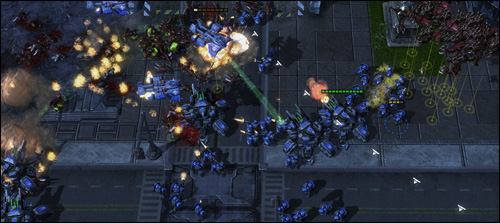 ---
Z7
FnaticMSI.Sen
<
Shakuras Plateau
>
SlayerS_BoxeR
T1
BoxeR slyly constructs his barracks on the low ground, tricking Sen into thinking there's a proxy, but Sen's scouting leaves no area unclear and spots the barracks, and a command center on his exit. BoxeR tries a bunker at Sen's natural, but quickly gives up on that plan. BoxeR goes three barracks before teching up, and Sen begins a third base without any additional tech buildings. BoxeR sets up a siege line on Sen's turf to prevent creep spread, but Sen calmly floods the soft contain with an overwhelming amount of speedlings and banelings, pushing BoxeR back behind his wall. BoxeR loads up his 2 medivacs to attempt a drop, but again Sen is prepared and the mutalisks echoed Tasteless's will, "No one leaves here alive".
Sen attempts to harass the main, but makes a huge blunder by flying over turrets and losing most of his mutalisks. Boxer does a good job at taking out Sen's fourth, but his poorly managed and divided push is easily thwarted. BoxeR gets caught grossly out of position with his army far from home and in no position to do immediate damage, while Sen's mutalisks go to town on the Terran main. BoxeR is forced to push the attack and try to get a result, but ends up moving his marines too aggressively ahead of his tanks. Sen thanks Boxer for the gift as he takes out tanks with mutas. With a massive economic advantage, Sen can afford to ram 26 banelings into BoxeR's third base and SCVs, putting BoxeR at effectively one mining base. With mutalisks destroying all of his buildings back home, Boxer gears up for one final push. The second BoxeR becomes visible on creep, Sen rolls in with pure banelings, annihilating everything in one shove and brings the series to a deciding game 5. [24:33]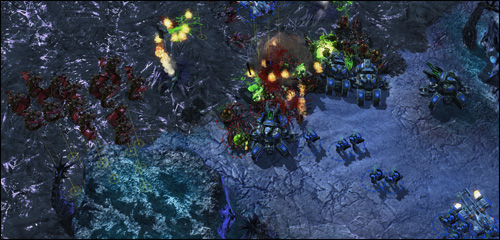 ---
Z5
FnaticMSI.Sen
<
Crevasse
>
SlayerS_BoxeR
T1
BoxeR once again hides his barracks outside his main, only this time lifts it to complete his wall as he is unable to scout Sen quickly enough. Sen chooses to take his outside natural before his back door. BoxeR techs up much more quickly this game, opting to go straight to starport before any marines upgrades. With a reactor on the starport, Boxer loads up a medivac and sends it out with a viking, and catches Sen completely off-guard, unable to make defensive units due to vikings picking off overlords. A second dropship allows Boxer to strike the main and natural simultaneously, doing almost 2000 resources worth of damage. In the meantime, BoxeR gears up to take his own third, since Sen is not able to push out anytime soon.
BoxeR moves forward with his siege tanks, and Sen seizes the moment that they are unsieged to run in, but his banelings get trapped and blows up the tanks instead of marines. A second wave of banes prompts BoxeR to pick up and go home. A drop catches glimpses of Sen's morphing fourth, and Sen has to cancel before his units can save the hatchery. Mutalisks maneuver around the marines in the middle to pick off a few tanks, giving Sen time to set up a surround. Sen seems determined to remove Boxer's army from the middle, though they don't pose an immediate danager. A two-front maxed army Zerg rush for Sen ends miserably though, as the tanks and marines were too well-spread out. Behind economically, Sen tries a counter attack to no avail. Sen gives Boxer one more good fight before the growing unit disparity cannot be overcome. BoxeR storms into Sen's natural, and Sen 's failed last-ditch effort catapults BoxeR into the RO8. [22:46]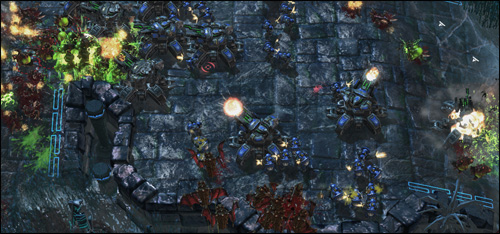 FnaticMSI.Sen
< 2-3 >

SlayerS_BoxeR

mouz.HasuObs
< 3-2 >

mouz.MorroW
+ Show Spoiler [Show Games] +
P9
mouz.HasuObs
<
Metalopolis
>
mouz.MorroW
Z6
Close air distance on Metalopolis, the match opens as many PvZs do with a 3 gate expand from Protoss, and a pool first into speedling expo from Zerg. Morrow is forced to make a pair of spine crawlers as Hasu's first forces dance back and forth, threatening annoying pressure. He quickly builds and saturates a third, safely expanding away from the Protoss. Hasu takes the cue, and as he is walling and cannoning his third Morrow takes a 4th, nearly covering his half of the map.
Morrow forces an attack between Hasu's natural and third, and his roach-corrupter army is easily stopped by the forcefields of Hasu. Morrow comes back for attempt #2, this time with added hydra support, but is once again repelled by the increasingly scary Protoss army. On the third try the armies largely trade, with Morrow morphing an overseer just in time to stop a few dark templar.
The next time the armies clash Hasu surges ahead, and begins to barrel towards Morrow's side of the map until newly made roaches push him away. As the game falls into a relative lull, both players finish taking their side of the map and the streets of Metalopolis are split evenly.
Morrow makes a series of brood lords, and when he is caught at a bad angle the maxed Protoss army proves to be far superior.[27:17]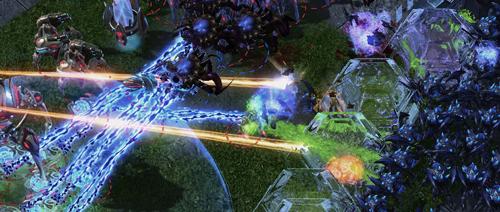 ---
P9
mouz.HasuObs
<
Terminus RE
>
mouz.MorroW
Z3
Zerg begins with the same pool first fast hatchery build, while protoss switches it up by opening forge, nexus, gateway. Morrow quickly techs up to banelings and the ventral sacs upgrade, a popular choice on this map. Hasu, meanwhile, begins his tech with a void ray and phoenix.
The first drop is incredibly successful, clearing out the main in no time. taking his third before trying again at the main, Hasu counters by launching an offensive with his first 3 voidrays and a phoenix, but does not accomplish much outside of killing an extractor. Morrow once again loads up and drops in Hasu's main, killing the robotics facility and nearly bringing down the recently rebuilt nexus. Meanwhile back home, Morrow has taken his third and is readying a 4th base against Hasu's 3.
Both players build up sizable armies, and a series of skirmishes occur in the center of the map with nearly max armies. Morrow chips away at Hasu's forces piece by piece, forcing the Protoss 4th to be delayed by several minutes in a period when his other bases are nearly mined out. The reduced economy eventually gets to Hasu, and when his army is forced to retreat from the 4th that is finally being mined he taps out and readies himself for a third game. [29:40]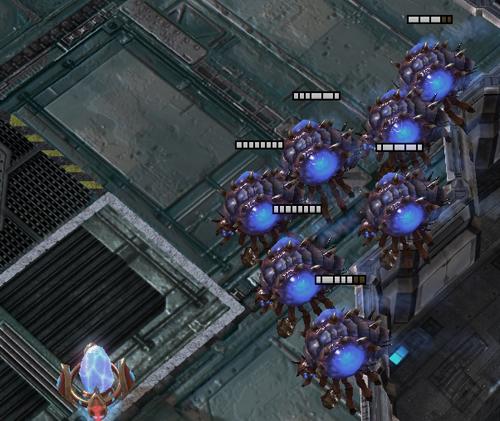 ---
P7
mouz.HasuObs
<
Crossfire SE
>
mouz.MorroW
Z2
The third game opens in a familiar manner, speedling expand and nexus after 3 gates. Morrow looks to continue his aggressive play, amassing hydras quickly and making a concentrated effort to spread creep down the main passageway with overlords. His first series of attacks proves unsuccessful, unable to break through to the Protoss natural before the colossus thermal lance becomes active.
Severely behind in units, Hasu's counterattack forces a GG from Morrow before it even reaches the zerg natural. [15:20]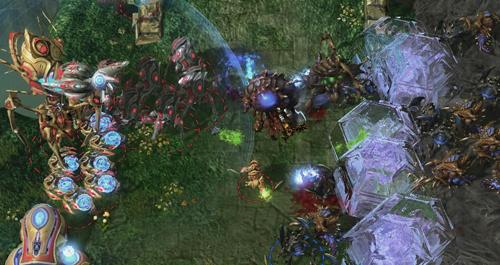 ---
P7
mouz.HasuObs
<
Shakuras Plateau
>
mouz.MorroW
Z2
The 4th game of the series opens the same as game 2, Morrow with the same build he has used all day and Hasu opting for forge, nexus, gateway. Hasu looks to play this game the same as his many Aiur brothers, quickly making a stargate for void rays and taking the expansion at 6 o'clock.
Morrow takes an equally fast third base, and pressures 6 while building a 4th hatcery below the base at 12. Thanks to the tunneling claws upgrade, he is able to burrow below a sheet of forcefields and cannons and take out the base defenses though he is unable to break through the stalkers and colossus protecting the nexus still there.
Not to be deterred, Morrow continues to force the issue and throws wave after wave of roaches and hydras at the base, eventually killing the nexus and then retreating. Stopping for a moment only to build a few waves of drones, once the nexus is rebuilt he crashes into it again with hydras, roaches, and corrupters until Hasu's army is defeated and he has to tap out. [22:46]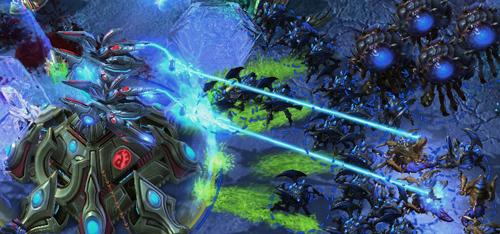 ---
P2
mouz.HasuObs
<
Tal'Darim Altar
>
mouz.MorroW
Z5
The deciding game of the series opened as the previous, Hasu building a forge first and Morrow making an extractor and then pool. From there, Hasu makes a stargate and begins to pump out phoenixes to do his best to annoy overlords and scout. Morrow builds a hydralisk den, and researches drop capability for the second time of the match while getting hydra upgrades.
Hasu's menacing phoenixes spot a mass of overlords and hydras moving towards his base, and he readies troops appropriately. When Morrow arrives at the back cliff he faces a problematic number of stalkers, though not enough to stop him from pushing them back and unloading forces to the top of the ledge.
Once on top, he begins to do what damage he can. Unfortunately for the hydras, a colossus rears his head and begins to shoot lasers of death at them. The hydras do their best to hold, but after extended thermal lance finishes it is all too much and Morrow has nothing left once his attack is over. HasuObs goes on to represent Germany in the round of 8. [14:19]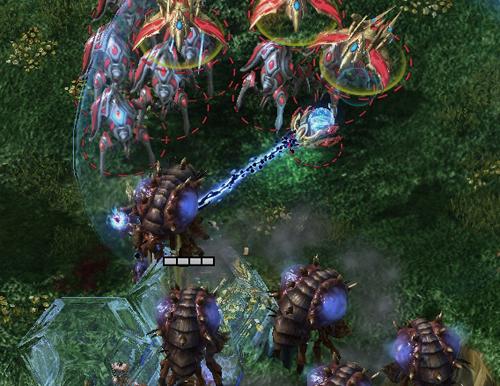 mouz.HasuObs
< 3-2 >

mouz.MorroW

Dignitas.NaNiwa
< 3-1 >

ESC.GoOdy
+ Show Spoiler [Show Games] +
P11
Dignitas.NaNiwa
<
Tal'Darim Altar
>
ESC.GoOdy
T7
Both players chase out their opponents' scouts before revealing their true intentions, with Naniwa making a stargate and Goody continuing up the tech tree. Swapping add-ons and sitting safely behind a bunker, Goody prepares for some cloaked banshee action, but at the sight of the very first phoenix, cancels his plan and begins tanks and vikings.
Naniwa, confident with the intel from his phoenixes, is first to expand. Vikings are too slow to catch phoenixes that continue picking off SCVs left and right. Naniwa stops producing from his stargate to begin colossus production, fully equipped with thermal lance. Goody does not stray from his trademark mech play, and is churning out units out of four factories. With a hefty food lead and phoenix/observer vision, Naniwa expands again. This time, Goody isn't too far behind, and as the third CC makes it way over, the phoenixes zoom by for a sneak peak.
Naniwa is the first to make a move as his colossi get in range of Goody's natural to begin harassing the gas, then the mineral line itself. Testing which path is safer, Naniwa sacs two zealots to scout, and then decides to squeezes his army down the southern entrance to Goody's third. Half of the tanks are already in position, and while Naniwa chews through the SCVs at the expansion, the leftover vikings and mech units evaporate Naniwa's army in seconds. Goody rides the momentum to surge forward to the middle of map, only to have to retreat because dark Templars are chopping up his army bit by bit.
Goody's floating barracks scouts Naniwa's fourth, and blue flame hellions feasts on defenseless probes. Moving Naniwa's army out of position, Goody sieges up below Naniwa's natural, cutting off any possible back-up to his isolated expansions. Naniwa, while being down almost 50 food, has no choice but to engage. Naniwa pokes in and out of siege tank range, but eventually his numbers dwindle down to a mere 71 food before yielding to Goody's iron army. [23:02]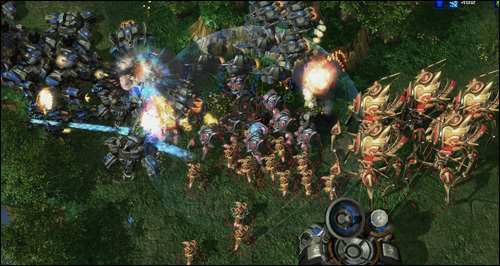 ---
P7
Dignitas.NaNiwa
<
Crevasse
>
ESC.GoOdy
T5
Goody decides to tech up to banshees before expanding to his backdoor natural, drastically delaying his CC, while Naniwa expands straight off a single gateway. The banshee scores single digit probe kills before it gets chased away, and Naniwa wastes no time and grabs an extremely quick third, seconds before the 10-minute mark of game 2. Goody loads up 4 hellions to drop into the main, a banshee in the back, and 2 hellions in the front to prep up his three-prong harass. Unfortunately, Naniwa is more than prepared, cleaning up in all three areas without losing a single unit.
As zealot charge and +2 weapons finish, Naniwa breaks down the backdoor rocks and charges into Goody's outside natural. The zealot eventually dies from hellions and tank fire, but Goody's vikings cannot finish the colossi fast enough. With warping reinforcements, Naniwa stretches the food lead by 50 and Goody gives the GG, evening up the series one apiece. [15:40]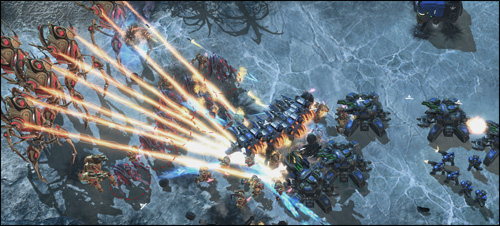 ---
P7
Dignitas.NaNiwa
<
Shakuras Plateau
>
ESC.GoOdy
T1
Naniwa sends out an early probe to proxy pylon just below Goody's main. His probe gets chased around once it gets inside, but Naniwa continues with his plan, dropping a gateway, followed by another, forcing Goody to pull nearly all his SCVs to stop it from going up. Naniwa eventually cancels the second and stops his aggression. Naniwa tries to expand, but his probe at the Xel'Naga tower warns of incoming infantry, and Naniwa cancels his nexus and drops additional gates, winding up at 4. Goody bunker contains Naniwa, preventing him from expanding. Back at home, Goody techs while making a CC himself.
Naniwa proxies a pylon at the 4 o'clock natural and begins warping in units. Another pylon gets placed right below Goody's ramp, now walled off with supply depots and bunkers. The stalkers poke up the ramp, granting vision, and Naniwa warps in zealots on the high ground. Breaking down a supply depot, stalkers plainly walks into the main, snipes Goody's single tank, and continuously chip away Goody's SCV count. Not letting his macro slip, Naniwa is on top of reinforcing his army, and when there are more stalkers than SCVs, Goody throws in the towel after quite a peculiar game 3. [10:10]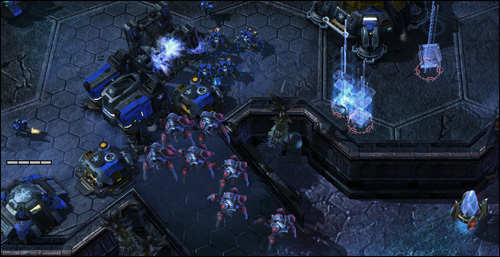 ---
P11
Dignitas.NaNiwa
<
Xel'Naga Caverns
>
ESC.GoOdy
T7
Goody sends out 2 SCVs with his first marine + marauder, looking to contain Naniwa and slow down his expansion. Naniwa chronoboosts out 2 stalkers and a zealot, fending off Goody's units and the micro wars in the middle ends up with Goody losing all his units. Naniwa expands while Goody turtles up, in fear of a strong warpgate attack. Goody pulls half a dozen SCVs along with his MM army for a stim+combat shield timing attack, but Naniwa catches on to his plans. Not having enough units originally, Naniwa pulls all of his probes at the natural to completely shut down the attack, and hold on until the first immortal comes out.
Naniwa suffers some casualties, but the numbers begin to swing in his favor as stim wears off and the immortal is dealing massive damage. Pumping units out of 5 gates and a robo with the economy of two bases, Naniwa begins to pull away from Goody. Goody gives it one last desperate attempt to have any chance at this game (and series), pulling half of his remaining SCVs in an all-in assault. Force fields split Goody's army in half, and Naniwa triumphantly knocks Goody out of TSL3. [11:27]

Dignitas.NaNiwa
< 3-1 >

ESC.GoOdy

MYM.Mondragon
< 1-3 >

coL.CrunCher
+ Show Spoiler [Show Games] +
Z6
MYM.Mondragon
<
Terminus RE
>
coL.CrunCher
P9
Mondragon began with a gasless pool first build, followed by double expanding to the closest expansions. Cruncher meanwhile quickly made a stargate and began voidray production, but not before Mondragon saw the gate with a suiciding overlord. Mondragon continued by producing several queens, an evolution chamber for spores, and "his counter to void rays" in a roach warren.
Cruncher's original air force of 2 void rays and a phoenix are unable to do any damage harassing, and so he gathers up a zealot-stalker-sentry force and brings them all to the front to attack into several spine crawlers. With queens and roaches, Mondragon is able to hold just barely and begins to push back the Protoss forces. His small army is killed, and while Cruncher is making units and taking a third the Zerg double expands and amasses roaches and their upgrades.
Bringing his roach army to the front, he easily kills the forge and bursts through a few cannons to kill the robo and stops mining by burrowing and unburrowing in the mineral line. Facing a largely voidray-stalker army, he focuses down the nexus at the natural and moves on to killing probes at Cruncher's third.
Cruncher stops the attack before his third nexus explodes, but shortly thereafter a gigantic corruptor-roach-hydra army shows its face and he sends out the GG. [19:19]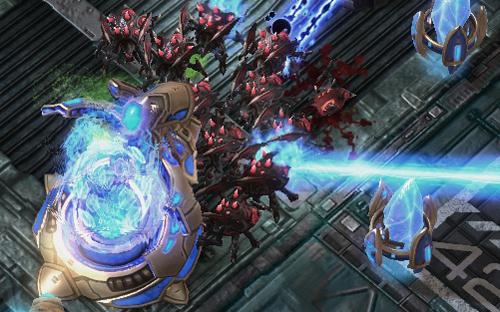 ---
Z7
MYM.Mondragon
<
Shakuras Plateau
>
coL.CrunCher
P2
Mondragon opens pool first once again, getting gas after starting a hatchery at his natural. Cruncher looks to play this game as his last TSL match on Shakuras, getting a forge first and then a nexus and gateway. A stargate follows soon after, making a void ray to break down the rocks to an expansion at 12 o'clock.
Cruncher makes several phoenixes, and attempts to harass but largely just scouts. Mondragon takes a relatively quick third, with Cruncher following suit soon after. Mondragon draws Cruncher's army to the base at 12 when he begins to break down the rocks, and when the Protoss forces are tied up across the map he attacks the front with roaches.
Mondragon then uses drop tech to do the same thing several more times, while securing a 4th. Alternating between dropping units at 12, and attacking where Cruncher is attempting to take a 4th, Mondragon keeps the opposing army busy and in a constant state of being in the wrong place at the wrong time.
Eventually Cruncher decides he has had enough, and when he reaches a large number of void rays and colossus he charges out into the middle of the map, where he is able to take out small bits and pieces of the scattered zerg army. Mondragon finds himself unable to gather his troops fast enough and is forced out of the game when Cruncher picks apart his last stand.
[23:36]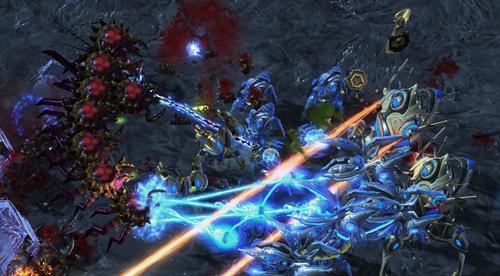 Z2
MYM.Mondragon
<
Tal'Darim Altar
>
coL.CrunCher
P7
Mondragon starts with a 14 hatch. Having already started a forge, presumably for a fast expand, Cruncher decides to slap down a pylon behind a tree and build some cannons.
Thanks to a clever pylon wall, the first cannon gets up with ease despite Zerg pulling nearly all his drones. From there victory is easy for Cruncher, as his second cannons kill the natural hatchery easily and the spine crawlers are unable to do damage quickly enough. [5:54]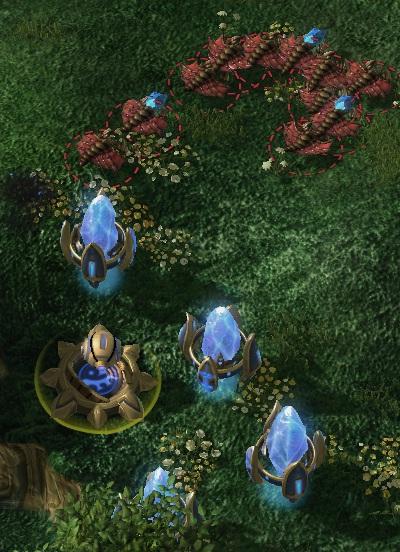 ---
Z3
MYM.Mondragon
<
Metalopolis
>
coL.CrunCher
P12
Cruncher once again begins with an early stargate, while Mondragon does the usual pool first followed by quick second hatchery. Mondragon's suicide overlord catches the stargate, and the initial pressure with void rays is only able to kill a roach warren as spores and queens protect the zerg base.
Instead of roaches this game, Mondragon takes a third while amassing mutalisks. Phoenixes harass, players take bases, a third for Cruncher and a hidden 4th and later 5th from Mondragon. Mondragon tries a double pronged attack, mutas in the main and roaches at the third and thanks to army positioning and storm Cruncher cleans up easily.
In typical Cruncher fashion, when he eventually moves out it is with a very imposing army. Killing the hidden Zerg base, he moves to Mondragon's natural where he is only stopped by a huge mass of spine crawlers and mutalisks. Mondragon build spine cralwers at his chokes, 20 in total, split between two naturals.
Cruncher army, mostly stalkers with several void rays and a few high templars, decides to bypass it completely and blinks into the occupied main base at 6. Now able to get a good angle on the spines, it is a simple matter for him to destroy what is left mining for Mondragon and advance into the round of 8. [29:44]


MYM.Mondragon
< 1-3 >

coL.CrunCher

SlayerS_Boxer
Post-game Interview
+ Show Spoiler [Korean Original - 한국어 원문] +

1. Sen 선수와의 접전 끝에 3-2로 힘들게 TSL 8강전에 올랐다. 8강전에 진출한 소감은?

경기하던날 사실 몸이 회복이 안된 상태되서 힘들었었다.
Sen 선수에 관한 스타일 및 정보를 팀원들과 같이 공유하며 파해법을 생각했다.
하지만 Sen 선수가 세트를 거듭하면 할 수록 대처를 잘하게 되서 생각 보다 쉽지 않은 경기가 되었던것같다.

8강전에 진출 하게 되서 너무너무 좋고 기세를 몰아 결승까지 진출한 후 아메리칸 드림을 꿈꾸겠다!

2. 맵이 모두 장기전 하기 좋은 맵이었고, Sen 선수 또한 운영을 즐기는 선수다. 그럼에도 불구하고 5경기 모두다 운영 싸움을 선택한 이유는?

요즘 맵 자체가 초반전을 할 수 없게 제작 , 수정 되었다.
그에 따른 초반전에 치중한 본인의 저그전 스타일도 운영 위주로의 전환이 불가피 해졌던것 같다.

3. 팀리퀴드의 유저들이 임요환 선수의 약점으로 저그전을 꼽는데, Sen와의 경기에서 상당히 좋은 모습을 보여줬다. 현재 자신의 저그전을 어떻게 평가하고 있는가?

아직 한참 멀었다고 생각한다. 시나브로 좋아지는 모습을 보여드리겠다.

4. 마지막 경기의 바이킹 + 의료선 견제는 마치 스타1 시절 임요환 선수의 모습을 떠오르게했다. 앞으로도 화려한 견제 전술을 보여줄 자신감이 있는가?

생각 보다 많은 피해를 주진 못했던것 같은데... 좋게 봐주시는것 같다. 견제를 통해 상대와 같이 헝그리하게 전개되어 나아가는 플레이는 내가 가진 장점이자 단점이다;;
장점만을 향상 시키도록 노력하겠다.

사실, Sen선수와의 대진표가 나왔을때 여자친구가 sen선수의 경기를 모두 찾아보고서 sen선수의 2가지의 습관을 브리핑해주었다.

그 의견을 바탕으로 코치인 슬레이어스셀라(홍승표)가 빌드를 만들었고 문성원선수(MMA)가 추가적으로 다듬었다.

예전의 불곰드랍으로 맹독을 처치하는 아이디어도 여자친구의 작품이었다.



5. 최근에 홍진호 선수가 프로리그 올스타 명단에 올랐는데, 임진록을 볼 수 없는 올스타전이라 왠지 허전하다. 종목과 상관 없이 언젠가 임진록을 다시 볼 수 있는 날이 올 것이라고 생각하는가?

홍선수와 내가 선수로서의 열정이 식지 않는 한 우린 언제든지 만날 수 있다고 생각한다. 개인적인 바램이긴 하나 스타2 벙커의 무한반복의 묘미를 보여주고 싶다!

6. 다음 경기에서 Morrow그리고 HasuObs의 승자와 경기를 치루게 된다. 어느 선수와 경기하기를 바라는가?

한창 저그전을 계속 해서 파보고 싶다. 저그 때문에 모든 대회에서 쓴 맛을 봤는데... TSL 대회를 통해 저막의 이미지를 벗고 싶다.

7. 마지막 한 마디?

건강상의 문제로 스웨덴(드림핵)에 가지못해서 너무 아쉬었다. 이번 TSL결승을 위해 뉴욕에 꼭 가보고싶다.
Sen 선수를 잡기 위해 도와줬던 문성원(SlayerSMMA) 홍승표코치 (SlayerSCella) 김동원 (SlayerSRyoung) 황도형 (SlayerSMin) 조명환 (SlayerSGolden) 김회용 (SlayersDrugBird) 김동주 (SlayerSGanZi)

그리고 마지막으로 SlayerSJessica 김가연 에게 진심으로 감사하다.

이들이 없었으면 8강에 갈수 없었을 것이다. SlayerS Fighting!!

Q: You've reached the RO8 after beating Sen in a tough five games. How do you feel?
My body hadn't fully recovered on the day of the games so it was tough. My teammates and I exchanged information about Sen's style and we worked on a way to beat him. However, Sen got better and better at adjusting after each game, so the games didn't go as easily as expected.
I'm so happy to reach the RO8, and I'll achieve my American Dream by reaching the final!
Q: The maps were good for macro games, something Sen enjoys. In spite of this, you also decided to go for a macro style in all five games. What was the reason for this?
Maps these days are edited so you cannot use early game tactics. Because of this, I've had to change to a macro style from my normal early-game focused TvZ style.
Q: Some people point out your TvZ as your weakness, but you played some pretty good games against Sen. How do you rate your TvZ these days?
I still have a long way to go. I hope to show improvement, little by little.
Q: Your viking-medivac harass in game five was reminiscent of the Boxer of SC1. Do you think you'll be able to keep using such tactics as the tournament goes on?
Honestly I didn't think do as much damage as I wanted... you're being too kind.
Using harassment to create a low-econ state for both players is my strength and weakness at the same time -_-;; but I'll work to accentuate the strength side.
Actually, when I got matched up against Sen, my girlfriend watched every game of Sen she could and briefed me on two of his main habits (the idea to use marauder drops against banelings was another way she's helped me in the past).
With that information, my coach SlayersCella created the build, while SlayersMMA helped refine it.
Q: Yellow recently got voted into the Proleague all-star team, but it feels a bit empty since there wasn't a Limjin-rok (Boxer-Yellow match) at the All-star game. Do you think you'll face Yellow again some day?
As long as we keep our passion as progamers, we will always have an opportunity to meet again. On a purely personal note, I'd like to show him the beauty of infinitely repeating Starcraft 2 bunkers.
Q: You will face the winner of Morrow vs HasuObs next round. Which player would you prefer to face?
I'd like to play more TvZ so I can really put effort into figuring it out. I've had a tough time in every tournament because of Zerg players, and I'd like to use TSL as an opportunity to get rid of my poor TvZ reputation.
Q: Any final comments?
I wasn't able to go to Sweden (Dreamhack) because of health problems. But I really want to go to New York for the TSL final.
Thanks to MMA, Cella, Ryoung, Min, Golden, Drugbird, and GanZi who helped me prepare against Sen.
Finally, deep thanks to SlayersJessica [T/N: his girlfriend].
Without them, I couldn't have reached the RO8. SlayerS fighting!!

mouz.HasuObs
Post-game Interview

Q: Congratulations, you won again, how are you feeling?
Thanks. I'm feeling really good, I practiced a lot the last few days and although my mindset wasn't the best, I was able to to perform well. I feel a bit sorry for Morrow, it's always hard playing a teammate in an important tournament.
Q: You won in a close series with mostly long drawn out games, was that the gameplan from the start?
Haha, actually not. You never plan to play such close games, its nerve-racking. But overall the games went like I wanted to, only Terminus I got caught offguard by his baneling drops. On shakuras I actually messed up setting good forcefields because my sentrys were somehow blocked in my army. But besides that, I think I played kinda solid.
Q: Let's get back to the team kill part a bit, does playing someone whose style you know change a lot in your preparation?
Hm, a little bit I guess, but not too much. You always try to play your best. I had a small advantage because I was able to see Morrows style in Korea (vs Anypro and MC). He still surprised me on Terminus, since we knew That we could meet in the TSL3, we didnt practice together anymore. Also his stay in Korea helped us dodge each other during the preparation phase. =)
Q: In the next round you will meet either Sen or Boxer. Are you concerned about who you will meet next? Who would you rather play?
To be honest I dont mind at all. Boxer is a legend and Sen was an extremly strong SC1 player. They both have been showing good results in SC2, playing against one of them is already an honor for me. I will try my best, no matter who I face, I really want to make it to the final.
Q: Morrow showed some interesting development in his Zerg play especially with some early drops, what do you think about this development?
It seems to be a proper way to counter the forge expansion build of a protoss. Especially when the protoss does a stargate after the expansion, lings and banelings are extremly hard to counter. But as always, it depends on how well you scout and read your opponent, if you know what's coming, you can counter it definitely. That happened on Tal'darim, I saw that morrow was staying on two base and not having that much creepspread, and making speed-overlords and a lot of hydras.
When I saw his overlords were moving out, I knew exactly it was going to be a drop instead of a Creep-Highway.
Q: Did the constant mix of quick aggression and passiveness throw you off throughout the series? Did you adjust for it along the way or did you look at every game the same way?
I think its always very good in a bo5 series to play at least one game extremly agressive. But I never look back on a map, I always focus on the upcoming game. I realised that morrow likes to drop as early as possible after a forge expansion build, thats why I tried to scout as good as possible and react to it. I think you should never get too influenced by whether you just lost or won.
Q: Alright we will be wrapping this one up, any last comments or shoutouts?
Well, I want to thank everyone who is supporting me. I hope you guys enjoyed my matches and I'm looking forward to seeing some more cheerfuls!! Besides that I want to thank my team Mousesports and all of our sponsors and partners. If you want to follow me:
http://www.facebook.com/HasuObs
go for it!

Dignitas.NaNiwa
Post-game Interview

Q: Congratulations. How do you feel winning 3-1?
The score doesnt matter to me, it only matters to me that I advanced! I'm very glad I did! But I am aiming further.
Q: You won MLG Dallas, and now you are in the Round of 8 of TSL. This is right after you joined Dignitas as well. How do they feel about your great results recently?
I have no idea haha. you will have to ask ODEE!!! Mister O´Dell. I hope they are happy

.
Q: You have been traveling a lot lately. You said that you played these matches right after getting off the plane in the UK. What are you there for? Do you feel it affected your play?
Gadget show live 5000 pound tournament. Yea I used a completly new computer and screen which made it a bit hard to judge army size and positionings, but it all worked out in the end!
Q: What happened with your situation in the NASL? Do you want to give your side of what happened?
Nope, I do not want to add more bad words to NASL, But I do want to say that the common opinion of me laddering and not caring is total bullshit.

Q: Let's talk about the games vs Goody. The first game Goody went his standard mech style and you were unable to win. What went wrong?
I took a very bad position in a fight, I was supposed to draw his forces out of position and kill small portions of it but in the end it punished me.
Q: Game 2 on Crevasse you were able to break his early defenses. Do you think it's better to take more bases or to attack early against his style?
Well I took a 4th base at the same time, You just have to weaken the mech army all the time and control their gas. I think its very difficult if you just let them do what they want, so I would say a combination of both.
Q: Game 3 you switched your strategy several times. Take us through your thoughts on this game.
I think its neccessary sometimes to throw in an "allin" every now and then to keep your opponents on their toes so that they don't get the idea of playing unsafe or greedy. It's a warning!!
Q: Game 4 he went for a bio attack. How did you feel about this game?
The game went exactly as I saw him play in all his other TVP games on Xel'Naga, once he opened bio I was 100% of my win. It felt good but it felt like he played a bit too much into the palm of my hand.
Q: Who would you like to play next? You play against Cruncher or Mondragon. What are your thoughts on both these players?
Preferably Mondragon since I practiced a lot when I had to play Ret, and I'd prefer not to play Cruncher because I haven't had any time to practice since Dallas because of my very busy tournament schedule...
I think Cruncher is very overrated, and Mondragon I've only heard about on Team Liquid. I do not know either one very well. ;>
Q: Anyone to thank? Any last words for your fans?
Thanks to merz for practicing with me before Goody and thanks to my team Dignitas for all their support! And ofcourse thanks to my fans if I have any.


coL.CrunCher
Post-Game Interview

Q: Congratulations. You advanced to the Quarterfinals. How do you feel?
I feel amazing, I am super happy. I have had high hopes ever since qualifying for the TSL a couple months back, and I am relieved I am able to keep on advancing, and making it to the quaterfinals so far.
Q: You played a Zerg again, but Mondragon did some different strategies. What are your thoughts on his play?
His play is extremely aggressive, multiple attacks with roaches using drops in the first few games, followed by an aggressive counter attack in the last map with mutas/roaches. His aggressive play completely demolished me the first map, even after seeing his games last round, it amazed me he was able to just put so much pressure on.
Q: You had some strong words for your last Zerg opponent, do you feel that Mondragon's aggressive style is better for Zerg in general?
It depends on the strategies. For example, in our game 4, being aggressive would not have had much effect, instead macro, defend any kind of harassment, and counter attack if I pushed out in a vulnerable position. Where in game 1 and game 2 I was going for the deathball style, which is weak early on when you have to defend 2-3 fronts.
Q: You did a very aggressive cannon rush in game 3, using 4 pylons to wall. Is this a new strategy? How do you think opponents or fans will react to it?
I saw a hatch first build, and right then I decided to cannon rush. It is nearly impossible to stop with just drones, since you can wall the cannon off, and you need zerglings to deal with it. Mondragon got a little greedy with going hatch first, and I took advantage to that. I also wanted to throw him off his game, and getting cannon rushed is one way to do that. I wanted him to play more safely in the remaining games, knowing that I could do some sort of cheese, and he would have to be prepared. It is part of the game, and I love cannon (tower) rushing!
Q: The last series you played had some contentious words between you and your opponent. This time though both you and Mondragon were very polite to each other.
I didn't really follow the BW scene, but even after seeing very little of Mondragon in SC2, I could tell he was an extremely mannered and talented player. I have a lot of respect for him, and even more after todays games. I was pleased to have the chance to play a BW legend.
Q: You recently went to MLG Dallas but failed to make it out of the open bracket. Your next opponent is Dignitas.NaNiwa, the MLG champion. Do you feel like this will be a chance to prove yourself?
Yeah...I had a terrible performance at MLG. I had no practice beforehand, since I was extremely ill for about 2-3 weeks before MLG, and still ill when I arrived at MLG. I am looking forward to play Naniwa, since he had an amazing run at MLG. This will have to be my chance until the next MLG!
Q: There have been a lot of "upsets" in this TSL3. What are your thoughts on that?
I think people underestimate any player who didn't play actively during the beta. Thorzain is the best example, taking down the last TSL champion, and a GSL champion. Players are going to rise up constantly in the next few years of SC2. The game is still new, and there are tons of good players who are just waiting around for their turn.
Q: Anyone practice partners to thank? Any last words to your fans?
I'd like to thank my teammates, mostly FireZerg and Ryze, two fantastic zergs, for helping me go through build orders, strategies, and general game play. And to my fans, thanks for the support! It means a lot to have fans support you in events. I hope I am able to keep on surprising you!
---
This TSL is sponsored by PokerStrategy.com, the world's largest poker school and community. With hundreds of Poker VODs and an assortment of learning material in 18 different languages, PokerStrategy.com offers the chance for aspiring Poker players to learn from a beginner to a professional level. Sign up using TL's referral link.

By signing up, you can also enter the TSL3 Raffle, where you can win a 5-night trip to South Korea for 2 people to watch StarCraft live in person and tour the oGs-Liquid house.

Discuss with other fans in the TSL3 Forum.