Saturday March 26th 18:00 GMT (+00:00)



It's been a long week. Since the opening weekend, I think it is safe to say that everyone has just been waiting for the next Saturday to roll around. The first two days were stacked with amazing games and top players. Expect nothing less when you tune in this weekend. In fact, I would say that the players lined up for Saturday and Sunday are going to make for even better games. A strong statement, I know, but on Saturday there are two GSL champions playing against foreigners, Qxc vs. Genius, which is going to be an epic clash of styles, and a match between top Europeans. We could very well see another upset. But whether our brackets get blindsided for the second time or not, I can't wait to see what happens.



IM.Mvp
vs.
Mill.Adelscott

In his interview, Adelscott humbly said that PvT is not his best matchup. Unfortunately, this is probably true. Of all the matchups, Adelscott has lost to top players the most in PvT. He lost to Thorzain in the 12th TL Open and Strelok knocked him out of two tournaments in February. It's tough enough to be matched against someone many call the best in the world. To have it be your worst matchup is just bad luck. The good news is that this is Mvp's worst matchup, too. That said, this is Mvp, so take "worst matchup" with a grain of salt. Since his infamous loss to Squirtle in the February GSTL, Mvp has gone 3-5 in TvP. In the GSL Up-Down matches it was two Protoss, Alicia and Genius, that knocked Mvp down to Code A.
Adelscott has good macro. As Chill said about Adelscott in a TL Open game against Thorzain, "it actually looks like he's cheating, how does he have all these units!". Good mechanics are not enough to beat Mvp, though. At times Adelscott tries too hard to finish the game in one attack, and gets crushed or crippled when he loses everything. This is odd coming from a player with strong macro, and makes me think he is lacking good transitions or strategies for the late game. Another thing about Adelscott is that he likes to use warp prisms. While entertaining, Adelscott likes to use them in the mid-game. Even if it catches Mvp off guard, after the first drop I don't think they will prove significant.
Bracket Contest:
Like Liquid`Tyler, I actually give Adelscott a good chance to win this series. However, my liquibet is still on Mvp because 1) he just got knocked down to Code A and is most likely pissed off and out for blood 2) he said, like Adelscott, that he was tailoring builds specifically for his opponent, and 3) Mvp is happy on 2 bases, which should negate early pressure from Adelscott.
Bracket Stat:
MVP is picked to win in 96% of brackets (3124 to 144).

FXOqxc
vs.
MVP_Genius

This series is going to be very interesting. In his interview, Qxc said that he was going to focus on his "own builds and skills" which leads me to believe that we will indeed see the standard Qxc style. If so, Qxc is going to have to push his aggressive, harassment heavy play to it's limit if he wants to break Genius. I think, though, that it will ultimately prove ineffective. This series might be a repeat of Sen vs. Fenix - one player trying to crack the other with offensive builds and the other holding out while macroing. Genius said himself that his weakness is that he "plays too safe". Unless Qxc wants to donate units, this does not bode well for harassment based strategies. Fortunately for both he and the spectators, there is more to Qxc than tactics. Above all, I would call him an adaptive player. One of the reasons his games are so exciting to watch is because he has no qualms with trying something new or jumping at opportunities. How far this will take him, we will find out.
Bracket Contest:
Larger maps suit Genius very well. I think that Qxc will be hard pressed to force an early gg, which is his best chance to win. I'm predicting this series to go as expected, and for Genius to take the win. Qxc's mechanics and late-game macro should not be taken lightly though, and he could very well prove me wrong.
Bracket Stat:
Genius is picked to win in 67% of brackets (2241 to 1022).
Love him or hate him, you can't deny Goody's skill. The
Top Dog of March
has some serious talent. His long practiced transitions into mech armies are well oiled and his pushes, even from cross positions on a large map, are strong in unit composition and catch many off guard. This should prove especially effective against NesTea who has "no information" on Goody. However, Goody is a slow-rolling Terran who likes to build up and I can see a Kyrix style of aggressive being particularly difficult for him to deal with. NesTea is not adverse to early aggression and once he sees the opportunity to push a bit harder, Goody may crumble before his death machine gets out of production. Nerves may be another issue for Goody. This is a big tournament for him and there is a lot to be had for beating NesTea. Many players have faltered and fallen from stupid mistakes in their biggest games. I hope Goody won't be one of them.
Bracket Contest:
Goody is going to win this. NesTea has certainly seen mech before, but maybe not from a player who plays it so consistently and successfully. NesTea will try to use mind control and mass muta to win, but Goody has dealt with that many times and will barrel through it. If I were Goody, I would be worrying about baneling busts and all-ins.
Bracket Stat:
NesTea is picked to win in 97% of brackets (3153 to 105).
Naniwa is on a PvZ hot streak. Just coming off his GCPL, semifinal ACE match win over Idra, and a close 2-3 loss to Sen in the finals, Naniwa is looking very strong indeed. 28-14 against Zergs in March, Naniwa is looking to end the month by making it into the Ro16 in the TSL and carrying his momentum over to April. Naniwa is approaching this series with confidence. Though Ret defeated him at Assembly in February, in his interview Naniwa said that Ret "isn't nearly as good as I thought he was". For Ret, he is excited to play this series and feels that Naniwa has "gotten better recently." Ret has taken all that he learned in Korea back to Europe with him and I have no doubt that he is practicing hard to both figure out the new maps and ready his build orders.
Bracket Contest:
Naniwa and Ret are two very different players. Naniwa is admittedly micro oriented while Ret, of course, is the perennial drone farmer. This is my most anticipated series for the weekend simply because I have no idea who will win. I do give Ret the edge though, reason being that both players have had ample time to practice solely for this series and I know that Ret, from his Brood War days, knows how to seriously train and polish his builds.
Bracket Stat:
Ret is picked to win in 74% of brackets (2391 to 859).
Cheerfuls !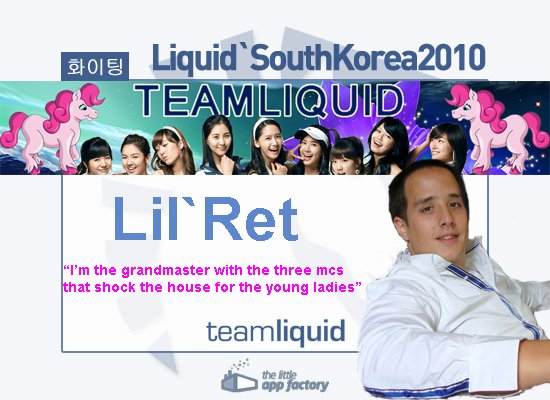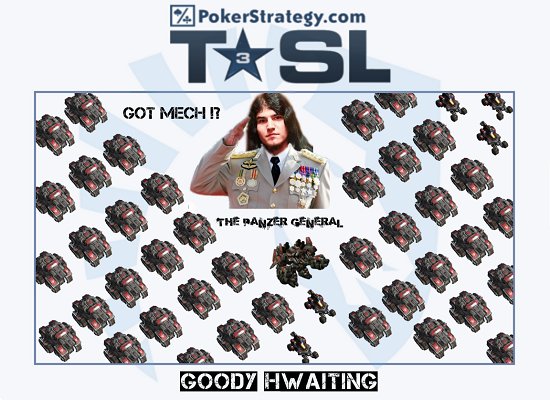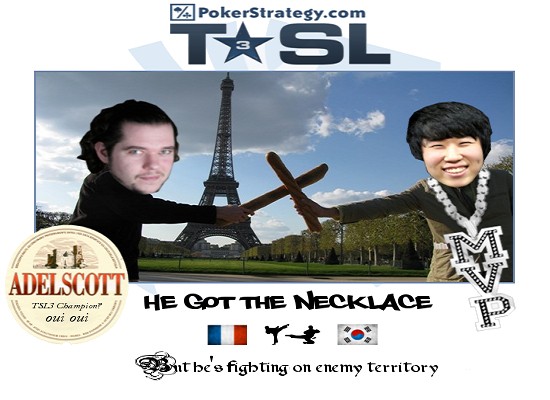 ---
This TSL is sponsored by PokerStrategy.com, the world's largest poker school and community. With hundreds of Poker VODs and an assortment of learning material in 18 different languages, PokerStrategy.com offers the chance for aspiring Poker players to learn from a beginner to a professional level. Sign up using TL's referral link.

By signing up, you can also enter the TSL3 Raffle, where you can win a 5-night trip to South Korea for 2 people to watch StarCraft live in person and tour the oGs-Liquid house.

Discuss with other fans in the TSL3 Forum.