World Team League - 2023 Winter Season
by: Nakajin
The playoff race heated up considerably in Week 7, with Mystery Gaming and the Kwangdong Freecs earning valuable points. That leaves us with five teams in the 5-8 point range, all fighting for the seventh and final playoff spot. Starlight Twinkle currently have the points lead, but a comparison of remaining schedules suggests that Mystery Gaming could be the true favorites to run through the tape.
At the top of the table, it's looking like it will come down to another two-way race between ONSYDE and BASILISK to win the regular season championship. Still, there's still plenty of opportunity for third place Shopify to play spoiler, as they have head-to-head matches against both top teams in the coming weeks.
This week's preview/recap arrives early as WTL has once again adjusted its schedule (presumably for the EPT Regionals). Day 1 of games—including a pivotal showdown between BASILISK and ONSYDE—will be held on November 14th, while days 2 and 3 will be held on the 17th and 18th.
Week 7 Recap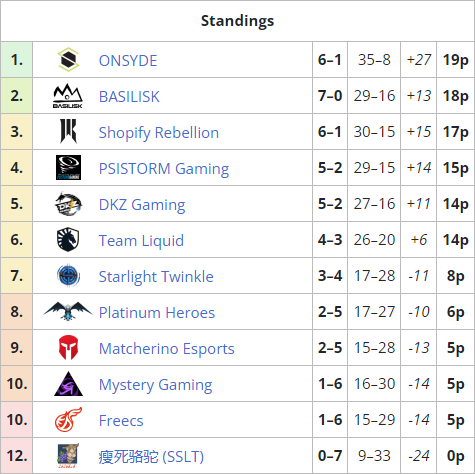 Top 7 teams qualify for the playoffs.
Bottom 2 teams must requalify.
Points are awarded as follows:

3 points for a victory in a series that does not require an ace match

2 points for a victory in a series that requires an ace-match

1 point for a loss in a series that requires an ace-match

0 points for a loss in a series that does not require an ace match
ONSYDE Gaming 6 - 0 Starlight Twinkle
Watch VOD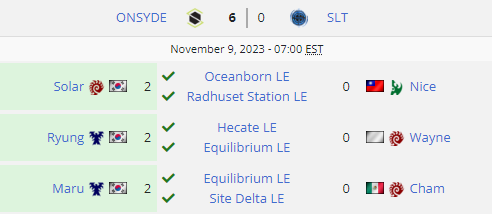 The reigning champions proved that their strength lies in their overall excellence, scoring a 6-0 against the upstart Starlight Twinkle.
GSL champion Solar dominated Nice in two games, with the default Protoss loser's map pick of Radhuset Station only serving to slow Nice's demise.
Ryung and Wayne offered us a much closer and enjoyable series. In game one, Wayne seemed to take the lead with a 1/1 Roach-Ravager push that killed Ryung's third base. However, Wayne took some bad trades after that, allowing a massive Marine-Tank all-in push to kill him off before his Ultras and Vipers were fully ready. Game two was a change of pace, with the two players getting into a traditional Ling-Bane-Muta vs Bio-Mine fight. This eventually turned into a split map situation, with Wayne doing his best to break the Terran defenses with waves of Ultras and Banelings. However, the seemingly endless resources of Equilibrium eventually ran out on the zerg half, giving ONSYDE the 4-0 lead.
Maru didn't make the match longer than needed, beating Cham in two quick games. He stressed Cham's multitasking to the point of breaking with drops in game one, and brought the hammer down with a Hellbat all-in to finish the day.
Matcherino Esports 1 - 5 PSISTORM Gaming
Watch VOD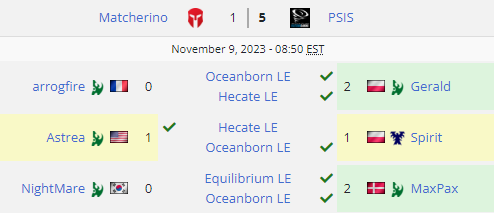 Matcherino couldn't make any progress in the playoff race as they fell to a rock-solid PSISTORM Gaming squad. It's been quite the bounceback season for PSISTORM, who have already surpassed last season's point total (12) with four rounds left to play.
To start things off, Astrea and Spirit played exactly the PvT you'd expect from them: two enjoyable, lengthy, macro games (the actual match order was different from the listed match order). There was plenty of back and forth fighting in the two games, but perhaps a lack of aggression in going for game-ending moves. Ultimately, the two proved to be evenly matched, tying it 1-1.
The games continued to follow the 'script' in the second series, with NightMare losing 0-2 to the PvP master MaxPax. NightMare's all-in failed to bust through MaxPax's fast expansion in game one, while MaxPax won the Phoenix wars in game two.
Matcherino were hoping that Arrogfire could pull off the upset in the final series, but Gerald was too well acquainted with his shenanigans and secured the 2-0 closeout. After a rough summer season, it seems like the Butcher of Battle.net has returned to being a key contributor for PSISTORM Gaming.
瘦死骆驼 (Starving Camels) 0 - 6 Kwangdong Freecs
Watch VOD (Chinese)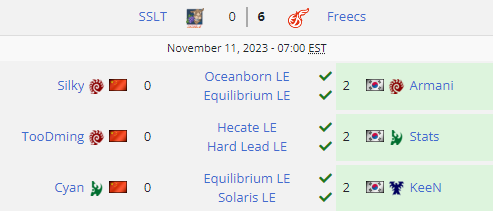 The not-last-place bowl concluded with the Kwangdong Freecs taking a resounding victory, almost surely locking the camels into a 12th place finish. The Freecs are now technically in the mix for the final playoff spot, but the level of play they've shown this season suggests it's more fantasy than reality.
Game one saw Armani hold off Silky's early aggression before beating him in the ensuing Roach-Ravager war. Armani was the one who got aggressive in game two, winning quickly with a big Ling-Bane attack against the unprepared Silky.
TooDming couldn't offer much more resistance against Stats as he gave up the series-deciding 0-2 (despite some sloppy Colossus management from Stats presentied an opportunity in game one, but TooDming couldn't capitalize).
While the final result was already decided, KeeN and Cyan still gave the viewers quite an entertaining series to close things out. Game one on Equilibrium was one of the best matches of the week, as the two engaged in a long, macro TvP where KeeN just barely won out thanks to his patience and decision-making.
Platinum Heroes 1 - 5 Dragon KaiZi Gaming
Watch VOD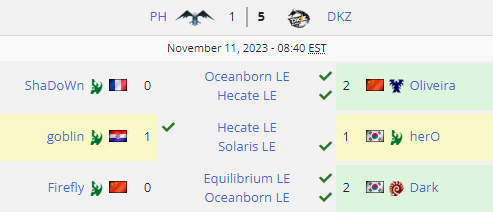 Platinum Heroes needed a couple of small miracles to push DKZ to an ace match, but only found in the opening match where Goblin tied herO. After that, the DKZ players got the job done as expected, taking the 5-1 victory.
Still, something should be said about Firefly and Dark's second game on Oceanborn. With the Protoss looking to protect his season-long streak of winning at least a map every week, he went for the Rotti-trademark mass Phoenix-Immortal composition as a response to Nydus-Swarm Host from Dark. Despite Dark making a bunch of Vipers, Firefly still almost managed to brute force his way to a win after face-tanking a bunch of Parasitic Bombs. All in all, it's a fun PvZ to watch if you want to see players play outside of the usual pattern.
Mystery Gaming 3 - 4 BASILISK
Watch VOD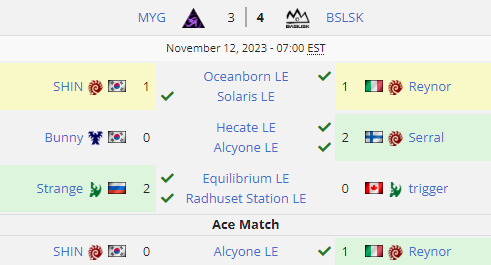 MYG managed to take a point off of BASILISK, which was ultimately a very satisfactory result. They are now squarely in the playoff mix with five points total, and have clearly the easiest remaining schedule out of the playoff contenders in the 5-8 point range.
SHIN and Reynor went at it in a short and sweet ZvZ bout in game one. The Roach war went in Reynor's favor in the end, as he held off an offensive from SHIN while successfully backdooring with a portion of his forces. However, Reynor put on his 50/50 act in game two, as he fell for SHIN's mindgame. Reynor misread SHIN's lack of a third Hatchery as passive, two-base Roach play, only to get surprised by a ling flood.
Serral opened his series against Bunny with a typical Serral game, veering eerily close to the danger zone against Bunny's pressure before abruptly dominating with superior macro. Bunny pulled out a 3-base, 8-Barracks all-in in game two, which briefly reminded me of INnoVation's 8-Rax push that cost Serral $110,000 in the WESG grand finals. However, it seems that Serral is better now than he was in 2019, or that Bunny is not quite as good as prime INnoVation—Serral crushed the push to take the 2-0.
Strange was the hero for Mystery Gaming, bouncing back from his dismal, 0-10 start to take a 2-0 against trigger. It was a pair of old-school, ultra-aggressive PvP games where the Russian Protoss narrowly got the better of his opponent.
With Rotterdam unwilling to call Serral back just before a big ZvZ series in the EPT Europe regional, Reynor got the go-ahead for a rematch against SHIN. Both players went for a quick Spire after Roaches, but SHIN scouted what was going on while Reynor was left in the dark. This let the MYG ace fully commit to Mutalisk production initially, but he made the strange call to switch back into a ground force based on Hydra-Infestor. Meanwhile, Reynor went for full-on Muta-Ling-Bane.
Reynor's superior mobility allowed him to pin SHIN on four bases and establish a stronger economy for himself, but his force was at disadvantage in a head-on engagement. Indeed, after SHIN maxed out, he marched across the map to try and force the issue. This
hanbang
rush looked like it had game-ending potential at first, as SHIN took some high efficient fights. However, he just didn't have the resources or Infestor energy to sustain the push all the way to the heart of Reynor's territory. Eventually, with SHIN's army worn down and formations broken, Reynor took the flanking engagement he needed to decide the game.
Team Liquid 3 - 4 Shopify Rebellion
Watch VOD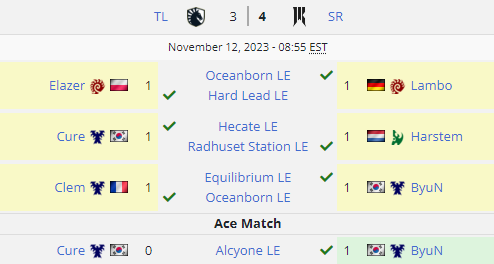 Liquid were set back in their quest for a higher seed, while Shopify climbed back up to third place.
Matches one and three were played from replay, presumably due to scheduling clashes with EPT Europe. Lambo and Elazer gave us the 1-1 we expected, making a whole lot of Roaches and Ravagers with a sprinkling of Hydras. ByuN vs Clem also gave us the expected 1-1 between closely matched players. ByuN went double proxy-Barracks Reapers in game one, and rode his early advantage to a win in a semi-macro game. Then, Clem returned the favor by doing the exact same thing in game two.
The live match of Cure vs Harstem was expected to go in favor of Liquid's new signing, but Harstem came up with an extremely valuable 1-1. Game one saw Harstem open with a proxy-Stargate into a fast gold base on Hecate. It was a cute idea, but Harstem wasn't able to find any damage with his Void Ray-Phoenix, and he was completely flattened by Cure's eventual bio moveout. As is becoming tradition, Harstem chose Radhuset as his losers' map pick, and used it to play a defensive Phoenix-Colossus opener. Things took a disastrous turn for Harstem early on as he lost two of his Phoenixes to Cyclones, but the situation quickly turned in his favor after he mopped up an overaggressive Marine-Cyclone push from Cure. With the early threat removed, Harstem was able to tech up to an unbeatable Carrier army and take the tie.
With Clem still tied up in EPT Europe (we assume), Cure got a second chance as TL ace against ByuN. It was an explosive game, where ByuN found an early lead and never stopped pressuring Cure. While Cure made a handful of good holds, he was always fighting from behind, and had no choice but to GG out to ByuN in the end. Cure's debut for Liquid in the WTL was disappointing, but given his history of WTL success, he should still be a huge asset for the team going forward
Match of the week: Bunny vs Serral - Game 1
This beautiful display of Serral's ability to bend without breaking is my pick for match of the week. Bunny was impressive as well, as this match really embodied his aggressive spirit. This season has been a little light on great ZvT's, but Serral can always be counted on to deliver in the match-up. All in all, this is a good watch for those who like traditional TvZ action.
Watch VOD: https://www.twitch.tv/videos/1975440209?t=42m30s
Weekly MVP: SR.ByuN
With four rather one-sided matches and two 4-3 matches that saw no one score a 3-0, I had a little trouble choosing an MVP this week. I considered Serral or Reynor, and even Strange for the award. But in the end, I went with ByuN. He carried Shopify to victory over TL with a combined 2-1 performance against two of the top-five Terrans in the world—a map loss is forgiven when your opponents are Clem and Cure.
Weekly MVP's:
Week 7: SR.ByuN

Week 6: MYG.SHIN

Week 5: Liquid`Clem

Week 4: SLT.Wayne

Week 3: BASILISK.Reynor

Week 2: SR.Harstem

Week 1: BASILISK.Serral
Preview: Regular Season Week 8
by Nakajin and Wax
Tuesday, Nov 14 12:00pm GMT (GMT+00:00) Matches
Platinum Heroes vs Shopify Rebellion
Firefly's unbeaten streak finally came to an end last week at the hands of Dark, but he nevertheless played some brilliant PvZ in the defeat. The story might be different in an individual tournament setting, but Firefly should be the favorite against Lambo when it comes to the WTL.
Even if Firefly gives the Heroes an early lead as I foresee, Shopify are likely to quickly level the score when ByuN takes on ShaDoWn. The Frenchman is hardly a PvT specialist, and it will be hard for him to hang with ByuN who's having a great season.
That means Goblin and Scarlett are likely to decide the result of the match. I would give the queen of the north the edge based on reputation, but her PvZ has been shaky so far this season (1-1 vs NightMare and Cyan, 0-2 vs Gerald). If Scarlett's play hasn't improved, Goblin could very well force the ace match.
While I'm falling on the side of a 4-2 victory for Shopify, I can also see it being a 4-3 with ByuN taking down Firefly in the ace match.
Prediction:
Platinum Heroes 2 -
4 Shopify Rebellion
ONSYDE Gaming vs BASILISK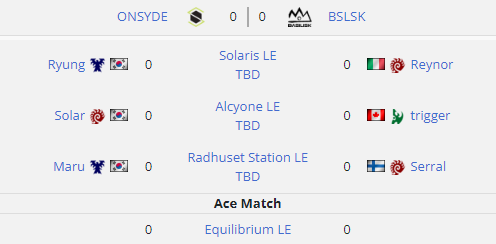 Last season, SCBoy kept this marquee match saved for the very end of the season. However, this decision backfired as ONSYDE had accrued enough of a point lead by the final week that they clinched the regular season title by simply forcing BASILISK to an ace match. Thus, instead of a Maru vs Serral banger for the ace match, we got Crank vs Rotterdam in
an even bangier banger
an exhibition between team captains. While we can't be certain that's the specific reason the match has been moved to Week 8 this time around, it sure does change the stakes.
Despite 18 straight regular-season victories, BASILISK's trend of dropping points could still bite them in the behind. Trailing one point and 14 maps behind ONSYDE, Serral's crew once again need the full three points to take first place. Meanwhile, Maru's merry men might be mollified with a 3-4 defeat.
The good news for BASILISK is that they have drawn the perfect match-ups. Ryung and Reynor are miles apart on the TvZ spectrum, and the Italian Zerg is heavily favored to win. Still, Ryung has been something of a miracle worker in the WTL these past few years, and handed Reynor a 1-1 tie in last season's regular season finale. Recent trends show Ryung's magic is just slightly wearing off, while Reynor is becoming just slightly more consistent in WTL, so I'll say Reynor gets the expected 2-0 result.
While Ryung vs Reynor is a tough match-up for ONSYDE, it's somehow their easier match-up of Solar vs Trigger that hurts more. Solar has been the only player who could be considered a counter to Serral in recent months, and 'wasting' him against Trigger is a huge loss. Even worse, Trigger is hardly a pure sacrifice card as he has the potential to steal a map with a clever cheese or late-game macro.
Finally, there's Maru vs Serral. Once Starcraft's most anticipated match, it's been revealed to be one where the Finnish Phenom holds a solid advantage. Even worse, Maru is said to be
suffering from illness
at the moment, and it sure looked to be the case when he lost 0-3 to DRG in the recent Harrisburg University exhibition. It might be disappointing for the fans, but everything points to a dominating 2-0 for Serral and BASILISK.
The only way this match gets interesting is if Ryung is able to upset Reynor or if Maru pulls off a fever-trance all-in against Serral. In that case, we could be in for a delightful Serral vs Solar grudge match to decide it all. But, as things stand now, I'll bet on a clean win for BASILISK.
Prediction: BASILISK 4
- 2 ONSYDE Gaming
Friday, Nov 17 12:00pm GMT (GMT+00:00) Matches

Matcherino Esports vs Starlight Twinkle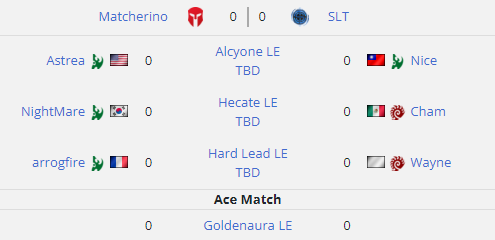 Day two starts with a crucial match between two teams contending for the final playoff spot. The postseason qualification odds are already bad for Matcherino, but a loss here would send them down to almost zero. For seventh place Starlight Twinkle, this is one of the easier matches left on their schedule, and they need to get as many wins as possible if they're to fight off MYG's pursuit.
Astrea has a pretty hefty Aligulac.com rating lead on Nice in PvP, and the stats site gives him around a
76% chance
of winning a hypothetical BO3. However, Nice has only had PvP matches to prepare for in EPT Asia so far (compared to every match-up for Astrea), so he might be in better strategical mindset. I'll go with the 1-1 here.
NightMare has a
similar projected advantage
to Astrea, but I can't find a mitigating factor for Cham as I did for Nice. WTL is the only major tournament on NightMare's schedule until the IEM qualifiers, whereas Cham actually has a ZvZ against Scarlett on the same day as this match. A 2-0 for NightMare seems mostly likely here.
SLT should be able to get their own 2-0 in the next series, as standout player Wayne goes up against Arrogfire. While the young Frenchman did manage to steal a 1-1 off of Ryung in an earlier series, I'm going to consider that a one-off until I've seen some more upsets from him in the WTL.
In a potential ace match, I'm assuming it would be NightMare vs Wayne in a vey close match (since both Nice and Astrea have same-day EPT matches). I'll give Wayne the slight edge here, as he's won more clutch maps for SLT this season.
Prediction: Starlight Twinkle 4
- 3 Matcherino Esports
Mystery Gaming vs PSISTORM Gaming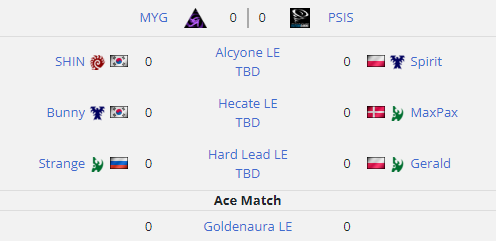 After a brutal start to the season, Mystery Gaming have started to rally with back-to-back ace match losses to Team Liquid and BASILISK. It's not exactly a glorious comeback—they did
lose
after all—but they at least earned enough points to get within striking range of SLT. Meanwhile, PSISTORM are in the familiar mid-table seeding race, trying to put themselves in the best position for the playoffs.
Now that SHIN and Bunny are actually playing like we expect them to, I think the initial two matches favor MYG. SHIN has been dominant against Spirit in 2023 with a
6-1 match record
, and I think he'll add another win to that count. MaxPax is heavily favored against Bunny according to Aligulac (
80%+ chance of winning a BO3
, but I don't think Bunny is going to challenge him in straight-up games. The 'good' version of Bunny is full of tricks and unexpected builds, and I think he has a reasonable chance of taking a map.
Strange finally broke his 10-map losing streak last week, taking a 2-0 off of Trigger. Gerald has also been building momentum, going 4-0 over the last two weeks with wins over Scarlett and Arrogfire. Ultimately, I don't think there's enough separating these two in PvP to pick a clear victor, so I'll pick the 1-1 tie.
I'd go with MaxPax to win in any potential ace match, but there's a worst case scenario where he can't play due to the overlap with EPT Europe. If PSISTORM were to face such an unfortunate situation, then the ace match would definitely flip in MYG's favor.
Prediction: PSISTORM 4
- 3 Mystery Gaming (if MaxPax plays)
Saturday, Nov 18 12:00pm GMT (GMT+00:00) Matches

TeamLiquid vs Kwangdong Freecs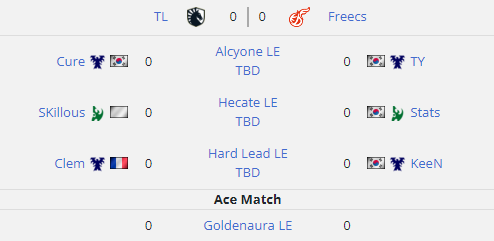 The Freecs are technically in the playoff race due to their point total, but the level of play they've shown so far suggest they don't have a realistic shot. Still, they have a chance to finish above the relegation zone, which would spare the semi-retirees two weeks of WTL preliminaries—how's THAT for motivation? As for Liquid, they're in a similar position as PSISTORM, scrapping for better seeding in the playoffs.
This projected to be a cakewalk for Liquid before we knew the match-ups, but the unveiling of three consecutive mirrors does change the calculus a bit. TY and KeeN are clearly underdogs against Cure and Clem, but given their current form, TvT is the match-up where they're most likely to upset a stronger player. For KeeN in particular, his mechanics still seem fairly respectable, and I can see him capitalizing on a bad gamble from Clem to steal the 1-1.
Stats vs SKillous actually favors the Freecs
according to Aligulac
, though only by a small margin. If the Freecs are going to surprise Liquid and force an ace match, Stats MUST get the 2-0.
Prediction: Team Liquid 4
- 2 Kwangdong Freecs.
瘦死骆驼 (Starving Camels) vs Dragon KaiZi Gaming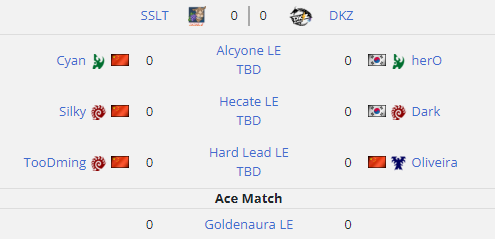 Like the match above, what I thought would be a stomp has become just a tad more complicated due to the number of mirror match-ups.
Obviously, herO and Dark are hugely favored against Cyan and Silky, but at least the mirrors give them a slightly better chance than if the matches were switched around. Alas, the situation looks pretty dire for the 1-11 TooDming, who faces an Oliveira who's playing his way back into form.
Prediction: Dragon KaiZi Gaming 5
- 1 SSLT
---
Credits and acknowledgements

Writer: Nakajin
Editor: Wax
Stats: Aligulac.com & Liquipedia
Images: SCBoy