World Team League - 2023 Summer Season
by: Nakajin
Week 3 was the high point of this already exciting WTL Summer season, with DKZ vs BASILISK going all the way to an ace match and Starving Camels (瘦死骆驼) scoring the upset of the season against Shopify Rebellion.
With the first quarter of the season behind us, things may quiet down a little in the next month as we enter a 'stompier' stretch of the schedule. However, Starving Camel's victory was a clear reminder that you can't take any result for granted, and that anything could happen in the WTL.
Week 3 Recap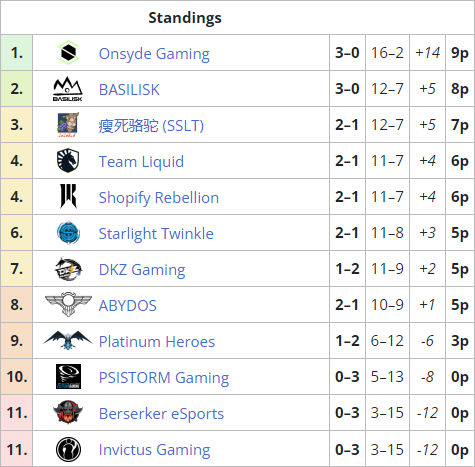 Top 7 teams qualify for the playoffs.
Bottom 2 teams must requalify.
Points are awarded as follows:

3 points for a victory in a series that does not require an ace match

2 points for a victory in a series that requires an ace-match

1 point for a loss in a series that requires an ace-match

0 points for a loss in a series that does not require an ace match
Starlight Twinkle 5 - 1 Berserker eSports
Watch VOD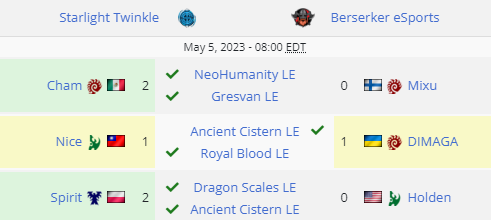 Berserker eSport had some opportunities to upset Starlight Twinkle but could not rise to the moment. Mixu seemed to get the ball rolling in his opening match against Cham, finding himself up by 10 Drones, a full +1 attack, and a full Lair. However, he just couldn't seal the deal, with the match serving as a reminder of how hard it is for a fringe EPT player to upset a regional champion, even in the best of circumstances. Game two was over well before it could ever get that interesting.
DIMAGA managed to take game one off of Nice, but also fumbled spectacularly on the second map. An amazing hold against early Adepts put him in what seemed a truly unloseable position, but his over-committal to a counterattack allowed Nice to score a huge comeback victory.
Inheriting a 1-3 score, newcomer Holden was in way over his head against Spirit and couldn't keep up, although he did seem to have a blast just getting the chance to play in a big broadcasted match.
Overall, it was a disappointing result for Berserker, who had a real chance to upset SLT and get their first points on the board.
Shopify Rebellion 2 - 4 瘦死骆驼 (Starving Camels)
Watch VOD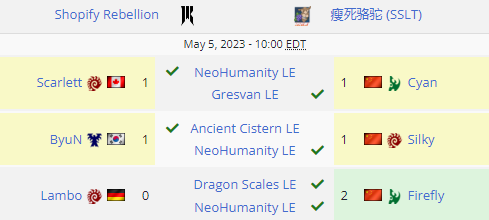 Scarlett and Cyan started the hostilities on NeoHumanity, with both players progressing to the mid-game after some mild pressure. There, Scarlett's barrage of Banelings slowed Cyan down enough until her Brood Lord tech was ready. Cyan tried to react by splitting his army up and overstretching Scarlett's slower forces, but Scarlett was able to rotate adequately and force an ultra late-game where she triumphed after 30 minutes. Cyan switched things up in game two, going for a Glaive-Adept pressure build. It didn't deal decisive damage, but it disoriented Scarlett enough that his follow-up Stalker-Sentry attack hit the mark. Despite a good defensive performance from Scarlett, Cyan kept up constant pressure all game long with active movement and run bys. Eventually, he launched a devastating three-prong attack that swung the game irrevocably in his favor.
Shopify's ultimate insurance policy ByuN offered us a spectacular game one against Silky, channeling his world champion self with a three-rax Reaper build that completely dominated an impotent two-base Zerg. However, Byun's two-rax Reapers didn't do nearly as well on NeoHumanity, and a clean defense from Silky arguably put him a bit ahead. However, it seemed like it wouldn't be enough to close the skill gap between the two, with ByuN darting left, right, and center with his drops to retake control of the game. Yet, Silky refused to die, and eventually found himself with a maxed out army and strong economy.
Doubts didn't creep into my mind at this point, as Byun looked to be in a good position himself with four bases and a maxed out army of his own. Surely, he still had the game on lockdown? However, Silky was able to turn the tables and put ByuN on the defensive, pinning the Terran back on his side of the map. After Silky jumped on a segment of the Ghost-Marauder army, forcing hot pickup, I was greeted with the unfathomable sight of the Ultralisk and Zergling army ravaging ByuN bases. Things were somehow all tied up at 2-2.
Against a Zerg so well known for his deadly and intricate mid-game all-in's as Lambo, many tend to lean on the safer side of things. But Firefly stared death square in the eyes and forced it to flinch first. Facing an ultra-greedy double-robo Colossus strategy with a quick fourth base, Lambo prowled but hesitated to pounce until it was too late. Firefly survived to field an unstoppable Colossus-Stalker army, blazing his way to a win. With his back against the wall, Lambo went for a quick safety Roach Warren in game 2, but deemed he didn't need to make anything out of it until a swarm of Adepts appeared on his doorstep. Firefly didn't miss a beat on the follow-up, blinking his way to a stunning 4-2 upset that no one saw coming.
Team Liquid 5 - 1 Invictus Gaming
Watch VOD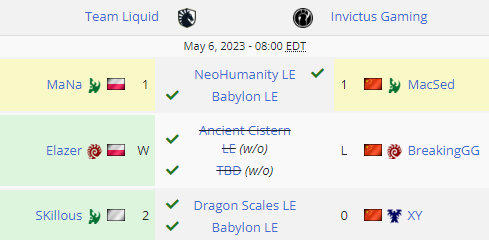 Day two was the most expeditious one of the week, with BreakingGG forfeiting his match (
allegedly due to a schedule mishap with his workplace, according to one TL.net poster
). There's not much to be said about the rest of the games. Just give MaNa a hug if you see him this week, because he needs one after a monumental throw against MacSed.
ONSYDE Gaming 5 - 1 Platinum Heroes
Watch VOD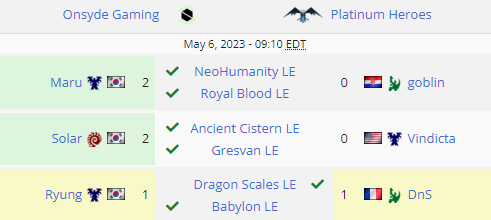 ONSYDE continued on their path of destruction, preserving their place on top of the standings with a 5-1 over Platinum Heroes. Goblin did try some interesting things against Maru, but never destabilized the Prince of Terran nor did anything to slow down his razor-sharp counter pushes. Solar kept up with Maru in the individual standings, joining him in the 6-0 record club with a 2-0 over Vindicta in some macro games. Ryung couldn't keep up with his teammates, and had to settle for 1-1 against DnS.
Dragon KaiZi Gaming 3 - 4 BASILISK
Watch VOD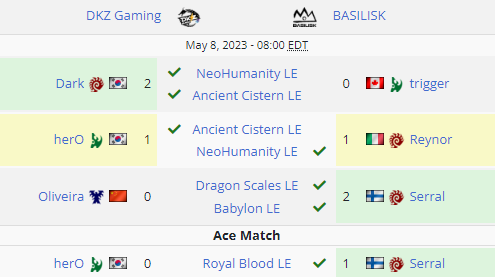 Basilisk versus DKZ, a duel that could very well have been a preview of the grand finals, delivered exactly the kind of drama you want from such a match.
The first match between Trigger and Dark resulted in the clinical domination you expect from Dark, who put DKZ in the driver's seat with a 2-0.
The match order switched around for some reason here (Liquipedia displays the 'official' match order but not the order in which the matches were actually played), with Oliveira and Serral going at it next. Serral did his best Dark impression in game 1, going for a macro Roach-Ravager-Bane opening into Ultras, which discouraged Oliveira from any committed aggression. Instead, the World Champion opted for passive play and a rush toward a late-game Ghost-Tank composition. Serral had a plan for this, quickly taking both corner expansions on Dragon Scales to make it difficult for Oliveira to achieve a half-map split. Oliveira was forced to play a game of whack-a-mole, running back and forth between opposite ends of the map while Serral just evacuated his Drones via Nydus. Oliveira managed to get some amazing trades throughout the game, but couldn't overcome the economic discrepancy and ran out of steam after 25 minutes. Perhaps not liking his chance in the late game, Oliveira went for a dedicated 2-2 Marine-Tank-Liberator push in game two on Babylon. However, ling backstabs slowed down the push, allowing Serral to deal with it on the back of his superior economy.
This changed match order gave us the exciting scenario of herO and Reynor facing off with the score tied 2-2. herO's attacking prowess was on full display in game one, as his Glaive-Adept + Disruptor opener allowed him to inflict Drone damage while he mass-expanded himself. Reynor was left stuck on a low-tech Roach-Ravager-Bane army, and herO brought the hammer down with +3 Gateway units off of a 93 Probe economy. Despite that deflating loss, Reynor was able to rally and tie things up with a brilliant performance on Neo Humanity. The 28-minute bloodbath was one of the best of the year, and we highly recommend you watch it (
VOD
)
In the ace match, DKZ chose to forgo the ZvZ in favor of sending herO to test Serral in ZvP. The game didn't couldn't live up to the standards of the previous one, with herO getting blind-sided by a Ling-Ravager-Queen walk.
Serral now reigns supreme in the WTL as the only player on 7 wins, and Basilisk is in a great position to end the season at #1 after getting through the most difficult part of their schedule with 8 points (it may come down to the regular season finale vs ONSYDE).
PSISTORM Gaming 2 - 4 ABYDOS
Watch VOD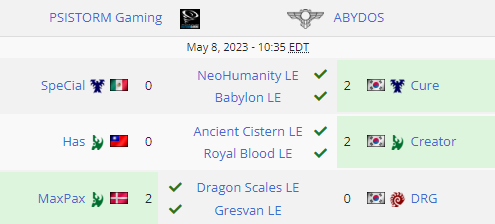 PSISTORM ended up being the big loser of the jam-packed early-season schedule, going 0-3 in its first three matches.
Cure took a surprisingly easy win against SpeCial in game one, but found himself on the back foot in game two on Babylon. However, Buddha-like patience allowed him to absorb SpeCial's pressure and auto-turret harassment until he could break the enemy's containment in one fell swoop. It was an impressive display to be sure.
Has' grand return to the WTL was disappointingly normal, although he did come close to bull***ing his way to a win in game one with a desperate all-in against Creator. In any case, it was all for nothing, as Creator finished the 4-0 to keep PSISTORM at zero points.
To put salt in the wound MaxPax chose this week to put on an ace-worthy performance with a 2-0 against DRG. It's not quite time to press the panic button for PSISTORM, but they need to make sure they don't give up any unnecessary upsets in the following weeks.
In contrast to PSISTORM, ABYDOS escaped their hellish first three weeks with a 2-1 record and 5 points, which feels like an acceptable result when you look ahead to the rest of their matches.
Weekly MVP: The Entirety of SSLT/瘦死骆驼/Starving Camels
What a Saturday it was for the Starving Camels! With their 4-2 win over the Shopify Rebellion, they have written their names in the WTL history books, achieving the first-ever victory by an all-Chinese team against a previous playoff team.
The Camels have taken seven points in their first three games, which would have been enough to already put them clear of relegation in the last four seasons of the WTL.
It's not just the significance of the win that pushed me to snub Serral's obviously MVP-worthy performance, but also the way the Camels pulled it off. From Cyan's beautiful combination of punches that broke through Scarlett's guard, to Silky beating ByuN in a straight-up macro game, and all the way up to Firefly out-thinking Lambo, it was a stunning team effort.
We will see in the coming months where the Camels' fairy-tale start will eventually lead. But one thing is for sure: gone are the free win pushovers of yesteryear. The Camels are gunning for a playoff spot, and they might just win one.
Weekly MVP's:
Week 3: Everyone on SSLT/瘦死骆驼/Starving Camels

Week 2: ABYDOS.Cure

Week 1: BASILISK.Serral
Preview: Regular Season Week 4
[Editor's note: We apologize for the late preview.]
Friday, May 12 12:00pm GMT (GMT+00:00) Matches
BASILISK vs SSLT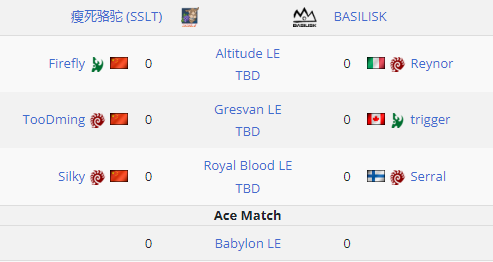 Due to a late publication, this day 1 preview has been updated to reflect up-to-date information, the TL writing staff nonetheless feel compelled to assure their reader that they never doubted for a second… For real, we swear it on the head of every Protoss and Zerg GSL semi-finalist.
So… remember all that stuff I just said about the Starving Camels? Yeah,
they aren't winning this one
they are super real, I wouldn't be surprised at all if they take this silly Basilisk team all the way.
Firefly vs Reynor will be a good measure for both, the Italian has been middling in the face of great opposition this season while the 5-2 Protoss is arguably playing the best StarCraft of his career at the moment. It will be a titanic task nonetheless for Firefly to beat Reynor, but a 1-1 may not be entirely out of the question.
Anyway, for the Camels to get some points out of this match, it will require TooDming to get some kind of result against Trigger. While closer than the rest of the duels, it doesn't look too good for TooDming, as he's won only one of his last ten ZvP BO3 series. Trigger's PvZ isn't that amazing either, but a split seems well within his reach.
Can Silky replicate last week's success against Serral? Considering that since Serral is in the midst of one of the most impressive three month stretches in SC2 history, it seems unlikely. But hey, crazier things have happened…. not that I can recall any.
Berserker eSports vs ABYDOS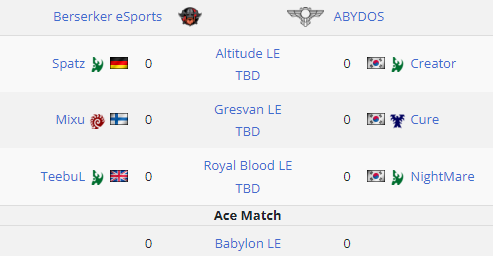 With a double PvP draw, Berserker find themselves with a small chance to replicate their Code A upset against ABYDOS. Spatz was the hero of their Code A match with a 3-0 performance topped by an ace victory against Creator, but in the first three weeks, he has not been able to replicate this high-mark performance. And unlike the qualifiers, ABYDOS will be playing Cure over Quanta, which almost assures two maps against Mixu.
This means the pressure on Nightmare's shoulders may very well be minimal. His opponent may be an EPT regional champion, but TeebuL's 17% career win-rate against Korean players cast a long shadow on his chance to take a map here.
Saturday, May 13 12:00pm GMT (GMT+00:00) Matches
Team Liquid vs Starlight Twinkle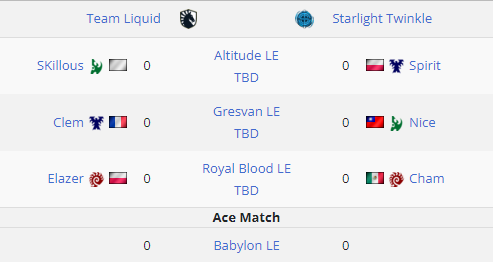 Arguably the most important match of the week, TL and SLT are looking to vanquish a direct challenger in their quest for a playoff berth. SLT comes in as the slight underdog, but each of their players has the capacity to steal a map or two if they're playing at their best.
SKillous and Spirit will start us off, the latter looking for a clean 2-0, while a 1-1 would be an acceptable result for the former. The 1-1 certainly seems like the most probable result, as the two have an extensive history in the last 5 years where they traded series and maps fairly evenly.
Nice cannot brag about having such parity against Clem, and the Frenchman's TvP is looking mighty these days (like pretty much every other Terran to be honest). But hardcore fans will remember the time the hype train of a young Clem was silently halted by Nice at Katowice 2020, and may even recall a particularly dirty proxy-Void Ray all-in Nice used against Clem in an old WTL ace match (when Nice was playing for Alpha X). A 2-0 for Clem is the most probable result, but a 1-1 is entirely possible if Nice can channel these past performances.
If all goes according to my predictions, everything will still be up in the air for Elazer versus Cham. In a BO5 or even a BO3, I would be comfortable giving the match to Elazer. But with just two maps played, I have to opt for a 1-1.
A potential ace match of Spirit vs Clem should be very close, but the Liquid ace gets the slight edge.
Prediction: Team Liquid 4
- 3 Starlight Twinkle
ONSYDE Gaming vs Shopify Rebellion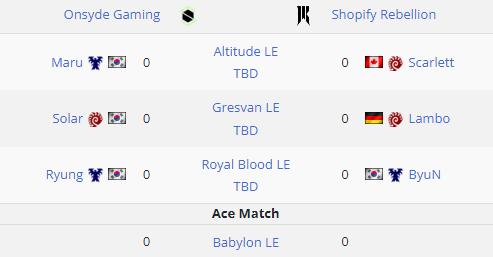 First place ONSYDE face their toughest challenge yet in the Shopify Rebellion.
Maru's defeat against Lambo in the most recent Kung Fu Cup raised some eyebrows, but Scarlett isn't looking too hot in the match-up herself. Barring some unexpected complications, Maru should move to 8-0 on the season.
Solar will face the Maru-slayer himself in the second match, and it's worth noting Lambo has beaten Solar in a past WTL clash. But overall, Solar still has the advantage here given his current form, and it's his match to lose.
Drawing Ryung onto ByuN was fantastic for ONSYDE, as it's a highly 'efficient' match where their weakest player has a decent chance of stealing a draw against the opposing ace. Considering ONSYDE is just copy-pasting the same player order every week, I have to wonder if the Rebels face-planted into this match-up (or was it a five layer mind-game?).
Ryung has already proven himself as a TvT threat with a 1-1 against Clem in week 1, and if he can find another weapon in his build-bag, he could insure ONSYDE against any mishaps from the first two matches.
Prediction: ONSYDE Gaming 4
- 2 Shopify Rebellion
Sunday, May 14 12:00pm GMT (GMT+00:00) Matches
Invictus Gaming vs Dragon KaiZi Gaming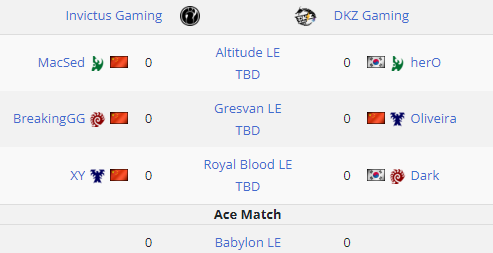 Things have been hard for DKZ in the last couple of weeks with two heartbreak defeats. It's nice that they get a chance to blow off some steam.
Prediction:
Invictus Gaming 0 -
6 Dragon KaiZi Gaming
Platinum Heroes vs PSISTORM Gaming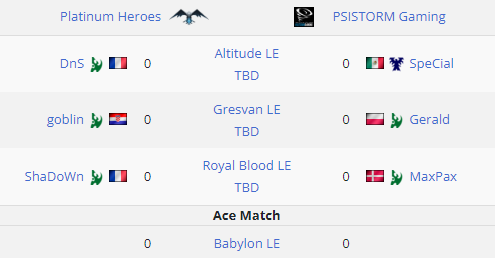 PSISTORM's season has been a bit of a disaster. Sure, their schedule hasn't done them any favors, but with MaxPax unable to put the team on his back and there being no clear third option, they're missing GuMiho far more than I would have imagined at the start of the season. The Heroes will want to widen the gap they've created over Berserker and IG, or at the least limit the damage on their map differential.
SpeCial gets a welcomed break from facing SC2 legends and takes on the much more reasonable DnS, and he enters as a 75% favorite according to Aligulac (in a BO3). Perhaps the formula is a bit overeager, but there's no denying the once-upon-a-time KeSPA player is the expected winner here.
The battle of the ''G'' Toss is looking like a probable 1-1, as despite Goblin's shaky performance since the start of the year, his PvP has remained consistently good. Still, the match could swing either way, depending on who is in better form on the day.
Barring a catastrophe, MaxPax will have the opportunity to close out the match vs ShaDown. The mystery man (woman? Disembodied lifeforce?) is implacable against his fellow European and will be looking for an easy 2-0 in his comfort zone.
It looks good all around for Psistorm, but with two PvP's and a relatively close PvT, Platinum Heroes has an outside chance of stealing a point.
Prediction:
Platinum Heroes 2 -
4 PSISTORM Gaming
---
Credits and acknowledgements

Writer: Nakajin
Editor: Wax
Stats: Aligulac.com & Liquipedia
Images: SCBoy