World Team League - 2022 Summer Season
by: Wax
No Maru? No problem!
Or at least that's how Team NV might feel right now as they stand in first place with a 3-0 record and a massive +14 map differential. Of course, there's a big caveat here: Team NV's schedule has been relatively soft so far, with two of their 6-0 victories coming against Team GP and SSLT. While it's nice to have such a nice points buffer in hand, Team NV are going to have to fight tooth and nail to keep the #1 spot as the season goes on. Still, they're likely to hold on to the top position for at least one more week, as they go up against Platinum Heroes in week four.
Toward the bottom of the table, TL and the Kwangdong Freecs might feel aggrieved to be starting with 0-3 records. While they're definitely weaker than in previous seasons, having their schedules front-loaded with tough matches hasn't been good for optics (though TL lost a very 'winnable' match against Team GP). Unfortunately, with matches against KaiZi and PSISTORM Gaming coming up in week 4, the two teams might have to eat another pair of losses before they can dream about a comeback.
Week 3 Results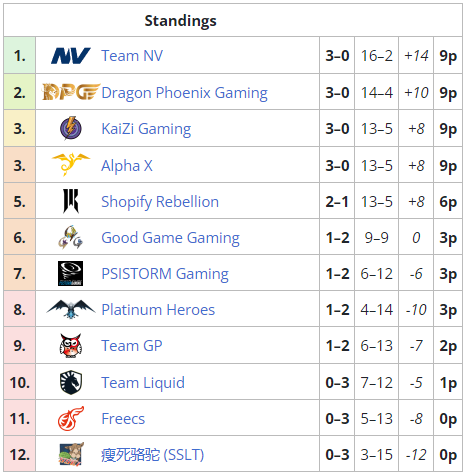 Top 7 teams qualify for the playoffs.
Points are awarded as follows:

3 points for a victory in a series that does not require an ace match

2 points for a victory in a series that requires an ace-match

1 point for a loss in a series that requires an ace-match

0 points for a loss in a series that does not require an ace match
SSLT 0 - 6 Team NV
Watch VOD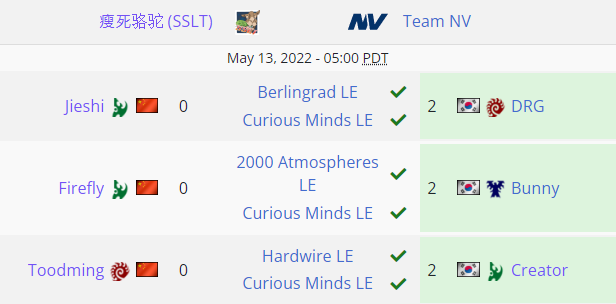 Team NV were always going to be heavily favored against SSLT, but the two week suspension of SSLT.Silky (due to no-showing for a match) might have helped them nudge toward a crushing 6-0 victory.
SSLT.Jieshi
opened things up by trying a peculiar Glaive-Adept into fast third base build against
NV.DongRaeGu
, but ended up dying to Ling-Ravager after his Adept harassment went horribly wrong. Jieshi attempted the same strategy on the next map, this time keeping his Adepts home on defense, but still suffered the same fate when DRG came knocking with mass Ling-Ravager.
NV.Bunny
went on to lock in the win for his team with a 2-0 against
SSLT.Firefly
. Game one on 2000 Atmospheres saw Firefly go for a rather perplexing Phoenix + Chargelot 'all-in' where Protoss never actually got a bigger army than the Terran despite cutting a ton of Probes. As a result, Bunny won without much trouble. Things went a lot better for Firefly when he went for more conventional macro play in game two, as he was able to force Bunny into an extremely scrappy and violent game where Bio and Gateway units seemed to fight each other non-stop. Unfortunately for Firefly, he didn't have the breathing room to squeeze in Robotics units before Ghosts came online for Bunny, and he eventually had to GG out after a desperation base trade.
Finally,
NV.Creator
closed things out by extracting the maximum number of map points out of
SSLT.Toodming
(who was playing for the suspended Silky). The replacement Zerg tried to mask an early Speedling all-in in game one, but Creator sniffed out the devious tactic and easily defended to get a quick win. Toodming gave a much better account of himself in game two, playing in a macro game where he was able to take advantage of Creator's tendency to leave himself open for backdoor attacks. But despite crippling Creator's economy, Toodming couldn't put together a strong enough army to stop the advancing Stalker-Disruptor force and had to GG out.
Good Game Gaming 2 - 4 Alpha X
Watch VOD)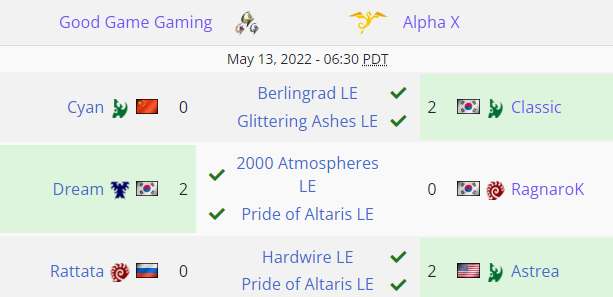 The Golden Dragons soared on to their third straight victory, with Astrea clinching the dub by going 2-0 in his season debut.
αX.Classic
took the opening map with ease, using Oracles to deal catastrophic Probe damage to
GGG.Cyan
and snowballing to victory from there. The second game saw the two Protosses get off to a more even start, deadlocked with similar Blink Stalker forces in the early game. However, Classic saw Cyan get a bit too cavalier in getting tech and upgrades, and ruthlessly picked him apart with Blink Stalkers to take the second map as well.
GGG.Dream
wasn't about to let his team go down without a fight, however, and tied the series up with a 2-0 against
αX.RagnaroK
. Despite being perhaps the most predictable Bunker-rusher in SC2 at the moment, Dream still decided to go ahead with a 2-Barracks proxy version on 2000 Atmospheres. His confidence proved to be well founded, because even though RagnaroK went for a 'safe' Pool-Hatch build in anticipation of such a strategy, Dream still managed to micro his way to an advantageous start. RagnaroK saved his natural Hatchery but was left far behind in infrastructure, leaving him no choice but to GG out to Dream's follow-up Marine-Hellbat attack. RagnaroK was the one who got aggressive early in game two, picking Pride of Altaris but trying an early Speedling attack to catch Dream off-guard. However, it didn't have the desired effect against Dream's CC-first build, with Dream simply lifting off his natural and hiding behind his wall until he had enough Hellions to chase the lings away. Once again, RagnaroK couldn't recover from his disadvantageous position and had to surrender against Dream's Marine-Hellion push.
αX.Astrea
proved to be a clutch finisher for his team, taking a 2-0 against
GGG.Rattata
to get the full three points for Alpha X. Having taken a map off herO with mid-game Swarm Hosts in week two, Rattata gave the strategy another try against Astrea to start things off. However, Astrea did a great job of stalling and buying time against the crucial first two waves of Locusts, which let him get a critical mass of Archons and Disruptors. After the third wave, Astrea was able to swat the Locusts aside with relative ease, and Rattata found himself in serious trouble as his Swarm Hosts had failed to achieve their purpose. Astrea continued to press forward with his superior army, and Rattata had to surrender the GG.
Rattata picked Pride of Altaris to try and force the ace match, but he just couldn't get over the hurdle of Astrea's solid defense. The GGG Zerg's plan was to try to batter Astrea down with waves of Roach-Ravager-Bane in the mid-game, but Astrea held fast with a mainly Stalker-Colossus force. There was a
LOT
of fighting in an action-packed mid-game, with Astrea slowly accruing an advantage throughout. Eventually, his high-tech army came to include Templars and Archons as well, leaving Rattata with no way to match him in firepower.
Team GP 4 - 3 Team Liquid
Watch VOD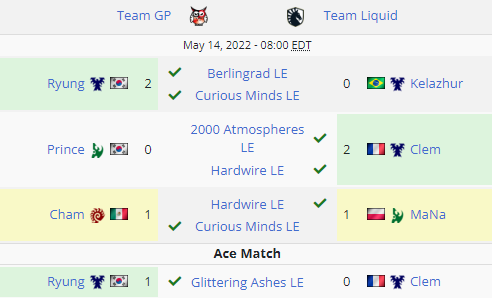 GP.Ryung's
spectacular performance began with a 2-0 against
Liquid`Kelazhur
in the first match. Game one on Berlingrad had a very passive build-up phase, with the two players advancing quickly to the late game with just a few token skirmishes. Kelazhur took the initial advantage once the late game hostilities began, winning some big Marine-Tank skirmishes and then consolidating his position with Liberators. However, one decisive fight can completely change the tide in TvT, and Ryung did so by maneuvering around Kelazhur's Liberation zones and launching a huge flanking attack. Ryung smashed Kelazhur's forces by such a huge margin he was able to continue advancing forward and secure the GG. Ryung took a more convincing victory in game two, with a successful early tank-push giving him the initiative needed to subdue Kelazhur with continued attacks.
It was
Liquid`Clem's
turn to put in an ace's shift in the second series, tying the series again with a 2-0 against
GP.Prince
. The notoriously cheesy Protoss didn't have anything sneaky in store in game one, playing the popular defensive Phoenixes into mass Gateway units strategy. While Prince's macro play was probably better than some viewers expected (including me), it wasn't quite good enough to prevent him from getting run over by Clem's bio. Win #2 came much quicker for Clem, as he bulldozed Prince in just under seven minutes with a 3-Barracks stim-bio attack.
Either
GP.Cham
or
Liquid`MaNa
could have clinched the win for their team with a 2-0, but they ended up splitting their series 1-1 and forcing an ace-match. MaNa took the first map with some good ol' PvZ deception, opening with Stargate but hitting Cham with an off-tempo Glaive-Adept attack. Cham couldn't recover from the severe Drone damage he took, and later GG'd out to MaNa's skytoss follow-up. If Cham was thinking 'surely he wouldn't do that again,' then he was dead wrong as he was once more duped by MaNa's Stargate into Glaive Adepts. However, a few things worked out differently so that Cham was able to make a much better recovery this time: he managed to hold off subsequent Void Ray-Oracle harassment without taking much damage, and he was far greedier in Droning back up. Eventually, Cham was able to shrug off his early disadvantage and engage MaNa in a 'proper' late game fight. With both players having the money and time to build whatever army they wanted, it all came down to army compositions and execution. Cham proved to be the superior player in that regard, successfully pulling off the delicate anti-air/anti-ground balancing act and crushing MaNa's forces to achieve the 3-3 tie.
The obvious picks were made for the ace match as
Liquid`Clem
went up against
GP.Ryung
in the all-deciding best-of-one. Clem initiated a bit of early-game skirmishing with a fast Reactor opener, but Ryung successfully parried the attack to send the two players into the mid-game without much incident. Clem gained the upper hand once the Marine-Tank wars started, dancing around the edges of Ryung's vision to set up his Tanks in a good position near the enemy natural. While Clem had to cede some of his army in order to inflict economic damage, it seemed to be a good trade for him as Ryung was unable to immediately punish him with a counteroffensive.
However, Ryung was able soon to hit back at Clem with a similar maneuver—only his was much more consequential. Using a two Medivac drop as a distraction, Ryung moved his main army within siege range of one of Clem's key expansions. Having enough Raven energy for a few matrices and seeing a decent flanking position for his Marines, Clem decided to charge in and try to dislodge Ryung's forces. However, the decision ended up being an utter disaster for Clem, as Ryung had enough Tanks left over to turn the battlefield into a charnel house for Clem's Marines. That ended up being the deciding moment in the game, with Ryung able to rally his remaining troops and march forward to victory.
Dragon Phoenix Gaming 4 - 2 Kwangdong Freecs
Watch VOD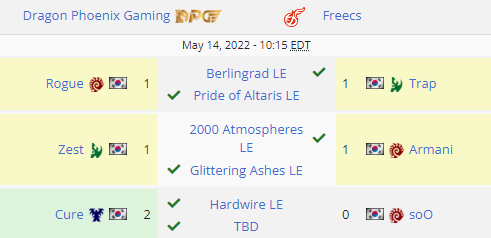 KDF.Trap
started things off by nabbing a 1-1 tie against the reigning Code S champion
DPG.Rogue.
The Freecs ace took the first match in pretty straight-forward fashion, with his 4-Gate Adepts taking advantage of Rogue's late Roaches and getting in some great trades against Lings and Drones. It was simple for him to snowball to victory from there, continuing to attack and not giving Rogue a chance to recover.
Freecs' lead wouldn't last for long, as Rogue tied the series on Pride of Altaris. Rogue opened with a fast gold mineral expansion, which Trap predicted and blind-countered with a cannon-rush. However, Rogue responded with his own counter-counter move, taking the enemy gold base AND building an offensive hatchery inside Trap's main. This probably shouldn't have worked as Trap definitely saw the Drone coming into his main, but he might have had a momentary brain fart due to the very unusual situation. The offensive hatchery went up successfully, and Rogue was able to launch an inside-out strike to force the GG.
Next up were
KDF.Armani
and
DPG.Zest
, who also fought their way to a 1-1 tie. Zest started off with one of the tricky Stargate opener variants he often employs, rushing up to 6 Carriers but then making a hard pivot into mass Gateway unit production. Zerg players sometimes struggle to correctly balance anti-air vs anti-ground against this strategy, but Armani got the perfect ratio of Corruptors to Roach-Ravager, allowing him to smash Zest's army and go up 1-0. Zest went for a radically different approach in game two, going for what I can only describe as "2 Stargate Phoenixes into fake 2-Robotics into Blink-Stalker semi-all in." Whatever the hell it was, it seemed to work, as it set Zest up in a great position to play out a macro game. Armani committed hard to a big Ravager-Ling attack to try and turn things around, but only ended up getting stuffed and GG'ing out to Zest's counterattack.
After some unsteady performances from the first two Code S champions on the roster, DPG's
third
Code S champ
DPG.Cure
saved the day with a close-out 2-0 against
KDF.soO.
Cure made it look like another day at the office in game one, haranguing his opponent with Hellion-Banshee before finishing him off with his first Marine-Tank push. Cure then brought out an unconventional 2-Barracks before expansion build in game two, using his early infantry pressure to heavily delay his opponent's third base (even building a Bunker). Cure came out slightly ahead in this forced low-econ situation, and furthered his lead with some devastating mid-game mine drops. A handful of good Muta-Ling-Bane engagements from soO made it so the game wasn't completely one-sided, but the outcome was never really in doubt as Cure marched his way to victory.
PSISTORM Gaming 1 - 5 KaiZi Gaming
Watch VOD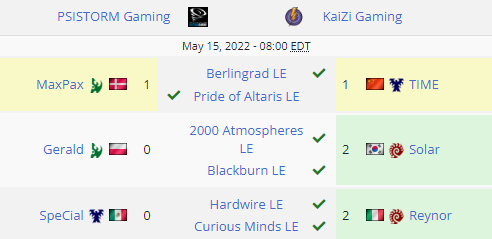 KaiZi Gaming continued to look like one of the top challengers for DPG's crown, improving to 3-0 with a convincing 5-1 victory over PSISTORM Gaming.
KZ.TIME
(TL.net's Week 2 MVP) drew first blood against in the opening match against
PSISTORM.MaxPax,
dealing heavy early game damage with a Marauder-heavy 3-Barracks attack. TIME patiently consolidated his lead, and forced the GG out of MaxPax with a Ghost-backed bio force. The PSISTORM ace was able to tie things up on game two, starting off by successfully securing a gold base on his chosen battleground of Pride of Altaris. TIME tried to execute the common PoA strategy of turtling as hard as possible, but just couldn't hold out against MaxPax's relentless onslaught.
KZ.Solar
then put his team in a commanding position with a 2-0 victory against
PSISTORM.Gerald.
Neither Archon nor Disruptor drop were enough to slow down Solar's economy in game one, and KaiZi Zerg was soon ready to launch an all-out assault with Mutalisks in the Air and Roach-Ling on the ground. Gerald put in a tenacious effort on defense, but ultimately his multitasking was not enough to succeed at the "don't die" challenge. Solar got off to another great start in game two, shutting down Gerald's early Oracle-Adept harass and taking a significant lead. However, Gerald's defense proved to be quite sturdy once more, and he managed to go from 'totally dead' to 'wait could he actually win somehow?' Alas, Gerald couldn't overcome the economy gap in the end, and was eventually beaten down by sheer force of Zerg numbers.
Ace player
KZ.Reynor
closed things out for his new team, getting the deciding fourth map win against
PSISTORM.SpeCial
. The Italian Zerg got off to a bit of a rocky start on Hardwire, as his early Roach-Ravager attack failed to deal significant damage to SpeCial's greedy 3-CC opener. Still, Reynor navigated his way out of those dire straits, holding his ground against SpeCial's bio in the mid-game while teching up to Lurkers and Vipers. Those high-tech units made the difference, pushing Reynor and KaiZi Gaming on to victory. Reynor then picked up another map win to end the series, this time in a more typical Reynor-style Ling-Bane macro game.
Platinum Heroes 0 - 6 Shopify Rebellion
Watch VOD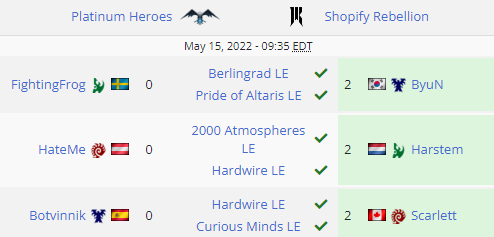 The Platinum Heroes might have proved their mettle with a 4-2 victory over Team GP in Week 2, but a crushing 0-6 loss to Shopify in Week 3 served as a reminder about how tough the WTL can be.
PH.FightingFrog
took the fight to
SR.ByuN
in game one, proxying a Robo and several Gateways out on the map for an all-in. This caused a basetrade to break out against ByuN's own early 3-Barracks pressure, with Sentries seeming to give the lethal leaper a key advantage. Unfortunately, the invasive insectivore couldn't keep his composure in the tense situation and missed some key ramp Force Fields. As a result, ByuN won the basetrade convincingly, giving the Rebellion a 1-0 lead. The raging ribbiter couldn't survive a similar multitasking test from ByuN game two, and was forced to submit to a combination of drops and frontal attacks.
SR.Harstem
continued the rout with his own 2-0 against
PH.HateMe
. Game one on 2000 Atmospheres was a pretty straight-forward win for Harstem, as he dealt significant early damage with Oracles and Gateway units before finishing his opponent off with mass Stalkers.
Game two went a lot better for HateMe, as he actually got a chance to play some StarCraft. The game initially seemed like a slow snowball win for Harstem, where HateMe would inevitably surrender once the Shopify Protoss rolled out with a huge Immortal-Archon army. However, HateMe was very skillful in defending against the deathball, executing a great surround maneuver and smashing the Protoss forces. This forced Harstem to turtle up and play a much longer macro game, with Brood Lords, Tempests, and all sorts of end-game units eventually getting involved. This worked out in Harstem's favor, as he proved to be more adept in playing under such conditions. He really abused the immobility of Brood Lords to bounce around the map and limit HateMe's economy, all the while building up an ultimate skytoss army. Harstem came out on top in the conclusive aerial battle of the game, locking in the victory for Shopify.
SR.Scarlett
squeezed two more map wins out of
PH.Botvinnik
in the final series, getting the maximum number of map points for her team on top of the series victory. Game one on Berlingrad was a pretty uneventful macro steamroll, with Scarlett swallowing up the map and overrunning the Spanish Terran with a potpourri of Zerg units. Game two went a little bit better for Botvinnik, as began by holding off some Roach pressure from Scarlett and getting some Drone kills in with Hellion-Banshee harass. However, it didn't really affect the big picture, as Scarlett once again took control of the map and beat Botvinnik down with never-ending waves of Zerg units.
Weekly MVP Award: GP.Ryung
This week's MVP winner is pretty obvious. No one provided more value to their team than
GP.Ryung,
who carried Team GP to their first victory of the season with a 3-0 performance against Team Liquid.
Ryung's been getting a lot of attention for his TvP prowess in recent months, but it was his old specialty match-up of TvT that allowed him to topple Team Liquid. After starting with a 2-0 against Kelazhur, he went on to take down TL's ace player Clem in the all-deciding ace-match.
Also deserving credit are Astrea (2-0 vs Rattata) and Cure (2-0 vs soO), who came out in 2-2 tie situations and secured the win for their teams.
Weekly MVP's:
Week 3: GP.Ryung

Week 2: KZ.TIME

Week 1: SR.Harstem
Week 4 Preview
Friday, May 20 12:00pm GMT (GMT+00:00) Matches
Scheduling might be an issue here, because as of now, it appears that Nice is set to play his DreamHack Masters Taiwan match at the exact same time as his WTL match. If we recall the last time WTL had a scheduling conflict with DHM, it was Clem who had to rush through his ace match against ByuN in order to make his DHM match time. It's hard to say exactly how much his rushed play affected the outcome, but Clem ended up losing to ByuN. Whether it's rushed games or a straight-up forfeiture, it's not looking good for Nice in the first match.
Besides that outside-the-game factor, the overall line-ups look good for Shopify. ByuN and Scarlett are solid favorites in the first two matches, and Harstem has great upset odds against Dream in his relatively weak match-up of PvT.
Prediction: Shopify Rebellion 5 -
1 Good Game Gaming
This could be a surprisingly dangerous match for Alpha X as Team GP have drawn ideal race match-ups for two of their players. Ryung has been playing fantastic TvP for the last few months and he's got a solid chance of taking the 2-0 against Classic.
As for Cham, his match-up strengths are extremely lop-sided, and in a very unique way at that. There are a lot of Zergs whose ZvT rating on Aligulac far outpaces their ZvZ, but Cham's ratings are the opposite of that: he's a serious ZvZ specialist. He showed how good he can be in the Zerg mirror last season by pulling off a 2-0 against Rogue and a 1-0 against Dark in the ace match, so a 2-0 against RagnaroK is definitely an attainable goal.
Even Prince vs Zoun could be a match-up where Team GP steals a map. Prince has been playing poorly so far this season (perhaps due to stepping away from his previously cheese-laden approach), but he at least has the benefit of playing Zoun in his worst match-up of PvP.
If this should go to an ace-match, there will be a very crucial mind-game to get the best possible match-up. Team GP want to put Ryung up against Protoss, but such a predictable play could be countered by making him play his weaker match-up of TvZ against RagnaroK. But if Team GP want to counter the counter, then they could send out Cham to snipe RagnaroK in ZvZ.
All in all, it's very hard to predict who will win, but I do think it will go down to the wire.
Prediction: Alpha X 4
- 3 Team GP
Saturday, May 21 12:00pm GMT (GMT+00:00) Matches
Things are only getting worse and worse for SSLT: Not only are they missing key player Silky due to a suspension (given for going AWOL on a match), but they've lost their other important starter in Jieshi as well. The Chinese Protoss departed SSLT to join Dragon Phoenix Gaming, and amusingly enough, SSLT happens to be facing DPG this week. While Jieshi can't play this week because he isn't eligible yet (transfers and new signees have to clear a 2 week waiting period to become eligible), you have to wonder if he would have earned the start if this match had been scheduled for a later week.
Anyway, occasional mental lapses from DPG not-withstanding, this is looking like an utter stomp.
Prediction: Dragon Phoenix Gaming 6
- 0 SSLT
With Elazer not becoming eligible for another week, Team Liquid will have to take on this tough test against PSISTORM with the same line-up that's gone 0-3 so far. Last week's loss was pretty soul-crushing—the team managed to set up the 'ideal' scenario where Clem carries, but his old weakness of TvT came to bite him in the butt in the end.
This week's match might end before Clem even has to play, with Aligulac's formula saying GuMiho and MaxPax are huge favorites against MaNa and Kelazhur. On the flipside, Clem does happen to be statistically favored against SpeCial, but there's still a feeling of unease when Clem has to play a high-stakes TvT.
In the end, I think these matches will go chalk, with PSISTORM winning before Clem even has a chance to affect the outcome.
Prediction: PSISTORM Gaming 4
- 2 Team Liquid
Sunday, May 22 12:00pm GMT (GMT+00:00) Matches
While I'm still confused on how to rate the Platinum Heroes, it seems like Team NV have already made their judgment: Creator gets a week off as NightMare makes his season debut. NightMare's only start last season came against iG (1-1 vs MacSed), so that should give you a more specific idea about where Team NV think Platinum Heroes stand.
Unfortunately for the Heroes, I doubt they can take advantage of this roster change for Team NV. The only wins they've picked up have been against some of the weakest players in the league, and even a 2-0 against NightMare probably won't be enough to affect the outcome of the match. Still, maybe they can punish NV's hubris in a different way by getting the 2-0 against NightMare and perhaps affecting the final playoff seeding.
Prediction: Team NV 5 - 1
Platinum Heroes
KaiZi Gaming vs Kwangdong Freecs
TIME
< Hardwire >
Armani
Solar
< Glittering Ashes >
Trap
Spirit
< Curious Minds >
<
soO
Ace Match
:
< Pride of Altaris >
After a strong 3-0 start, KaiZi Gaming have taken their foot off the gas by resting Reynor for a week. I have to question this move, as I think Afreeca are stronger than their 0-3 record suggests.
Without Reynor, TIME vs Armani is the only match-up where I'm confident that KaiZi have an advantage. Solar and Trap feels like a coin flip, while Spirit vs soO is also highly unpredictable. Spirit hasn't really built on his great performance at IEM Katowice, while soO has also been disappointing in his limited WTL outings after returning from military service.
I'll give KaiZi the slight edge due to their advantage in the first match-up, but this could easily become a match where they regret giving Reynor a rest.
Prediction: KaiZi Gaming: 4
- 2 Kwangdong Freecs
---
Credits and acknowledgements

Writer: Wax
Stats: Aligulac.com & Liquipedia
Images: SCBoy