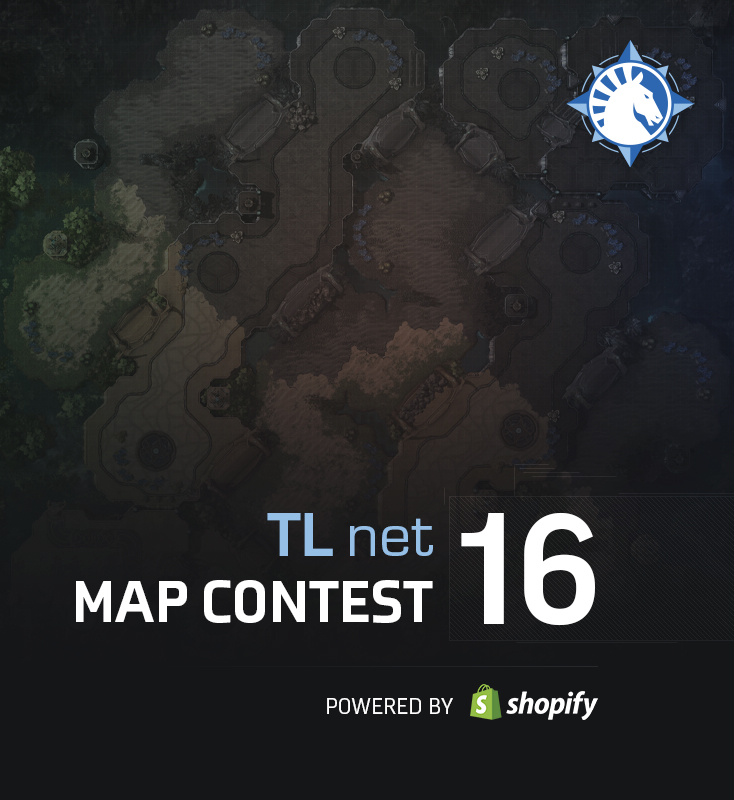 Voting has closed and the ballots have been counted. It's time to announce the winners of TL.net Map Contest #16!
We'd like to thank all the mapmakers for their map submissions, the TLMC judges for selecting the sixteen finalists, Wardi for running another fantastic TLMC tournament, the players who participated, and Shopify, ESL, and Blizzard for helping us hold another iteration of TLMC. And, of course, we're grateful to all the fans who voted on the final sixteen maps.
Mapmakers will receive $200 per map that finished in the top sixteen, and receive additional prize money for maps that finish in the top five as chosen by public vote:
1st place - $800

2nd place - $500

3rd place - $250

4th place - $150

5th place- $100
We'd also like to remind the community that the top placing maps in TLMC #16 are
not guaranteed
to be added to the competitive ladder. ESL and Blizzard will reference TLMC #16 and choose which maps to add at their own discretion.
5th place
"Centuries Later" by Superouman
Description: There was a thriving megalopolis here, before the Dominion decided to annihilate it.
This map has a major twist: A second entrance to the starting base can be opened by mining the triangle third base. The triangle third base has two additional mineral fields with a value of
Features:
The main base has a backdoor that is blocked by the minerals of the triangle third

The triangle third has 2 additional mineral fields that have a value of 200.
4th place
"Stargazers" by Marras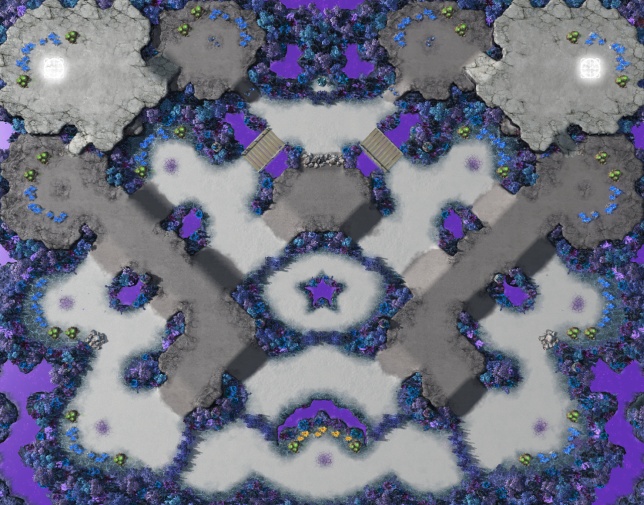 Stargazers offers the opportunity to either play standard games or make things a bit more spicy by opening up the path through the pocket natural.
Features:
There are 12 blue maps in total plus one gold base at the 6 o'clock position

The pocket naturals have a standard amount of minerals and gas but the base is blocked by two mineral nodes with the value of 10 per each

The minerals blocking the ramp leading from the pocket natural have a value of 40 each making opening up that path a big commitment if done by the attacker

Line of sight blockers are situated in the middle area and the bottom of the map

The Xelnaga Tower at the 12 o'clock position can see a little bit of the outermost parts of the pocket natural mineral lines.
3rd place
"Moondance" by Marras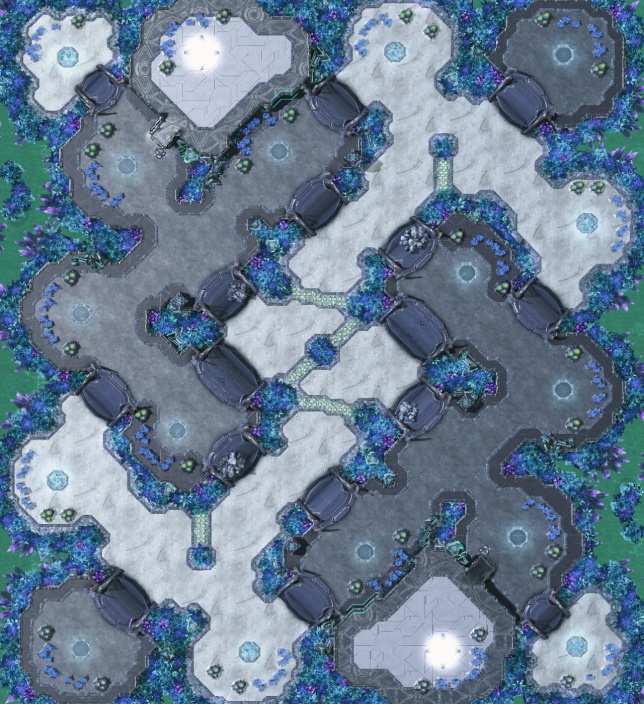 Moondance is a map with a lot of bases but a short rush distance. A pocket third offers players a safe expansion but it has less mineral nodes than a regular base and only one gas geyser
Features: 9 bases per player, pocket base has 6 mineral nodes and one gas, other bases are standard. Rush distance is short. There are rocks on some of the ramps and los blockers on the lowground areas. No fancy features.
2nd place
"Aftermath" by depressed1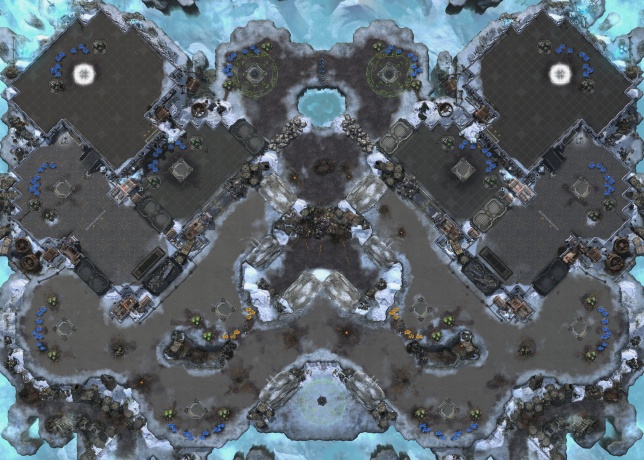 -Aftermath is a mixed up map you might want to play because it doesn't have certain rules on how to set up the third.
Features:
4 levels

Golden base

"Boosted" low-ground base with large acceleration zone (minimal mining advantage but easier to harass)

A Mineral line like a front line to separate players from each other

Definitely (possibly) a way not to take the triangle third and take the bottom corner base (or golden base)

The rocks were used to organize the passage through the gold. Kinda neat.
1st place
"Waterfall" by Superouman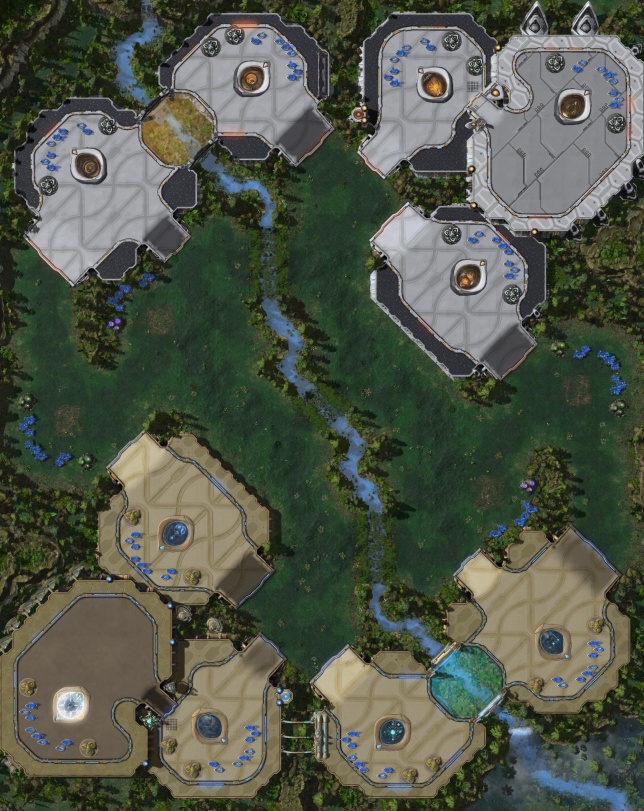 Two Protoss factions are cohabiting in this small rush map. A stream divides the map in two but there are 3 ford passages and 2 bridges that let players move across it.
Features:
While being a small rush map, the first few expansions are reasonably defendable.

During the lategame, because there are only 6.5 bases per player, both player will expand close to each other.

For the decoration, there is a small stream that runs across the map and ends with a nice waterfall. There are 3 ford passages and two transparent bridges over the stream where units can move across.
Full Results
Congratulations to all of the winners and finalists! We look forward to seeing your maps on the ladder in the near future.
1st: Waterfall

2nd: Aftermath

3rd: Moondance

4th: Stargazers

5th: Centuries Later

6th: Cryogenian

Tie 7th/8th: Frost Giant

Tie 7th/8th: Cosmic Sapphire

9th: Sunforge

10th: Nemesis

11th: Emerald Princess

12th: Data-C

13th: Tropical Sacrifice

14th: Rejuvenation

15th: Singularity

16th: Lost Facility
Read our
finalists post
for detailed views of all sixteen maps.