World Team League - 2021 Winter Season
by: TheOneAboveU and Wax
Superlatives are ALWAYS overused in StarCraft II, but few would have any qualms about calling this regular season of WTL the best ever in the lineage of SCBOY team leagues. The
regular season competition was the closest it has ever been
, and constant surprises from wildcard teams made the playoff race a cutthroat battle until the very end.
After eleven weeks of competition, one hyped show match, and one more surprise in the
doubling of the prize pool
, here we finally are: the playoffs. No team has been able to successfully mount a title defense in the history of the league, but Maru and Team NV are well-positioned to pull off this feat. Will the playoffs prove to be as exciting as the regular season? Tune in this weekend to find out!

Schedule
Rounds 1 & 2: Friday, Jan 21 10:00am GMT (GMT+00:00)

Rounds 3 & 4: Saturday, Jan 22 10:00am GMT (GMT+00:00)

Semis and grand final: Sunday, Jan 23 10:00am GMT (GMT+00:00)
Deciphering the Format
How does it all work, though? The casters will be constantly re-answering that question during the broadcast, but it's still worth going over here.
The WTL playoffs is played out as a series of best-of-two matches. The first player for each team is determined before the match; the remaining players are decided on the spot. If a player wins a series 2-0, they remain and play another match against the opposing team's next player—similar to the familiar all-kill format. But if the result of a series is a 1-1 tie,
both players are eliminated
and both teams must send out a new player. Each team is allowed a single revive during the match, where an eliminated player can return to play (the only way this format is playable with 3-player teams). The match ends once a team has lost four 'lives,' with that team losing while the surviving team wins the match.
If both teams lose four "lives" simultaneously (essentially, if there's a 1-1 tie with both teams down to their last life), then a single BO1 ace-match will be played to decide the outcome of the series (with anyone available to play).
It's easier to understand this format by thinking of the LOSE CONDITION instead of the win condition: the first team that accrues four combined 0-2 losses or 1-1 draws is the loser of the match, while the other team is the winner.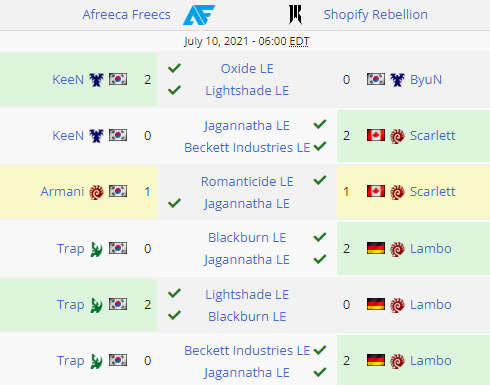 This format is awesome once you understand it, we swear.
Compared to the all-kill format, the WTL playoff format limits the influence of super-ace players and focuses on a team's combined strength. At the same time, it still allows win-streaks and all-kills when a player is truly undeniable on a given day—it's not like Proleague when a red-hot ace can be held back by their teammates. The format does a great job of balancing the impact of individual excellence and smart team construction, and it's one of our favorite, unique quirks of the SCBOY Team Leagues.
Opening Match: Team Liquid vs Kwangdong Freecs
Rosters and Regular Season Stats
TeamLiquid (#7): 6-5 record, +/- 0 map differential
Roster
Clem: 12-10

Harstem: 12-8

uThermal: 6-6

MaNa: 2-8

Kelazhur: 3-3
Kwangdong Freecs (#6): 6-5 record, +2 map differential
Roster
Trap: 16-8

Armani: 10-12

KeeN: 9-13
What a turbulent season it has been for these two teams up to this point. Team Liquid had to fight until the very last week to secure their spot at seventh place after Invictus Gaming had once again put them into a tough spot. In a repeat of the Summer Season sensation, the Chinese squad forced an ace match against the Dutch team, stealing a crucial point. While this proved disastrous in the previous edition, Liquid narrowly was able to power through a controversial match against Team GP for all the marbles.
WTL Winter Season saw individual player records become a lot less polarized than in the summer, with more players clustering around the 50% win-rate line. This trend was quite visible with Liquid as well: While

Clem
still played a crucial part for his team by claiming two match ace victories, but needed a lot more help as his overall record flagged. Fortunately for Liquid, teammate

Harstem
stepped up massively, and even recorded a better win-percentage than his teammate. With their overt dependence on a single player dampened and a better support system in place, Liquid this time performed more like you'd expect a team with its legacy to do.
The Freecs—who changed from the Afreeca Freecs to Kwangdong Freecs mid-season—started the Regular Season with a huge question mark over their collective heads with the departure of ace-caliber players TY and Stats. This uncertainty about their capabilities was quickly confirmed by a string of confusing wins and losses. Apparently you can clearly lose to PSISTORM, but then take DPG and NV to ace matches in the following weeks! It suffices to say that

Trap
did most of the work to keep the team on track towards the playoffs, with

Armani
and

KeeN
providing just the necessary amount of support work while still ending up with sub-50% win rates throughout the Regular Season. The Freecs, too, had to fight until the very last week to book their ticket to playoffs—not a scenario they were used to.
The Regular Season duel between the two teams was decided by their two most powerful pieces on the board, with Trap's 2-0 over Clem sealing the series for the Freecs. While doubts can be uttered about the state of his other matchups, Clem's TvP has remained as his shining crown jewel throughout 2021. At the same time, Trap has also preserved his PvT skills relatively well during his lengthy winter slump, so his 2-0 of the Frenchman shouldn't have come as a huge surprise.
The
head-to-head stats
show that Clem leads by a hair-thin margin of 6-5 in series and 18-17 in maps. It's essentially a coin flip on any given day, though our friendly algorithm over at
Aligulac
gives Clem a 60-40 chance of winning. Here's something interesting to note, though: Ever since the calendar turned to 2022, Clem took several hits to his TvP stats. Astrea beat him 2-0 in ESL Open Americas #104, ShoWTimE beat him 3-0 in ESL Open Europe #105, and herO beat him 3-2 in ESL Open Americas #105. These are, of course, by no means no-names. But they are players, whose capabilities Trap can certainly match. Be as it may, it seems quite likely that this playoffs match is going to come down to the wire and we'll see Trap and Clem duke it out for the ultimate decision.
The support cast should be relatively evenly matched and on paper Liquid actually has the advantage in this category with a very strong

Harstem
and a solid

uThermal
. We don't know how likely a

Kelazhur
appearance is with him showing up in some Age of Empires IV tournaments recently.

MaNa
hasn't looked hot in WTL this season at all, but the experienced Polish Protoss player might be a valuable sniping asset—especially with some of Trap's recent PvP troubles. Armani and KeeN have been all over the place this season, so it's difficult to assess their strength.
While this match has potential to give us down-to-the-wire entertainment, ultimately it's not likely to affect the championship picture. As awesome as a miracle run through the gauntlet by either of these teams would be, the title will most likely go to one of the higher ranked teams.
The Playoff Tower of Death
KaiZi Gaming (#5): 6-5 record, +8 map differential
Roster and regular season records
Solar: 13-11

TIME: 15-7

Spirit: 10-12
KaiZi Gaming's regular season performance paints the picture of a solid team that couldn't exceed its hard-set limits. They defeated all the teams below them in the rankings, but also lost to all the teams above them. One could reasonably lump KaiZi in with Liquid and the Freecs—the other teams with 6-5 records—as teams that don't have a realistic shot at winning the championship.
Perhaps that was an expected result with the departure of INnoVation.

Solar
might have been able to fill his shoes as a one-man army in previous seasons of the SCBOY Team leagues, but the competition has grown much more fierce with the influx of talent from Korea and beyond. His 13-11 record (albeit, with many difficult games among them) is a testament to that.

TIME
had an excellent regular season on paper with a 15-7 record, but a relatively soft slate of games allowed him to largely avoid serious tests against the best players in the WTL. As for

Spirit
, he's been a pleasant surprise, putting up a solid 10-12 record against a difficult line-up of opponents. However, while he's certainly a solid starter, does he really move the needle against the title contenders?
Still, the recent events of DHM Last Chance suggest KaiZi might not be doomed to mediocrity. Solar reminded us that his PEAK play is championship caliber, as he took down Dark, Clem, and Reynor on his way to a top four finish. Also, TIME flashed some of that tantalizing potential that had become harder to glimpse in recent seasons, defeating Zest, Elazer, and DRG to earn his own top four finish. If the absolute best versions of Solar and TIME come to play—and they might, given the team's focus on the WTL—KaiZi might cause an upset or two before the playoffs are over.
Alpha X (#4): 7-4 record, +14 map differential
Roster and regular season records
Zoun: 15-8

RagnaroK: 14-7

Classic: 10-10

Astrea: 2-2
After a disappointing Summer season that saw Alpha X finish in seventh place and miss the playoffs, the Golden Dragons are back to their usual winning ways. Throughout its history in the SCBOY Team Leagues, Alpha X has been a team that defines the concept of the whole being greater than the sum of its parts, with its players consistently over-performing compared to their individual tournament results.

RagnaroK
might be snake-bitten in individual competition but he's been a workhorse for Alpha X for two straight seasons now, and he was probably their best player in the Winter Season. However, while he can mow through weaker players with ease, it's questionable if he can really stand up to the ace players of the top teams. Much of the upset potential for Alpha X lies with

Zoun
, a player who has graduated from being one of the WTL's pleasant surprises to a legitimate ace-caliber player. While he's still an underdog against the Marus and Rogues of the world, he's demonstrated he has a fighting chance. Notably, he was the key to Alpha X's upset of DPG in week four, taking a 2-0 against Dark that sealed the series.
Alpha-X's gamble to pick up

Classic
fresh off of military service has definitely paid off, as he's regained his skill at a respectable pace (though not quite like DPG.herO—the rich really do get richer). He's already established himself as a competent starter for the team, which is more than you could have expected from him some seven months into his return.

Astrea
, who played a huge part in some of Alpha-X's playoff runs in previous years, has taken a backseat this season. While you can't count out a surprise sniping appearance from him, it does feel like he's become somewhat superfluous with Classic in the 'Protoss strategist' role.
Without knowing the rest of the bracket, I'd say Alpha X had some potential for upward mobility from 4 to 3… …but DPG's underwhelming regular season has placed them as a deadly wall at 3rd place. It may be the case that the first three rounds don't matter at all, with such a fearsome gatekeeper protecting the medal stand. However, Alpha X defeated DPG in the regular season, and has also scored a huge upset against DPG in a previous SCBOY Team League playoffs, so you can't discount their ability to conjure that magic once again.
Dragon Phoenix Gaming (#3): 7-4 record, +24 map differential
Roster and regular season records
Zest: 12-4

Dark: 10-5

Cure: 9-3

herO: 9-3

Rogue: 6-5
Sometimes, it can feel like DPG are a smurf team that's messing around in a lesser league. Their BlizzCon-winning Zerg duo of

Rogue
and

Dark
fell flat on their faces in the first half of the season, leading to terrible losses against Team GP, Alpha X, and the Freecs. Just as it seemed like DPG had screwed their heads on straight and were going on a second-half rampage, they gave up another upset to PSISTORM—

Cure
and

Zest
were the culprits this time. Yet, when DPG actually played to their full potential, they utterly smashed their opponents—including #1 Team NV by a 5-1 scoreline. Thus, despite finishing third in the standings, DPG have a league best +24 map differential. It's as if by having Rogue as your best player, your entire team takes on his character.
While Rogue had a terrible regular season, it didn't really matter because DPG had other championship-tier players to fill in for him. DPG may have rolled snake-eyes on Rogue as he put up a 6-5 record, but high-rolled on another gamble as SSSR+ Zest came out of their gacha box for this tournament. As previously mentioned, DPG had an even bigger stroke of luck with the signing of

herO
—among the trio of similar-period military returnees in GuMiho-Classic-herO—the smiling assassin has clearly recovered the mostly quickly and is already capable of upsetting another team's ace (notably, he went 1-1 against Maru in DPG's win). Dark and Cure have quietly been strong contributors as well, further demonstrating DPG's excess of riches.
Despite DPG's cheat code-like nature in terms of players, there's still an aura of unease around them in the WTL. How could a team with so many great players be
so
underwhelming? It's almost embarrassing that DPG have only won a single season of the SCBOY Team Leagues so far: the
GTC Spring tournament
. In GTC Fall playoffs, they were upset by Alpha X with
Ragnarok
of all players winning the ace match. In the WTL Summer finals, they were taken out by Team NV in a collective moment of monumental un-clutchness. Zest and Cure gave up 1-1's to DRG and sOs, Rogue went 0-2 against Maru, and then Dark went 1-1 against Maru to give Team NV the title. If not for this past record of disappointments, then DPG would be clear favorites to roll through the playoffs and win the championship. But given DPG's history, one always has to be on guard for another collapse.
Shopify Rebellion (#2): 9-2 record, +16 map differential
Roster and regular season records
ByuN: 15-9

Scarlett: 15-7

Lambo: 12-10
The Rebellion could be viewed as the best case version of Alpha X—a whole that's immensely greater than the sum of its parts. Let's be honest about

ByuN
here and recognize that we're a long way removed from his unbelievable championship run at ASUS ROG Fall just a few months after his return from military service. Since then, he's fallen solidly into the good-but-not-great zone—not a player you'd expect to be the ace on a #2 WTL team.
The thing is, he hasn't had to be the ace. This season's Rebellion has delivered one of the greatest collective regular season performances in the history of the SCBOY Team Leagues, matched only by Team GP in the same season.

ByuN
and

Scarlett
punched far above their weight class, and even with a slightly underwhelming season from

Lambo
(who didn't fully capitalize on drawing his favored match-up of ZvP quite often), the Rebels earned a shocking #2 finish in the regular season.
Unfortunately, signs suggest that this success can't be sustained for much longer. To Shopify's credit, they were ruthless against the weaker teams and clutched out victories against all of the 'mid-tier' pack they were supposed to be a part of. However, the team's only two losses are telling: Shopify lost 1-5 to #1 Team NV, and fell 0-6 to #3 Dragon Phoenix Gaming. If the Rebellion is to win the championship, there's a high probability that they will have to face and defeat the same two teams that thrashed them in the regular season.
There's no doubt that Shopify's regular season run was one of the best stories of the season and well worth celebrating. But ironically, that regular season success has put them in a spot where they'll be hard pressed to show off their skills in the playoffs. Could Shopify hope to catch the un-clutch version of DPG and go on to pull off an epic upset against Team NV? Maybe. But that feels like too much good fortune for one team to enjoy in a single season.
Team NV (#1): 9-2 record, +19 map differential
Roster and regular season records
Maru: 17-3

Bunny: 10-7

Creator: 8-6

DongRaeGu: 8-8

NightMare: 1-1
The defending champions sit atop the playoff tower of death, patiently waiting to see who comes to challenge them for the WTL title. This version of Team NV is very reminiscent of some KT Rolster teams of the past, where the god-king-emperor Flash was flanked by a cadre of capable lieutenants. Maru's ridiculous 17-3 record in the regular season is heads and shoulders above anyone else in the WTL—the fact that he got a relatively easy run of games barely detracts from that. As with KT Rolster and Flash, the winning formula for Team NV was pretty straight-forward: Don't f*** up, and
daddy
Maru will take care of the rest.
The supporting cast for Team NV has been quite solid this season, to the degree that

Maru
has been able to skip some of the easier matches and even cede ace duties to

Bunny
in a victory against Alpha X. But besides that one Alpha X game, Maru has definitely been the difference-maker against teams in the upper-half of the table, and that's likely to be the case in the grand finals as well.
Bunny and

DongRaeGu
are solid players who can be relied upon to get a 1-1 if deployed correctly against the right opponents, but

Creator
is more of a wild card. While he has upped his game tremendously since the autumn of 2021, it's still questionable if he's a sufficient replacement for sOs. As mentioned above, Team NV were able to win the WTL Summer Finals because DRG and sOs stole 1-1 ties against stronger opponents in Zest and Cure, opening a path for Maru to clean up against the BlizzCon Zerg duo. In the upcoming finals, there could be a spot where Team NV
really
want to play a Protoss player—could the mercurial Creator come through with at least a 1-1 there? And, seeing as he's in the midst of one of his best individual tournament runs in a long time in the Super Tournament, does Team NV even want to divert his focus at this juncture? It's possible that NV will just go with a three-player line-up of Maru-DRG-Bunny, but given the might of players like Rogue and Dark in ZvT and ZvZ, it feels like Creator will face the challenge of getting a 1-1 against at least one of them.
Overall, the very existence of Maru, the best player in Korea, puts Team NV in an advantageous position. Even if his teammates fall, there's always a chance that he'll go on a heroic kill-streak that seals the deal for Team NV regardless. Without the context of previous WTL tournaments, you'd have to take DPG to overwhelm Team NV by sheer force of talent. However, with historic context in mind, we'll favor Team NV to come through with clutch performances from the entire roster.
Prediction: Team NV wins WTL Winter.
---
Credits and acknowledgements

Writer: TheOneAboveU and Wax
Stats: Aligulac.com & Liquipedia
Images: SCBoy